In response to numerous appeals from first-time visitors to various destinations we've caved in to the pressure and decided to publish a series of articles highlighting the popular sights actually worth your time in a given city.
The tourist traps, you mean?
Well, yes and no. Many of the places we cover will be the best known attractions but there may be also be a few that were originally lower down your list which we think should be given a higher priority. For the more unusual things to see and do – especially for cities you've visited before – refer to our very cool 'Been there, haven't done that' series.
So this is more like 'Haven't been there, everyone says I should do that – but should I?'
That's right, but we decided on a slightly less clunky title.
This time we are turning our attention on the glitzy Emirati city of Dubai – we've given you some more off-beat suggestions in another post right here, but this time we're concentrating on which of the major sights you definitely need to fit in.
Dubai
Now clearly you aren't going to be able to everything in one trip – I was recently in town for just three full days and we did manage to fit a lot in; but I would suggest picking what you find most appealing from this list and saving the rest until next time. I'm confident you'll want to return as I've yet to meet anybody who didn't feel that way…
Reservations and advance booking are a good idea – especially for the most popular restaurants and sights.
Without any further ado, on to the hot list:
Sheikh Mohammed Centre for Cultural Understanding
"Open doors, open minds" is the laudable motto of the Sheikh Mohammed Centre for Cultural Understanding. A visit to the SMCCU should be compulsory for every visitor to Dubai as I'm sure most of us have a lot of preconceptions about the Emirate and Islam in general that have little basis in reality.
The Centre was established with the aim to break down barriers between the huge number of foreign expats and local Emiratis.
Our female host was very entertaining as she tackled various myths about Dubai and explained the crucial difference between religion and politics. A lot of interesting facts were learned and questions from the audience encouraged. With a hearty lunch included, this was one of the highlights of my time in Dubai.
I particularly enjoyed the way she dealt with the idea a lot of non-Muslims have that a woman covers her hair so as not to prove attractive to men. She asked for a show of hands for how many male members of the audience had chosen their partner on the basis of their hair…
And when you are visiting an Arab household and incense is produced, there's a reason – it's time for you to go. An excellent concept which I might bring back home… 🙂
Website: http://www.cultures.ae
Burj Khalifa
Yes, it's basically a skyscraper and you may have been to a few already – but you can't really come to Dubai without taking in the view from the world's tallest building. Well, Burj Khalifa is still the tallest at the time of publication anyway…
Just make sure that when you have made your mind up to visit that you book your tickets online. If you decide to just turn up, your spontaneity will be rewarded by a 400% surcharge. That's right – pre-booked tickets can be yours for AED 100/EUR 24/NOK 210 but if you roll up on the day you'll be charged AED 400/EUR 96/NOK 840. Consider yourself warned.
Be aware that "At the top" isn't actually at the top – the viewing gallery is on floor 124, not 163.
The experience is as slick and well-organized as you'd probably been expecting. If you are visiting during the high season you can expect long queues – but at 9am on a Tuesday in early February we walked straight to the lift.
Enough words, how about a video, huh?

After entering from Dubai Mall first stop is an exhibition about the building with models, interactive displays and so on. The best of these allows you to see how tall Burj Khalifa is when superimposed onto other famous city skylines like London, New York etc.
On the subject of information, here's a few facts: Burj Khalifa is 828 m tall and took 5 years to build, opening in early 2010. As well as simply being the tallest building in the world it holds many other records such as having the most floors (163 plus 46 maintenance levels at the top), the fastest lifts that propel passengers at 10m per second, highest mosque, swimming pool etc.
The skyscraper was certainly conceived by people with form – legendary Chicago architects Skidmore, Owings and Merrill who are responsible for my favourite one of all – the Sears Tower – as well as many others. I actually find the design remarkably similar to the Trump Hotel in the windy city, and that's perhaps no coincidence as both buildings share the same lead designer, American Adrian Smith.
Did you think it was going to be called Burj Dubai? You're not alone – that's what everyone else thought too. But during the opening party it was revealed that the building would instead be named in honour of Khalifa bin Zayed al Nahan of Abu Dhabi.
This gesture was almost certainly a way of thanking him for helping out with the USD 15 billion he found down the back of the sofa to help Dubai through the worst of its financial crisis.
He wasn't even there at the opening but probably appreciates the fact that his name is now known around the world, even if he is perhaps not.
In fact I think the Burj Khalifa is actually better seen from afar – that's the way to really appreciate just how much taller it is than the rest of Dubai's massive towers.
Yes, the views from the top are amazing, but such a modern city can't really compete with a panorama of London, Paris or New York.
But you still gotta do it, right?
Website: http://www.burjkhalifa.ae/en/
The Palm Jumeirah
Nothing emphasises the ambition of Dubai quite like the idea of creating a new island to be added to the world map. The largest man-made one on the planet, of course. And when you've first made up your mind to do something as bonkers as this, you'd be crazy not to give it a unique design.
Dubai had the warm weather, and it had the sandy beaches. The problem was that it didn't have much of the latter, and after developing what it did have it wanted more. Aware that beachfront property commanded the highest prices, they set about creating The Palm Jumeirah, where all property would be beachfront property.
Designed to look like, er, a palm tree, the 4km long trunk of the tree provides access to the 16 'fronds' each of which is packed with houses, apartment buildings and hotels.
Bingo – you just doubled your coastline.
While it is an amazing project it can only really be appreciated from the air – so keep an eye out if you have a daytime flight in or out of the airport. You could also take a helicopter ride or even chuck yourself out of a plane (okay, sky-dive) to see the Palm in all its glory.
If you don't have a vehicle the driverless monorail is a good way to get around on the island itself. We drove all the way to the Atlantis at the 'top of the tree' but it felt a little underwhelming. It was neat to gaze across the gulf and realise that Iran was just a short boat ride away though.
Atlantis The Palm
Dominating the far end of the Palm is the enormous Atlantis resort. This looks identical to the Atlantis in the Bahamas and neither would win any prizes for style in my book. But it is worth seeing just for its sheer blinginess – this is the Dubai you have been expecting.
In fact it's gaudier than most of the places in the city and actually the work of an outsider – a South African billionaire, no less.
The Atlantis has the distinction of have one of the most expensive hotel 'rooms' in the world – if you fancy staying in the Royal Bridge Suite located inside the arch joining the two parts of the hotel you better be prepared to justify at least AED 140 000 (EUR 33 000/NOK 290 000) a night to your accountant or spouse.
Interestingly our guide told us that he'd actually been shown around the suite and the most endearing memory he had was the unfeasablly high number of toilets it had.
Do the rich and shameless have stomach problems, perhaps?
Families with more realistic budgets may find the Atlantis to be a good deal, however, as there is so much to do here and it has its own water park.
Website: https://www.atlantisthepalm.com
Burj al Arab
Now we're talking. To prove that over-the-top luxury can be done with style, visit the Burj al Arab hotel. Already one of the most recognised icons of Dubai, this huge building modelled to resemble the sail of a dhow is undeniably beautiful.
With an estimated price tag of USD 2 billion which means that even at full capacity it won't have paid for itself for a century or so, you're right in guessing that profit and loss are not the issues here.
Burj al Arab is as much about marketing Dubai as it is about filling its rooms – we've all heard of it, we've all seen pictures, we've all read about it having seven stars, right?
That last point is of course not true, it's a quote from a journalist who was searching for a way to describe the level of luxury. But it's probably true to say that if the star system was expanded to 7 rather than 5 the Burj al Arab would be awarded top ranking.
The hotel was built on reclaimed land and is located some 300m offshore. Until you get up close it's easy to miss quite how large it is – you could comfortably fit the Statue of Liberty in the atrium.
You can get a great view of the Burj al Arab from the public beach as we did – there are far more people taking photos here than lying on the sand.
If you want to experience the hotel yourself be aware that you need to have booked a room (perhaps you are celebrating a lottery win or the approval of your second mortgage?) or have a reservation in one of the restaurants otherwise you ain't coming in.
Your cheapest options are a drink in the Skyview Bar which entails a minimum spend of AED 250/EUR 60/NOK 520. But if you are first going to do it, do it in style: take a 'Culinary Flight' which for a mere AED 1000/EUR 240/NOK 2080 includes drinks at Skyview, a four course meal with each course in a different restaurant in the Burj al Arab and finishes with dessert in the atrium lounge. Nice.
An interesting and little-known fact is that the rear of the hotel looks like a cross – although it can only be seen from the sea – which was somewhat controversial when it was built. You won't find many photos of that angle…
You're wondering about the room rates, aren't you? Bank on about AED 8 000/EUR 1950/NOK 16 700 a night as an absolute minimum…and don't forget to tip.
Website: http://www.jumeirah.com/en/hotels-resorts/dubai/burj-al-arab/
Cross the Creek on an Abra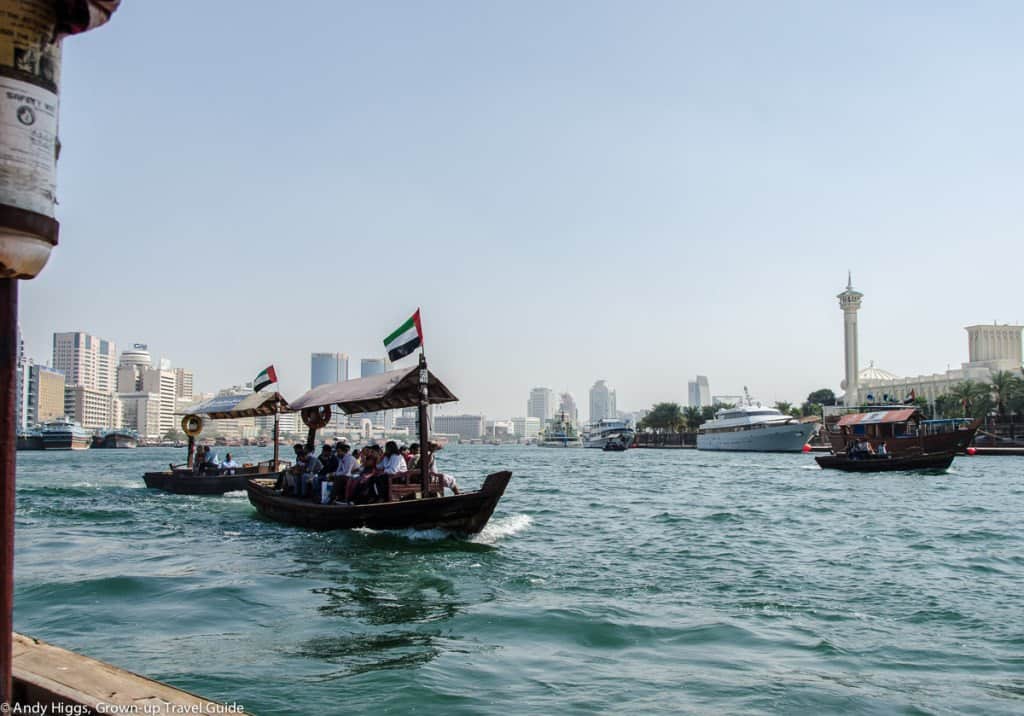 So what does AED 1 buy you in Dubai? Remarkably that is what it will cost to enjoy one of the highlights of the city – a boat ride across the creek in an Abra.
Want to see a video? Okay then!

These are traditional old boats which carry passengers from one side to the other and are a lovely way to cool down as well as enjoy a little history – neither of which are always easy in Dubai.
The contrast between the old and the new is also fascinating, with abras jostling for space with modern cruisers and ramshackle waterfront buildings surrounded by modern towers.
Deira souks
The northern bank of Dubai creek is where you'll find Deira and experience a very different side to the city. Best reached by a breezy Abra across the water, you could happily spend all day wandering the various souks and exploring the back streets.
The spice souk is very touristy and don't expect your presence to be ignored by stallholders. But it's worth giving it a look for the sheer variety of spices and to take in the mix of colours and fragrances.
The Gold souk is more interesting – if you are interested in buying this is where you'll find some of cheapest gold on earth and plenty of it – word is that there is about ten tons of the shiny stuff in the souk at any given time. The business is both heavily regulated and highly competitive, so you won't have to worry about being ripped off with fake gold.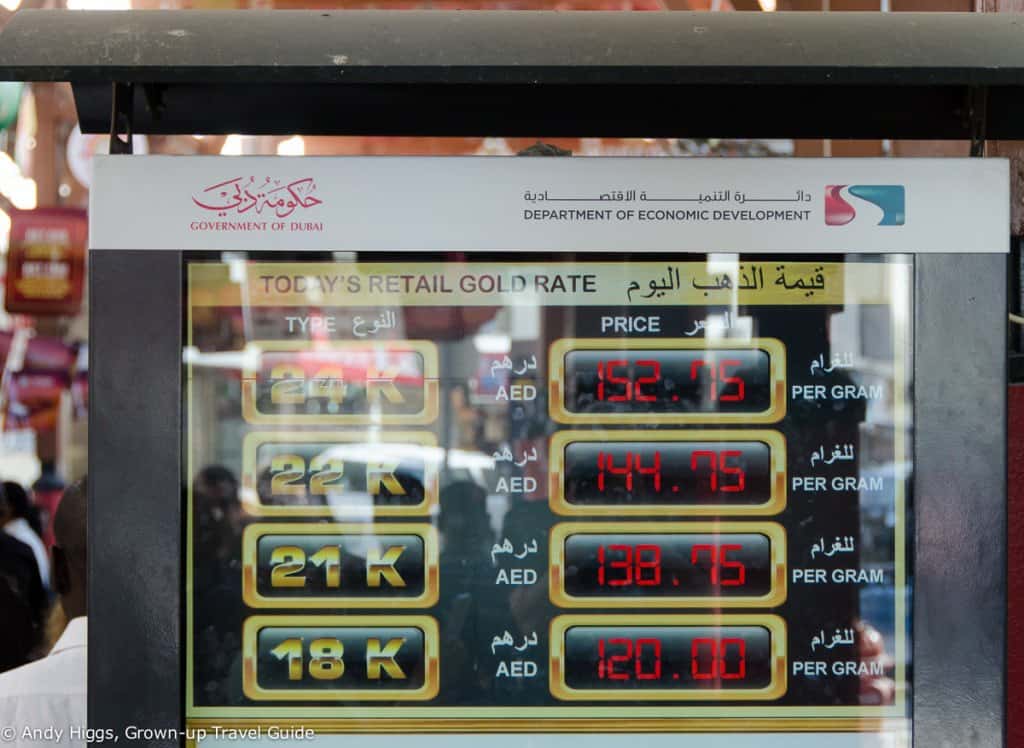 Gold is sold by weight and you can check the day's price on the screens in the souk. You'll still need to bargain though.
Most visitors are happy just to look around and the displays are quite something. Gaudiness appears to be the rule but more subtle pieces are also available, often crafted for European buyers.
Dubai Museum
Small but perfectly formed, Dubai Museum is an excellent introduction to the history of the Emirate. In the central courtyard you can view wooden boats and a traditional hut which most people lived in until the 1960s.
But descend into the basement section to find the real treasure – exhibits explain all aspects of Arab life using mannequins and mock-ups of stores, craft workshops and the like. A number of short films provide extra insights and the museum is a satisfying experience.
Bastakiya
Bastakiya – the old quarter of Dubai – is a well-preserved and beautiful section of town close to the Dubai Museum; and a walk around here is the ideal way to follow a visit to the latter.
Dating from the early 1900s, the merchants houses of Bastakiya were sophisticated for their time – including an early and very cunning form of air conditioning provided by the characteristic wind towers on the rooftop.
Any breezes are channelled down through flues to cool down the rooms inside – the biggest tower generally being built over the bedroom.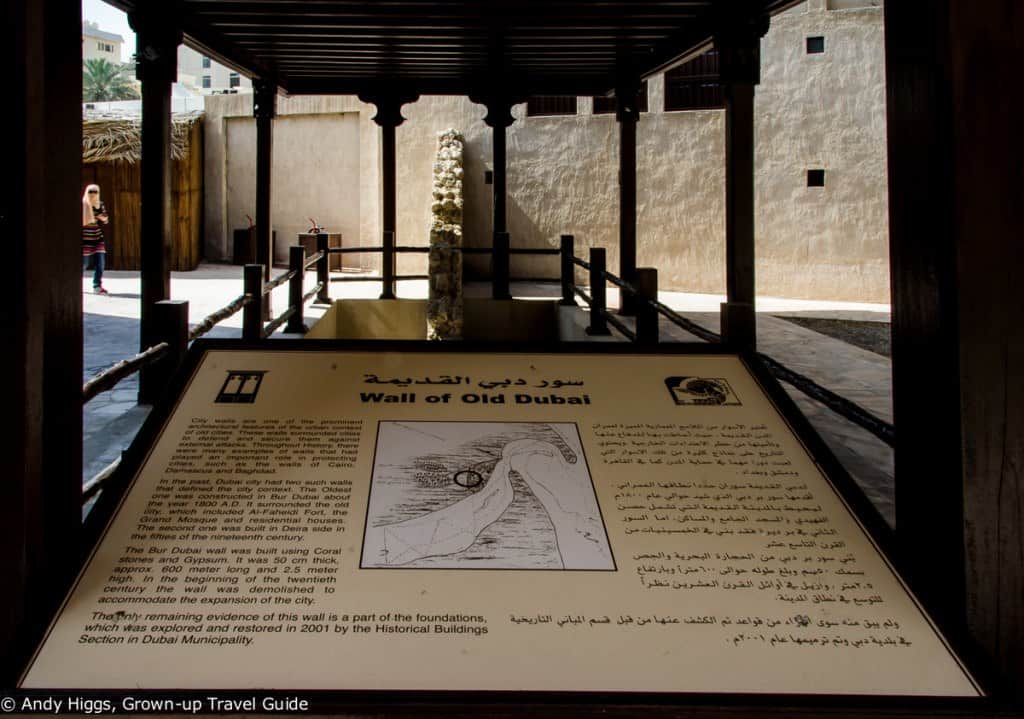 A small section of the wall of Old Dubai has been restored in Bastakiya too.
A little street art changes things up a little in the old quarter.
Hindi Lane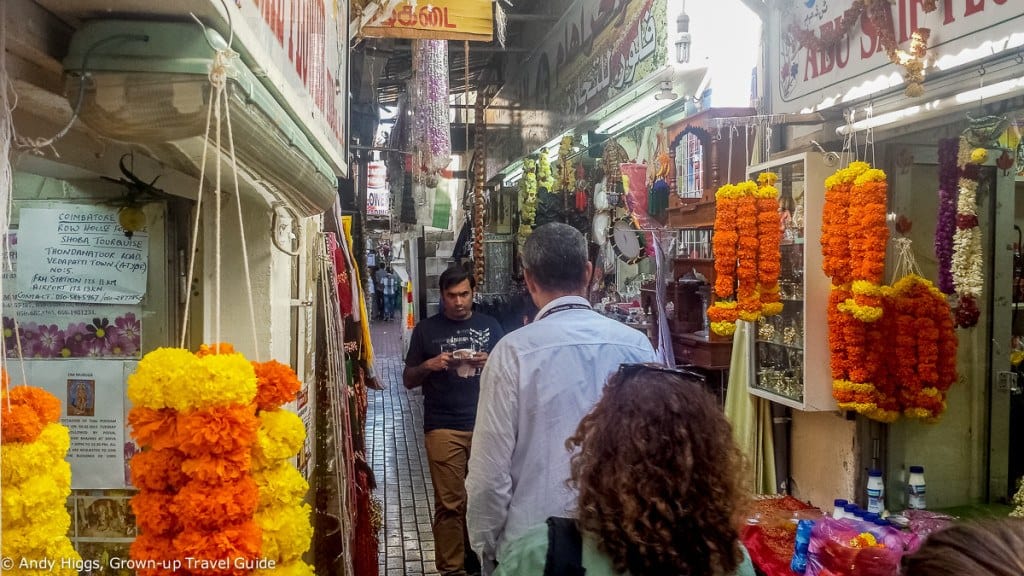 With 200 nationalities living together basically in harmony Dubai is a tolerant place. If you want to see religious tolerance with your own eyes then go to the Grand Mosque – the biggest in Dubai – and have a look behind it.
This is an alleyway known as Hindi Lane with Indian stores selling religious items as well as specialities from home.
Even better, visit the Sikh Gurudaba half way down which is a Hindi/Sikh temple – Hindu shrines on the first floor, Sikh temple up the stairs. Be sure to leave your shoes outside and cover your hair upstairs and you'll be given a friendly welcome.
The Ritz-Carlton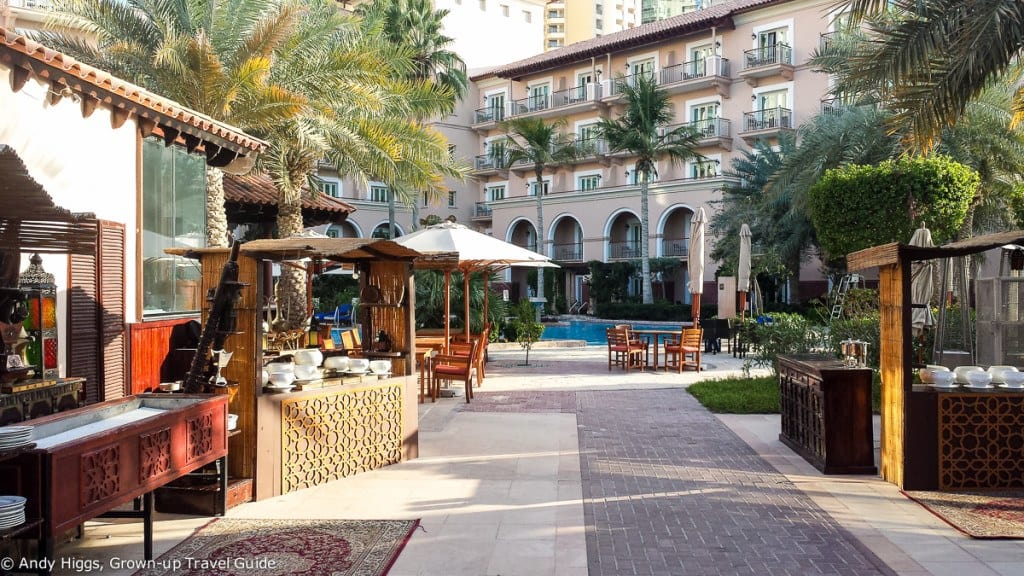 If the skyscrapers begin to get a little oppressive and you feel like escaping, how does this look? In the middle of the Dubai Marina area in which the vast majority of buildings have at least 40 storeys, how about one with just 6? The Ritz-Carlton is an oasis among the tower blocks, locate on a lovely part of the beach.
Of course if you look a little higher, you'll see the neighbours:
Nevertheless its very easy to forget where you are as you wander the exquisite grounds of the hotel with its multiple pools and sunbathing areas.
We were invited for lunch at the beachside restaurant and met the extremely enthusiastic chef and bar manager. The food was fabulous, fresh and with a focus on local ingredients.
The real revelation was the beer – yes, that's beer in the picture. But this is no ordinary lager; in fact this is a unique creation dreamed up and produced by the Ritz Carlton in Dubai for its guests.
Usually served in the ultra-classy Library Bar which is well worth a visit for its James Bond style sophistication, this is freeze-fractionated Belgian beer. Don't ask me to explain the science but essentially the beer doubles in strength and loses some of the carbonation in the process, after which it is infused with flavour.
We tried several, the coffee one being the highlight for me. The beer lover in me wants to write that just to have this experience is worth the trip to Dubai, but even I realise that might be pushing it a bit. However it's definitely worth the trip to the Ritz-Carlton if you are in town, and if you are looking for somewhere to stay this is a wonderful hotel with a real beach resort feel.
In fact I am planning to check in next time I am in Dubai – how's that for a recommendation?
Website: http://www.ritzcarlton.com/en/Properties/Dubai/Default.htm
Dune bashing/dinner in the desert
One of the most popular activities in Dubai is a 'desert safari'. Many companies offer this service and we were invited by Knight Tours which is known for having local drivers rather than expats. The concept is basically the same no matter who you go with – you pile into a Land Cruiser or similar 4WD and head out of the city to the desert – about 45 minutes on the road.
You then leave the road for the sand and it's time for some 'dune-bashing'. Basically this entails high-speed driving up and down dunes with sand spraying all over to the sound of screams of fear/excitement/fun from the passengers. As you can see from the picture above, you will not be alone but more likely part of a 50+ vehicle convoy.
This explains it better than I ever could:

After all that fun and games we were driven to a Al Shamsi, a "Bedouin Village" for dinner and entertainment. Neither Bedoiun nor a village, it's a tourist processing plant but it works fine as long as you roll with it.
First you can get as close as you dare to some cute camels.
Watch a falconry demonstration – Dubai style. This was one of the most bizarre activities I've witnessed as live bait (a chicken, I was told) was attached to a drone which was then flown into the air and the falcon chased after it before finally catching its prey.
It then appeared to plummet to earth under the weight of its potential dinner and crash into the sand dunes in the distance but apparently this was not the case, it landed safely, if rather fast.
Of course a ride on a camel was part of the deal, but we opted for champagne and snacks as the sun set instead. Sensible, right?
Then we were led into the main courtyard area for a buffet dinner served at our ringside table, where dancers entertained us until it was time to return to the city.
If it all sounds a little tacky, that's because it is – but the dune-bashing alone makes it worthwhile.
Website: http://knighttours.ae
Sass Café
With so many different restaurants to choose from, Dubai gives you the chance to try pretty much any cuisine you can think of. Apparently Peruvian food was the latest trend but something new seems to pop up on a weekly basis.
We visited two places, both of which were fabulous and so both are included here.
First of all check out the Sass Café – this Monaco institution chose Dubai as the location for its first ever expansion away from home and I think they got their research right. This is a place to see and be seen – cheap it isn't, but then who wants cheap, sweetie?
The original concept in Monaco was to combine 'family intimacy with upscale atmosphere' and from our experience it seems to be working just as well in Dubai.
Located in an unassuming office block in Dubai's International Financial District, Sass Café blows you away when you walk through the doors. The interior is dazzling and the outdoor terrace has magnificent views over the city including Burj Khalifa.
Sass Cafe's cocktails have already become a talking point and it only opened last year.
If you're wondering what's glittering in that glass there – it's gold, of course! This signature cocktail has to be on your 'must-try' list.
When dinner is over it's time for the real fun to begin: a combination of tunes from the resident Sass Café DJ complemented by live performances in the piano bar.
Brunch is very popular at the weekend and Sass Café is a place you could imagine staying all day and into the night. The main room is cleverly designed so that tables can be quickly collapsed to make more space for the dance floor – don't miss it.
Website: http://www.sasscafe-dubai.ae
Qbara
The following night we ended up at Qbara by happy accident – due to a mix-up with our original plan we were stranded with nowhere to eat on our final evening in Dubai.
Our resourceful host from the tourist board fixed things in record time and it turned into one of the most memorable culinary experiences of the trip.
Qbara Dubai is a 'contemporary lifestyle restaurant, lounge & bar' that celebrates Middle Eastern cuisine and culture but adds some uniquely modern zest.
The first thing you'll notice is Qbara's spectacular interior design by the award-winning Studio Glitt of Tokyo.
The second thing you'll notice is the truly excellent service – our waiters were highly knowledgable about the menu and genuinely interested in helping us decide what to eat and explaining the intricacies of the menu.
We were served a little of everything – in fact a LOT of everything. I don't think I've ever left a restaurant quite as satisfied as I did that night.
I also tried something for the first time – something I generally try to do, with certain reservations. Well, bone marrow was kind of in the grey area, but I gave it a go. Not something I'd order again if there were other choices, but interesting, anyway 🙂
Otherwise the food and wine was top-notch and as I hinted earlier, the best culinary experience of my time in Dubai.
It's not always easy to get a drink in Dubai, but it's certainly not an issue at Qbara which is fully licensed and has a huge selection. Again, you need to pencil this one into your itinerary.
Website: http://www.qbara.ae
STOP PRESS: FOR A LIMITED TIME EMIRATES HAS A SPECIAL OFFER WITH FARES AS LOW AS NOK 2670 RETURN FROM OSLO-DUBAI IN ECONOMY AND NOK 13 125 IN BUSINESS CLASS! BOOK BY 5 MARCH 2015 – CLICK HERE FOR MORE INFORMATION
We hope these suggestions will help you plan and enjoy a trip to Dubai. If you think we've missed something or have tips of your own please tell us in the comments section below!