In response to numerous appeals from first-time visitors to various destinations we've caved in to the pressure and decided to publish a series of articles highlighting the popular sights actually worth your time in a given city.
The tourist traps, you mean?
Well, yes and no. Many of the places we cover will be the best known attractions but there may be also be a few that were originally lower down your list which we think should be given a higher priority. For the more unusual things to see and do – especially for cities you've visited before – refer to our very cool 'Been there, haven't done that' series.
So this is more like 'Haven't been there, everyone says I should do that – but should I?'
Exactly. But that's not really a snappy title, now is it? After starting with our definitive guide to what to see in Porto, Portugal we moved over to Spain for what to see in Madrid. Continuing in that country our attention has now shifted to another beautiful and popular city destination.
Granada
Granada is the coolest city in Andalucía, with a great location against the dramatic Sierra Nevada mountains. Sure, you'll be drawn to the stunning Alhambra and wandering the labyrinthine streets of the Albayzín. But there's so much more to discover in this vibrant mix of ancient Moorish and modern Christian influences. This is one place where the original concept of free tapas still exists; after sampling some of the local Spanish cuisine and experiencing flamenco in dingy clubs you can enjoy Arabic tea and cakes before having a blast on a shisha pipe, should you so desire. Granada's Islamic past is kept alive by its growing North African population and its clashing cultures are reflected in the diversity of its people – artists, business folk and musicians rub shoulders with poets, painters and the devout. If you plan to stay a few days it's worth knowing that you can find cheap apartments in Granada as an alternative to a hotel. Here's what you should start with when exploring the city:
The Alhambra
Image obtained from Flickr.com under Creative Commons (c) Will Clayton
The Alhambra feels like it comes straight from 'Tales of the Arabian Nights', rising from the woods against the mountainous backdrop. Yes, it does get crowded so try to come early or late to avoid the worst. The Alhambra consists of two fabuolous sets of buildings: the Palacio Nazaríes and the Alcazaba (Citadel); the Iglesia de Santa María de la Alhambra, the Palacio de Carlos V, a couple of hotels, several bookshops, souvenir shops and gardens, including the Generalife are also contained within its walls. The original Alhambra (the name comes from the Arabic for 'red castle') was a 9th century fortress. It was expanded and altered in the course of its 1000 year history and now enjoys Unesco World Heritage status.
Alcazaba
These days what's left of the Alcazaba (Moorish citadel) is mainly the ramparts and several towers, the tallest and most important and tallest being the Torre de la Vela (Watch Tower), reached by a narrow staircase. Excellent views await those who climb to the top. The bell is rung on special festive occasions by young girls in the hope of ensuring they do not end up alone.
Generalife
Image obtained from Flickr.com under Creative Commons (c) Emilio I. Panizo
Generalife  ('Architect's Garden') is the best way to wind down after visiting the Alhambra. Wandering the paths between the pools, terraces, fountains, trees, hedges and flowers is a supremely relaxing experience.
Realejo quarter
Image obtained from Flickr.com under Creative Commons (c) Landahlauts
The Realejo quarter is a neighbourhood perched on the southeastern slopes of the Alhambra hill. After visiting the main attraction spend some time exploring this district which is famous for its large mansions with their walled gardens. The Carmen de los Martires is a well-restored example with its sprawling yet romantic grounds – it's very popular for weddings.
Parque de las Ciencias
Best for those visitors with children in tow, the extensive Parque de las Ciencias (Science Park) provides hours of interactive fun with a high educational value. You'll find the place close to the Palacio de Congresos conference hall, a little less than a kilometer from the city centre.
Catedral and Capilla Real
Image obtained from Flickr.com under Creative Commons (c) Jeremy Farmer
Granada's Cathedral is an impressive Gothic and Renaissance building dating from the 16th century. As well as the decor in the main cathedral, don't miss the cathedral museum where you can view Cano's San Pablo sculpture and the golden gift to Granada from Isabel La Católica. Adjoining the cathedral is Granada's most revered Christian building, the Capilla Real or Royal Chapel – a mausoleum containing the simple lead coffins of the monarchs in the crypt underneath their marble monuments in the chancel, enclosed by an amazing gilded wrought-iron screen made by Bartolomé de Jaén.
Mirador San Nicolas
Image obtained from Flickr.com under Creative Commons (c) Alvaro Tapia
Make your way to the Mirador San Nicolás for the best views of the Alhambra and Sierra Nevada in Granada – at sunset the place is swarming with like-minded tourists but it's worth it for the photo opportunity. Just keep an eye on your possessions as highly-skilled pickpockets work the area night and day.
Albayzín
Image obtained from Flickr.com under Creative Commons (c) barnyz
Granada's old Muslim quarter, the Albayzín, stands on the hill opposite the Alhambra and its cobbled streets are worth getting lost in for  half a day or so. You'll feel like you're visiting an al fresco museum and the area is indeed steeped in history – it survived the Christian conquest of 1492, remaining the Muslim part of Granada for decades. Landmarks include the Arco de las Pesas, an imposing gateway in the 11th century defensive wall and the Colegiata del Salvador, a 16th century church built (of course) on the site of the Albayzín's main mosque; only the terrace of the mosque remains.
Teterías
Image obtained from Flickr.com under Creative Commons (c) Juanma
The Moors may be long gone but plenty of legacies remain – including the wonderful Arabic 'teterías' — tearooms decorated with puffy cushions, lanterns and drapes. The best teterías are again in the Albayzín quarter – Calle Calderería Nueva is the most well-known street. You'll find it hard to resist trying the shisha (water-pipe) but if whether or not you indulge you should of course try one of the many teas and snacks on offer.
Plaza Bib Rambla
Image obtained from Flickr.com under Creative Commons (c) Antonio Guerra
Plaza Bib-Rambla used to be the place to come to watch jousting, bullfighting and people being burned at the stake during the Spanish Inquisition (NOBODY expects the Spanish Inquisition!). Happily these days it is a peaceful place replete with flower stalls, restaurants and a fountain at its centre.
Plaza Neva
Good for souvenir hunters, the Plaza Nueva area is populated by jewellery vendors selling their wares from rugs laid out on the pavement. It is also the place to come to browse for ethnic clothing in the many shops specialising in such products.
Monasteria La Cartuja
About two kilometres northwest of the city centre is yet another of Granada's architectural masterpieces. La Cartuja Monastery dates from between the 16th and 18th centuries and includes a church filled with gold, marble and sculptures and a rather over-the-top sacristy.
Plaza de Toros
Image obtained from Flickr.com under Creative Commons (c) Luis Rivera Gurrea-Nozaleda
Now we're not advocating that you go and watch a bullfight (although many visitors do). Indeed you could be heading to the arena to watch a rock concert (Bruce Springsteen-scale acts perform here on a regular basis making for an unforgettable experience). But even if neither appeal, it is worth checking out the Plaza de Toros purely for its architectural merits, whether by joining a tour or just appreciating it from the outside.
Carrera del Darro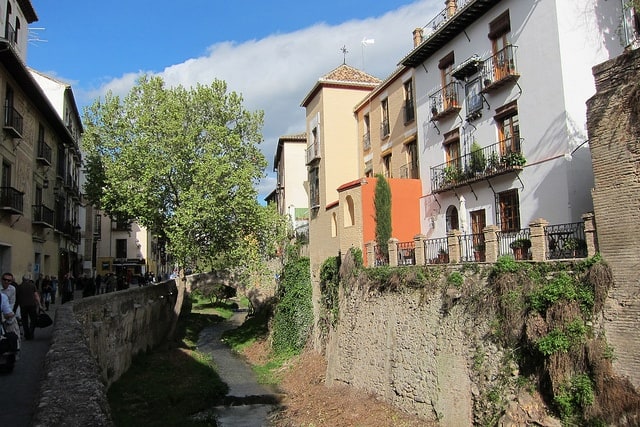 Image obtained from Flickr.com under Creative Commons (c) hamadryades
The entire left bank of the River Darro is known as the Carrera del Darro and is one of the most beautiful walks in Granada. There are two brick and stone bridges (Cabrera and Espinosa) which link Carrera del Darro with the Churra neighborhood. The street dates from the 17th century. Many interesting original buildings are still standing including the remains of Arab houses.
Hammams de Al-Andalus
Don't worry, this is not the hardcore hammam experience that you may have 'enjoyed' in Marrakech – yet Granada's best bathhouse is a long way from the anonymous, corporate spas which have become so common in Europe. It's easy to fall into a Lawrence of Arabia daydream as you sip mint tea and luxuriate in the semi-dark underground waters. You will have to book in advance and remember, this isn't Germany – you won't get in without a bathing costume.
House caves
When considering where to stay the night in Granada you have a rather unique option. Rather than a boring chain hotel why not sleep in a house cave? According to some estimates more than 3000 families in Andalucia live in this way and you can try it for yourself at one of the thirty-odd establishments which are regulated and catalogued like regular tourist accommodation. Contact the tourist board in Granada for details or try this place which is considered one of the best: Las Cuevas – El Abanico.
As you'd expect from such a hip city there's nightlife to match. Glamour hounds will feel at home at Granada 10 – a converted cinema which is the place to see and be seen for the poseurs who seem to love seriously cheesy Spanish pop. Way cooler is Planta Baja which has a far more diverse crows and big-name DJs. The music is far more varied too and it has a great lounge to chill out on the top floor.
Bodegas Castañeda
Cynical visitors to Spain (including, often, myself) will tell you that the good old days of free tapas with your drinks are long gone. In Granada, we'd be wrong. Probably due to the abundance of cheapskate students, the city is now one of the only places this custom continues. Good places to start are Calle de Elvira or Calle Navas; then make your way to the classic and slightly chaotic Bodegas Castañeda for an old-school tapas experience. Just like before, a free tapas plate accompanies each round of drinks.
Restaurante Arrayanes
Given the Moorish history of Granada you'd expect there to be ample opportunity to sample Moroccan food. There certainly is, but this place is the best of the bunch. Don't pass up the chance to try the amazing tagine casseroles but equally don't forget that they don't serve alcohol here. You can survive, you really can.
Peña de la Platería
For an authentic flamenco experience, navigate the maze of streets of the Albayzín to find this club and see how Granada has created its own twist on the musical style. The 'Granadina' describes the stucco decor and trickling fountains of the Alhambra in musical form and there's no better place to hear it than in this part of the city. There are performances on Thursday and Saturday nights and the club has been going strong since 1949.
Vía Colón
For the morning after the night before, or in fact whenever you fancy a cracking, hearty breakfast, make your way to Vía Colón. It's always busy here and full of atmosphere – and if you want to stay (or wake up too late) then there are great main courses and dinners here too.
We hope these suggestions will help you plan and enjoy a trip to Granada. If you think we've missed something please tell us in the comments section below!