This is a guest post by Craig Gilhooly with additional material by Andy Higgs
In response to numerous appeals from first-time visitors to various destinations we've caved in to the pressure and decided to publish a series of articles highlighting the popular sights actually worth your time in a given city.
The tourist traps, you mean?
Well, yes and no. Many of the places we cover will be the best known attractions but there may be also be a few that were originally lower down your list which we think should be given a higher priority. For the more unusual things to see and do – especially for cities you've visited before – refer to our very cool 'Been there, haven't done that' series.
So this is more like 'Haven't been there, everyone says I should do that – but should I?'
Exactly. But that's not really a snappy title, now is it? After starting with our definitive guide to what to see in Porto, Portugal we're hopping over the border to neighbouring Spain for this one.
Madrid
City breaks are a winter godsend. When we wave goodbye to the summer and the grey murkiness of winter sets in, all hope of jetting off evaporates. However, this need not be the case – city breaks are fantastic for getting away for a few days, and with so many exciting cities to explore within easy reach there's never been a better excuse to get out and about. Madrid, Spain's bustling capital, is a fantastic place to visit, full of history, architecture, activities, great food and shopping, and only a 2 and a half hour flight too – you could travel to this cosmopolitan city in less time than it takes to get to London from up north!
There are many cheap flights available, thanks to the wonderful invention that is the low cost airline, and you can make travelling even cheaper by pre-booking airport extras, to make your city break a bargain-busting few days away. I swear by airport parking, saving money and giving a world of convenience and peace of mind. I recently tried Manchester Airport Parking and would highly recommend it, with some fantastic deals available too.
Plaza Mayor
Image obtained from Flickr.com under Creative Commons (c) dalbera
To get a feeling of Madrid's history start with the stunning Plaza Mayor which was built in the 17th century. After taking in the city's most famous square walk on to its oldest – Plaza de la Villa. You can follow the path of the cold city wall by wandering down to Cava Baja which these days is heaven for tapas lovers. If you walk past San Andrés church you will come to Plaza de la Paja, a medieval square with a lively string of cafes with outdoor seating.
Retiro Park
Image obtained from Flickr.com under Creative Commons (c) Natt Muangsiri
Madrid is quite green and has many parks in which you can chill out and escape the city life. The Retiro is huge and very popular with locals for a Sunday morning stroll. It used to be the gardens of a royal residence and has plenty of diversions such as a boating lake, several cafés and exhibition venues.
The Prado
Image obtained from Flickr.com under Creative Commons (c) Henry de Saussure Copeland
You can't come to Madrid without visiting the Prado, one of the greatest art museums in the world. Even if art is not normally your thing the Prado will probably win you over. As well as a collection of superb works by Spanish masters such as Goya, Velázquez and El Greco the museum displays top-notch Italian and Flemish collections too, with paintings by the likes of Raphael, Tintoretto, Rubens and Bosch. As well as the permanent exhibitions the Prado usually has two temporary collections to view as well.
Reina Sofía Museum
At the end of 2010 the Reina Sofía modern art museum reopened with new displays on its fourth floor. While everyone and their brother makes for Picasso's wonderful masterpiece Guernica, the Reina Sofia also displays some fantastic works by Miró, Tàpies and of course Dalí.
Royal Palace
Image obtained from Flickr.com under Creative Commons (c) don.lee
This opulent palace from the 18th century has commanding views from its raised – and strategic – location. Now used for official events it can also be visited to view its huge collection of paintings, tapestries, sculptures and antiques. Should you so desire you can also have a look in the Royal Armoury, Royal Pharmacy and have a stroll in the well-kept gardens.
San Fernando Royal Academy of Fine Arts Museum
Despite its central location just off the Puerta del Sol not a lot of people make their way to this museum – which is good for you. You can often enjoy the paintings by Picasso, El Greco, Goya, Van Dyck, Tiepolo and others completely on your own.
Debod Temple
Image obtained from Flickr.com under Creative Commons (c) Antonio Rodríguez
An Egyptian temple in Madrid? It's true. This building (which is over 2,000 years old) was given to Spain to express gratitude to the work of Spanish archaeologists in helping to save Abu Simbel from flooding when the Aswan Dam was built. You'll find it on the western edge of the main city centre and as you can see from the picture, it's worth visiting at sunset – bring your camera.
La Vaguada
Of course, this is a city and cities mean shops! We all love a bit of retail therapy and here you'll find plenty to keep you occupied for a few hours. La Vaguada mall has the big names and high street brands if that's what you're looking for.
Calle Toledo
If you are looking for something a little more authentic then head for the area around Calle Toledo (behind Plaza Mayor). There are still plenty of small independent shops competing with Zara and the like. For traditional espadrilles and just about anything you can imagine made from rope, pop into Casa Hernanz at Calle Toledo 18. The world's only cape shop you say? It's Capas Seseña at Calle Cruz 23 which opened in 1901.
Calle Fuencarral
Image obtained from Flickr.com under Creative Commons (c) Javier Martin Espartosa
For the funky shops, hit Calle Fuencarral which is north of the Gran Vía. You should also explore the Chueca and Malasaña areas nearby, and for shoes, Calle Augusto Figueroa is the place.
Salamanca
If you want to see and be seen in the smartest shops in Madrid you'll be needing the Salamanca district. Some rather stunning modern jewellery is on sale at Espacio Chus Burés on Claudio Coello.
Rastro flea market
Image obtained from Flickr.com under Creative Commons (c) Patrick S
A rather chaotic flea market takes place on Sunday mornings – the Rastro, which you'll find on around Ribera de Curtidores, closed to the La Latina metro stop. Be very careful of pickpockets here – leave your valuables at the hotel.
Nightlife
Cities generally mean good nightlife, and Madrid is no different. There are many bars and clubs to dance the night away, but also many cafes and restaurants to people-watch, chill out and drink a glass of wine or two. The choice is yours.There's something for everyone too.
Tapas crawl
Rather than trawling the bars, why not turn your evening into a tapas crawl? Cava Baja or around Plaza Santa Ana have enough establishments to keep you going all night.
Local fare
Make sure you try some traditional cuisine whilst you're in the city, as Spanish food is delicious and here you'll find mouth-watering seafood dishes, such as the famous paella – give it a try! If you like good quality, no-nonsense food, be sure to have a meal at one of the classic restaurants near the Plaza Mayor.
Gourmet dining
Madrid is also a great place for foodies after the latest gourmet creations and you'll find cutting edge dining co-existing happily with age-old local classics.
Try chocolate con churros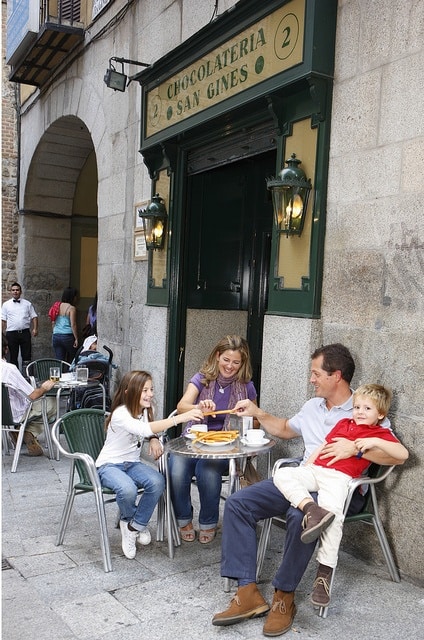 Image obtained from Flickr.com under Creative Commons (c) Turismo Madrid
Madrid's most famous snack is best sampled at its most famous cafe – the Chocolatería de San Ginés which is located in a very small street called Pasadizo de San Ginés, next to the Church of San Ginés. Churros are light, crispy sticks of fried dough (made from water, flour and salt and then quick-fried in a large boiling vat of oil). The traditional method is to slowly pour the mixture into the vat while gently stirring the oil with a long stick, allowing the dough to fry and solidify in a large spiral, which is then cut into small sticks with scissors. These are then dipped in thick chocolate…you get the picture.
Take the tour – or go yourself
It is worth considering taking one of the excellent guided walks run by the Madrid tourist office. You'll get to learn about Madrid's history from an entertaining expert for just a few Euros. One of the great things about Madrid is that despite its size, it's easy to get around, with an uncomplicated Metro system and plenty of taxis. Also consider the Madrid Card which gives you free entrance to plenty of museums, discounts at sights, restaurants and shops, and is available for periods of one to five days. The card can also be combined with a travel pass and/or a tourist bus for an extra charge.
Santiago Bernabeu football stadium
La Liga is one of the most famous football leagues in the world, and any sporting fan will love a visit to Real Madrid's home ground, Santiago Bernabeu – not to be missed if you're into your football. You can walk down the players' tunnel and onto the pitch, visit the Presidential Box and view the trophies, if that floats your boat.
Madrid is a varied and big city, with something for everyone, so a city break to Spain's capital is one not to be missed. Make your city break something to remember by adding extras for comfort and convenience. An airport hotel is a great add-on to any break, for a little bit of extra glitz, and on a practical note, fantastic for early flights. I recently tried this and would recommend it for lack of a bleary-eyed travelling! Most airports offer this service, including Dublin airport, with a huge range of Dublin Airport hotels to choose from. Another fantastic add-on, and one I rarely travel without is airport parking, and Dublin Airport parking is also available to make your travel arrangements completely stress free.
For a break from the gloom this winter, consider heading to the city and experiencing a bit of Spanish culture away from the beach.
About our guest author: 
Craig Gilhooly is a web enthusiast and passionate blogger, who loves all things travel!