In response to numerous appeals from first-time visitors to various destinations we've caved in to the pressure and decided to publish a series of articles highlighting the popular sights actually worth your time in a given city.
The tourist traps, you mean?
Well, yes and no. Many of the places we cover will be the best known attractions but there may be also be a few that were originally lower down your list which we think should be given a higher priority. For the more unusual things to see and do – especially for cities you've visited before – refer to our very cool 'Been there, haven't done that' series.
So this is more like 'Haven't been there, everyone says I should do that – but should I?'
Exactly. But that's not really a snappy title, now is it? After starting with our definitive guide to what to see in Porto, Portugal we moved over to Spain for what to see in Madrid and what to see in Granada. This time we're off to Italy…
Naples
Let's start with that first impression – yes, Naples can be a bit of a shock – not for nothing are newcomers often greeted with "Welcome to the jungle!" But it will be spoken with a twinkle in the eye; Naples is fun as well as chaotic. Indeed it is a city of contrasts – a stunning cultural heritage engulfed in an almost surreal level of traffic noise and fumes, squalid streets run down to meet palm-fringed boulevards, one minute it feels like North Africa, the next Northern Europe. Embrace the colour, sounds, smells, tastes and sheer vibrancy of this crumbling city and you'll be wishing you could stay longer. If you do plan to stay a few days it's worth knowing that you can book good Naples apartments as a better alternative to a hotel. Here's what you should start with when exploring the city:
Palazzo Donn'Anna
Photo credit: Armando Mancini via photopin cc
You can't go in, but you have to go see it. In its fantastic waterfront setting the Palazzo Donn'Anna crumbles quietly away, never completed but oddly beautiful. As you'd expect of such a special building, it has an equally special history. It was intended as a wedding present from Ramiro Guzman, the Spanish viceroy of Naples for his beloved Anna Carafa – from whom the palace takes its name. Yet Guzman left his broken-hearted wife in Naples when he left for Spain in 1644 and Anna died soon afterwards. The splendidly named architect, Cosimo Fanzago, gave up on the project and that was the end of it. It now looks rather sad, but is undeniably grand even as it slowly decays.
Pompeii, Herculaneum and Vesuvius
Photo credit: fabiogis50 via photopin cc
Just as you can't really visit Naples without eating pizza, nor should you visit without seeing Pompeii and/or Herculaneum and admiring Vesuvius. Everyone surely knows the story of the two towns engulfed as a result of the eruption of volcano Vesuvius and both are worthy of your time – it's possible to combine them into a (long) day trip or devote a day to each. While Pompeii is the famous there are many who will tell you that Herculaneum is more interesting due to its smaller scale and the fact that more of the artefacts remain in their original locations. If you only have time for Pompeii you should supplement your experience with a visit to the National Archaeological Museum to see the objects rescued from the site.
Piazza del Plebiscito
Photo credit: mararie via photopin cc
Piazza del Plebiscito has to be one of Naples' most spectacular sights. Looking west you are greeted by the huge Chiesa di San Francesco di Paola, a copy of the Pantheon in Rome; the oldest part of the Palazzo Reale can be seen to the east. To the northwest sit Castel Sant'Elmo and the Certosa di San Martino. After taking in the panorama you should follow the Piazza del Plebiscito tradition which is to stand with your back to the Palazzo Reale, close your eyes and try to walk between the two bronze horses. It may sound easy but you'll most likely struggle due to the gentle slope of the square.
Capella Sansevero
The main reason to come to this Chapel is to see a marble sculpture truly worthy of the description "lifelike". The Veiled Christ at the centre of the Capella Sansevero was carved by Giuseppe Sanmartino in 1753. Christ is depicted lying under an incredibly thin veil with his facial features, body and crucifixion wounds visible through the cloth creating an incredible visual effect. It's impossible not to wonder at the skill required to produce such a sculpture.
San Lorenzo Maggiore
While the vast majority of the sights in Naples are above ground, like Rome the city has a lot of ruins under the surface – the best of the bunch is the area beneath the San Lorenzo Maggiore church. Here you can view the remains of a Roman market – and here the level of preservation is extraordinary – you can see storefronts with walls and ceilings still intact. Not only that, you can visit a Roman laundry and a bakery containing an oven remarkably similar to those used today for Neapolitan pizza. There are also Greek ruins under the church too. It's an exciting but chilly experience so wrap up warm down there.
Certosa di San Martino
Photo credit: Martha de Jong-Lantink via photopin cc
This fabulous charterhouse is a stunning example of Baroque architecture and houses the Museo Nazionale di San Martino. The building was originally a Carthusian monastery which opened its doors in the 14th century, but was altered significantly in the 16th and 17th centuries. The church and the rooms on either side contain a wealth of paintings by some of the greatest artists that Naples produced in the 17th century; Giuseppe de Ribera, Battista Caracciolo, Francesco Solimena and Massimo Stanzione. The Sezione Navale tells the story of the Bourbon navy from 1734 to 1860, and boasts a small collection of amazing royal barges. The Sezione Presepiale contains rare Neapolitan nativity scenes from the 18th and 19th centuries. The Quarto del Priore in the southern wing contains most of the pictures.
Piazza Trieste e Trento
Photo credit: ell brown via photopin cc
Long the place to see and be seen for the trendsetters and wannabes, this city square is nevertheless a must-see for all visitors too. There's a hole-in-the-wall drink spot (acquaiolo) which does a roaring trade in lemon granitas and the sights on the square include the Teatro San Carlo, Palazzo Reale and Naples' famous Caffè Gambrinus.
Chiesa di Santa Maria del Carmine
Another building with a tragic past, the legend concerning this ancient church dates back to 1268. The story is that when Corradino of Swabia was charged with attempting to depose Charles I of Anjou in that year his mother, Elisabetta di Baviera, ade a desperate attempt to collect the money needed to buy her son's freedom. Unfortunately she missed the deadline and Conrad lost his head; his grieving mother donated the cash to build the church on the condition that the Carmelite brothers prayed for him every day. They agreed, the church was built and you can still see a monument to Conrad in the transept. However another mother plays a larger role- a 13th century Byzantine icon of Mary behind the main altar apparently has miraculous powers. Crowds gather each year on 16 July to watch fireworks leap from the campanile, which is tallest in Naples.
Monte Nuovo
The locals must have been rather shocked when a mountain burst onto the landscape west of Pozzuoli in 1538. The area had begun to experience a high level of seismic activity several years earlier and the people started to notice that the land between Lago d'Averno, Monte Barbaro and the sea was rising. Yet they were unprepared for Monto Nuovo's grand entrance which came at 8pm on 29 September 1538 when a crack appeared in the ground not far from the ancient Roman settlement of Tripergole. A volatile mixture of pumice, fire and smoke burst out and continued to spew forth for six days. When the air cleared a new 134 metre peak had emerged to become Europe's newest mountain. These days it is an ideal place for a relaxing walk or picnic, being away from the crowds and now part of a peaceful nature reserve.
Via Chiaia
Photo credit: Smeerch via photopin cc
This pedestrianised street is another classic people-watching venue in Naples and is especially popular in the evenings. The 16th century Palazzo Cellamare is also found here – previous guests include Goethe and Casanova. At the western end of the street you pass under a bridge built in 1636 to connect the hills of Pizzofalcone and Mortella.
Villa Comunale
Photo credit: Joanjo Aguar Matoses via photopin cc
This long seaside strip was originally reserved for Bourbon royalty. Formerly known as the Passeggio Reale (Royal Walkway), mere mortals were only allowed to stroll its length on 8 September for the Festa di Piedigrotta.  It was finally opened permanently to the public in 1869. The Villa Comunale divides the Riviera di Chiaia from Via Francesco Caracciolo and the sea and boasts a bandstand, tennis club, vintage aquarium and at multiple fountains.
Anfiteatro Flavio
Photo credit: TyB via photopin cc
The Anfiteatro Flavio is Italy's third-largest amphitheatre and used to be able to hold over 20,000 spectators who came watch mock naval battles (during which time the stadium was sometimes flooded to set the scene), and of course all the fun of Christians being chased by lions. To see the best-preserved parts of the stadium you need to go under the main arena. The engineers of the time created complicated mechanical systems to lift the caged animals through the openings above. One famous incident occurred in AD 305 – seven Christian martyrs were thrown to the lions by the emperor Diocletian. They survived, only to be later executed. One of the seven was San Gennaro, the patron saint of Naples.
Teatro San Carlo
Photo credit: Mr. dale via photopin cc
Opera buffs flock to San Carlo to experience one of Italy's finest opera houses which is also the oldest active opera house in Europe. Former directors include Rossini and Bellini, and it has also been the venue for the opening nights of several of the world's greatest performers such as Luisa Miller and Lucia di Lammermoor.
La Pignasecca
For an experience for all your senses make your way to the oldest street market in Naples. La Pignasecca has stalls bursting with seafood, cheeses, wine and fresh produce. Grab a bite to eat at Friggitoria Fiorenzano before browsing for a bargain amongst the cheap perfume and textiles (and mass of fake designer goods).
A Pigna d'Uva
It doesn't look like much, but isn't that often the case for insider bars? This spartan wine bar is a real local hit and sells the cheapest vino in Naples (by the bottle or plastic cup). The regular crowd here is wonderfully diverse and ranges from intellectuals to rip-roaring drunks.
Get your gelato
Photo credit: Vin60 via photopin cc
As with pizza, Neapolitans take ice-cream seriously. Most gelaterie have a huge range of flavours split into crema (creamy) and frutta (fruit) varieties. Local favourites include stracciatella (plain ice-cream with bits of crunchy chocolate), nocciola (hazelnut), the sugar-rush that is zabaglione, made with eggs and Marsala wine and the perennial classic fragola e limone(strawberry and lemon). Gay-Odin is widely recognized as the best gelaterie in Naples with the best chocolate flavours in town; probably due to the fact that it is actually a chocolate factory). You'll find it in the Centro Storico and should probably pencil in a good walk afterwards…
Museo d'Arte Contemporanea Donna Regina Napoli
Until 2005 Naples was lacking a major contemporary art gallery – but this all changed with the opening of two publicly funded galleries, PAN and MADRE. Housed in a beautifully renovated palazzo, MADRE consists of a main exhibition area on the ground floor and three upper floors of smaller connecting rooms. The first floor contains installations by international artists such as Jeff Koons and Richard Serra; highlights include Anish Kapoor's slightly mind-bending blue space and Rebecca Horn's mirrored skulls. The upper floors house temporary exhibitions and there's a decent bar and restaurant too.
Stuff yourself with Sfogliatelle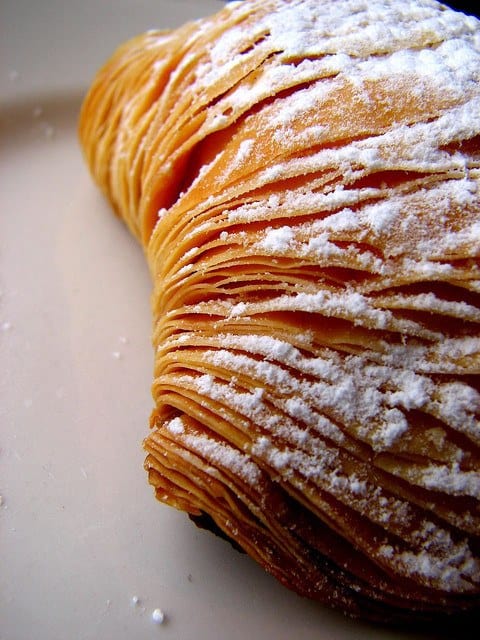 Photo credit: LexnGer via photopin cc
Another Neapolitan classic to challenge your waistline, sfogliatelle are made of layers of flaky pastry with a sweetened ricotta cheese filling. There are generally two types – one with a flaky exterior (even tastier but harder to make) and one with a smooth outer crust (still delicious). While a classic breakfast treat they're good at any time of the day and not too sweet.
Galleria Toledo
For experimental or independent shows head to this cult theatre in the Quartieri Spagnoli. You can see a play, a live band and often watch an obscure movie here – phone for tickets (if they haven't yet got their online system up and running) and pick up your tickets from the box office half an hour before showtime.
Da Michele
Photo credit: Sami Keinänen via photopin cc
Welcome to the motherlode. This is the most famous pizzeria in Naples and we are talking hard-core and no-frills. It's almost comically old-fashioned, a bit dark and you can only get two types of pizza – margherita (tomato, basil and mozzarella) and marinara (tomatoes, garlic and oregano). Naturally, they are amazing and you won't be pining for ham and pineapple. If you are, you have a problem.
We hope these suggestions will help you plan and enjoy a trip to Naples. If you think we've missed something please tell us in the comments section below!