In response to numerous appeals from first-time visitors to various destinations we've caved in to the pressure and decided to publish a series of articles highlighting the popular sights actually worth your time in a given city.
The tourist traps, you mean?
Well, yes and no. Many of the places we cover will be the best known attractions but there may be also be a few that were originally lower down your list which we think should be given a higher priority. For the more unusual things to see and do – especially for cities you've visited before – refer to our very cool 'Been there, haven't done that' series.
So this is more like 'Haven't been there, everyone says I should do that – but should I?'
Exactly. But that's not really a snappy title, now is it? Let's get straight into this with the beautiful Portuguese city of Porto…
Porto
Situated at the mouth of the Douro River, Porto is the second largest city in Portugal and one of the oldest in Europe. The city centre received World Heritage Site status in 1996 and its maze of narrow alleys and side-streets is a great place to lose yourself wandering for a few hours. There are plenty of things to see and do in Porto, but which of the recommendations are worth your time? We've gone through the most popular attractions in the city and come up with this list to help you plan your sightseeing; of course you will need to fine-tune it if there are certain places that don't interest you. For example you could be suffering from 'ABC syndrome' – short for (oh no, not)  'Another Bloody Cathedral' – which tends to kick in after a while exploring ancient towns and cities.
Cais de Gaia
Image obtained from Flickr.com under Creative Commons (c) jcrr
Head over to this side of the Douro for a fantastic view of the city's skyline and to visit the birthplace of port wine. Visit the warehouses with their characteristic terracotta roofs and choose one (or more) of the port lodges for a guided tour and a chance to sample the stuff. Taylor's is arguably the best if one is enough; it's a good idea to come in the late afternoon then stay for dinner to enjoy sunset over the city.
Serralves Museum
This world-class museum displays some of the best international contemporary art in a striking minimalist building by Pritzker Prize-winning architect Alvaro Siza Vieira. The building itself is as much a work of art as the collections exhibited inside and is located in a magnificent park. Head to the museum shop for the latest in Portuguese design.
Ponte de Dom Luís I bridge
Image (c) Andy Higgs, Grown-up Travel Guide
Designed by a student of Gustave Eiffel – and built before his Tower – Porto's iconic bridge was opened in 1886 at which time it was the longest iron arch bridge in the world. These days the upper level is used by pedestrians and the metro train line, while cars and pedestrians use the lower level to cross the river between Porto centre and Vila Nova de Gaia. The views from the top are astounding so don't forget your camera. And a wide angle lens.
Sao Francisco Church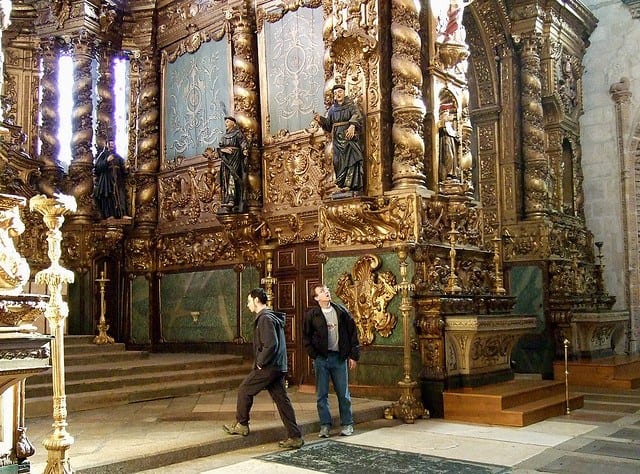 Image obtained from Flickr.com under Creative Commons (c) kathy
If you can only face one church in Porto make it this one. From the outside it looks like many other 14th Century religious buildings, but the interior is truly jaw-dropping. The majority of the church is decorated in pure gold (apparently there is something like 400 kg of the stuff here) and the rest is in marble. Under the cellar floor lie thousands of human bones awaiting Judgement Day. It is no longer used a church but classical music concerts often take place here.
Casa de Musica
Image obtained from Flickr.com under Creative Commons (c) eric arnau
To some people this twelve-storey, irregular-shaped building resembles a fallen meteorite but most consider it an architectural masterpiece. Designed by Rem Koolhaas exclusively for musical performances, it opened in 2005. Take the guided tour to fully appreciate the place and perhaps finish off with a meal at the top floor restaurants – one of Porto's best. The area outside is popular with skateboarders.
Bolhão Market
This two-storey covered market was first built in the 19th century and is located in the heart of the city. It's a lively, noisy place and is well-known throughout the country. The highlight is probably watching the fishermen's wives selling their latest catch.
São Bento Station
Image obtained from Flickr.com under Creative Commons (c) b.reynolds
The first train arrived here in 1896 and it remains an important transport hub, but even if you're staying put you should have a look inside the station building. The interior is decorated with about 20,000 magnificent tiles depicting the history of transport and Portugal. The artist Jorge Colaço completed his masterwork in 1916.
Caisa da Ribeira
The Cais da Ribeira district connects the waterfront and in the city centre and is Porto's most photogenic area. It is comprised of a multitude of medieval narrow streets and even narrower alleyways between ancient buildings, many of which are in urgent need of repair.The harbor is filled with typical wooden boats, many of which offer cruises along the Duoro. Cais de Ribeira area was named a World Heritage Site by UNESCO in 1996 and is at its best after sunset when the bars, cafes and restaurants come alive.
Duoro River cruise
The best (and certainly most relaxing) way to see the city is from the water by taking a river cruise under the city's bridges. There are many operators to choose from so you'll be sure to find an option that best suits your interests.
Torre des Clerigos
Image obtained from Flickr.com under Creative Commons (c) Simon Collison
This Porto landmark in the historic centre of the city was built in the 18th century. Some 76 metres tall, Torre dos Clerigos (Tower of the Clergy) is both the highest tower in the city and one of the oldest. To reach the top you'll have to climb 235 steps but the views are worth the effort and make it a favourite for photogeeks who love panoramic stitching.
Soares dos Reis Museum
Named after one of Portugal's top artists, this was Portugal's first official national museum. It was founded in 1833 to showcase works of art from dissolved monasteries and convents, including a valuable collection of ceramics, jewellery, paintings and glass.
Rua de Santa Catarina
This long pedestrian-only street is the place to come for some laid-back retail therapy or to sip a coffee at one of the cafes lining the road. As well as the usual chain stores there are plenty of independent small places and the shopfronts maintain their authentic local feel – making Rua de Santa Catarina fun even for those determined to remain window-shoppers only.
Discover the Francesinha
Image obtained from Flickr.com under Creative Commons (c) Simon Summers
Known – with good reason – as a potential heart attack on a plate, the Francesinha is a Porto original. The basis recipe is a white-bread sandwich of ham, beef and sausage completely covered in melted cheese swimming in a warm tomato and beer sauce, but each restaurant has its own spin on the concept. For a very popular and traditional version try Restaurante Bufete Fase on Rua de Santa Caterina. For something quite different, try Restaurante DOP (in the Palácio das Artes) run by the celebrity chef Rui Paula, who transforms the working man's snack into haute cuisine using tenderloin beef, artisanal sausage, mozzarella and even a bit of lobster in the meat gravy. Whichever you try, you'll not need dessert.
Cafe Majestic
The truly majestic Cafe Majestic opened for business in 1921, designed by the architect João Queirós. Take a break from shopping on Rua de Santa Caterina and drink in the atmosphere of this Belle Epoque establishment. Not just a cafe, the Majestic is a slice of Porto history.
Lello & Irmao bookshop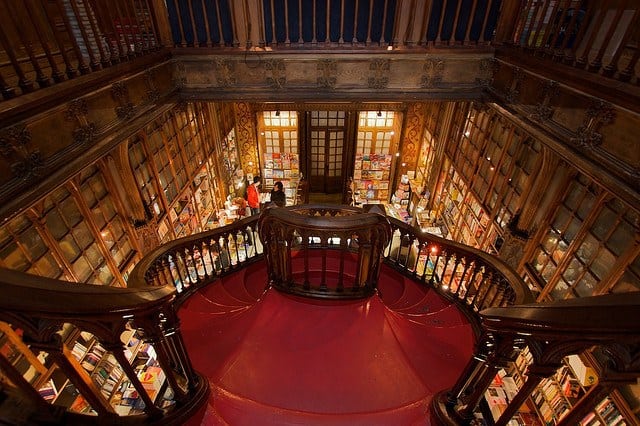 Image obtained from Flickr.com under Creative Commons (c) Natalia Romay
Now one of the most recognized buildings in Porto (its association with former Porto resident and customer JK Rowling has helped), Lello bookstore was established in 1906. The exterior is striking neo Gothic but the interior is the real draw. The lofty book room includes a gallery and a famous ornamented stairway of which the owners are justifiably proud. But they don't like anyone taking pictures, which means that the rather magical atmosphere is somewhat spoiled by continuous outbursts of 'no photos' from the staff.
Rua Miguel Bombarda
Rua de Miguel Bombarda is a 650 metre-long street which has evolved into the place to meet in Porto for lovers of art and innovative design. The galleries change their exhibits on a regular basis and there is plenty of street entertainment drawing in the hip crowd. The road is also filled with restaurants, cafes, bookshops and a number of retro furniture shops, making it a good place for an unusual souvenir.
Relax at the Crystal Palace Gardens
As in London, the eponymous glass 'Crystal Palace' is long gone but was replaced by a huged domed pavilion in 1956 which is used as a venue for concerts and sporting events. The Gardens also contain a lake, well-tended flowerbeds and peacocks roaming wild (ish). There are excellent views over the Douro River making the Gardens a good choice for a picnic or just a place to rest. If you're feeling up to more, there is also a multimedia library, a cafeteria and the Romantic Museum.
Avenida dos Aliados
Image (c) Andy Higgs, Grown-up Travel Guide
Avenida dos Aliados is the heart of the city; a wide boulevard lined with grand buildings and a central promenade. Most of the buildings are hotels or branches of Portugal's major banks, while the central promenade used to be a garden but was remodelled in 2006. This has proved controversial and many locals avoid the area due to the lack of shade, although it is a popular place to celebrate New Year. At the top of the avenue is the Town Hall with its 70 metre high bell tower. At the foot of the avenue is Praça da Liberdade, a square containing a statue of King Pedro IV on horseback. There are also several cafes –  including the historical Guarany – and possibly the world's most attractive McDonalds restaurant which has retained many of the original features of the former Imperial Cafe.
Foz
Image obtained from Flickr.com under Creative Commons (c) Jori Avlis
Foz is a sophisticated district of Porto and home to a number of ocean-front bars, cafés, restaurants and clubs. Foz manages to feel like a village in many respects but the by the time you reach the waterfront promenade of Avenida do Brasil it looks more like a beach resort. But swimming here is not recommended as there are a lot of rocks along the water's edge. Nevertheless you can sunbathe or dip your toes in the water to cool down during the summer. Foz is also a good place to come for an evening drink or meal and getting here is half the fun if you take the old-fashioned tram from the city centre.
FC Porto football stadium
Lastly, if you are unfortunate enough to be a football fan (only joking) then you'll want to take a look at FC Porto's stadium, I suppose. I'm not, so I didn't.
We hope these suggestions will help you plan and enjoy a trip to Porto. If you think we've missed something please tell us in the comments section below! Stay tuned for more coverage of this great city, including more unusual things to do and day trips into the surrounding region.