Introduction
As you may recall, I spent a total of over four weeks in Catalonia this summer, three of them on a family road trip and the rest of the time on a press trip courtesy of the tourist board. For each article I will make it clear whether I was hosted during my stay or paid myself, just to keep it nice and open. For my time in Blanes I was a guest of the Costa Brava Tourist Board, but as always, my opinions are my own.
During that time I discovered a bunch of amazing destinations and this series of articles will highlight the resorts along the Costa Brava that I feel you should know about. Whether you plan to spend a week or two in one place or (perhaps even better) a few days in several places, each of the towns in this series is well worthy of your time.
The Costa Brava (which translates as 'wild' or 'rugged' coast') stretches from Blanes, 60 km northeast of Barcelona, to the border with France and is entirely within Catalonia.
Now for those of us of a certain age and from certain countries the term 'Costa Brava' may bring memories of package tours, sangria and chips and too much sun/too little suncream. Banish those thoughts and open your mind to the Costa Brava anno 2015. It is true that some resorts were permanently damaged by a construction free-for-all but even these are doing their utmost to shed their tacky image.
New establishments have popped up in or near some of the most notorious charter resorts so be prepared for a few surprises.
Logically enough our series starts at the very beginning of the Costa Brava…
Blanes
Popular for several reasons including its enormous sandy beach (some 4km in total), Blanes attracts a lot of foreign visitors as well as domestic ones. Despite having heard the name – mispronounced, naturally – in the past I had never visited so was interested to see what the town had to offer.
We visited as part of the #InCostaBrava blog trip and didn't have a lot of time to explore, but I saw – and ate – enough to convince me to return.
The beach is spectacular and although there are a lot of apartments and hotels the development has mostly been kept to low-rise buildings.
Blanes still feels like a typical Catalonian beach town when wandering the streets rather than a full-on holiday resort catering to an endless supply of Northern European tourists.
As well as the obvious attraction of the beach, there is plenty to keep the whole family occupied. Fishing is still an important part of life and leisure, and the new modern harbour facilities have resulted in improved access from the sea.
Not only can visitors take a leisurely cruise in the blue waters, it is also possible to have a proper marine adventure. A number of organized trips are available which include small gear fishing, beach seine fishing and joining a trawler to catch prawns, shrimp and red mullet.
Experienced anglers can book trips with local sports fishing companies for a range of different activities from deep sea fishing to night fishing.
Those who prefer to keep their feet on dry land can still enjoy the daily fish auction which takes place from Monday to Friday between 1600 and 1800 at the Llotja (fish market).
Other watersports offered in Blanes include diving, snorkelling, sailing, kayaking, paddle boarding, jet skiing, wakeboarding, parasailing and pretty much anything you can think of involving the sea.
Sport in general is a big deal in the town, which has a number of football pitches, tennis and squash courts, swimming pools and sports halls.
If all that sounds a tad exhausting, how about a little culture?
The old town (Blanes dates back 2000 years) contains a wealth of historical buildings and you won't have to go far to explore such attractions as the Santa Maria Church which dates from the 15th Century and the beautiful Casa del Poble and Casa Saladrigas. If you have the energy (or a car) you can visit the Castle of St Joan that towers over Blanes. More on the latter shortly.
If all that sounds a tad exhausting, how about some Catalonian cuisine and wine instead?
Our first port of call in Blanes was at a restaurant for lunch which suited me fine as I hadn't eaten since before flying in to Barcelona and being driven up here…
esBlanc Restaurant and Lounge Club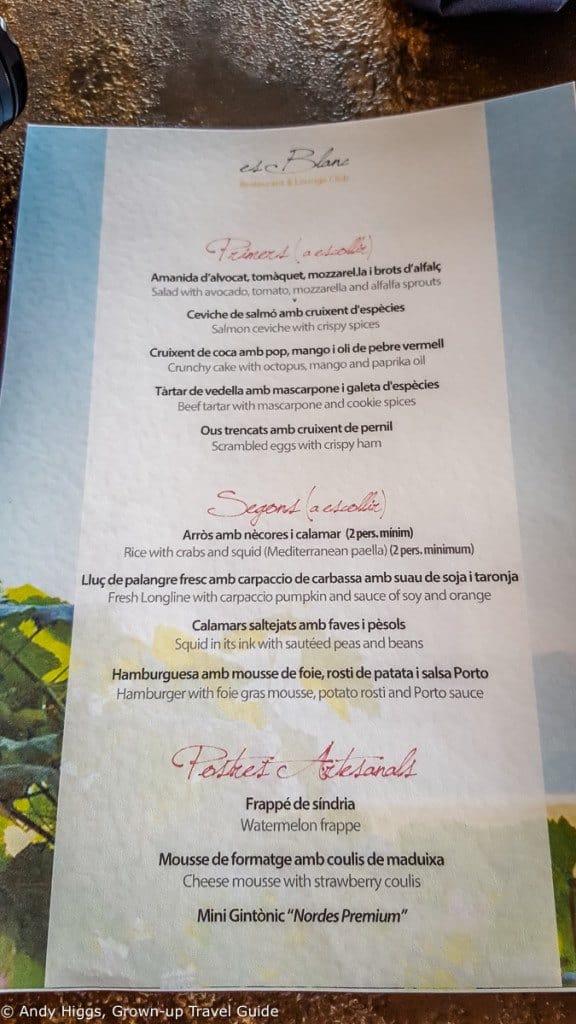 The location of this eatery is hard to beat, on the main beachfront promenade overlooking the water.
You can't really go wrong with Catalonian food and drink, but esBlanc still managed to raise the bar for a fabulous lunch.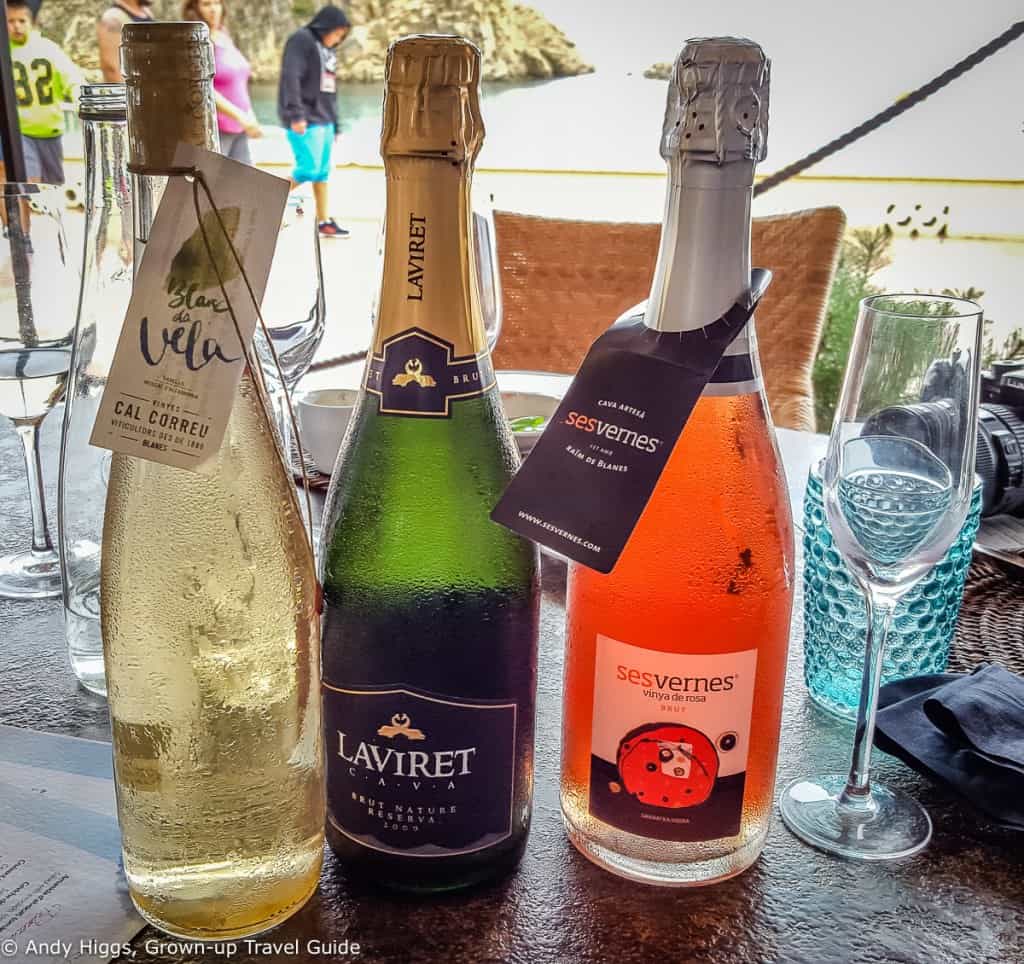 With three delicious courses as well as superb local wine and cava, this was a great re-introduction to life in this part of the world.
esBlanc, Carrer Mirador de s'Auguer, 26, 17300 Blanes, Catalunya, Spain
https://www.facebook.com/esblanc.blanes/
The weather had turned against us, unfortunately, and it was raining quite hard when we left the restaurant.
However, the participants in the next item on our agenda – which was actually a surprise – were not going to let that stop them.
Returning to the minibus we learned that two local craft beer producers were waiting for us at the Castle of St Joan I mentioned earlier. Now this was the kind of surprise I like…
Craft beer tasting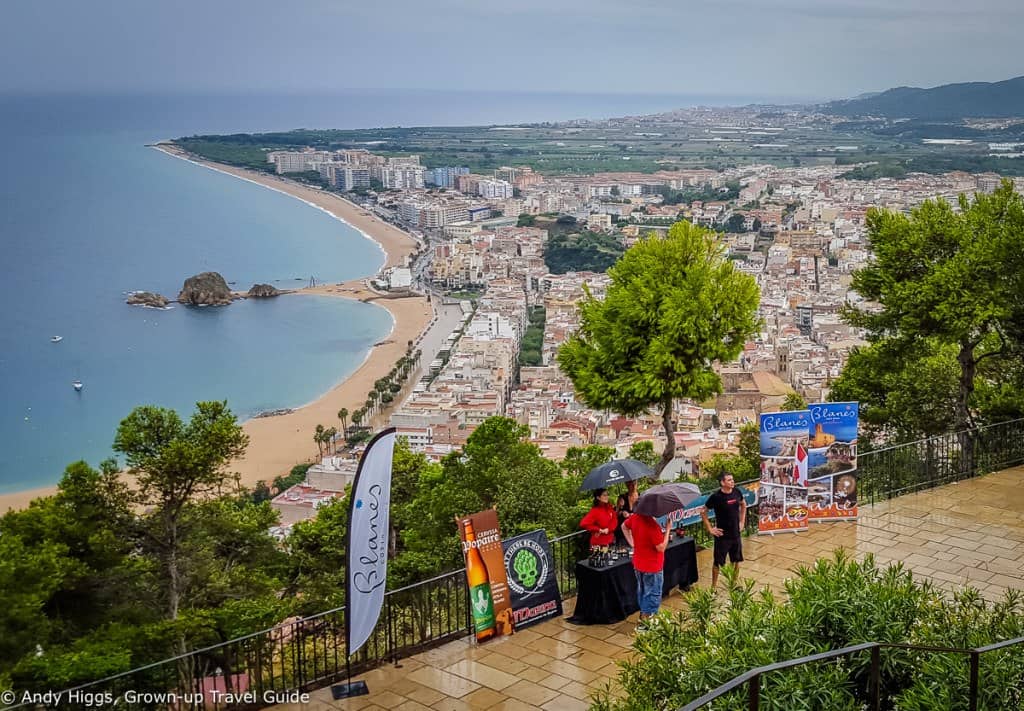 I really can't thank these guys and gals enough for standing out in the pouring rain and waiting for us to turn up, let alone allowing us to taste their wonderful craft beers and giving us a couple of boxes as a gift. I was thus assured my daily beer for the rest of my time on the Costa Brava and a few extras into the bargain.
The beer was fantastic – whereas Marina concentrate on the hoppy style of ale, Popaire produce more malty beer. Let's not worry about differences here though, as they are all great and in the course of my time in Spain I tried most of the range.
You'll find the entries for each one in the beer diary if you enter "beer diary popaire" and "beer diary marina" in the search box at the top of the page.
Marimurtra Botanical Gardens
Now I'll be the first to admit that when visiting a new destination I don't get overly excited if I find out it has a botanical garden. Having said that, after a couple of experiences on this trip I will not longer simply dismiss the idea of spending a few hours wandering around one.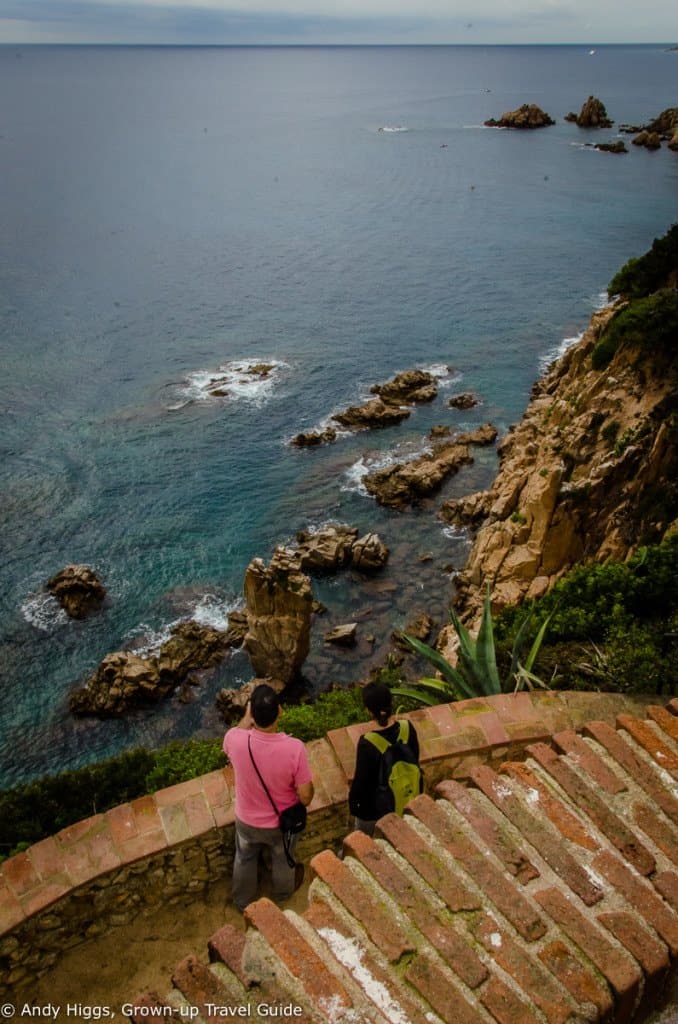 With a stunning cliff-side location, the Marimurtra Botanical Garden was created by the German scientist Karl Faust in 1921.
Now containing over 4000 species, the garden is primarily dedicated to Mediterranean and sub-tropical fauna, with an amazing range of cacti from Africa and Central America.
It is also beautifully landscaped with several good viewpoints from which to take in the wonderful coastline.
Follow the steps to the Linnaeus temple for the best of these.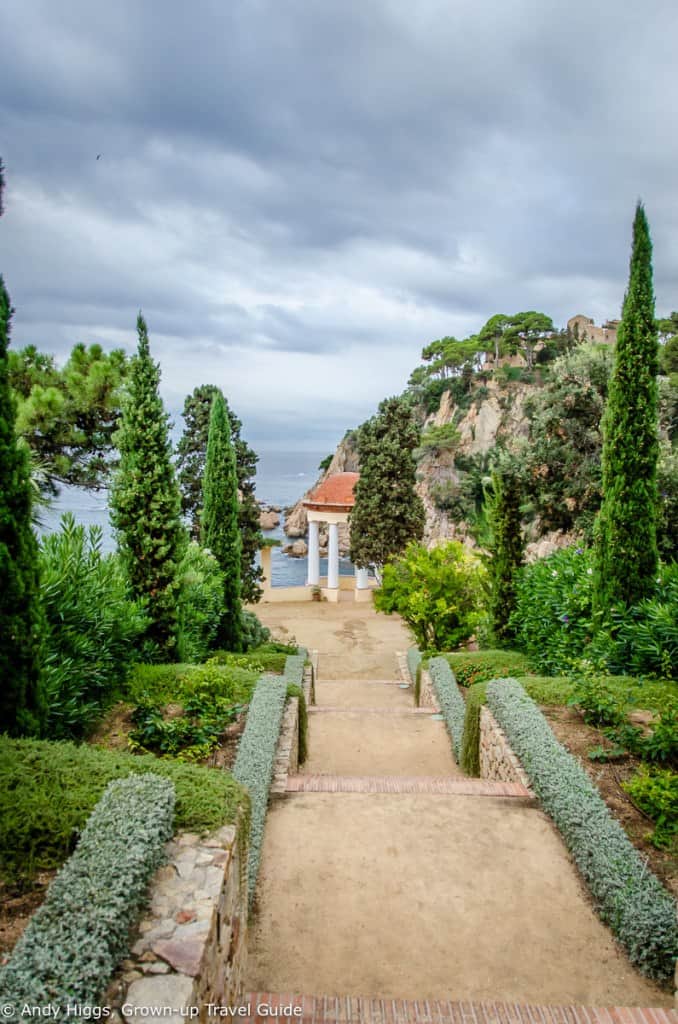 Marimurtra has developed into one of the most important biological gardens in the region and is still under private ownership.
I highly recommend that you visit when in Blanes – especially on a fine day, of which there are more than enough on the Costa Brava – and also that you buy a jar of the honey produced here. It's very tasty, and I wish I had bought another one.
Marimurtra Botanical Garden, Passeig Carles Faust, 9-Apartado de correos 112, 17300  Blanes, Catalunya, Spain
That was all we had time for in Blanes and we were staying in a different town, but to help you when you visit I've found a good place to stay:
Where to stay in Blanes
Hotel Boix-Mar
In my experience, a family-owned 3-star hotel on the Costa Brava is the perfect choice. The perfect combination of comfort and intimacy, these places live or die on their reputation and it shows in the amount of effort they put into their service. The Boix-Mar is just the kind of place I would want to stay next time I visit Blanes.
Hotel Boix-Mar, Enric Morera, 5 – 17300 Blanes, Catalunya, Spain
http://www.hotelboixmar.com/en/
We hope you enjoyed this article and will be back with another Pearl of the Costa Brava very soon 🙂