Okay, I see you're not beating around the bush…
Do I ever? It's true, that's a big claim I'm making in that headline right there. But fear not, I'm going to convince you that I'm not writing cheques my story can't cash.
Cue the inevitable spike in searches by confused younger readers wondering what a 'cheque' is and how you 'cash' one…
Maybe so. Perhaps I should say that I'm not attempting a transaction for which my story has insufficient PayPal funds?
Or perhaps not. You liked this place, I take it?
This trip to Zimbabwe was one of the best of my life – in just one short week I managed to pack in some incredible new experiences such as viewing the Victoria Falls from a helicopter, ziplining over the Zambezi, walking the catwalk under the Victoria Falls Bridge and of course living on the edge at Gorges Lodge. Actually this was all within the first three days – the remainder of my stay was spent at Bomani Tented Lodge where I finally got the chance to go on safari.
Introduction
As regular readers will be aware I spent almost four years in Africa but this was twenty years ago and confined to the northern and western parts of the continent. With the exception of a few days in an extremely dilapidated national park in Ghana in the early 1990s where I did in fact see elephants, I had no prior experience of game viewing. Well I do now, and I'm hooked.
My contention is that whether you are also a complete newcomer to the magic of an African safari or an old hand with stamps from all the famous parks, you need to visit Zimbabwe. Look, if the previous articles have failed to spark your enthusiasm then perhaps you need to make sure your ticker is still ticking. There is so much to do at Victoria Falls that we had to split our article into two parts and who wouldn't want to stay at Gorges Lodge?
But that's only half the story – just a few hours' drive from Imvelo's clifftop property lies Bomani, located in a 5000 acre private concession in the Ngamo Forest Area on the threshold of the vast Hwange National Park.
Covering a staggering 14,600 square kilometers, Hwange is widely acknowledged to be one of the best parks in Africa for wildlife, and Bomani's position in its unspoiled south-eastern corner is one of its biggest advantages. You won't find convoys of jeeps encircling every poor lion or giraffe out here – this is the safari experience as it was supposed to be. I'll tell you all about it in the next feature but for now let's concentrate on the lodge itself.
The journey
So to pick up from where I left off – after a very rewarding village visit it was time to leave Gorges for the transfer to Bomani. Transport infrastructure in Zimbabwe is still in a dire state although there are tentative signs of improvement with new operators entering the field. It is possible to travel between the major cities by bus or (very slowly) by train, but to reach safari lodges in Hwange you will need to have a private transfer.
This is arranged at the time of booking so you don't need to worry when you get there – if you are booking a package with Imvelo which includes both Gorges Lodge and Bomani, your transfers will be included. If you really want to travel in style you can opt to fly from Victoria Falls to Hwange National Park assuming the airstrip in Bomani is open; this is not usually the case in the rainy season.
Of course this is an expensive way to make an entrance but is sure to be spectacular – and with the airfield very close to Bomani you can be in camp an hour after taking off at Victoria Falls. As well as the cost, another point to consider is the restrictions on the amount of luggage you can take on the light aircraft – you may have to cut down your wardrobe a little.
If travelling by road the final part of the journey to Bomani also depends on the rains – the shortest route relies on a combination of an extremely vulnerable bridge and dirt roads that are impassable in the wet season. I was lucky enough to experience both routes as the river crossing was repaired in time for my departure. Having said that, it was still quite an experience, as 'bridge' is pushing it a little as you will see a little later.
Anyway, I took my seat in the comfortable minibus along with Martin and Carole and as well as an Australian couple who had arrived in Zimbabwe from Botswana that morning and were going straight to Bomani. We had plenty of time to get to know one another as the minibus blasted down the main road between Victoria Falls and Bulawayo which was in excellent condition.
We stopped a few times at toll barriers where those on duty collected the charges and were both polite and friendly – none of the "African road block tension" here. Otherwise our driver was able to keep motoring along at full speed as we took in the changing landscape around us.
It took about three and a half hours to reach Hwange Safari Lodge on the edge of the eponymous National Park. Here we were met by Sibs and Vusu – two guides from Bomani who along with their driver would take us on the final stretch to the camp. They had brought refreshments too and a cold beer and a sandwich were most welcome. Because the bridge on the River Gwai (see what I did there?) was still out of use, this section would take another three to four hours.
The dry season route cuts this down to one and a half but for me I enjoyed the adventure – we piled onto a 4WD safari vehicle which was open to the elements and were soon bumping along narrow, sandy 'roads' following the railway line a few metres to our right. Here's a quick clip to give you an idea:

This certainly felt more like the Africa I remembered than an air conditioned bus, and whatever it lacked in comfort it made up for in fun.
For most of the journey we were driving on little more than tracks and regularly had to slow down to avoid being whipped by thorny branches encroaching on our path. Fortunately – and perhaps unsurprisingly – there was no other traffic so the fact that the we barely had room for the width of our own vehicle was not a problem.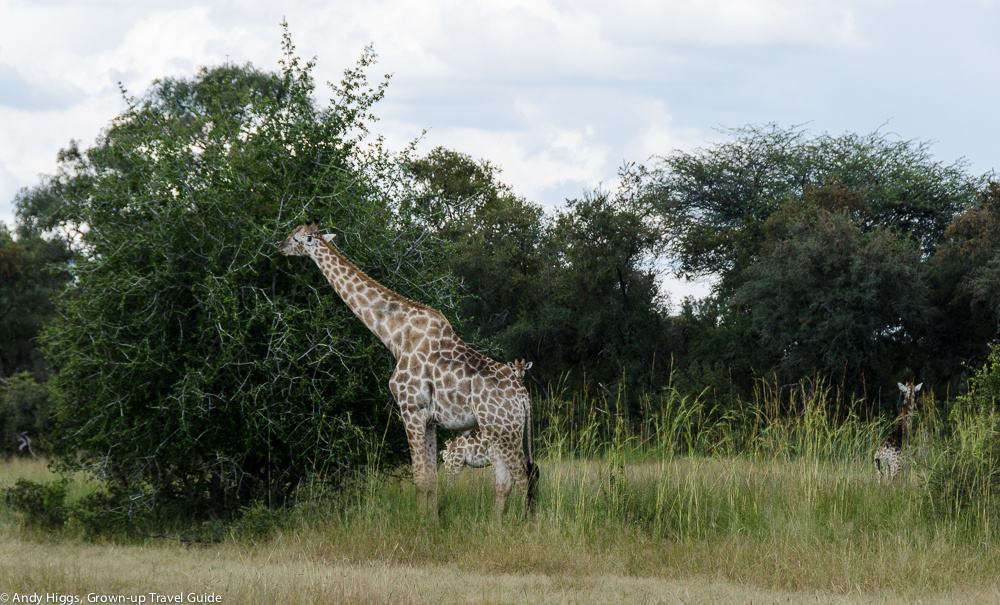 It wasn't long before we began to see wildlife – vultures, monkeys and giraffe were among the highlights. Our route took us through thick bush, forested areas and open plains with the railway a constant companion.
Arrival
Somehow we managed to avoid the storm that seemed to threaten us for most of the journey and finally Vusu pointed to a sign on a tree, "Bomani". We crossed the incredibly straight Victoria Falls to Bulwayo railway line and passed the airstrip to reach the plains on the edge of which Bomani Tented Lodge appeared.
It was starting to get dark and the main lodge building was a welcome sight after a day of travelling.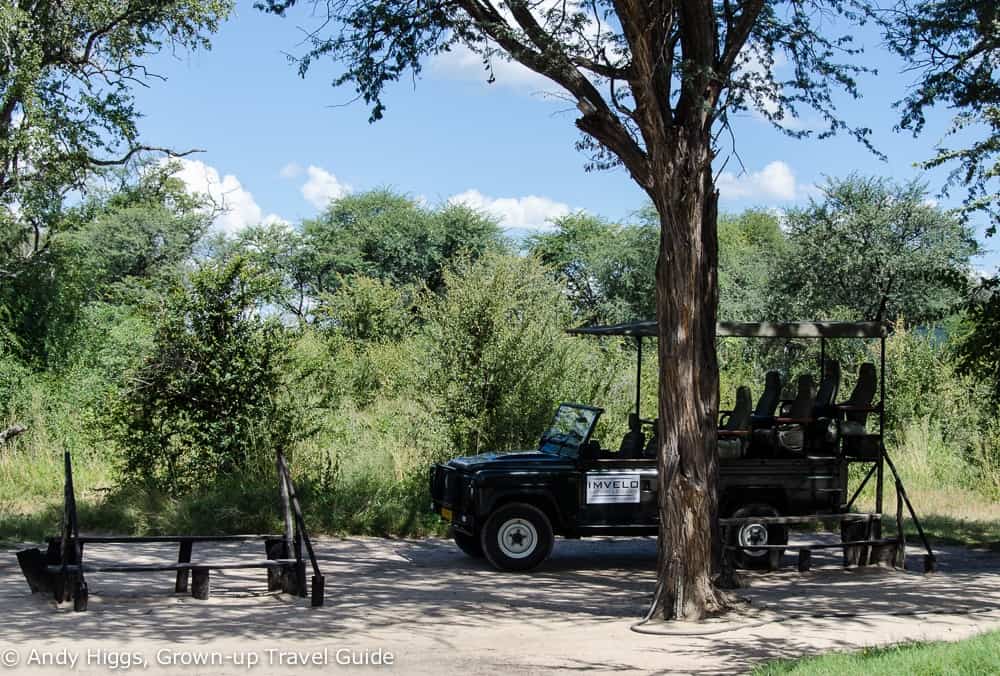 The vehicle pulled up at a set of steps and we climbed out, welcomed by the affable Big Boy and the rest of the Bomani staff.
The main building houses a bar and dining area as well as a lounge section with comfy chairs and a sofa – just the spot to enjoy the cold beer we were offered and listen to Big Boy explain how things worked at Bomani.
The rules
Big Boy is a real character and his friendly and fun attitude is infectious. Having got our attention, he went on to tell us what we needed to know about life in camp.
Despite having all the comforts guests need, a safari lodge is not simply a hotel in the bush. First of all, Bomani is located in an isolated area with no easy access to supplies. Ensuring that there is enough food and drink for guests and staff requires deft logistical skills and forward planning.
Clearly they know what they are doing as we experienced no problems in the five days I was there, which given the fluctuating number of guests was quite an achievement and testament to a Zimbabwean trait I became familiar with during my stay. I heard many stories and examples of Zimbabweans being faced with seemingly impossible challenges simply deciding to "make a plan" – a common response to adversity.
This explains how they managed to cope with the staggering inflation, food shortages and other hardships during the worst of the economic meltdown – it may not be the answer to everything but that kind of mentality helps more than just thinking "oh, it'll be alright".
Another big difference from a hotel is the fact that Bomani is effectively surrounded by wild animals. Okay, that makes it sound a little dramatic but there are no fences keeping elephants inside the National Park or signs that discourage lions from entering camp.
This is why it is forbidden for guests to walk back to their tents after dark without being accompanied by an armed guide. As Big Boy noted they have yet to lose a guest, safety is their number one priority and it makes sense to take care.
There's no telling how an inexperienced visitor like myself would react to bumping into a lion in the darkness but it's safe to assume it wouldn't end well, so this is a rule nobody has a problem with. Since we would need to be up before dawn on occasion all we needed to do was arrange a wake-up call and collection from our tents when ready if it was still dark in the morning.
Electricity is available but rationed as a generator is used – basically power is limited to the morning and evening, which coincided well with when it was required.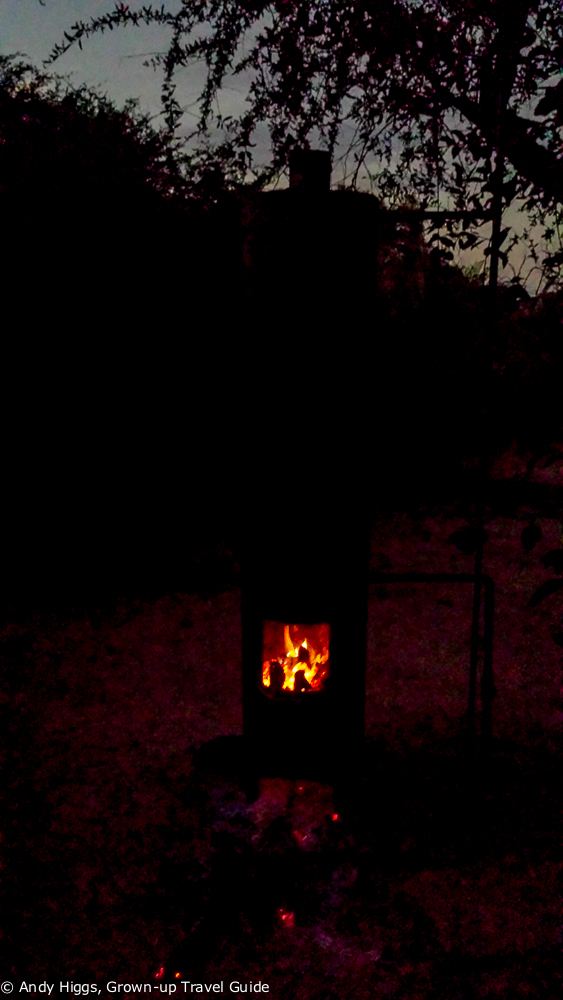 Water is heated by burning wood in stoves for each tent; these are lit in the evening and provide plenty of piping hot water for a long shower after a day on safari. I also found that the tank remained warm the next morning too so I never had a problem.
The camp even had WiFi in the main area but this was understandably very slow and when I visited I had no mobile phone coverage at all, which I actually enjoyed. A new mast was about to be commissioned for the area though so Bomani is probably on the grid already – and WiFi has likely improved too. But leave your phone in your bag – there's far more for you here than Facebook.
The accommodation options
Bomani offers two different types of tented accommodation as well as one thatched bungalow aimed at families. On one side of the main building (where I stayed) you'll find the five "Hornbill" tents which are raised about a metro above the ground and have great views over the Ngama Plain in front of the lodge.
On the other side are the four larger and more luxurious "Spurwing" suites and the bungalow which are on ground level and overlook the waterhole.
My tent – Hornbill 2
After our briefing I was shown to my accommodation. As you can see from the video below, this is not your average leaky, cramped canvas tent, but rather a spacious, semi-permanent construction with an en suite bathroom and a terrace to enjoy the view over the plains.

Mounted on wooden decking, the Hornbill tents come with floor-standing fans, one or two beds, a separate bathroom with shower, toilet and basin as well as a wardrobe and mosquito netting on all windows in the bedroom. The bathroom is a little more open to the elements which helps keep it cooler – this is a blessing during the heat of the day. Water pressure was excellent and as mentioned before I had plenty of hot water – couples could economize by sharing the shower too as it was big enough…
The climate at Bomani is wonderful – I was there at the start of the dry season but despite being warm all year round while the sun is up there is little or no humidity which makes it easy to cope even for us northern Europeans. Best of all, it can actually get chilly at night so you won't be tossing and turning in a sweat waiting for sleep to kick in.
Trust me when I tell you that few experiences can match that of snuggling under a blanket listening to the sounds of the African bush after an unforgettable day viewing wildlife. Particularly when that day concluded with drinks round the campfire before a hearty meal and a glass or two of wine swapping stories with new friends. As I touched upon in my review of Gorges Lodge, this is real luxury travel and it's a privilege worth saving up for – you'll get a priceless return on your money.
All rooms are equipped with an emergency whistle and mobile LED lamp (don't forget to charge it up if you use it) and mosquito repellant and toiletries are provided. I didn't see a single mosquito during my stay but I was religious in my use of both mosquito coils and repellant and I suggest you do the same. Malaria is endemic in much of Zimbabwe so don't forget to take those tablets too.
A great perk of staying at Bomani is the free laundry service – this means you can travel light safe in the knowledge that your clothes will be cleaned during the day and can be worn again.
And did I mention the view?
Food and drink
All food and drink is included with the exception of premium wines and imported liquor. As mentioned before the team at Bomani are experts in stock control and manage to ensure supplies don't run dry. Guests help themselves to beer, soft drinks and water from the fridge in the main lodge building and enjoy a variety of home-cooked meals while staying at the lodge.
Overall the quality of the meals was good and portions were extremely generous. As in Zimbabwe in general meat is extremely popular and if you are a weird vegetarian or have special dietary requirements make sure you give Imvelo notice and they'll make arrangements for you.
In general a light breakfast is served before the early game drive and then brunch/lunch awaits you on your return. Dinner is in the evening and plenty of snacks and drinks are served during the day so you won't go hungry. Vehicles are equipped with cold boxes for those perfect sundowners on safari.
Activities offered at Bomani Tented Lodge
Obviously the main activity is wildlife viewing, but this takes several forms and there are many other rewarding ways to use your time at Bomani.
As well as morning, afternoon and night game drives you can go on a game walk or join an all-day "pump run". This entails visiting the waterholes to supply fuel and oil for the diesel engines that pump the water as well as food rations and wages for their operators. Hwange National Park has no large rivers and wildlife survives on pumped water as it has done for over 70 years. Imvelo Safari Lodges is responsible for 8 pumped waterholes in this area of the park. After making deliveries lunch is enjoyed by the waterhole before an afternoon game drive during the journey back to the lodge stopping for sundowners and snacks en route.
Due to the ample rains that had fallen in the weeks before my visit, a pump run was not necessary as the animals had plenty of water without the need for starting the engines. Instead I had more time to visit Imvelo's social and projects which was a fantastic experience and deserving of an entire article – which of course it will be given. Watch this space for in-depth features on both my first safari and visiting the local villages and schools helped by Imvelo Safari Lodges.
Just like at Gorges Lodge, all of the staff working at Bomani come from neighboring villages – another direct benefit for the communities bordering the national park.
Departure
After a truly life-changing stay at Bomani Tented Lodge it was not easy to leave. But all good things must come to an end, and for my return journey the camp staff had received word that the Gwai River bridge was open again so I would have a quicker journey back to Victoria Falls for my flight back to JoBurg and on to Europe.
We left just after first light and it was a spectacular ride – this video will show what I meant about the rather interesting definition of the word "bridge".
And of the word "open", for that matter 🙂

The skill and experience of Bomani's driver were put to good use, and with the help of our seriously powerful 4WD vehicle we made it across and on to the tarmac road a few minutes later. Swapping vehicles at Halfway House (a hotel whose best days are sadly far in the past) the rest of the journey went without a hitch.
Conclusion
Even now, many weeks later, I think of my time in Zimbabwe every day and cannot wait to return with my wife and daughter to share the excitement and adventure of an African safari. Bomani Tented Lodge is the perfect base for such a safari – the seclusion of the location along with the vast amount of wildlife is an appealing combination. Add the expert guides, service-minded and friendly staff at the lodge, the social and conservation work being carried out by Imvelo to which guests are making a real contribution and the comfortable accommodation and you've everything you need.
For a genuine safari experience, come to Zimbabwe. For the ideal place to stay, come to Bomani. Combine a few days here with a few at Gorges Lodge and you'll have the holiday of a lifetime – just like I did. And I haven't even told you the half of it yet, so check back for the rest of the story!
Need to know
Bomani Tented Lodge – Hwange National Park
All inclusive rates:
Hornbill Tents: USD 285 per person sharing, USD 371 single use
Spurwing Tented Suites: USD 315 per person sharing, USD 410 single use
Family Suite: USD 335 per person sharing, USD 436 single use
Rate includes accommodation, all meals, soft drinks, beers, wine and local spirits, laundry, transfers from Sipepa, Hwange Main Camp, Halfway House or the Lodge airstrip, game activities as available including walks, drives, all-day excursions and night drives, parl entry fees per paying night, visit to local village, tour of village school and service of licensed guide on safari
ROAD TRANSFER 
Victoria Falls – Halfway House/ vice versa – US$100 per person one way (rate for minimum of 2 passengers).
Bomani – Hwange Main Camp / vice versa – US$40 per person one way (rate for minimum of 2 passengers).
AIR CHARTER
Victoria Falls – Bomani Air Strip (dry season) – US$390 per person one way (rate for minimum of 2 passengers).
Victoria Falls – Sipepa Air Strip (wet season) – US$430 per person one way (rate for minimum of 2 passengers).
Thanks to Bomani for hosting my stay – as always my opinions are my own