More and more Grown-up Travellers are discovering the many attractions that Poland has to offer – dynamic cities, spectacular landscapes, excellent beaches, loft mountains, interesting history, fascinating culture and friendly people, to name but seven. You can find amazing deals on trips to Poland right here, so there's no reason to delay booking…
The fact that the country offers great value for money helps too; there are not many big cities in Europe where you can splurge on a 5-star hotel without breaking the bank.
But there's more – Poland also has a varied and tasty cuisine; from national dishes to regional specialities, you'll find plenty to tickle your taste buds. Warsaw and Krakow have more than their fair share of established and up-and-coming chefs dishing up classic Polish fare with a modern twist. You'll also find exciting fusion styles combining the best local produce with exotic ingredients.
However, we would recommend that you leave the haute cuisine for later and start with the traditional fare in this article prepared the way it has been for decades. You have a better chance of getting to know the people in an everyday cafe or restaurant and it's always good to enjoy the Polish classics as they were meant to be made first, so that you can truly appreciate the modern spin that the superstar chef at that glitzy bistro in Gdansk has put on your Zurek.
While the Poles love their meat, vegetarians are quite well catered for too and seafood is also abundant on the north coast. We've picked our top 3 national dishes that you can find everywhere, but each region has its own specialities worth travelling for – too many for this article.
You can find more Polish specialities to drool over here:
Pierogi
Photo credit: htomren Buckminster's via photopin (license)
Here at Grown-up Travel Guide we reckon these little beauties deserve the top spot. The Pierogi may sound like a humble dumpling, but it's the sheer variety of tasty fillings that make the difference.
You can eat them as a main course or side dish, stuffed with cheese, meat, sauerkraut or potatoes, or try them sweet, packed with fruit.
This is comfort food of the highest order and with so many potential varieties you'll never get bored.
Golabki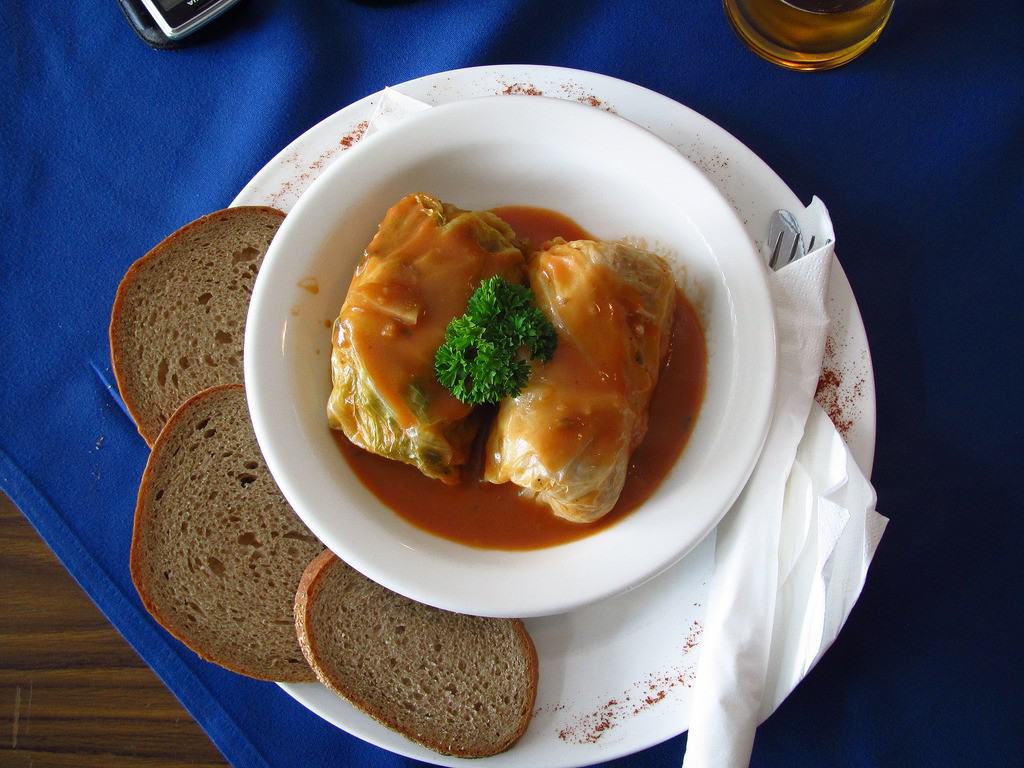 Photo credit: Eco_Bela IMG_0159 via photopin (license)
Next on the list is another classic Polish dish that tastes way better than it sounds. Gołąbki are white cabbage leaves filled with a stuffing composed of minced meat and rice, served with either mushroom or tomato gravy.
Gołąbki are cooked in a flavoured broth and are often considered too low-brow to appear on the menu of sophisticated restaurants. This is a shame, but seek them out or even better, try the homemade variety if you are lucky enough to be invited to dinner.
Kielbasa
Photo credit: Another Pint Please… Sausage on the Grill via photopin (license)
You cannot come to Poland and not try Polish sausage – kielbasa. Well, perhaps if you are vegetarian…but the rest of us won't be able to resist. Again, there are a bewildering number of choices – fresh, dried or smoked, hot or cold, in soups or with a sauce, with vegetables or with eggs.
Dry kielbasa (sucha) keeps for months and still tastes great, and is usually eaten cold while regular kielbasa can also be fried or cooked.
Traditional Polish sausage is made of pork, although some regions of the country also favour beef, turkey or lamb.
Hungry? 🙂