Introduction
You know we like theme parks by now, right? It all started with a bit of an epiphany in Florida a couple of years ago. Until that point none of the family was particularly into rollercoasters although this was mainly due to a lack of experience or a couple of bad experiences when younger (that would be Rebecca and Mari Anne and myself, respectively).
But when in Orlando, right? Theme parks are the main attraction, after all and we decided to go big rather than go home. Universal Studios was amazing, Walt Disney World was a bit too, well, Walt Disney but had its moments and we loved Busch Gardens too. It only took one ride for each of us to become a little addicted to the rollercoaster rush.
Last year we were back in Florida and visited both Universal and Busch Gardens again, as well as a couple of water parks. The thrill hadn't worn off.
But this summer the plan was to stay in Europe – Catalonia, to be precise. I'm not going to say that we chose our destination because of a theme park but let's just say it was a contributory factor…
I'd read a lot of positive reports about PortAventura and contacted their marketing department who were kind enough to give us entry tickets for two days at the theme park and a day at the attached water park, Costa Caribe.
We would need to buy express passes ourselves but that seemed fair enough – and our plans were set.
Just where is PortAventura?
The theme park is located on the Costa Dorada near Tarragona, a little over an hour by road from Barcelona in Catalonia, Spain. There are plenty of ways to get there – buses run from Barcelona airport, the city itself as well as Tarragona and the beach resorts of Salou and La Pineda on the Costa Dorada.
If you are driving it's very easy to find as it is just off A7 motorway.
Where to stay
Just like in Florida, PortAventura has its own on-site hotels. Personally we felt that this might be a bit much – we were planning to spend all day in the park but thought it might be better to stay outside.
Having said that it can make a lot of sense to stay at one of the park hotels – entry tickets are included when you book accommodation and some packages even include express passes. With full-board options including meals in the parks it can work out to be good value, especially for families.
You could also opt to spend a few nights in a park hotel and then move elsewhere to enjoy the coast.
We found that two to three days at PortAventura and two at the water park would be enough; but only you will know how long you will want to stay.
Ticket costs
There are so many different packages and special offers available that it's difficult to give a precise idea of costs. As is usual, the more days you spend at PortAventura the cheaper it will be per day – but a week might be a little excessive.
As a guide, a one-day adult ticket is EUR 45 and those 10 years old and under pay EUR 39. But a three-day ticket (which I recommend) only costs EUR 79/EUR 64.
Express passes
These are highly recommended in the high season (although read about our experiences later in this article). You'll need to buy them in the park – either from sales points or vending machines.
Hot tip: Don't join the rest of the sheep in the long queue for express passes right inside the main entrance. There are several other places to buy them in other areas (all marked on the free map) and queues here are virtually non-existent.
There are four types of express pass:
Express Max – Allows 1 fast access per attraction. Does not provide access to the front row. Its price is EUR 27.
Express Max Gold: Allows 1 fast access per attraction and lets you ride 1 single time in the first row on each of the three main attractions. Its price is EUR 32.
Express Premium: Bracelet that gives unlimited access to the main attractions without queuing. Does not provide access to the front row. Its price is EUR 48.
Express Premium Gold:Bracelet that gives unlimited access to the main attractions without queuing and lets you ride 1 single time in the first row on each of the three main attractions. Its price is EUR 53.
Note that we were unable to buy either of the Premium Passes on our second visit, when we arrived in the  late afternoon. The sales points were closed and the machines didn't sell these products at that time. I am not sure whether this is controlled by the park (i.e. there are a limited number of premium passes per day) or it was because sales stop after a certain time. We actually didn't need them as there were no long queues in the evening, but there had been the previous time we were there.
So my advice would be to get there early if you want the Premium Pass, or go late and hopefully you won't need them anyway and can save yourself a chunk of change.
So as you can see if you buy the best passes as well as your entry ticket you'll pay for the convenience – but then again, these prices are a lot cheaper than any of the Florida parks…
Some facts and figures about PortAventura
The theme park celebrates its 20th birthday in 2015. PortAventura receives some 4 million visitors each year and the resort consists of the main theme park, a water park, four 4-star hotels and one 5-star hotel. There is also a convention centre on the site.
PortAventura is also Europe's largest showground: 15 daily shows and more than 100 performances take place every day during high season. In addition, it is the first resort in Europe to host a show by Cirque du Soleil (separate tickets required).
There are 40 attractions for all ages in the theme park and the majority of visitors are families.
The experience
PortAventura Park covers 105 hectares and is divided into six themed areas:
It all starts in Mediterrània which is styled to resemble a Mediterranean village. It is also where you will find one of the fastest and most insane rides in the park, Furius Baco, a rollercoaster that literally shoots you from 0 to 135 km/h in only 3 seconds.
Yes, you'll feel it – we tried it once and found it a little too bone-rattling for our tastes, but it needs to be experienced.
At the other end of the scale, you can also board a steam train or boat to take you to other areas of the park at a somewhat more sedate and bearable pace.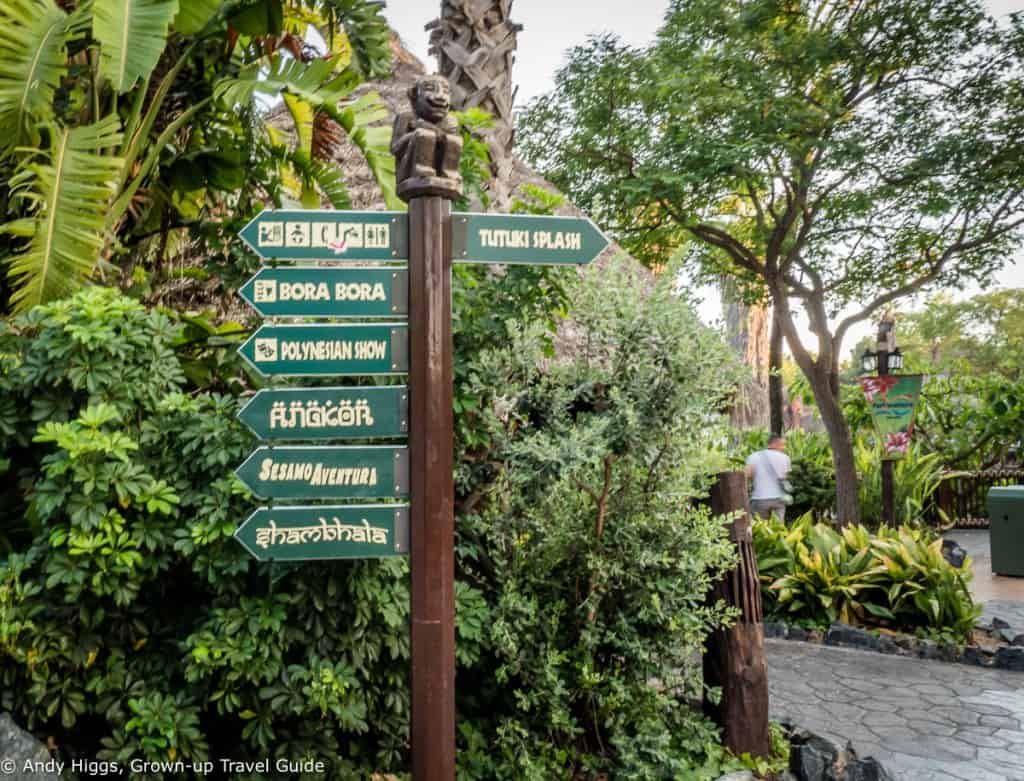 It all gets very exotic in Polynesia – first you'll notice streams and waterfalls alongside the paths and sculptures lining the route through the area.
There are regular shows taking place here but for us the big attraction was Tutuki Splash, a river ride ending in the splash hinted at by its name.
It was intensely hot on our first visit so this ride was a welcome chance to cool off…
China features a reconstruction of the "Forbidden City" of Beijing as well what is apparently an exact replica (in terms of both materials and size) of a stretch of the Great Wall. You can also try the Angkor boat ride which is the longest circuit of its kind in Europe and allows you the chance to shoot water cannon at other boats.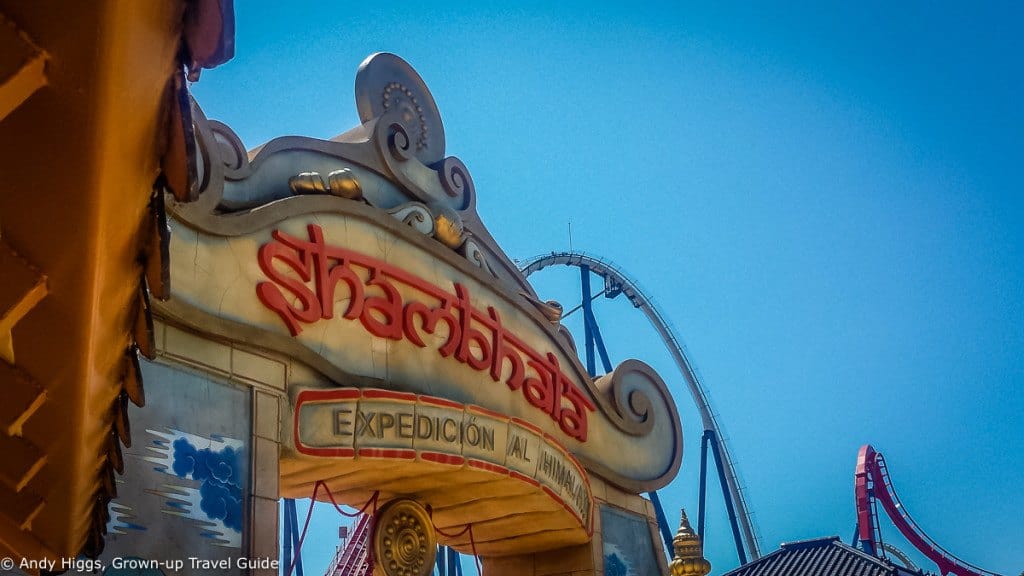 China is also home to our favourite ride in the park, Shambhala. This rollercoaster holds 3 European records (highest roller coaster – 76 m, longest descent with a drop of 78 m and fastest hypercoaster reaching speeds of 134 km/h).
This is the one to come for and justifies the cost of entry on its own. It never gets old (I lost count of how many times we took it) and is fast, frantic but not uncomfortable like some very fast rides can be.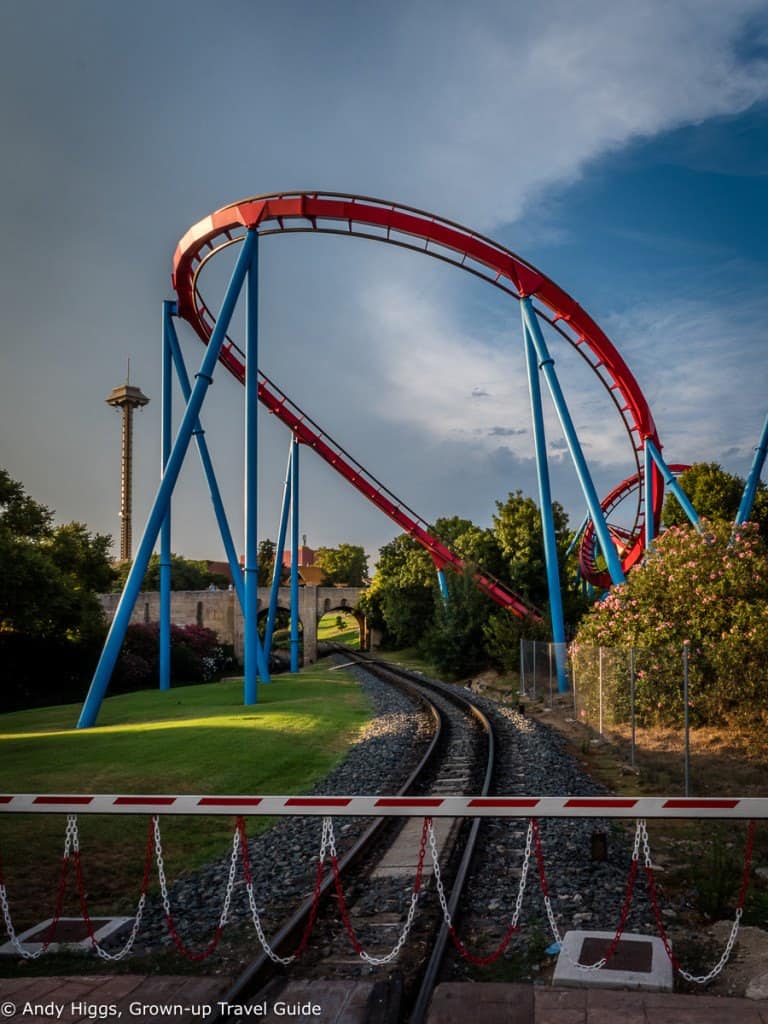 Close by is Dragon Khan which is also superb – featuring 8 loops and a zero gravity section as you blast through a "corkscrew" effect. The 45 metre drop lead to speeds of up to 100 km/h, too…
México is represented by Mayan culture including a pyramid and a reconstruction of Chichén Itzá.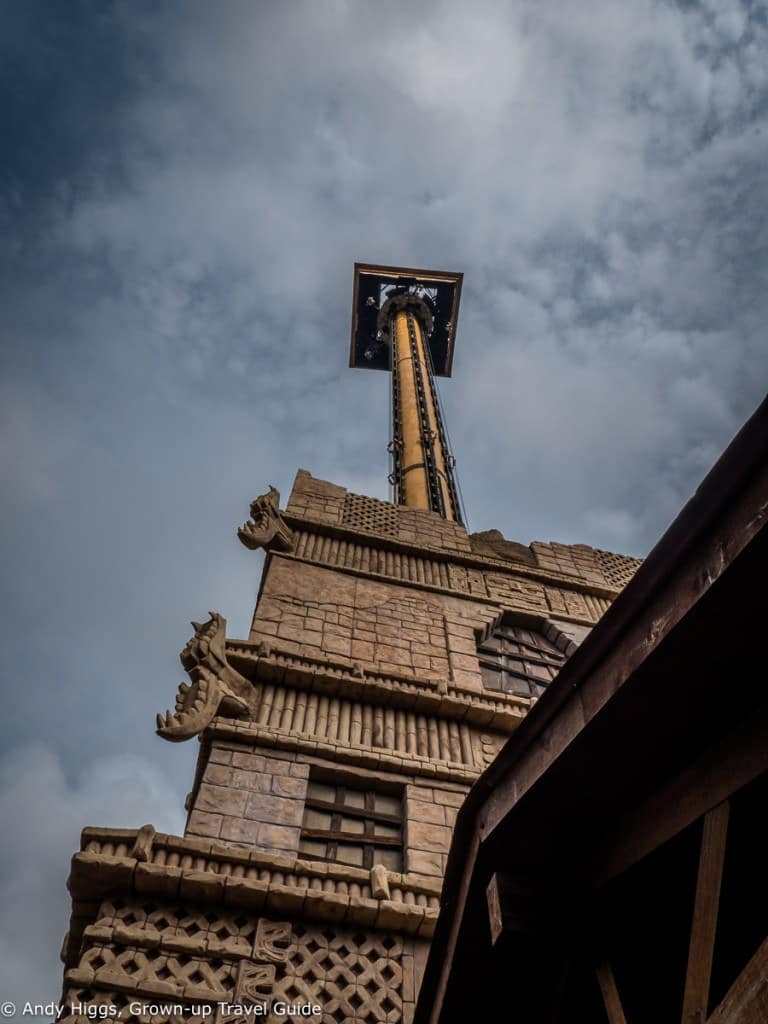 But the main reason to come here is to brave Hurakan Condor, which is a tower ride with an 86 metre free fall at 100 km/h that lasts just 3 seconds. It is hair-raising to say the least and takes nerves of steel just to join the queue and board. There are four different sides and in each passengers ride in different positions – a god excuse to ride it four times. You can't use an express pass here, though, so expect a wait. But it's worth it…
We also enjoyed the mine train roller coaster El Diablo – Tren de la Mina here which was especially fun at night.
The Far West area features an American mining town, so naturally visitors can pan for gold. More interesting by far are the wooden rollercoaster Stampida which is much faster than you expect and all good fun, especially as there are two tracks so the cars 'race' each other. Also here is the Silver River Flume, an excellent log ride through river rapids.
Finally there is SésamoAventura, the family area with child-friendly attractions for the youngest visitors.
Sesame Street characters greet visitors and all 11 attractions in this area have been specially designed for children from the age of one year.
Ready for a video? Great!
Food and drink
The resort also contains 48 food outlets with a wide variety of cuisine on offer, often reflecting the theme of the area in which they are located. This being Catalonia, the local food is the best but everything we tried was good. Beer is available everywhere too, which is nice, and there is far less emphasis on junk food than in the States, which is hardly a surprise.
Costa Caribe Aquatic Park
I'll just add a quick section here on the water park which is next door – because I didn't take a camera inside I have no photos or video and it seems a little futile to publish a separate article without those. Costa Caribe offers 50,000 m² of water attractions and activities in a very laid-back and fun park. It's clean, the facilities are great and you can skip the queues here too by buying a very reasonable express pass.
We loved it and would have like to come back for a second day – there's something for everyone, even if that something is just lying on a sun-lounger or riding the lazy river. Add excellent food and drink and reasonable prices and Costa Caribe makes a worthwhile addition to your visit to PortAventura – packages including both parks are excellent value.
Conclusion
Well whaddya know? You don't need to go to Florida after all. If you're based in Europe, PortAventura is probably the best place you can go on the continent for serious theme park thrills. What's more, it doesn't suffer from Florida's storms and the weather is far more stable – and much more pleasant in the summer months.
Don't forget sunscreen though – the sun is intense.
But keep your shirt on…
PortAventura doesn't have the indoor attractions that Universal Orlando has, but then with the weather this good, who wants to be inside?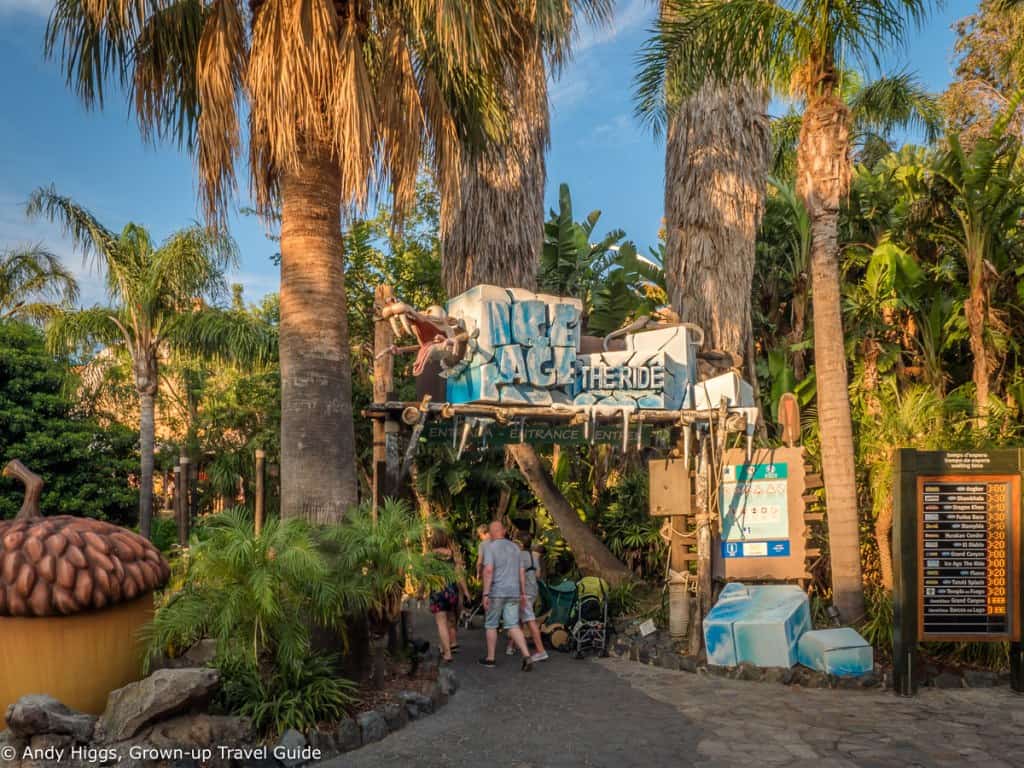 Actually it does now have an Ice Age 4D attraction – although it's awful so don't waste your time queueing for what is essentially a film with a moving seat and water spray.
Apart from that one, all the other rides and attractions are top-notch. It's also great that the park is open so late – most nights until midnight but regular 'White Nights' in the summer see the rides running into the small hours.
You should definitely make plans to visit soon – we are really looking forward to going back again!