The ice-cold beer helped, it really did. The constant heat and humidity were taking their toll and it had only been ten minutes since I had emerged from the water. A few metres in front of me our daughter splashed around at the water's edge, gathering a mound of fine sand to build some creation or other. The permanently blue skies on the horizon assured us that the heat wave was here to stay. Suddenly a hot air balloon hoved into view above the treetops, affording its lucky passenger a panorama of this tropical paradise. At the same time the very act of following its path shattered the illusion for us on the beach. For the blue skies were revealed to be simply a painted backdrop – and the balloon had to stop as it was nearing the roof of this "Truman Show"-esque structure.
The roof?
Yes, dear reader. We were not in some South Pacific resort but in fact some 60km south of Berlin on a grey German Monday. Welcome to the bizarre world of Tropical Islands.
Let's have a look at that picture again, without me cropping most of it away this time:
Okay, you owe us an explanation here…
Well, it's quite a story. Back in the late nineties a German company was established with the aim of providing logistical services for moving heavy and outsize loads using a revolutionary new type of airship. A massive hangar was needed for production and operation and was duly built on an abandoned military airfield at Krausnick near Brand in former East Germany. Unfortunately the company experienced a range of problems both technical and financial and the airship was never built. After a spectacular bankruptcy the hangar stood empty until a Malaysian corporation saw the potential and bought it for a fraction of its construction cost to develop the biggest indoor water park in the world.
Now that's lateral thinking for you.
The result was "Tropical Islands" which opened in 2004 and is rather more than just a big indoor pool. Can I get back to MY story now?
Please do.
Right. While Tropical Islands also offers a range of accommodation options, we decided to visit as a day trip from Berlin. The train takes about an hour to reach Brand, from which a free shuttle bus will take you the last twenty minutes or so right to the door. The dome is visible from miles away and the final approach across the disused airfield is quite an experience as you realise the jaw-dropping scale of the place.
Sensibly enough the resort operates on a cash-free system, whereby you receive a wristband on arrival; your entrance fee and all purchases are charged to the electronic chip for final settlement when you leave. It is worth noting that if you visit on your birthday you get in free; it is also worth noting that you need some proof of this (which we forgot so my wife missed out). Don't bother pleading, it won't work. There are a number of additional charges that become due depending on how long you stay, whether you visit the spa area, use the water slides etc. You can save with a combined ticket if you know you want to brave the sauna, but be warned – this is Germany so be prepared to get naked and see naked.
Speaking from experience there?
Not this time actually, but I do have a particularly vivid memory of my first "German experience" in my younger and more naive years. Nuff said.
Moving swiftly on…
You also use your wristband chip for the lockers, which is convenient. We soon realised that having locker number 5352 meant a bit of a walk – a capacity of 7500 visitors requires plenty of storage space. It's good to get changed as quickly as possible too as the temperature is a constant 26 degrees Celsius (that's about 77, Fahrenheit fans) – all day, all year. Sweat began to break out as soon as we came through the doors so finding the beach was a priority. Leaving the changing rooms we walked through a forested area and past safari-style tents before we emerged onto the main beach and really took in the dimensions.
So how about you wow us with some stats?
Right, get ready. The dome is 360 metres long, 210 metres wide and 107 metres high. To put this in (a French) perspective it is long enough to fit the Eiffel Tower on its side and high enough for two Arc de Triomphes on top of each other. It is one of the largest buildings on the planet by volume – 5.5 million m³ and is the world's largest single self-supporting hall. It covers an area of 66,000 m². That enough for you?
Keep 'em coming, I know you have more…
The Tropical Sea is approximately 3,000 m2, is a constant 28 degrees and has a 200-metre sandy beach. Tropical Islands is home to the biggest indoor rainforest on earth with some 50,000 trees and around 600 different types of plants. Quail and pheasant roam free.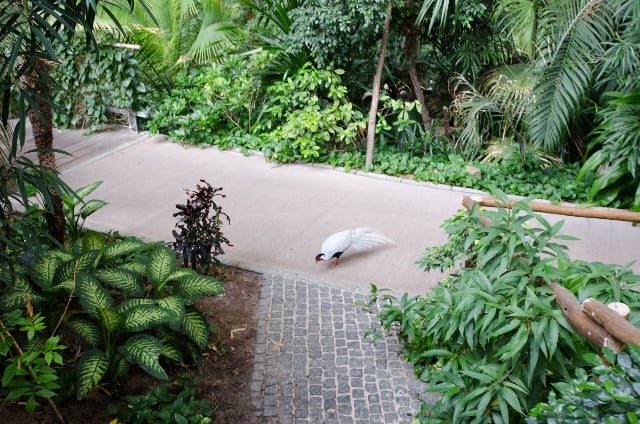 The 27 metre high water slide tower is Germany's tallest and you can reach 70 km/h on the turbo slide, should you be so inclined.
Okay enough already! That was stat overload; sorry I asked…
Now to avoid – or at least postpone – the inevitable "do we have to go back already?" discussions you can also stay at Tropical Islands. Options range from pitching your own tent at one of the sites outside the dome to a premium lodge within the resort itself. There are also areas for mobile homes and trailer-style caravans along with permanent wooden and canvas teepees at the outdoor campsite, all with access to modern facilities and a shop. Within the resort you can sleep in a tent (bedding provided) at one of the camps:
Alternatively you can splash out on a lodge; the Tropical Village has authentic buildings from Thailand, Bali, Borneo and Samoa. Not a bad way to spend the night, I think you'll agree:
The aforementioned sauna and spa complex is (yawn) the biggest in Europe and features scenery inspired by Indian temples, Angkor Wat, New Zealand and, er, Sicily. If you really feel you're not sweating enough you can try out the fitness centre too. Those seeking more leisurely pursuits can visit one of the 13 bars and restaurants offering Asian, American and European cuisine. The Indian food was excellent although probably increased our perspiration more than the gym would have done. Still, an ice cold beer did, once again, help.
A variety show takes place in the evenings on the beach stage and other performances are held at the resort on a regular basis. But for me just wandering around this temple to recreation was entertainment enough. It could so easily have been REALLY tacky; it still occasionally has a slight whiff of cheese about it but is such a unique and well-organised affair (again, this is Germany so no surprises there) that you would be hard pushed not to have a good time.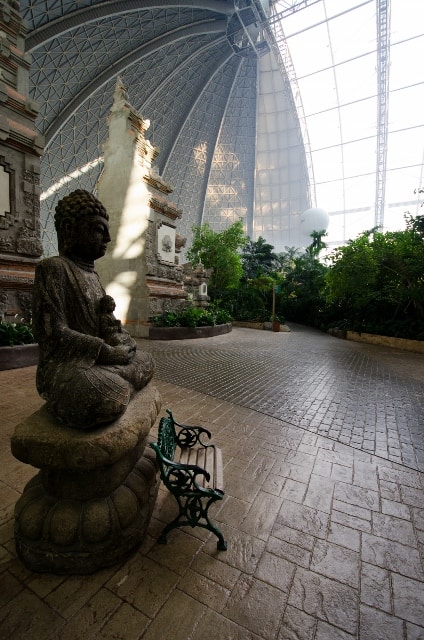 Extremely popular with Polish tourists given its proximity to the border, we otherwise met only Germans and a few Swedes which was also a surprise. It seems for now that this former airship hanger remains a bit of an undiscovered secret for the masses visiting Berlin. So for a great – if rather surreal – experience no matter the weather make sure you visit Tropical Islands.
On the train back to the German capital we were already discussing when to return and plan to do so before long. Whilst obviously appealing to families with children, it can also recommended for couples and singles too. There's enough to keep everyone occupied and while not cheap does offer something very different while on a city break.
All images (c) Andy Higgs, Grown-up Travel Guide.com
Please note: The author travelled as a regular tourist – no mention was made of the fact that a review would be written, the establishment was not informed of the author's intentions and no special discounts were enjoyed.