Image (c) Luxury Retreats
Are you thinking about visiting Turks and Caicos this year? Have you started to plan your vacation around the important cultural and historical attractions that pique your interest?
When traveling to Turks and Caicos, you need the freedom to move around and explore everything that this island paradise has to offer. If you're planning a visit in the near future, you should surely consider renting a Turks and Caicos vacation villa rental.
When considering what to do and see in Turks and Caicos, make sure not to miss out on these beautiful and historically significant landmarks:
Sail Beluga
If you're looking for a personalized way to experience the white sandy beaches and beautiful turquoise waters of the Turks and Caicos Islands, you must consider chartering this 40-foot catamaran, the Beluga. Sail Beluga offers half and full day, private charters leaving from Providenciales. Check out their website to learn how to schedule your own tour today!
Leeward Beach
Photo credit: Montreal Photo Chick via photopin cc
This pristine beach on the northeast end of Providenciales stretches east from the end of Grace Bay. For those looking for an all day adventure, it's possible to walk the entire seven-mile stretch of beach from Leeward, across Grace Bay Beach, all the way to Turtle Cove.
Typically, Leeward Beach is much quieter and relaxing than nearby Grace Bay Beach, largely because the beach isn't lined with large resort hotels. When ocean conditions aren't rough, Leeward Beach is a great place for a casual afternoon swim.
MacDonald's Arch
This popular dive site is best known for its' beautiful underwater arches. The MacDonald's Arch is several feet wide and divers can easily maneuver around it to explore the bright coral and sponges located throughout.
Don't be surprised by the large schools of grouper and parrotfish that come to the local "cleaning station," where cleaner shrimp and smaller fish remove dead skin and parasites. Eagle rays and green moray else can also be seen in this area quite often.
Grand Turk Lighthouse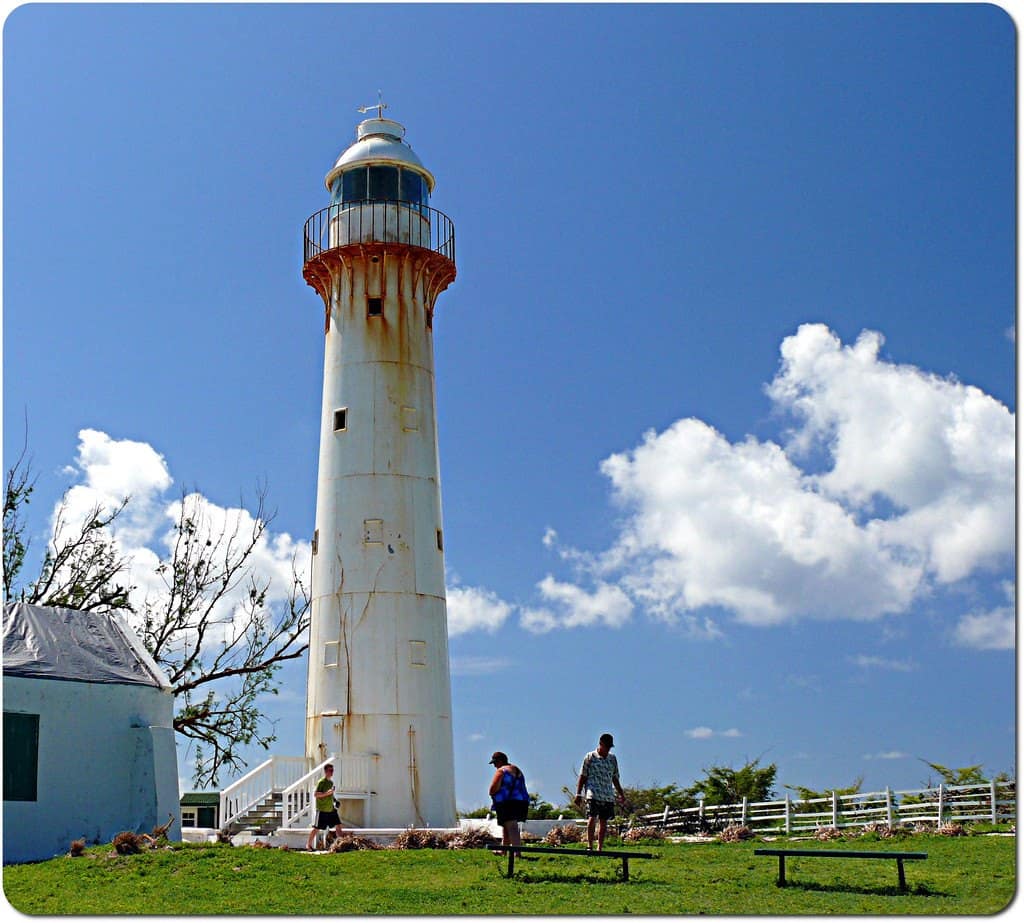 Photo credit: Belzie via photopin cc
British architect Alexander Gordon designed this 60-foot tall lighthouse on Grand Turk Island in 1852. For years the lighthouse alerted nearby sailors of the dangerously shallow reef surrounding Grand Turk Island. Today, the lighthouse and the lighthouse keeper's residence are under protection of the National Trust as an important historical site.
The Hole
True to its' name, this beautiful landmark is a natural limestone sinkhole in the Long Bay Hills area of Providenciales. The Hole is about 50 feet across and sixty feet deep, with tidal, brackish waters located at the bottom. Swimming in, or jumping into, The Hole is highly discouraged, but there are no handrails to prevent you from doing so. Extreme caution should be taken when exploring this magnificent natural landmark.
Dunscombe Point Millworks
The remains of an old stone mill still stand on this lovely, tree-filled lot located on Salt Cay, a triangular island that was once home to several hundred people working in the salt industry. The Dunscombe Point Millworks' property contains a small man-made lagoon and a tiny sand beach, as well as the tattered remains of a water wheel and ocean jetty.
About the author
My name is Tucker Ballister and I was fortunate to grow up in beautiful Truckee, California, just a stone's throw away from Lake Tahoe. I am very passionate about pursuing opportunities outdoors in my free time, and I enjoy writing on a wide variety of topics, including, travel, tourism, destination management, sustainable development, tourism policy, visitor motivations, and anything else I can get my hands on! I hope you enjoyed my writing and I invite you to please check out my website for more of my personal content! Thanks for reading!