I've been meaning to reboot this series of articles for some time as I realise that not everyone (myself included) has the opportunity to travel to Japan every week. On the other hand, taking a short break every now and again is within the reach of most readers of this site and can be just as rewarding.
As you know I live in Trondheim in Central Norway and there are plenty of interesting destinations within reasonable distance for just this purpose.
Previous articles in the series covered a trip to the Skifer Hotel in Oppdal and a weekend at Wadahl Høgfjellshotell in Gålå. For the third one, we ventured across the border to Åre in Sweden.
The Swedish ski resort is a pleasant 2.5 hour drive from Trondheim or alternatively there is a train service twice a day which takes about the same time. If you are coming from elsewhere, Åre is well connected by rail to the rest of Sweden and Trondheim is the nearest major airport, although Østersund is a tad closer but no longer has scheduled international flights.
It may interest you to know that the hotel we stayed at has its own helicopter pad, if you fancy arriving that way. Hey, I never really know everything about my readers, do I?
The mission
Our plan was to make the most of the time we had available by leaving Trondheim after school on Friday and returning on Sunday afternoon. We would be joined by Rebecca's friend Helene once again thus ensuring that she would be less likely to get bored of our company. The main purpose of our trip was to relax, use the spa facilities, try the restaurant and to go for a walk in the surrounding area.
The planning process
I've actually visited Copperhill twice before and loved it – but this time I contacted the property with a view to reviewing it in depth for this article. It didn't take long for the marketing manager to offer to host us for the weekend which was much appreciated.
The destination
The drive to Copperhill Mountain Lodge in Åre, Sweden is 180 km door to door (our front door in Trondheim to the hotel's) and 614 km from Stockholm (both distances approximate).
The hotel
Copperhill Mountain Lodge is located on the top of Mount Förberget in Åre and takes its name from the copper mining that used to take place in the area.
The story behind this place is already the stuff of legends.
Copperhill was designed by the American architect Peter Bohlin, whose previous work includes Bill Gates' private residence and several Apple stores including those in London and New York.
In 2008, the stunning design hotel opened its doors, only to go spectacularly bankrupt a short time later. 730 million Swedish Kroner (over USD 100 million at the time) was quite an investment to break even on, especially as it was more than 200 million SEK over budget. Norway's Petter Stordalen bought it a few months later for almost a quarter of the price, and today it's doing well.
It is also surprisingly good value, especially for families and groups for whom it is often cheaper than any other accommodation in the ski resort of Åre where it is located…
Copperhill Mountain Lodge has 112 rooms and suites in six different categories from doubles to 8-bed mini-apartments.
The deal
We were full-board guests of the hotel, but for this weekend the rate would have been SEK 2876 for the room (which sleeps up to four adults for the same rate). If you sign up for email updates you will regularly be contacted with special offers and I also strongly recommend following the hotel's Facebook page and website.
I have seen deals offering rooms with full board for a similar rate to this and even better value during the low season.
Doube rooms start at SEK 1750 during the winter but lack the kitchen and lounge facilities.
Rates do rise during high season – we were visiting before the snow when the hotel is only open at weekends, but from December it is open all week.
The journey
For once we did actually manage to get on the road quite early; it was about 1730 when we drove out of the garage and started heading for the border.
As mentioned it's a pleasant drive and we arrived in Åre around 2000, turning onto the steep road for the final stretch up to the hotel.
Arrival
There are number of free car parking spaces in front of the building – the closes ones fill up fast but there is an another level a little further down. The hotel also has a heated indoor car park which I believe operates on a first come, first served basis.
Check-in was friendly, fast and efficient and we were soon on our way to the fifth floor where our room was located. Before taking the lift, however, we took a little time to take in the view.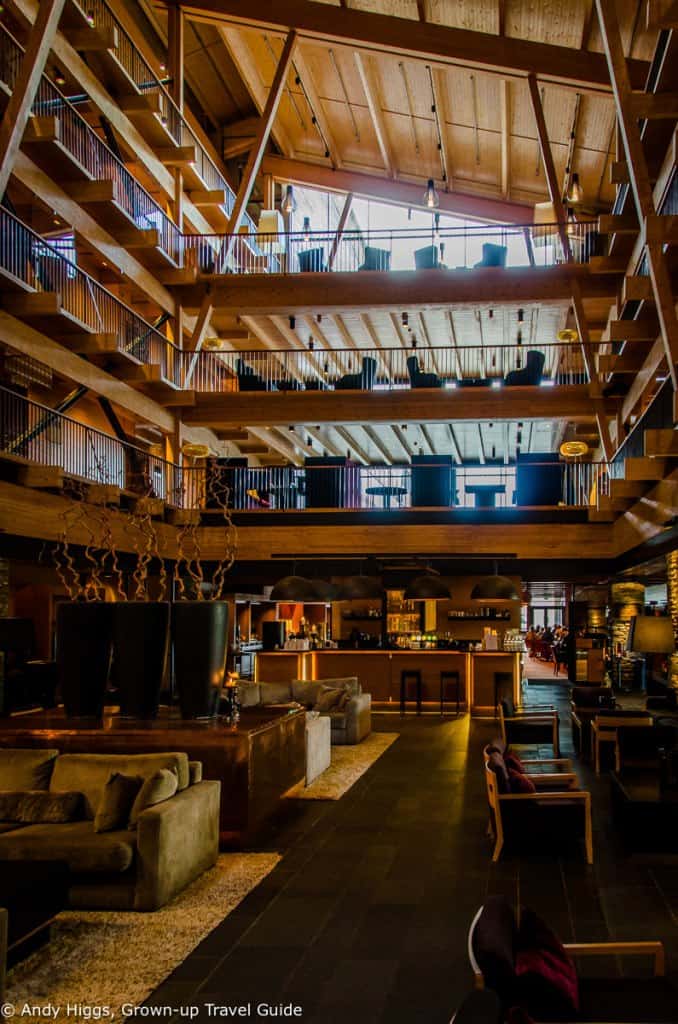 And yes, I'm talking about the view inside the hotel…
Now that's a fireplace…
The copper wall is just incredible…
…and definitely deserves a closer look.

This was the view from our floor over the atrium area.
What about that chimney?
The room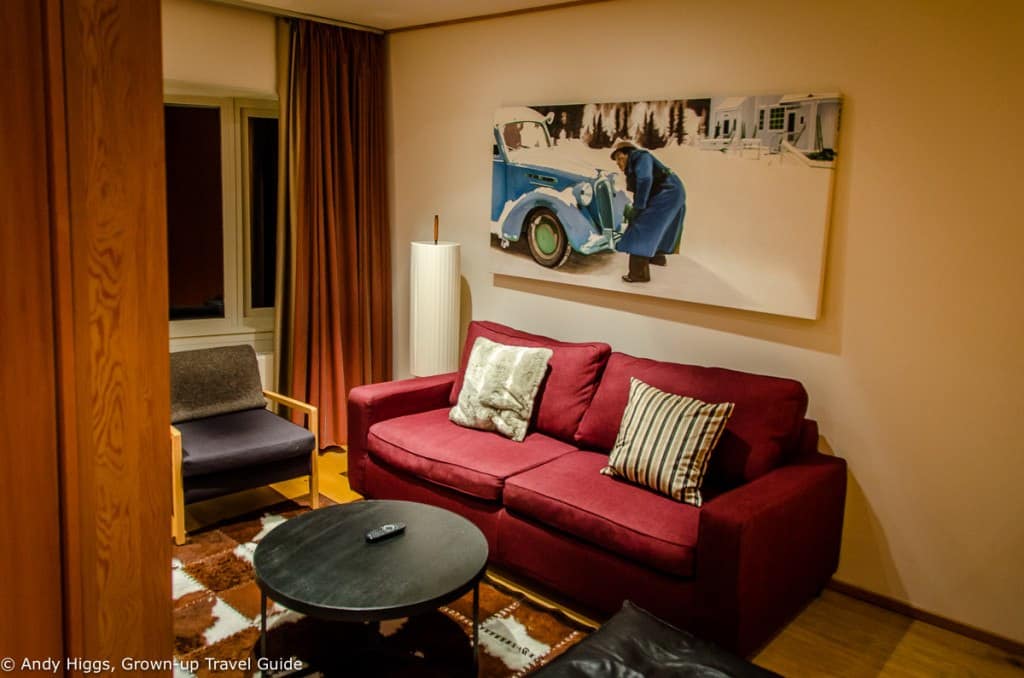 We had been allocated a Copper Suite with four beds.
The suite also includes a well-equipped kitchen area with bar and stools.
Wi-fi is free, high-speed and available throughout the hotel.
The living area features a sofa, armchair and television with Playstation 4.
A separate bedroom contains bunk beds and is reached through the living room area.
I forgot to mention the fancy rug, too…
There is a large amount of storage space which is essential when on a skiing holiday, too.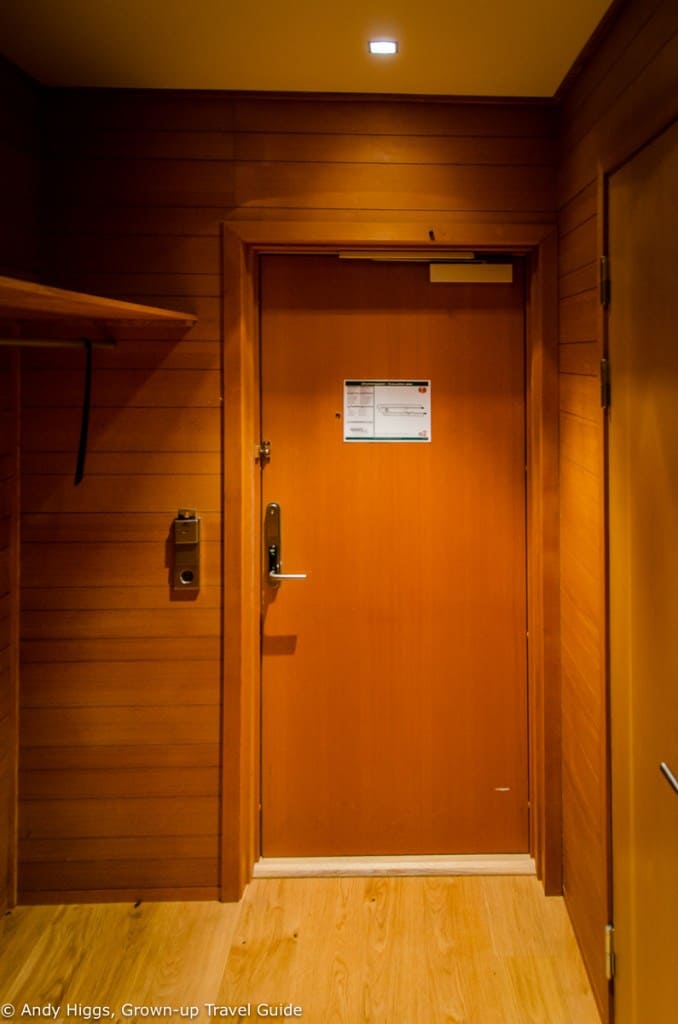 Plenty of space for bots, jackets, bags etc. in the hall.
There is a double bed in the main bedroom and robes and slippers await.
The bathroom includes double showers and two basins as well as underfloor heating.
There was a dispenser for all-in-one soap/shampoo/conditioner on the wall too, thus saving on small bottles.
Although some of these were provided too.
There is a separate toilet which is a nice touch – indeed the whole design of the suite is excellent; a certain level of privacy is maintained by the distance between the two bedrooms yet the room feels intimate and homely.
Here is a video of the room and some of the other areas of the hotel:

We had a great view from our room too:
This is the direction we came from, i.e. looking towards the Norwegian border.
Looking the other way you can see how close the ski lift is to the hotel.
Friday evening
While checking in we reserved a table for dinner an hour later, so after unpacking and freshening up we came back down to eat at the Niesti restaurant, located past the bar on the ground floor.
It would not be unreasonable to visit Copperhill with the main intention of eating at its Niesti restaurant. I've seen this establishment go from strength to strength since my first meal here in 2010 – and it already had an excellent starting point.
Focusing on local produce and a limited but exceptional menu, the dining room overlooks the sculptures "Irma and Nuria" outside.
When there are less people here food is served in the library area instead, which is very cosy. This was the case on Friday, and a relaxed atmosphere greeted us as we took our places for dinner.
The autumn menu had plenty to tempt us – the full board option includes two courses with drinks paid for separately.
I didn't need any persuasion to try the duck, which was served with root vegetables, carrot sauce and roasted potatoes. Mari Anne took the same while Helene tried the Veal with onion, button mushrooms, potato puree and red wine sauce and Rebecca was perhaps the most adventurous opting for Arctic Char with dill, carrots and lemon.
Paired with an excellent red wine recommended by our waiter (for the adults, naturally) this was a wonderful meal.
We finished with one of the best crème brulee's I've ever had which had a perfect consistency.
I had the same feeling of eating at a place destined for a Michelin star that I had in Helsinki a while back – and that place got its star a few weeks later. Granted, that may have been a coincidence but in any case Niesti should be on your radar whether or not it receives formal recognition.
Saturday morning
We slept extremely well and I was the first one up as I had a pressing appointment at the Level Spa. The management had booked me for a complimentary Sami Zen signature treatment at 1000 so I went down for a light breakfast before returning to the room to change into the robe and slippers provided for guests.
The spa area at Copperhill consists of a large area open to all hotel guests and the treatment zone for those with appointments. Both areas are connected so you can relax in one of the pools before and after your massage.
I'll come back to the main area shortly but if you have a treatment booked there is a separate waiting area inside the Level Spa section.
The décor and design are striking – it feels like being in a luxurious wooden teepee in the mountains. Indeed the rooms have been inspired by traditional Sami dwellings and the starry ceilings and scent of juniper berries adds to the effect.
Another option is to hire the private spa room which has two saunas, hot baths and showers and is suitable for groups of up to 20 people.
Soon it was my turn. I was led into one of the treatment rooms and asked to lay down on the massage table. With the lights dimmed and traditional "joik" music softly playing in the background I enjoyed a deep cleansing body scrub (a new experience for me) afer which I was left to enjoy a glorious deep bubble bath with massage function.
Suitably clean and relaxed, I returned to the table and my therapist came back in to carry out one of the best massages I've ever had using juniper oil and hot stones.
I can understand the 'Zen' part of the treatment name; it certainly felt as if I had reached another level of relaxation after all this pampering. I will definitely be back to do this again and highly recommend that you sign up for the same treatment when you visit, dear reader.
Sami Zen is a 75 minute session and costs from SEK 1525 depending on the time of day/week.
I floated back to room 510 to meet the others and slowly return to the earthly plane.
Enough of the relaxation – it was time to get some fresh air and exercise.
Saturday afternoon
Åre markets itself as a year-round destination; in the winter it is a hugely popular ski resort and during the summer you can try downhill biking using the chair lifts – an amazing experience.
There are also many marked walking paths catering to everyone from the family looking for a brief stroll to the hardcore hiker wanting to yomp for miles and camp out on the way.
On this occasion we fell into the first category so after consulting with the receptionist decided to aim for the old copper mine at Forsa. This would take us down the mountain and along a lakeside path to the mine, where we could turn round and come back to Copperhill – it ought to take about four hours in total including a break for lunch.
Guests opting for full board can prepare a packed lunch during breakfast, something which the girls had already taken care of. We boiled water for our thermos and took tea and coffee with us too so were all set for our mini-hike.
The weather was fabulous – sun, blue skies and the slight chill in the air soon forgotten after we got moving.
We left the hotel and passed the nearest ski lift (in winter you can ski-in, ski-out here) before entering the woods and climbing the path towards the top of the Copperhill, er, hill which afforded us spectacular views in several directions.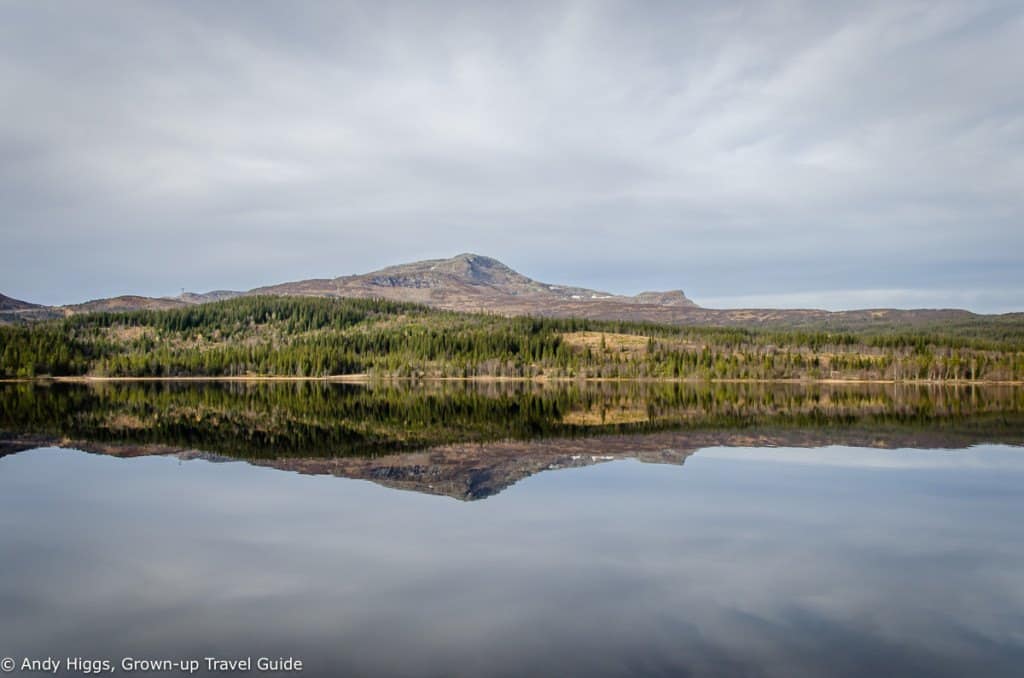 The path was clearly marked the whole way and we enjoyed ourselves, pausing to take photos at every opportunity. The lakeside section was particularly scenic.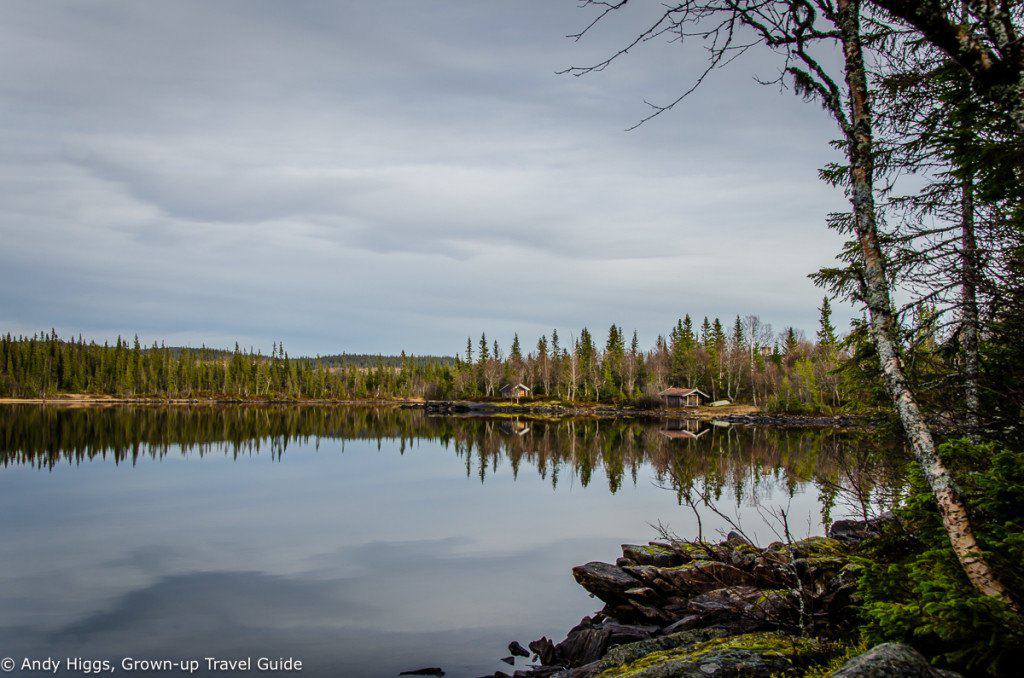 When we reached the old copper mine we stopped for lunch and a look around before making our way back.
The final upward stretch back to Copperhill Lodge is extremely steep and almost wore us out but it was a good feeling to make it – and our only plan for the rest of the day was to kick back in the spa…
As mentioned there is a large area of the spa open to all guests for free which includes two mineral pools, several saunas including one with a huge glass window offering great views outside while you sweat, an outdoor heated Jacuzzi style pool but without the jets and a large relaxation section.
Bar service is available and nothing beats soaking in a mineral pool with a glass of bubbly, sweetie darling…
We spent several hours in here, which is extremely easy to do. Make sure you allocate plenty of time to make the most of the spa when you stay.
Saturday evening
Tonight we were eating in the main dining area at Niesti. The menu was the same (although there are daily specials too) but this time Mari Anne and I went for the veal, Rebecca took smoked salmon with potato and onion soup, chanterelle mushrooms and whitefish roe while Helene tried the arctic char.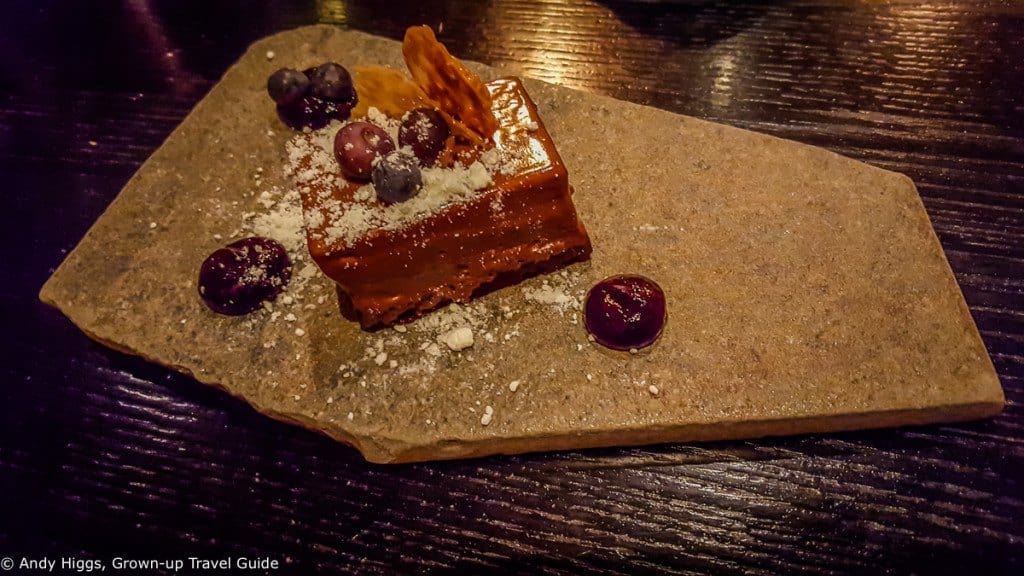 Dessert included chocolate mousse, cloudberries with spongecake and the irresistible crème brulee.
Again, we loved it all and service was excellent too.
Sunday morning
On Sunday we had more time for breakfast – and more time in general as it was time to change the clocks back an hour. We made the most of that with a good lie-in before trekking down to breakfast.
Again, Niesti really delivered here – the range of hot and cold dishes was fantastic and the quality excellent. A lot of local delicacies were available which is always good and we were also impressed by the variety of bread. The only minus in my book was the lack of good coffee – only plain filter coffee was available and I do think an espresso machine or two are called for.
After breakfast we had a look around the other public areas of the hotel – on the lower ground floor is a large lounge and several games rooms where guests can relax with a game of pool or table tennis or simply curl up on the sofa in front of an open log fire.
There are also Playstations and play areas for the younger ones.
This level also includes a separate after-ski bar and equipment storage area as well as ski rental facilities in the winter.
We returned to our room to finish packing our bags and took them to the car – but we weren't done yet.
We had a couple of hours before the hotel was closing until the following Friday so we made the best of them in the spa. It was raining now, which gave us another excuse – not that we needed one.
Check-out and departure
Finally we had to leave – after such a wonderful stay it was hard to do so but we will certainly be back. Next time I would like to experience skiing from Copperhill and as Åre has already had its first snow of the season it may not be too long before we do so
Åre Chockladfabrik
If you only do one other thing before leaving Åre, make it a visit to the local chocolate factory.
Åre Chokladfabrik (Åre Chocolate Factory) was established in 1991 by three friends – Marina Hansson, Eva-Lena Grape and Marie Söderhielmusing – using "Grandpa's old preserving pan."  The trio foraged for the bilberries to use in the bilberry truffle, folded the characteristic paper cones and made all the chocolates by hand.
They still run the business which now produces around nine million chocolates a year and employees about twenty people at the premises located at the foot of the approach road to Copperhill Mountain Lodge.
The first chocolates produced remain very popular today and include lingonberry, bilberry, cloudberry and goat whey cheese. But these days there are around 30 different chocolate varieties on sale – made with creamy truffle, soft caramel and nougat and each with an individually designed paper cone.
The cones bear different messages such as 'Congratulations, You're Special, World's Best Mum, World's Best Dad, Thank You and Merry Christmas' and make excellent gifts.
Mail order is available but there are many reasons to visit the shop in person.
You can watch the production process through the large glass windows, there are abundant samples to try and you can take a break at the chocolate bar, where you can choose the flavour for your mug of hot chocolate. Don't miss it!
Åre Chokladfabrik, Björnänge 801, SE-803 13 Åre
http://arechokladfabrik.se/en/
The bottom line
It should be easy to understand why this is one of my favourite places to stay. Copperhill Mountain Lodge is luxurious without feeling pretentious or snobbish; as stated before they have somehow managed to keep a 112 room hotel feeling like a cabin in the hills. The spa is superb whether you opt for a treatment or just to relax in the pools and saunas. The restaurant remains a hidden gem and is worth the cost of an overnight stay in itself.
The hotel is a wonderful retreat at any time of the year but comes into its own in the winter – being able to ski right out the door is a major plus.
Ideal for both a romantic getaway and a family break, Copperhill is particularly good value for the latter or for a group; the per-person cost is almost ridiculously good value when you fill a suite.
So what are you waiting for? The snow is already falling in Åre so there's no better excuse than to book a stay at Copperhill Mountain Lodge.
We stayed as guests of the hotel but as always, the opinions on Grown-up Travel Guide are our own – be they positive or negative.