Are you looking for a new travel destination that offers both stunning natural beauty and rich cultural experiences? Look no further than Stavanger, Norway. This charming city is located on the southwestern coast of Norway and is known for its breathtaking fjords, vibrant culture, and outdoor adventures.
In this Stavanger travel guide, we'll take a closer look at the top things to do and see in this picturesque city. From exploring the museums and art galleries to hiking in the surrounding nature, there's something for everyone in Stavanger.
Key Takeaways:
Stavanger offers breathtaking natural beauty and rich cultural experiences
The city is known for its museums, art galleries, and cultural festivals
Outdoor enthusiasts will love the hiking, kayaking, and other adventures available in Stavanger
The culinary scene is not to be missed, featuring local delicacies and popular restaurants
With practical tips for planning your trip, you'll be ready to experience the charm of Stavanger for yourself
Discover the Beauty of the city with this Stavanger Travel Guide
Stavanger is renowned for its natural beauty, offering visitors breathtaking fjords, pristine beaches, and stunning landscapes. There are plenty of things to do in Stavanger for tourists of all ages and interests.
Stavanger Tourist Attractions
One of the most popular tourist attractions in Stavanger is the Lysefjord, a spectacular fjord that offers stunning views of the surrounding cliffs and waterfalls. Visitors can take a fjord cruise or hike to the top of the famous Pulpit Rock for an unforgettable experience.
The city is also home to several museums, such as the Norwegian Petroleum Museum and the Stavanger Maritime Museum, which showcase the importance of the oil industry and the city's maritime history. Visitors looking to experience the region's culture can explore the Old Stavanger district, filled with picturesque wooden buildings and charming shops.
Stavanger Sightseeing
Stavanger offers a variety of sightseeing opportunities, from the colorful houses of the Øvre Holmegate street to the impressive Stavanger Cathedral, built in the 12th century. The city's central market square, Torget, is a bustling hub of activity, with local vendors selling fresh seafood and produce.
For those interested in modern architecture, the award-winning Stavanger Concert Hall is a must-see. Designed by Norwegian firm Ratio Arkitekter AS, the building features a striking glass facade and hosts a range of cultural events throughout the year.
Overall, Stavanger's natural scenery, cultural attractions, and historical landmarks make it a top destination for those seeking adventure or relaxation.
Immerse Yourself in Stavanger's Vibrant Culture
Stavanger is not only known for its natural beauty and outdoor adventures but also for its vibrant culture. The city has numerous museums, art galleries, and cultural events that showcase the creative side of Norway. In this section, we highlight some of the best points of interest in Stavanger city guide for those who are interested in exploring its cultural side.
Visit the Stavanger Museum
If you are interested in learning about the history and culture of Stavanger, then the Stavanger Museum is a must-see attraction. The museum is a treasure trove of artifacts, exhibits, and displays that span centuries of Norwegian history. You can explore the museum's permanent collections or check out one of the many temporary exhibitions that are held throughout the year.
Admire Art at the Stavanger Art Museum
The Stavanger Art Museum is the perfect spot for art lovers. The museum features a diverse collection of art, including contemporary and classical works. You can browse the galleries and admire the paintings, sculptures, and other art pieces on display. The museum also hosts several exhibitions throughout the year, so there is always something new to see.
Experience the Norwegian Petroleum Museum
The Norwegian Petroleum Museum is a must-visit attraction for those interested in the country's booming oil industry. The museum showcases the history and technology behind the petroleum industry in Norway. You can learn about the challenges of oil exploration and production, as well as the impact of the industry on the country's economy. Plus, the museum has interactive exhibits and simulations that will keep visitors engaged and entertained.
Check Out the Stavanger Cathedral
The Stavanger Cathedral is a stunning example of medieval architecture and a testament to the city's rich history. The cathedral was built in the 12th century and features elaborate stone carvings and beautiful stained-glass windows. Visitors can take a guided tour of the cathedral or attend one of the many musical performances that take place there throughout the year.
Explore the Gamle Stavanger Neighborhood
The Gamle Stavanger neighborhood is a well-preserved example of historic Norwegian architecture. It features several restored 18th and 19th-century wooden houses that have been converted into shops, cafes, and galleries. Visitors can take a leisurely stroll through the streets and admire the colorful houses while exploring the local boutiques and art galleries.
Stavanger has much to offer for those seeking cultural experiences. From museums to historic landmarks, there is something for everyone. Whether you are a history buff or an art lover, Stavanger's vibrant culture will surely captivate you. Explore Stavanger today and immerse yourself in the city's creative side.
Unveil Stavanger's Rich History
Stavanger is a city steeped in history, with a colorful past that has shaped its present character. One of the most prominent historical landmarks in the city is the Stavanger Cathedral, which dates back to the 12th century. This magnificent cathedral is adorned with intricate carvings and beautiful stained glass windows that tell the story of the city's religious heritage.
Another must-see historical attraction in Stavanger is the Gamle Stavanger district, which is known for its well-preserved wooden houses and cobblestone streets. This area provides an insight into what life was like in Stavanger during the 18th and 19th centuries, and visitors can enjoy wandering through the narrow alleys and discovering hidden gems.
Stavanger also has a Viking past and was an important trade center during the Viking Age. Visitors can learn more about this fascinating period in the city's history at the Museum of Archaeology.
Beyond the city center, there are many other historical landmarks and sites of interest, such as the Iron Age Farm at Ullandhaug, the charming town of Sola, and the ancient rock carvings at Solbakk.
Stavanger City Guide
For those looking to explore Stavanger's rich history, it is useful to have a guide to the city's historical sites and points of interest. The Stavanger Tourist Information Office is a good place to start, offering maps and information on all of the city's attractions.
Visitors can also join guided tours, such as the Stavanger Walking Tour or the Viking Tour, to learn more about the city's history and culture from knowledgeable local guides.
Stavanger Travel Information
When planning a trip to Stavanger, it is important to consider the best time to visit. The city enjoys relatively mild weather year-round, with temperatures averaging around 60°F in the summer and 40°F in the winter. However, visitors should be prepared for some rain, particularly in the fall months.
Getting around Stavanger is easy, with a reliable public transportation system that includes buses, trains, and ferries. Visitors can purchase a tourist pass that provides unlimited travel on all public transport for a set period of time.
For those interested in exploring the city's historical sites, a good option is to purchase a Stavanger Card, which provides free admission to many museums and attractions, as well as discounts on tours and other activities.
Experience the Outdoor Adventures of Stavanger
Stavanger's stunning natural landscapes offer visitors a wealth of outdoor adventures to enjoy. From hiking to kayaking, there's something for everyone to experience.
Hiking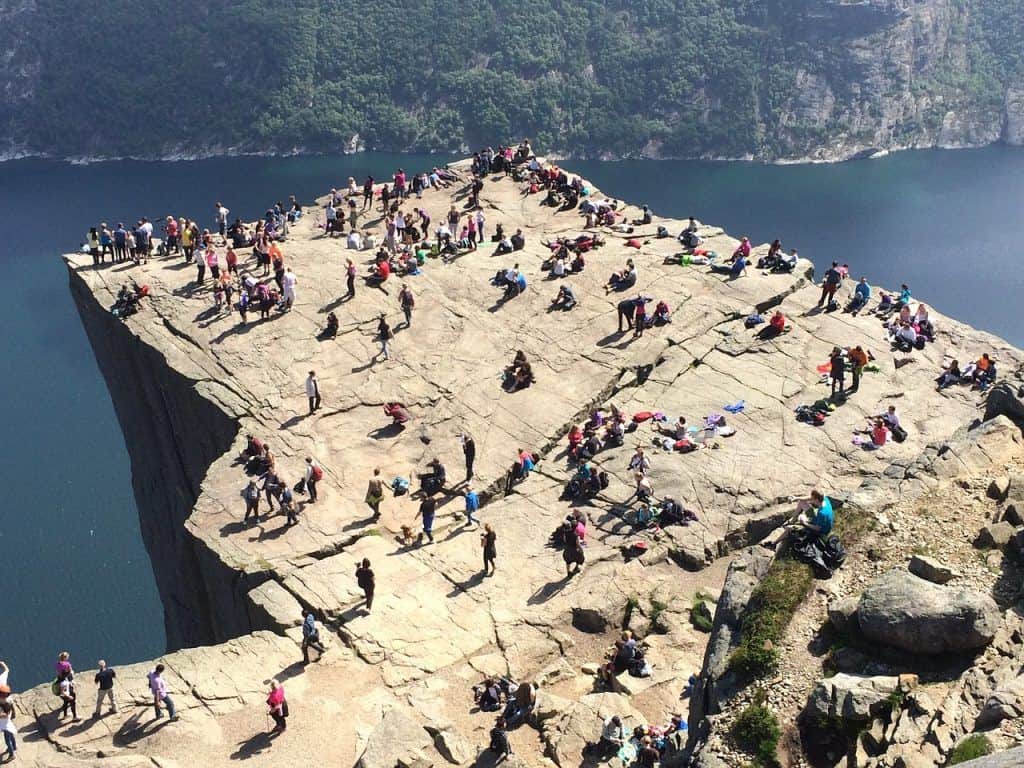 There are many wonderful hiking trails throughout Stavanger, offering breathtaking views of the fjords, mountains, and forests. One popular route is the Preikestolen, or Pulpit Rock, hike. The trail takes about two hours to complete and offers a stunning panoramic view of Lysefjord and its surroundings.
For those looking for a more challenging hike, the Kjeragbolten hike is a great option. The trail is more difficult and takes about five to six hours to complete, but offers an unforgettable experience of standing on a boulder wedged between two cliffs high above Lysefjord.
Kayaking
Kayaking is a great way to explore the stunning fjords and coastline of Stavanger. There are various kayak rental companies in the area, and guided tours are also available for those who want to learn more about the history and geography of the region.
One popular kayaking route is through the Lysefjord, where visitors can paddle along the steep cliffs and see waterfalls cascading down into the fjord.
Exploring Nature
Stavanger is surrounded by beautiful nature reserves, such as Sørmarka and Mosvannet, which offer fantastic opportunities for nature walks, wildlife spotting, and picnics.
The city's Botanic Garden is also a must-visit for nature lovers, showcasing a wide variety of plants and flowers from around the world.
No matter what outdoor adventure you choose, Stavanger's natural beauty is sure to leave a lasting impression on you.
Indulge in Stavanger's Culinary Delights
Stavanger's culinary scene is a delightful mix of traditional Norwegian cuisine and international flavors. It's a must-try for any food lover visiting the city. Here's a Stavanger city guide to the best culinary experiences.
Local Delicacies
Stavanger is known for its seafood, and the traditional dish of Fiskesuppe is a must-try. This fish soup is made with fresh fish and a variety of vegetables. Another local delicacy is Klippfisk, which is dried and salted cod that is rehydrated and cooked in a variety of ways. Be sure to try both during your visit!
Popular Restaurants
Sølvberget Cafe is a popular spot for lunch and coffee, located in the city's cultural center. For a fine dining experience, check out Re-naa, which has been awarded two Michelin stars. If you're looking for something more casual, Fisketorget offers fresh seafood in a bustling market atmosphere.
Food Festivals
Stavanger hosts several food festivals throughout the year, including Gladmat Festival, which is Norway's largest food festival. It features food stalls, live music, and entertainment, and takes place in July each year. Other festivals include the Nordic Edge Expo, which focuses on sustainability and food innovation.
Stavanger Travel Tips
When dining out in Stavanger, keep in mind that tipping is not expected, as service charges are typically included in the bill. Also, be sure to try aquavit, a traditional Norwegian spirit, and pair it with your meal. Finally, take advantage of Stavanger's many food markets, which offer a wide range of local produce and products.
Unwind and Relax in Stavanger
Stavanger offers a variety of opportunities for relaxation and leisure activities. After a day of sightseeing and exploration, why not take a break and enjoy some downtime in nature?
Enjoy the Parks
Stavanger has many beautiful parks where you can unwind and relax. Byparken is located in the heart of the city and features a large pond, walking paths, and plenty of benches for you to sit and enjoy the scenery. Mosvangen Park is another popular choice, with a beach, picnic areas, and stunning views of the fjords.
Head to the Beach
Stavanger has several beaches where you can soak up the sun and enjoy the fresh air. Sola Beach is a popular destination with locals and tourists alike, offering soft sand, crystal-clear water, and plenty of space to spread out and relax. Other options include Hellestø Beach and Godalen Beach.
Relax at the Spa
If you're looking for a more indulgent way to unwind, why not book a day at a spa? Stavanger has several wellness centers where you can enjoy a massage, sauna, or other treatments. Vannkanten Waterworld is a popular choice, with its large indoor water park, steam baths, and massage facilities.
Take a Scenic Drive
Stavanger is surrounded by stunning landscapes, and one of the best ways to enjoy them is by taking a scenic drive. The Lysevegen Road is a popular choice, taking you through stunning mountain scenery and offering breathtaking views of the fjords below. You can also take a drive along the Jæren coast, which offers miles of sandy beaches and rolling hills.
Whether you prefer to spend your downtime in nature or at a spa, Stavanger has something for everyone. So why not take a break from your busy sightseeing schedule and relax in this beautiful city?
Practical Tips for Your Stavanger Trip
Stavanger is a charming city that offers plenty of activities and attractions. To make the most of your trip, here are some practical tips to keep in mind:
Getting There
The Stavanger International Airport is the main airport in the region and offers direct flights to many European cities. From the airport, you can take a taxi or use public transportation to get to the city center.
Getting Around
Stavanger has an efficient public transportation system that includes buses and a light rail. If you plan on exploring the region outside the city, renting a car is a good option.
Weather
Stavanger has a moderate and mild climate all year round, with temperatures ranging from 50°F to 70°F. Weather can be unpredictable, so it's best to bring layers and rain gear, especially if you plan on hiking or spending time outdoors.
Local Customs
When visiting Stavanger, it's important to respect local customs. Norwegians value punctuality and privacy, so it's best to arrive on time for appointments and avoid being too loud in public places.
What to Pack
Aside from weather-appropriate clothing, you may want to bring comfortable shoes for exploring the city and surrounding nature. Don't forget to bring a camera to capture the stunning scenery.
Language
The official language of Norway is Norwegian, but most locals speak English fluently. It's always a good idea to learn some basic phrases in Norwegian to show appreciation for the local culture.
Currency
The official currency in Norway is the Norwegian krone (NOK). Credit cards are widely accepted, but it's a good idea to have some cash on hand, especially in more rural areas.
Conclusion
Stavanger is a charming city that offers visitors a unique and unforgettable experience. From its stunning fjords and natural beauty to its vibrant culture, rich history, and delicious cuisine, Stavanger has something for everyone.
If you're planning a trip to Stavanger, be sure to take advantage of the outdoor adventures and relaxation opportunities available. Don't forget to immerse yourself in the city's art and history, and indulge in the local delicacies.
Remember to plan ahead and familiarize yourself with the practical tips and information provided in this guide. This will ensure a smooth and enjoyable trip to Stavanger, and a memorable experience in Norway.
Start planning your adventure in Stavanger today!