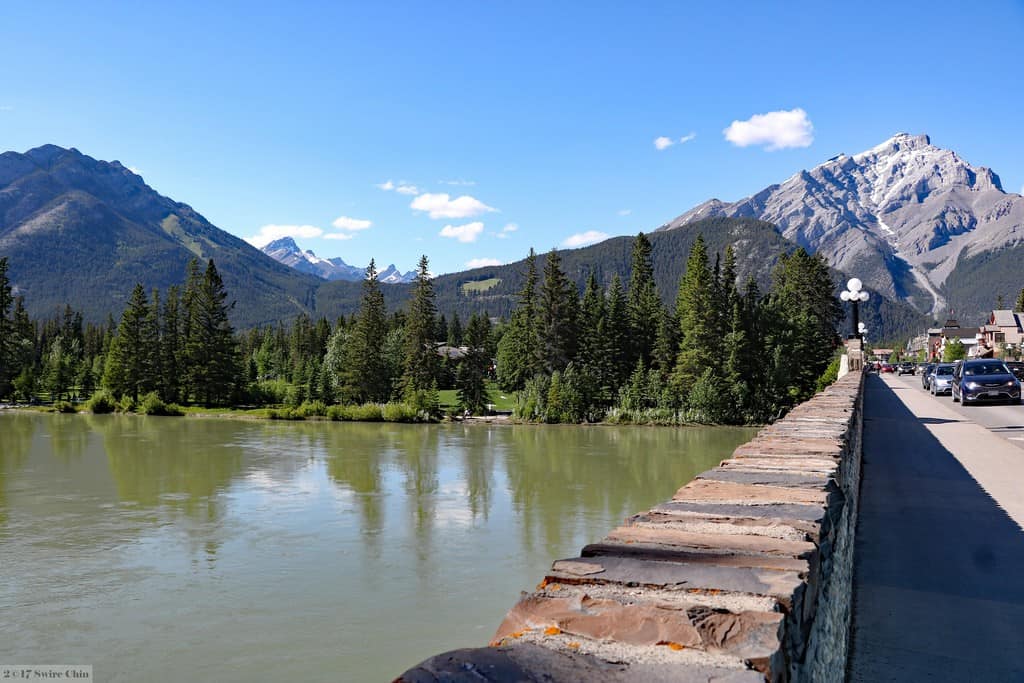 Photo credit: Canadian Pacific Bow River and Banff Avenue Bridge via photopin (license)
Hiking in the mountains of Canada isn't for the fainthearted. This massive North American territory is well-known for its vast land and nature. Considered one of the richest countries and a major tourist destination, it has so much to offer visitors and tourists.
There are many provinces to choose from in Canada. If you're more into the sunny side of the country and a lavish lifestyle, Vancouver is the perfect place to visit. On the other hand, if you're more of the forests, mountains and adventure activities type, central provinces are the best locations. Alberta, Winnipeg and Quebec are mostly composed of dense forests, farmlands and majestic mountains.
However, the vast lands and a lush environment in the country is the perfect ground for wildlife, especially bears. Wildlife is considered a travel risk, specifically if it's your first time. One of the oldest and largest national parks in the country, the Banff and Jasper National Park, is home to various wild animals like grizzly bears and moose.
The Banff and Jasper National Park is located in Alberta. These national parks are rich in natural resources and sceneries, making them one of the visited in the world. However, before going to the area, it's imperative to know these safety tips.
Acquire A Travel Insurance Policy
One of the first things to purchase before going on a journey in the Canadian wild is travel insurance. Whether it's single trip travel insurance or annual travel insurance, what matters most is that you're covered, and you have all the benefits.
A trip insurance policy ensures that if anything happens to you during your travels, you have access to evacuation or emergency medical response. The company will shoulder everything, even lost valuables.
To choose travel insurance, you must first make sure that you are eligible to accept it. You should apply to insurance companies in your country to ensure that you're insured, especially when you travel in a foreign country. The best travel insurance also gives you many perks and benefits.
Always Stay With Your Friends And Tour Guides
When you're exploring the wild, even if you're experienced in mountain climbing or hiking, it doesn't guarantee that you won't suffer from any injury or you won't get lost. It is important to stay humble and ask the help from the people who know the place more than you.
Moreover, do not deviate from the hiking or trek path. These tracks are designed and made away from the area where you will find wild animals and bears. Since Canada is bear country, you'd expect that there is a significant number of these animals in the wild.
Avoid An Encounter With Bears
Since these national parks are home to both black and grizzly bears, the chances of encountering one are small. Hence, proper planning before you go to the wild can help reduce the risk.
Never approach or feed these wild animals. Moreover, keep food and garbage away from bears. These bears only attack when provoked or faced with a food source. While hiking, make a noise to let bears know you're there.
Bear bells make a good scaring item for these wild bears. Also, make sure you're with a large group of being with your peers reduced the risk of a bear encounter. To ward off bears, you can also use a bear spray.
Be Extra Vigilant With Storing Attractants
Bears get attracted to the smell of food, garbage, pet food and items with odours. Make sure you seal them properly, to prevent these bears from going near your area. The best way to avoid a bear encounter is to never have one in the first place. Observe your path and if you see a bear nearby, never go near it.
Leave Tracks And Signs
Whenever you go hiking in the wild, always leave tracks and signs. This will help you avoid getting lost, or in case you get lost, rescue teams will have an easier time going to your location. These signs will help them track your whereabouts faster, which is important because you don't want to spend the night in a place full of wild animals.
Bears and other wild animals can cause serious injury or even death to anything that goes into its path. Even if these bears do not intend to harm people, when they're provoked or hungry, they will eventually find food.
Being safe and cautious in the forest is important. Always make sure that you apply all these extra precautions to help you be safe and secure during your adventure activities like hiking, camping and mountain climbing.
Canada is the perfect place for adventure. However, it can be also be place spot for accidents and dangerous activities. The most important thing to do is be vigilant, cautious and watchful to enjoy the holiday and prevent injuries or accidents.