Now that winter's on its way, you might be looking at popular destinations to ski, snowboard, and relax in a picturesque resort. But if you're a long time skier, you might by now be thinking, "If I've been on one trail, I've been on them all."
Maybe you have been on all of the top trails. You look at your list of possible destinations, and all you can think is "been there, done that." But what if there wa san exhilarating new dimension in winter adventure—a way to literally leave the beaten trail? If this is the kind of skiing experience you dream of, then heli skiing is definitely whatyou're looking for!
Now, you may be wondering just what heli skiing is. Luckily, there's nothing complicated about it—it's essentially what it sounds like.
Instead of being brought to a ski trail by a lift, you're transported to a great location by way of a helicopter! Once the helicopter reaches its destination, you simply hop out onto the snow and start your journey. Aside from having an aerial ascent, another main difference between this and conventional skiing is the fact that you are not on a trail that as been cut and perfected by a resort, but on a course of your own, secluded in a mountain range away from all the crowds and tourists.
This will be especially attractive to fans of glade skiing; those who love the feeling of weaving in and out of trees as they race through the snow without hordes of people. Speaking of the snow, you haven't lived until you're skiing or snowboarding over pure and light powder. After your first trip, you'll never want to ski on resort snow again!
Just picture having your own mountain in breathtaking Golden, British Columbia (one of the most desired ski spots in the world), cruising through the snow, and having the absolute time of your life. There is nothing like heli skiing in BC!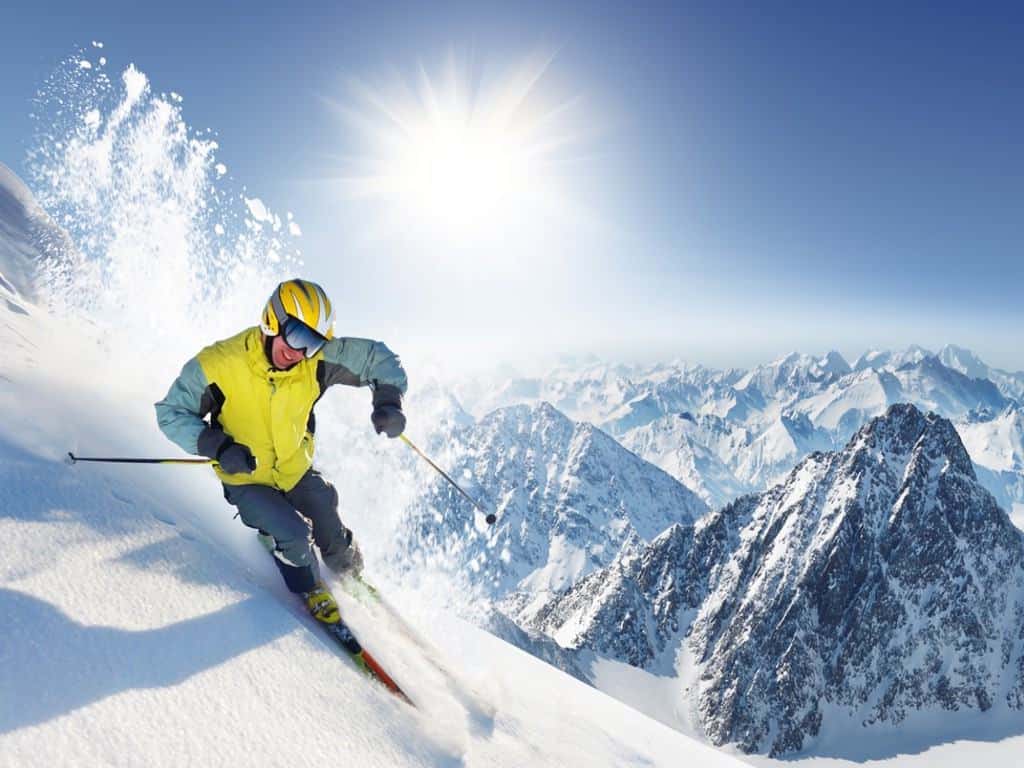 At this point you might be wondering what you might need in addition to your current ski equipment for this new experience. The truth is that most of your standard gear will suffice.
As always, be sure that you've got a well-fittedjacket, hat,and warm gloves. Make sure to have your goggles ready, as you'll be going through some fine powder on your glide through the trees.
A backpack with basic gear will always be provided by a top-notch resort. A good suggestion is to include a wider and shorter set of skis. This will help with the deeper snow you're traversing. And if you're considering an upgrade or change to your equipment, maybe your heli skiing trip would be the perfect time to consider snowboarding!
Your particular skill set won't need whole lot in the way of expansion. Heli skiing is essentially the same as regular downhill skiing once you've left the helicopter (perfect for both intermediate and expert skiers).
So, whatever you do to prepare for skiing those old trails, just do the same for your new run. All you have to do is get yourself psyched for the heart-racing thrill of a helicopter ride and a mesmerizing skyline! Just imagine cutting your own path through the most amazing all-natural snow that you'll ever ski on—definitely a new chapter in your vacationing life.
If you're looking to conquer a location such as Revelstoke, BC (another awesome location), you won't find a more exciting way than heli skiing. Even if you're simply looking to expand your skiing horizons, it will be a trip you're not likely to regret. In fact, when it's over you'll probably regret not considering it sooner! They say that the sky is the limit, so you might as well take your skiing trip into the air this winter — visit the GCHS website and leave all the old trails behind.