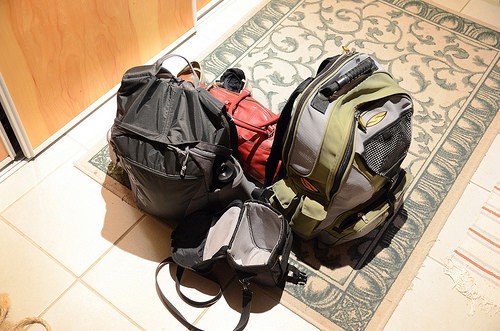 Photo credit: mag3737 Travelling light via photopin (license)
Anyone who travels a lot knows that going somewhere for the day (whether it involves hiking, sightseeing, or any other activity) requires a lot of supplies. From snacks and water to multiple layers of clothing, you need to be prepared. It's important to consider how much you need and how you plan to carry it.
Traveling smart and organized is more manageable with lightweight day packs and other portable backpacks. You can enjoy your day trip and keep all of the things you need handy without carrying a large bag that weighs too much. Most of Eagle Creek's bags come with extra compartments for small gear and added organization.
You'll find a variety of products with a lot of different features perfect for a wide range of activities. Shoulder bags, waist bags, wallets and organizers, and bags equipped with RFID technology are just some of the options available to you.
Backpacks
Backpacks are a convenient travel item, whether you're going on a day trip or an extended vacation. They make the perfect carry on because you can stow them under your seat with everything you need for the flight, and they're versatile enough for a day of hiking or a day at the beach.
You can find backpacks with RFID blocker pockets, lockable zippers, and laptop sleeves for working remotely. Some are even water resistant, so you don't have to worry about damage from unexpected weather changes or a fun day at the pool.
Shoulder Bags
If you prefer a sophisticated shoulder bag for business trips or all-day conferences and meetings, you can find just what you need with Eagle Creek's wide range of options. Many shoulder bags also have RFID blocking technology and lockable compartments. Some even have reflectivity, keeping you safe while walking at night.
Shoulder bags are the perfect companion for students, business travelers, and bike commuters because they're practical and versatile. Some even transform from a messenger bag to a backpack for a professional look that travels easily, and you'll find options for roller bags making rushing between meetings a breeze.
Waist Bags
Waist bags are a classic travel item. They help you keep your belongings close and secure. They're perfect for day trips where you need to travel light. Convenient zippers keep everything within reach, and it's never out of your sight.
Handbags
Handbags are a bit more stylish and are great for more formal events. They come in a variety of different sizes so you can carry items you need to freshen up throughout the day in a small handbag, or you can carry your laptop and tablet in a convertible or travel laptop bag.
Wallets and Organizers
Your passport, money, and other necessary identification are too important to lose or compromise. Even if you carry something bigger, it's still smart to choose a travel wallet or other small organizer to keep your travel documents safe and secure.
By keeping travel documents together in a small carrying case, you can transfer it from one bag to another with ease, always keeping it with you no matter which day pack you choose to carry that day. This is also one of the most critical bags to equip with RFID blocking technology since so many credit cards and other identification have RFID technology in them.
These types of travel bags are crucial for the international traveler since traveling abroad can be both dangerous and unfamiliar.  You can also choose from money belts and secret stashes that you can hide under your clothing where no one else can see it.
Ultra-Lights
Ultra-Lights are the most versatile travel accessory, and they lend themselves well to hiking, adventure travel, and anything else outdoors. They're convertible, incredibly lightweight, water-resistant, and many contain a hydration bladder.
With multiple carry options, there's something for every activity. Expandable compartments, built-in pockets, and carefully designed organization gives you everything you need at just the right moment.
RFID Blocking Technology
Most credit cards and other pieces of identification now contain RFID technology. It makes it easier to pay at some venues or verify your identity. However, with the right technology, anyone can steal your identity by obtaining personal information through your documentation.
Many bags are equipped with RFID blocking technology, keeping your personal information safe. It's important to keep your information safe while traveling, even if you're not going far from home. Store your personal information in an RFID compartment or a small wallet equipped with RFID blocking technology.
It doesn't matter where you go. There's a day pack right for you. We have bags for outdoor adventures, cross-campus jaunts, and business meetings. From the connected individual who travels heavy on electronics to the nomad who never goes anywhere without walking shoes and a water bottle, you'll find just what you need at Eagle Creek.