Street food vendors serve up amazing food without the expensive price tag; a plus if you're a student! Discover the best street food in London here:
The street food scene has really taken off, and it's no surprise why. Street food vendors serve up amazing food without the expensive price tag. What does this mean? If you're a foodie and you're a student, street food is your go-to when it comes to dining out in the city. Discover the best street food in London here.
Angela Sam under CC by ND 2.0
Smokestak
If you love barbecued food then you won't be able to get enough of Smokestak. Barbecue connoisseur David Carter is the brains behind it all, with his Barbados roots and a 4.5 tonne custom-built Texan BBQ smoker to thank for it!
Smokestak specialises in ribs, so be sure to give these a try. At just £7 for the St Louis pork ribs, you can't go wrong. They'll be, by far, the best ribs you've ever tasted. Head to Model Market and Street Feast Dalston Yard and tuck into tender meat that has been barbecued to perfection.
B.O.B's Lobster
Street Feast Dalston Yard is also home to B.O.B's Lobster, a pop up restaurant that's renowned for selling the best lobster roll in London. The toasted brioche roll, packed full of fresh lobster, will cost you £11. This may seem expensive for street food, but it's worth every penny and it is lobster after all! Plus, these rolls are sold from a VW camper van, which further adds to the appeal!
Get your claws into juicy, fresh lobster at this must-visit street food vendor. It'll certainly be an enjoyable and delicious experience.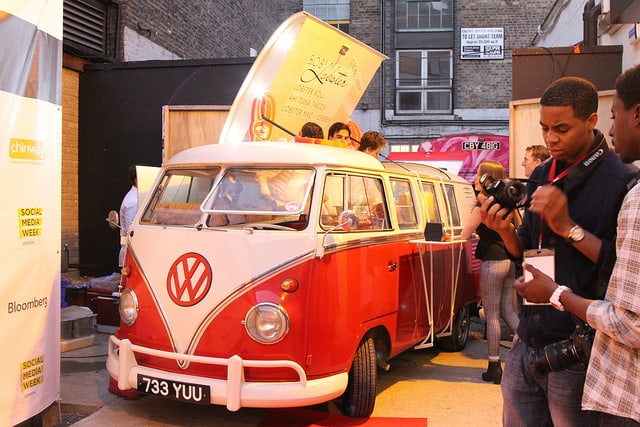 Bleeker St
Fancy a burger? Then look no further than Bleeker St located in Spitalfields, Southbank and Canary Wharf. The patties are sensational, bringing a taste of New York style burgers to the streets of London. Each patty is served medium rare, just how it should be! And is made from only the finest beef – rare-breed, grass-fed – therefore you know it's going to be good.
Bleeker St uses a secret sauce, so surprise surprise, no one knows what it is! But, what you do need to know is that it makes the burger. The Bleeker Black is a popular favourite so be sure to try this beast of a burger: double beef, double cheese, fried onions and black pudding for just £10!
Sub Cult
If you're a sucker for Subway, you'll love Sub Cult. You'll find this gourmet sandwich stall at Berwick Street, Brockley Market and Lower Marsh Market and once you've eaten here once, you'll be back for more.
The soft sub sandwiches are available with a variety of sensational fillings, including seared scallops and pulled pork. However, a filling that will really get your mouth watering is the Subterranean, which comprises of woodland mushrooms, melted stilton, thyme and truffle. This tasty sub will cost you just £5; sounds too good to be true, right? Sub Cult is a street food sensation.

Simon Cocks under CC by 2.0
Touchstone Student Living offers affordable and comfortable student accommodation in London zone 1; a desirable location for many. Take a look around its website for more information.