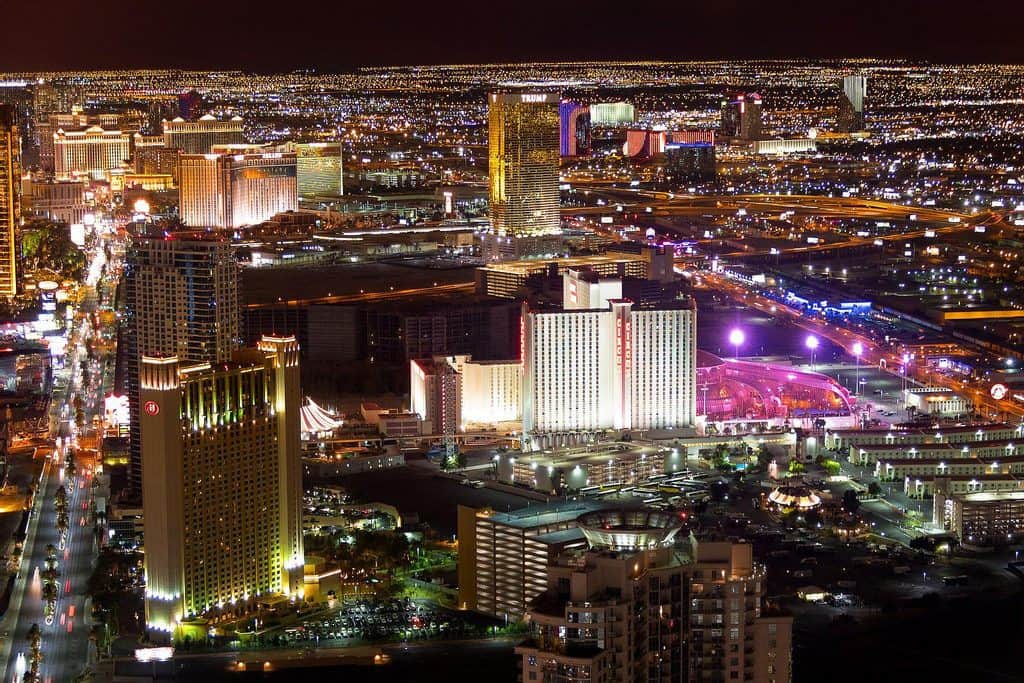 Photo credit: massonth Las Vegas from Stratosphere via photopin (license)
Everyone wants to see Las Vegas, but what do you do when you are on a budget? Can you see Las Vegas on a budget? Yes! If you plan out your Vegas trip properly, you can see Las Vegas even if your cash is limited.
You could stay in Las Vegas for months and never make a dent in all of the activities that are available there. While some activities are a little on the pricey side, there are things that can be done that aren't going to break the bank. You can research the best Las Vegas Christmas packages where you can save big discounts while enjoying fun adventures and amenities in the place.
Getting Cheap Flights to Las Vegas
If you want to have more money to spend when you are in Las Vegas, then you need to spend less money on your flight ticket. There are quite a few tricks you can use to get a better deal on your flight ticket including:
Book your flight at least 14 days in advance. Most people can save around $200 from booking earlier than 14 days out, so it is worth the planning.
If you can fly into Las Vegas on a Sunday, you are going to save some money.
If you can fly out of Las Vegas on Tuesday, you can also save some money.
Now that you know how to get to Vegas on a budget let's see what you can do once you get there.
Use Coupon Sites
You can use sites like Groupon to find discounts on activities that you want to participate in. Often things that you would do anyway are listed on these coupon sites. You might be able to pay the same amount and bring a friend with half off deals.
If you are flexible on what you want to do when you are in Las Vegas, these deals sites can save you a lot of money. Going to a Las Vegas nightclub can even be less expensive when you use one of the deal sites. Sometimes you can get money off drinks or admission depending on the nightclub.
Join a Hotel Membership Site
Most hotel membership sites are totally free so why not join and get deals when you use them? These gaming memberships will give you great deals on room rates and other perks depending on the program. Make sure you ask the hotel you are considering what their gaming membership program is so you can get signed up and get the discounts that come along with it.
Watch the Las Vegas Convention Calendar
Las Vegas has a lot of major conventions each year. If you come to Vegas when major conventions are happening, you are going to pay higher rates. To get the best rates, make sure you are coming when there isn't much going on. The rates are going to be lower, and the availability is much better so you won't have a challenge getting into the hotel that you want to visit.
Check for Resort Fees
Before you book your hotel, make sure that the hotel doesn't charge resort fees. Most of the time you won't even know about resort fees until you already book the hotel room and then you see the new total. These resort fees are often anywhere from $10 to $30 per day which can add up if you are staying for the week.
Stay in the Middle of the Strip
You aren't likely to get better hotel rates by staying in the middle of the strip, but you will find it easier to get around. If you are in the middle of the action, you are less likely to need to call an Uber or a Lyft which will add to the expenses that you have. Besides for that, you only have so much time in Vegas, and you don't want to spend all of it trying to get from one end of the strip to the other.
Dine on the Pre-Theater Menu
Many hotels have shows happening that night so you can get great deals on their pre-theater menu. No, you don't have to go to the show to get the deal. You won't be asked if you have a ticket. You can find out where there is going to be a show and check if the pre-theater menu is to your liking and you're good to go for a very nice price.
Eat at Resort Buffets
If you eat at resort buffets, you are going to save around $5 per person, and instead of getting a limited amount of food and drink, you get all you can eat and drink. Some of the places that you can go will be higher priced buffets but offer fare like lobster tail.
Some of the resort buffets available for a good deal are 5 stars so you won't be skimping on food quality.
Go to Buffet At Transition Time
If you want to get a dinnertime buffet at a brunch buffet price, come about 30 minutes before the buffet is transitioning and then eat slowly. You'll be able to get the brunch buffet price but eat the dinner and brunch buffet food.
Enjoying Your Vegas Trip on a Budget
Now you know how to enjoy Las Vegas to the maximum even if you are on a budget. There are so many things to do and see even if you don't have a lot of cash. Enjoy your trip and remember – what happens in Vegas stays in Vegas.