Introduction
In November last year I was invited on a familiarisation trip to Zimbabwe with my good friends and partner company, Imvelo Safari Lodges. These are arranged for travel agents and tour operators from outside the country so that they can experience a destination for themselves and thus be able to recommend accommodation and activities based on personal experience.
The trip was a week long, and me being me, I wanted to extend my time in Zimbabwe – after all, Southern Africa is quite some distance from Norway and when first down there, 7 days is far from enough.
I contacted another company I work with, Seolo Africa, and arranged to stay at both of their properties in Zimbabwe, and then added a night at a favourite hotel of mine, the Victoria Falls Rainbow Hotel, centrally located in the town of the same name. I figured that I would also get time for a G&T at the Victoria Falls Hotel on my way back through to join my colleagues arriving for the Imvelo trip. I mean, it would be rude not to.
I should point out that I paid for my flights and all my accommodation, activities and fees – but the accommodation part was at a reduced rate for agents. Flights are not cheap, the trip was a significant investment for me and as always my opinions are my own.
So it was that I found myself arriving at Victoria Falls airport on the last day of November, ready for more adventures in my favourite country so far in Africa. I had booked a transfer with the first hotel on my itinerary, and was checking in within half an hour of landing.
Rainbow Hotel
What we tell people:
I have stayed here three times in the last two years, and it is superb value for such a centrally-located place to stay in the town of Victoria Falls, making it an excellent base from which to explore.
Recent renovations have modernised the rooms and work is planned to spruce up the restaurant and lobby in the near future. The pool area is a lovely place to relax and the gardens are lush and extensive.
I put this video together after returning from my trip, so do take a look:
Vital stats:
The Victoria Falls Rainbow Hotel
Number of rooms: 88
54 Standard Twins
30 Standard Doubles
2 Family Suites
2 Deluxe Suites
The hotel has 13 family rooms with bunk beds and 13 sets of family interleading rooms.
Opening dates: Open all year
Suggested length of stay:
Two nights +
Getting there:
The drive from Victoria Falls Airport usually takes about 30 minutes.
Location, location, location?
The Rainbow Hotel is just north of the main drag, just half a kilometre and a safe walk from the centre of town and only 2km from the Falls themselves.
The room
I was accommodated in a Standard Double, which was a refurbished version of the room I had stayed in twice before. The majority of rooms feature a pleasant balcony too.
Much brighter and more modern, these rooms are very comfortable and have all the amenities you are likely to need.
The room was spacious with adequate storage space for two people travelling together and plenty for one person.
Tea and coffee making facilities are provided and always welcome – especially for early risers like myself who enjoy a cuppa out on the verandah before breakfast, a great place to relax with a book or watch birds in the lodge grounds.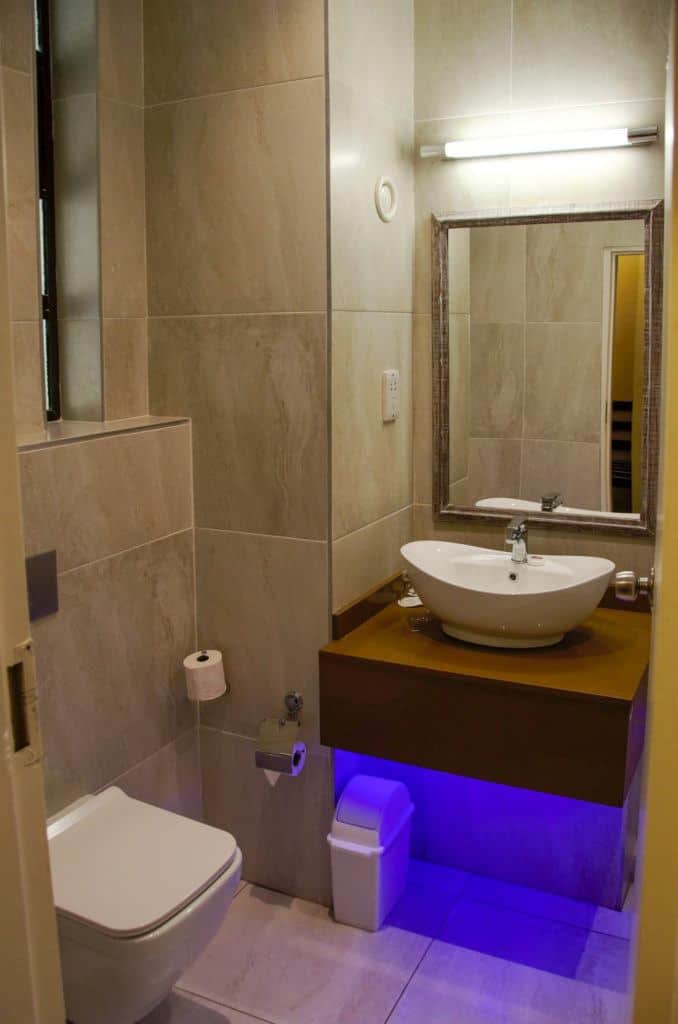 It was a treat to have a full-size bathtub as well as a shower, and the bathroom was large and well-designed.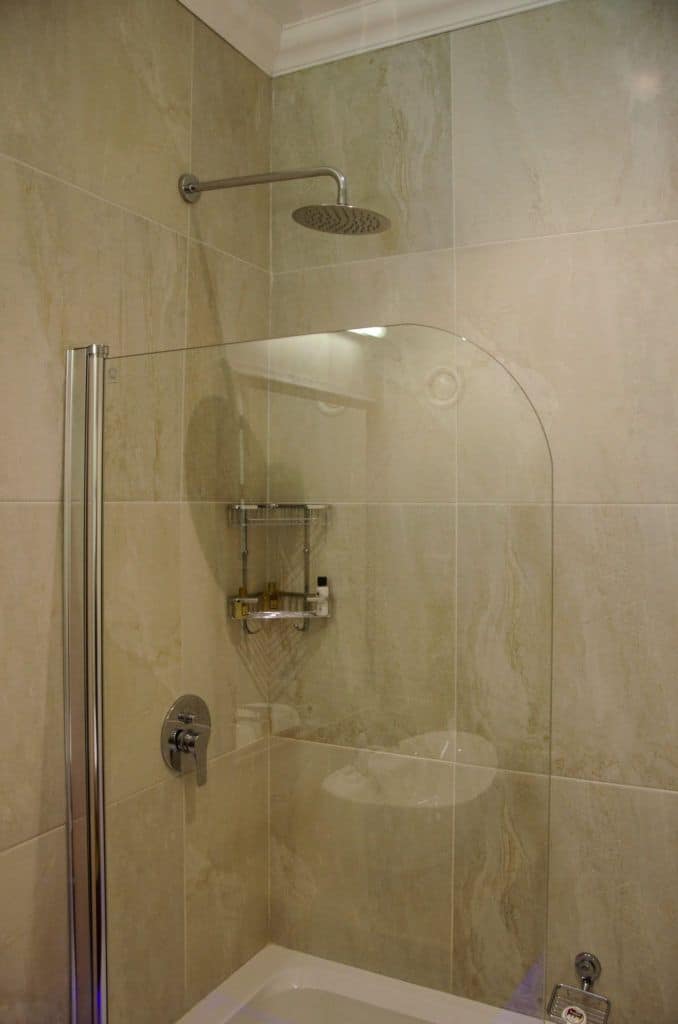 A full range of bathroom ameneties are provided, including insect repellant which is a useful touch.
The water pressure in the shower was excellent and the large shower cabinet well designed.
Food and drink

Usual board basis:

Bed and breakfast
On this occasion I only had breakfast, which was a buffet and tasty, if not outstanding. Last time I stayed I had dinner, which was also a buffet and very good value.
Dining arrangement:

Individual tables
Dining locations:

Indoor and outdoor dining

Eating outdoors on the pool terrace is a nice experience, both for breakfast and dinner. There is also a "submerged" bar for drinks while sunbathing and swimming.
Activities
At the hotel itself, relaxing by the pool would be the main "activity". But Victoria Falls is the adventure capital of Zimbabwe – if not Southern Africa – and the hotel can arrange all of these, or you can do so yourself. Check out these two articles about my first trip – a morning in Victoria Falls and what I got up to in the afternoon. There is a dedicated desk in the lobby to make bookings and prices appear to be the same anyway, so it makes sense to let the staff here do the hard work.
Service
Service was friendly, efficient and excellent.
Conclusion:
We love the Victoria Falls Rainbow Hotel. The other hotels so close to town are a lot more expensive, and it's questionable whether they are worth the extra. It is probably better to stay here and save your money for the host of activities available in town.
The next morning it was time to move on, and I met Michele who represents Masuwe Lodge for Seolo (who are based in South Africa). She drove me to the lodge, which is also within easy striking distance of Victoria Falls town and offers are more upmarket and exclusive base with a genuine safari feel.
Masuwe Lodge
What we tell people:
This was my first time staying at Masuwe Lodge and it won't be the last. It's a big step up from staying in town, with wildlife on your doorstep and Chamabonda National Park, a sub-section of the Zambezi National Park, as its closest neighbour.
Masuwe has a real safari lodge feel which is heightened by having elephants visiting the waterhole right below the large terrace by the bar and restaurant area.
Here's a video to show you more:

Vital stats:
Masuwe Lodge
Number of rooms: 11
9 Wilderness Tents
1 Hide-Away
1 Family Nest (with two bedrooms)
Opening dates: Open all year
Suggested length of stay:
Two nights +
Getting there:
The drive from Victoria Falls Airport usually takes about 20 minutes, and it generally takes the same time to reach the centre of town.
Location, location, location?
Masuwe Lodge is about 7km south-west of the heart of Victoria Falls town. The lodge is set in 1000 hectares of natural bushland which is home to a range of wildlife.
The room
I stayed in one of the Wilderness Tents, which is essentially a chalet with canvas walls but a proper roof and solid bathroom section.
The huge bed was extremely comfortable and features high-quality linen and plump pillows.
You can watch the sunrise colour the bush landscape while lying in bed, and the glass doors ensure that no mosquitos bother you in the night (although I didn't see any outside either when I was there).
At the rear of the room is a bathroom with an excellent shower, a large vanity unit and a separate toilet. There is plenty of storage in the wall separating the bedroom from the bathroom.
Filtered water as well as tea and coffee making facilities are available in the room – a flask of hot water is provided so you can make yourself a brew.
While at Masuwe I also had a look at the two other types of accommodation at the lodge.
The Hide-Away
The Hide-Away is twice the size of a regular Wilderness Tent and occupies a private spot overlooking a small water hole and beautiful natural bushland. It offers privacy away from the main lodge and is perfect for couples and honeymooners.
The Hide-Away has a minibar stocked with guests' personal choice of local brand drinks. It also has an indoor double shower with a view.
Even better, it also boasts an outdoor bathtub for two – which is pretty much unbeatable.
The Family Nest
For families or friends travelling together, the Family Nest is ideal. It is surrounded by bush and away from the main area, and is a solid two-storey stone building rather than a tent.
On the ground floor is an indoor living room and kitchenette with mini-bar stocked with local brand drinks as per guests' wishes.
As you can see there is plenty of space to relax and to eat dinner round the table. There is also a bedroom on this floor with its own bathroom.
The upstairs master bedroom has a king sized bed with lovely views, an en suite bathroom and its own relaxation area with comfy armchairs.
Outside you will find a shaded deck area, an inviting plunge pool and a proper-sized braai (grill) area.
Food and drink
Usual board basis:

Bed and breakfast
I only had lunch and breakfast at Masuwe, both of which were absolutely delicious. This gives me good reason to expect that dinner is fantastic here too.
Dining arrangement:

Individual tables
Dining locations:

Indoor and outdoor dining

The restaurant and bar area is extensive, so meals can be enjoyed inside or out ("inside" here means under the roof but the area is open so receives a cool breeze. There is also a large terrace overlooking a waterhole which is frequented by elephants almost daily.
Activities
It would be quite easy to spend the day by – and in – the pool.
Mind you, relaxing in the bar is an appealing option too.
Or what about enjoying a G&T or two on the terrace while the elephants roam below?
Just in case you think I'm exaggerating, check these out 🙂
Service
Unsurprisingly for Zimbabwe, service was excellent and very friendly.
Conclusion:
Masuwe Lodge is one of the best places to stay within easy striking distance of Victoria Falls town and all the activities it has to offer. It oozes quality and has a luxury bush lodge atmosphere. If you are looking for a luxurious base for this amazing town, with the added bonuses of wildlife outside the fence and a national park next door. It is also very good value for this standard of accommodation.
The next day I was off to the other Seolo Africa property in Zimbabwe, which again offers something very different…
Chundu Island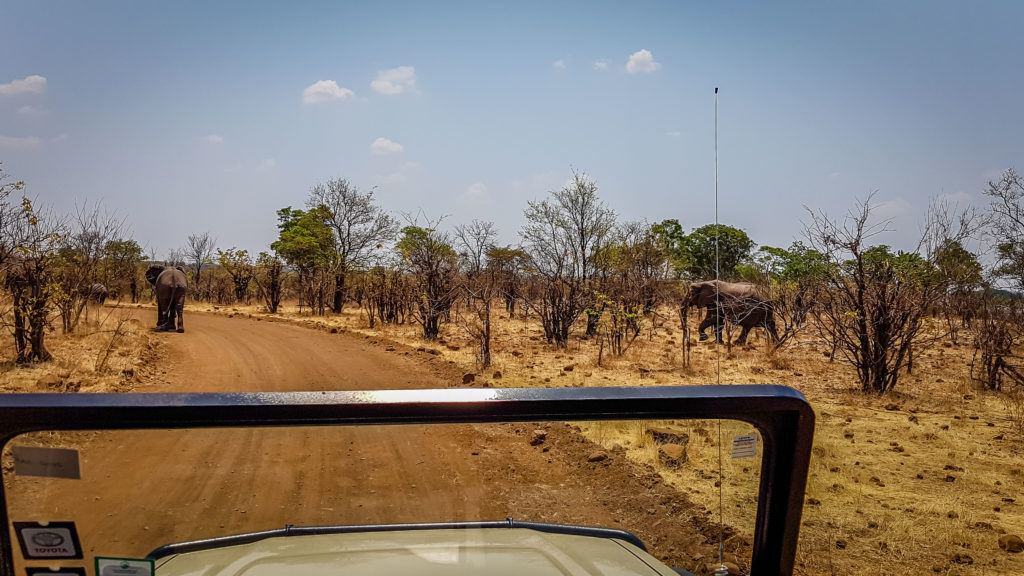 What we tell people:
Chundu Island is extraordinary. Occupying a private island in the middle of the Zambezi river, roughly equidistant between Zimbabwe and Zambia, you can expect a unique experience. The accommodation is of a very high standard, there are many activities available but it is also a lovely place to relax before or after a safari.
I only stayed one night but arrived early and left quite late, so I managed to get a very good impression of what awaits you.
Not only that, I made a video too:

Vital stats:
Chundu Island
Number of rooms: 8
6 River Suites
2 Family Suites (two bedrooms)
Opening dates: Open all year
Suggested length of stay:
Two nights +
Getting there:
The drive from Victoria Falls town through the Zambezi National Park – which is also a game drive – usually takes about an hour depending on stops for wildlife watching.
Location, location, location?
Chundu Island is 21 km north-west upstream from the Victoria Falls themselves. The island is roughly 1.4 km by 0.4 km in size.
The room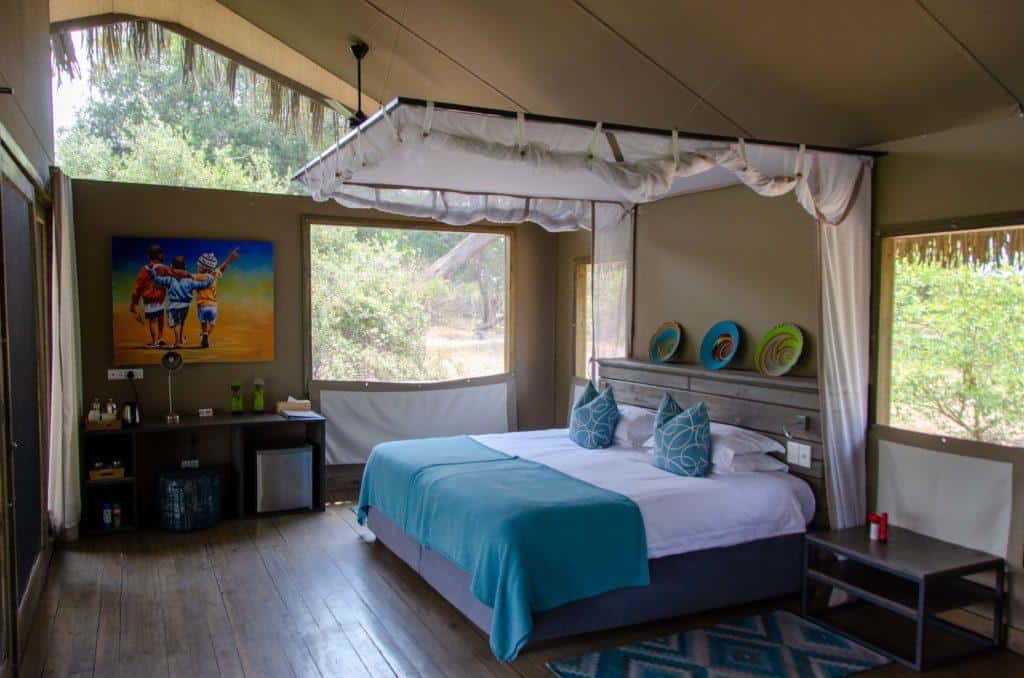 I had a night in a River Suite, which was beautiful. The bed was so comfortable that I had serious issues getting out of it the next morning, and the modern design with light colours and stylish decor was a pleasant change from many of the lodges in Zimbabwe with their dark tones.
A full-sized bath is the main feature of the bathroom, which also has a double vanity unit, a large walk-in wardrobe behind it and a separate toilet. But the best part is through the door:
Nothing beats an outdoor shower, and this one was fabulous.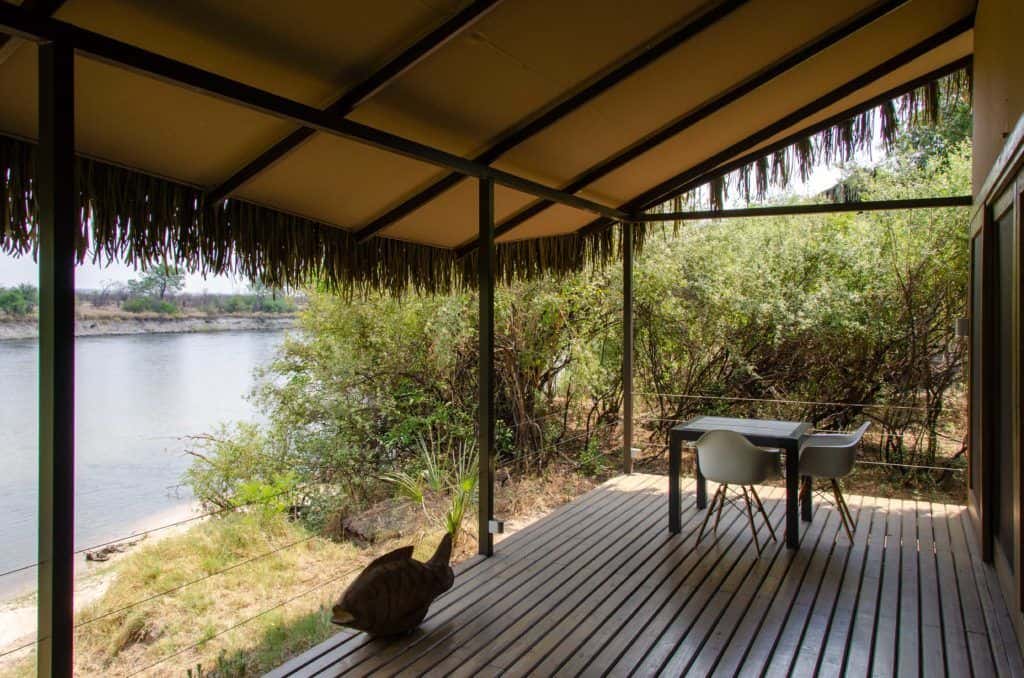 The large and private terrace overlooks the legendary Zambezi River and has both a table and chairs and a large sofa at the other end.
Food and drink
Usual board basis:

Full board including house wines, local beer and spirits
I was lucky enough to have dinner and breakfast here, and the food was superb.
Dining arrangement:

Individual tables
Dining locations:

Indoor and outdoor dining

The restaurant location is hard to beat, with expansive views over the pristine white sands to the Zambezi.
What a place to enjoy breakfast, eh? Or any other meal at Chundu, obviously…
There is also a large and inviting lounge and bar area with comfy sofas and armchairs, as well as a fireplace.
Activities
Again, the swimming pool is an inviting option. But the rate at Chundu Island includes two of their activities each day, and the list is extensive: Morning & Evening Safari Drives, Canoeing, Sundowner Cruise, River Cruise, Bushwalks, Fun Fishing, Visit to the Falls.
I chose to take the Sundowner cruise, which was a great experience.
We were watched by large herds of buffalo on the Zimbabwe side of the Zambezi.
And sundown was spectacular, and even better with a cold Gin & Tonic.
The next morning I went for a bushwalk, which was both enjoyable and informative. My guide was extremely well trained, as are all guides in Zimbabwe who are often referred to as the best in Africa.
Birdwatchers will have plenty to keep them occupied, and I was extremely lucky to see one of these beautiful specimens. This is a Schalow's Turaco, which coincidentally is the Chundu Island logo. It is also rather rare.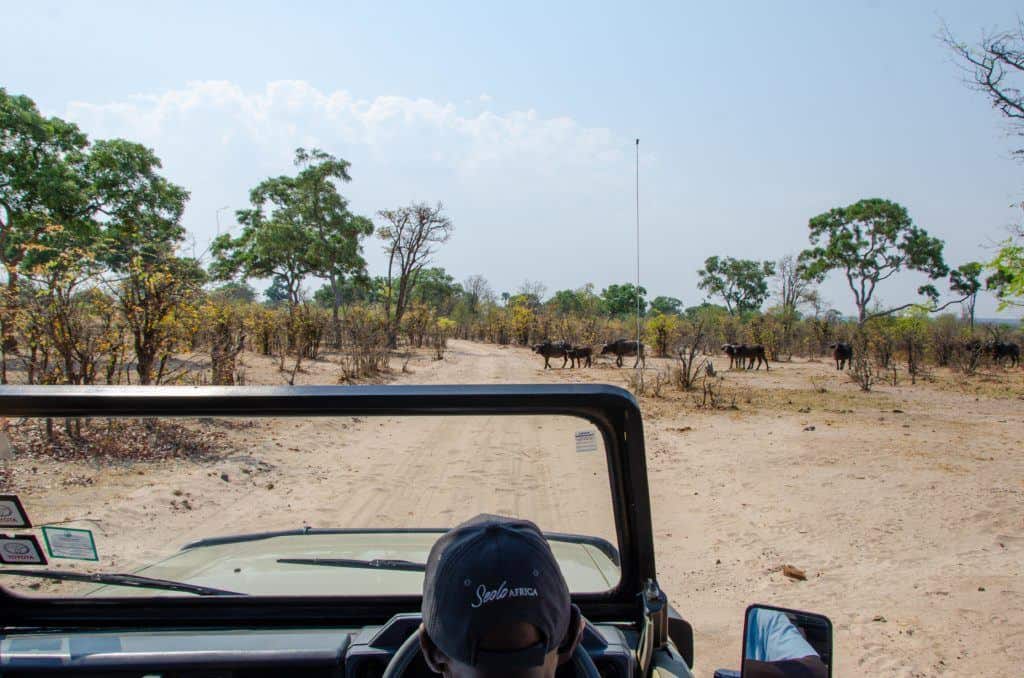 When it was time to leave, we jumped into the Land Cruiser and had an exciting game drive back to Victoria Falls town. I really didn't want to leave, but such is life as a busy tour operator…
Service
At the risk of repeating myself, service was excellent and very friendly.
Conclusion:
Like me, you won't want to leave Chundu Island. It is a wonderfully peaceful place to stay, with luxury and isolation in equal measure. Well, not really – it is more luxurious than isolated. It is the perfect place to take it easy before or after a safari and I cannot wait to hear what you think…
So contact me via our sister operation, The Grown-up Travel Company, to arrange your dream trip to Zimbabwe!