Trondheim's neighborhoods in detail
With its long history and picturesque location, Trondheim offers visitors much to discover across its distinct neighborhoods and surrounding districts. Getting out beyond just the compact city center reveals Trondheim's diversity. From historic cobblestone streets to modern waterfront developments, the city's unique areas shouldn't be missed. This expanded guide dives deep into the top neighborhoods and surroundings to explore when visiting Trondheim.
Charming Bakklandet
No tour of Trondheim is complete without a stroll through Bakklandet, the city's equivalent of an old town. Cobblestone streets weave between brightly colored wooden warehouses that now house cozy cafes, small shops, art galleries, and boutiques. Visitors instantly feel transported back in time when wandering past the 18th and 19th century buildings.
Previously a rundown working class district, locals carefully restored Bakklandet's historic charm. Today it stands as one of Trondheim's trendiest and most picturesque areas. Cafes like Baklandet Skydsstation fill the lanes with tempting aromas and lively conversation on sunny days. The neighborhood also holds cultural attractions like the Trondheim Art Gallery and several small museums.
Don't miss seeing the charming Gamle Bybro, the key entryway into Bakklandet across the river. Photographers will delight at the photo opportunities around every corner. Grab a bite, peek into unique shops, and soak up the ambience of Trondheim's finest "old town."
Make sure to stop into the Baklandet Skydsstation cafe, which serves excellent traditional Norwegian fare for lunch in a cozy wooden building from the 1700s. Their menu features classics like raspeballer potato dumplings and kjøttkaker meatcakes. The Black Door is another atmospheric restaurant in a historic structure worth trying.
In the evenings, Bakklandet's nightlife scene heats up with bars and pubs clustered along the cobblestone streets. Whisky Bar and Antikvariatet Pub are local favorites for drinks in rustic, wood-heavy interiors. Live music is common many nights at Antikvariatet and other venues.
History and Energy in the City Center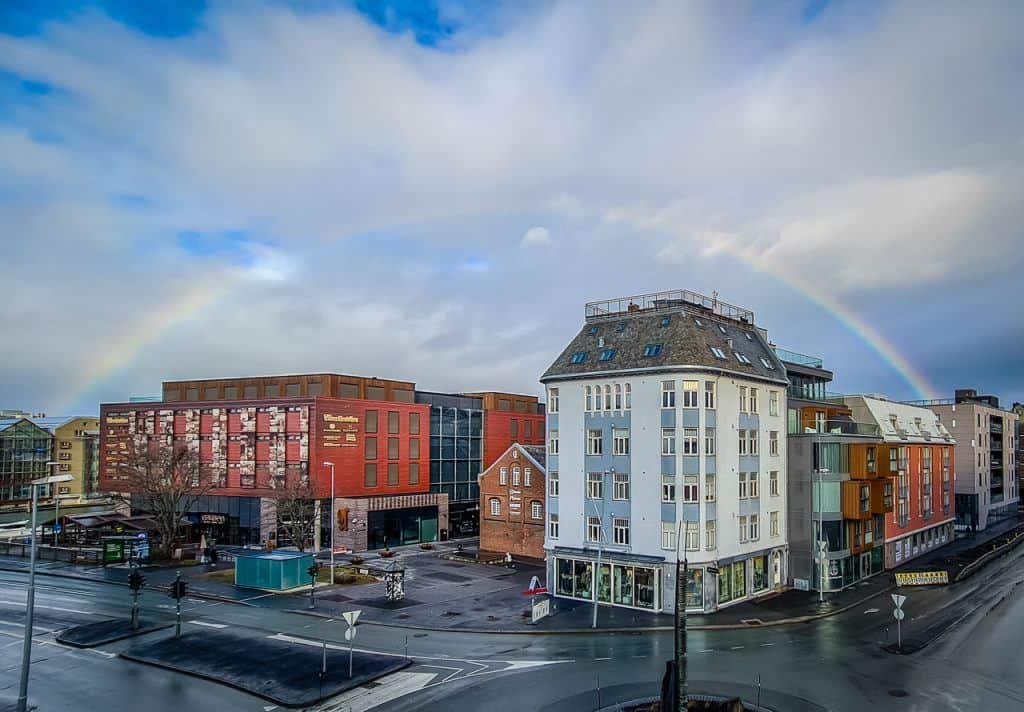 Trondheim's compact center seamlessly blends historic landmarks with modern energy and conveniences. Many key sights sit a short stroll apart, making the downtown navigable on foot. Looming above the city stands the grand Gothic Nidaros Cathedral, Trondheim's most impressive structure since its construction began in 1070 AD.
Nearby lies the Old Town Bridge spanning the River Nidelva and offering beautiful views. The arching stone gateways to the mostly pedestrianized streets add medieval flair. But the city center also holds ample shopping, dining, and amenities. The area bustles with students from the Norwegian University of Science and Technology campus.
Don't miss checking out the indoor food court Mathallen, perfect for sampling a wide array of Norwegian and international cuisine under one roof. The mix of historic sites like the main square and lively offerings make the city center ideal for first-time visitors to get their bearings in Trondheim.
The main square, Torget, acts as a central meeting point surrounded by restaurants and the stately Trondheim Torg shopping center. On nicer days, locals gather to socialize or attend events and concerts held in the square. Nearby, the streets Kongens gate, Nordre gate, Olav Tryggvasons gate, and Thomas Angells gate form Trondheim's retail core. Here you'll find major international stores along with local shops.
Cafes provide prime people-watching throughout the city center. Some top picks include Trondheim Mikrobryggeri and Baklan Bistro for artisanal beer and sandwiches, Le Bistro for French pastries and coffee, and Persilleriet for veggie fare in a charming courtyard. Don't forget some shopping as well!
Trendy Solsiden and the Harbour
Following the River Nidelva west leads visitors to Solsiden, one of Trondheim's most popular neighborhoods thanks to its prime waterfront location. Solsiden translates to "sunny side" in Norwegian, though locals will tell you sunshine isn't guaranteed! Nonetheless, the vibrant area beckons for drinks or a meal along the fjord.
Solsiden occupies the former shipyards and docklands that underwent regeneration in the 1990s. Warehouses and piers transformed into shopping centers, restaurants, bars, and residential buildings. Colorful apartment blocks now line the harborfront. Locals and tourists alike flock to Solsiden to eat in trendy restaurants with views over the water or grab an afternoon coffee.
Strolling the Solsiden Brygge harbor promenade makes for a refreshing walk any time of year. The atmosphere intensifies during events like Trondheim's food festival held annually in Solsiden. Visitors can browse the food stalls then unwind over drinks as the summer sun "sets" at midnight. With its scenic setting and indulgent offerings, it's easy to see why Solsiden charms locals and tourists alike.
Some top picks for eating in Solsiden include Sjøsiden seafood restaurant, known for its stellar fish and chips. Persilleriet emphasizes fresh salads and veggie dishes with a sustainability focus. Havfruen is a local favorite for bistro-style Norwegian fare and great outdoor seating. You can also do some shopping at the Solsiden shopping center, with major retail chains and specialty boutiques.
Family-Friendly Heimdal
For those seeking a more suburban atmosphere, the Heimdal district offers a prime base on Trondheim's outskirts. Heimdal sits just a quick 10-minute drive south of the city center, but feels more like a village surrounded by forests and farmland. Single-family homes and low apartment buildings characterize Heimdal's more modern residential environment.
Parks and playgrounds dot the area, perfect for families. A large shopping complex caters to everyday needs with supermarkets, clothing stores, and more. Heimdal's biggest claim to fame lies with the idyllic Sverresborg Trøndelag Folk Museum celebrating Norwegian history and culture.
The open-air museum spans several historic buildings and structures relocated from around the region including a 12th century stave church. Visitors get immersed in traditional crafts and architecture. Beyond the folk museum, those looking for Trondheim's quieter side will appreciate Heimdal's homes, green spaces, and family-friendly amenities just outside the city.
Don't miss paying a visit to Sverresborg Castle located on a hilltop within the folk museum grounds. This 13th century fortification provides panoramic views over Heimdal and the surrounding forests and mountains. The castle interior contains exhibits detailing the history of the structure and Trondheimsfjord region.
Heimdal also offers easy access to recreational options like skiing, hiking, and boating just outside of town. The village crowns the end of the tram line from Trondheim, making it convenient to reach without a car. Consider staying at the Heimdal Hotel or Quality Hotel Augustin.
Discovering More of Trondheim's Neighborhoods
In addition to the major areas covered, Trondheim contains a mosaic of smaller neighborhoods well worth exploring. Møllenberg perches on a hillside overlooking the city and harbor with stunning views and charming wooden homes. Tempe contains part of Trondheim's university campus amidst gardens and the natural landscape.
Kattem, similar to Heimdal, provides a more residential atmosphere in western Trondheim with historic farm buildings interspersed with contemporary houses and shops. Ladehammeren and Lademoen offer historic working-class neighborhoods that have undergone restoration in recent years.
Another of my drone videos from back in the day
Trondheim's east side also holds interest with the Nedre Elvehavn harbor area and scenic Bymarka recreation space. Bymarka's hiking and ski trails allow escaping into nature while still close to the city. Whether you spend an afternoon or days delving into Trondheim's diverse neighborhoods, each reveals its own unexpected treasures.
Møllenberg's hillside location above the city makes it perfect for watching sunsets over the harbor and fjord. After admiring the view, duck into Bari restaurant for Italian dishes made with Norwegian ingredients before the neighborhood's main draw: bars and nightlife. Møllenberg parties on into the night at pubs like Down Town, Villa, and Ladejarlen.
The Tempe district captivates through its peaceful atmosphere among university campus buildings and the Ringve botanical gardens. These gardens cultivated by the university provide a relaxing oasis and host events like summer jazz concerts.
Exploring Trondheim's Surroundings
While savoring Trondheim itself, don't neglect the natural wonders just outside the city. The municipality encompasses coastline, forests, mountains, and islands ready for recreation. Bymarka represents Trondheim's own nature reserve with abundant hiking trails, many accessible right from downtown. The paths transform into cross-country ski tracks come winter.
Popular outings include taking the tram up to Lian for swimming in the lake or walking in the hills. Another favorite lies with biking or strolling along the shore at Landsås on Trondheim Fjord. Boating and kayak options also abound for getting out on the scenic fjord waters.
Just beyond Trondheim lies the lesser-known landscape of Estenstadmarka with endless trails for hiking, trail running, and mountain biking during summer. Here you can find secluded forests and scenic lakes away from the crowds. Winters offer tranquil cross-country skiing and snowshoeing opportunities as well.
Having this wealth of outdoor recreation on Trondheim's doorstep lets visitors pair urban sightseeing with rejuvenating nature. You can spend the morning exploring downtown then hike through sweeping forests in the afternoon before returning to the city for dinner. Trondheim uniquely balances cosmopolitan offerings and easy access to the great outdoors.
The small fishing village of Røkkeløkka sits on a peninsula jutting into the Trondheimsfjord just a 25-minute drive from Trondheim. This tranquil area invites relaxation with its guest harbor, beaches, and walking paths. Visitors can learn about traditional fishing life at the Røkkeløkka Coastal Museum before browsing galleries and stopping for lunch.
Discover Trondheim's Diverse Neighborhood Appeal
Part of experiencing Trondheim involves getting outside the compact center to uncover the city's varied neighborhoods. Historic districts like Bakklandet and Kattem exude traditional Norwegian charm among their cobbled lanes and wooden buildings. Trendsetting areas like Solsiden showcase Trondheim's contemporary vibe through dining and shopping.
Beyond its neighborhoods, Trondheim's idyllic surroundings tempt with hiking, skiing, boating, and natural beauty. Wandering off the tourist track lets visitors find the city's hidden stories and scenic secrets. Those taking the time to fully explore Trondheim will find each neighborhood contributes its own special magnetism.