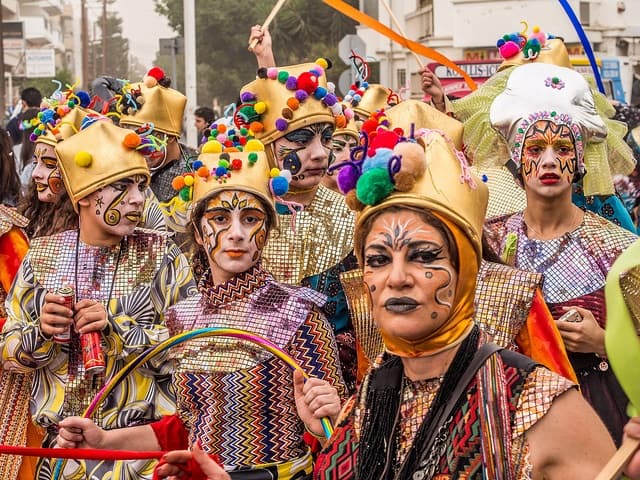 Image (c) Sergey Galyonkin obtained under Creative Commons license via Flickr
January – June
Carnival
Limassol, Cyprus
February – March
Carnival is celebrated in all areas of Cyprus, but Limassol is where it is at its most entertaining and lively. The streets are filled with decadent floats which are themed and decorated, while festival goers are dressed in brightly coloured costumes. The atmosphere in Cyprus at this time of year is phenomenal!
Easter Festivals
Nationwide, Cyprus
March – April
The religious celebrations over Easter make it a great time to visit Cyprus. Flower parades, religious processions and huge ceremonies see communities gather together to celebrate their faith. Prepare for large feasts of local dishes including traditional Flaouna bread.
Agia Irini Day
Perivolia, Cyprus
May
Agia Irini Day is one of the many saints' name-days that are celebrated in Cyprus. Local churches are the places to be during these festivities, and celebrations include processions, ceremonies and feasts.
Shakespeare at the Kourion
Kourion, Cyprus
June
The Greco-Roman theatre at the Kourion is situated on a hill that overlooks the Mediterranean Sea. Each year, the Performing Arts for Cyprus Charities perform Shakespearean plays for guests. This is one of Cyprus' greatest annual arts and literature events.
Feast of Kataklysmos (The Festival of the Flood)
Coastal Towns, Cyprus
June
The whole of the Cypriot coastline comes alive in June when the Feast of Kataklysmos brings crowds to the coastal towns. A massive feast and procession take place between the various boat races and water sporting events.
July – December  
Limassol Wine Festival
Limassol, Cyprus
August
Cheap holidays to Cyprus can still mean enjoying events like the Limassol Wine Festival, where locals and holidaymakers relax over Cypriot wine together. If you're travelling in August, booking in advance is the best option.
The festival lasts for ten days and includes theatre performances and concerts as well as showcasing one of the world's oldest wines, the Cypriot Commandaria.
Aphrodite Opera Festival
Paphos Castle, Paphos, Cyprus
September
Taking place within the medieval castle at Paphos Harbour, this annual event sees masses of locals and tourists dressed in their best for an operatic extravaganza. This is perhaps the most prestigious event on Cyprus' cultural calendar.
KYPRIA Festival
Various Locations, Cyprus
September- October
The KYPRIA Festival is a celebration of arts and culture in Cyprus with events and performances from genres including ballet, theatre, cinema, music and opera. Performers travel from all over the globe to attend the festival and it has been internationally acclaimed for many years.
Christmas Festivals
Nationwide, Cyprus
December
December is an amazing time to visit Cyprus thanks to the importance of Christmas in the Greek Orthodox calendar. Although Christmas is not as commercialised as it is in other European countries, there is still plenty to appreciate. Try the Cypriot version of Christmas cake which is made with glyka tou koutaliou (fruits preserved in syrup).
For more information on visiting Cyprus visit: