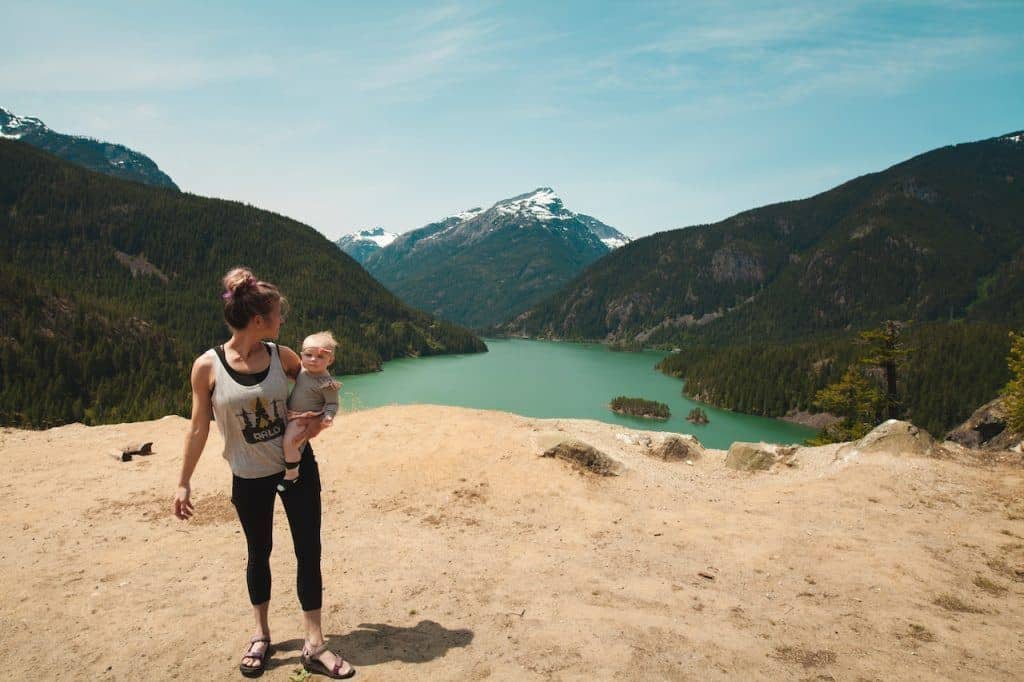 Traveling with an infant for the first time can seem daunting. But with careful preparation and packing, you can ensure that your baby stays comfortable, safe, and entertained throughout the journey. This comprehensive guide will walk you through everything you need to pack to make travel with your little one smooth and stress-free.
Key Takeaways – What to Pack When Traveling With Baby
Choose baby gear like strollers and car seats that make travel logistics easier.
Use a detailed packing list to ensure you don't forget essential baby items.
Research baby-friendly meal options in advance at your destination.
Allow extra time for airport security and delays when traveling by plane with an infant.
Look for family-oriented accommodations tailored to baby's needs like cribs and kitchens.
Maintain baby's comfort en route by regulating temperature, hydration and sleeping conditions.
Baby-proof safety hazards and bring a baby first-aid kit for travel health concerns.
Pack engaging toys, books, and activities to prevent boredom and tantrums.
With the right tools and mindset of flexibility, you can have a stress-free, memorable trip.
Introduction
When you're a new parent, vacation may feel like a distant dream. But traveling doesn't have to stop just because you have a baby. With the right planning and packing, you can still experience exciting new destinations together as a family.
While travel with an infant presents unique challenges, the rewards are immense. Experiencing new places together fosters invaluable bonding time. Nothing beats those sweet baby snuggles on a long flight or train ride when your little one drifts off to sleep in your arms.
Preparing adequately for a baby takes organization and forethought, but this guide will provide a handy packing checklist and tips to simplify travel with your tiny explorer.
Essential Baby Travel Gear
Certain baby gear and travel accessories are absolute must-haves when traveling:
Stroller – A sturdy, lightweight baby stroller provides containment and mobile napping space when navigating airports or strolling new cities. Look for a model with large storage space underneath.
Baby carrier – Babywearing in an ergonomic front carrier enables mobility while keeping baby close when a stroller is inconvenient. The close contact also soothes infants.
Car seat – Purchase a convertible car seat that can be installed securely on planes. Checking your car seat provides peace of mind on road trips too.
Packable crib – A packable crib ensures baby has a safe, enclosed sleep space in hotel rooms. Many models fold neatly into luggage.
Travel high chair – A portable high chair means baby can join the family for meals out.
Diaper backpack – A sturdy backpack style diaper bag allows you to stay hands-free and distribute weight while wrangling baby gear.
Investing in the right travel-friendly baby gear makes navigating new places with your little sidekick so much smoother.
What to Pack: Baby Travel Checklist
Checking each item off this detailed packing list ensures you're fully prepared for any situation when traveling with baby:
Clothing, Outfits and Layers
5-7 onesies and tops
2-3 pairs of pants
1-2 footed pajamas
3-5 pairs of socks
1-2 sweaters or jackets
1-2 hats (sun hat, winter hat)
Mittens and booties for cold weather
Feeding Supplies
Breastfeeding supplies if nursing
Prepared bottles with premeasured formula or milk if bottle feeding
Portable formula dispenser for travel
Burp cloths and bibs
Diapering Essentials
Diapers (enough for entire trip plus extras)
Travel pack of sensitive baby wipes
Diaper rash cream
Plastic zipper bags for soiled clothes
Portable changing pad
Bathing and Grooming
Baby bath wash and shampoo
Lotion and massage oils
Baby nail clippers and grooming kit
Bath towel and washcloth
Bedtime and Nap Needs
Portable crib/travel bassinet
Sound machine or white noise app on phone
Swaddle blankets
Pacifiers and extra pacifier clips/holders
Baby's favorite plush toy or blanket for comfort
Baby First Aid Essentials
Thermometer
Medications (with dosing syringe or pacifier adapter if needed)
Saline drops for stuffy nose
Rubbing alcohol and tweezers for ticks
Hydrocortisone cream for rashes
Hand sanitizer
Extra bibs, burp cloths, and extra clothes in case of spills or puke
Entertainment and Play
Baby books and toys
Portable baby bouncer (inflatable or foldable)
Mirrors or baby play mat for tummy time
Noise-canceling headphones (for parent!)
With all essentials accounted for on this checklist, you can focus on enjoying the journey and new family experiences instead of stressing over what you forgot to pack.
Planning for Feeding on the Go
One key aspect of travel planning with a baby is mapping out feeding schedules and availability of nutrition sources. Breastfeeding and formula feeding both require some special considerations.
Breastfeeding Logistics
Look up laws on public breastfeeding where you're traveling. Some less baby-friendly places may require nursing covers.
Bring a manual breast pump and milk storage bags to pump extra milk for bottles as needed.
Use gel packs and insulated bottle bags if storing pumped milk.
Ensure pumping breaks every 2-3 hours if apart from baby to keep up milk supply.
Pack nursing pads, breast cream, nursing bras, nipple balm for comfort.
Find local lactation lounges on the airport nursing app to have privacy to pump on layovers.
Formula Feeding Tips
Verify if the formula you use is sold at the destination or pack enough for the full trip.
Bring pre-measured formula powder packets for convenience.
Use a disposable bottle liner to mix each bottle. No need to clean bottles!
Pack extra bottled water to safely mix formula on the go.
Request fridge access in your hotel to store bottles (or pack a portable bottle cooler bag).
Check if your accommodations provide a kettle to sterilize bottles and heat water for formula.
Baby and Toddler Meals
Scope out baby-friendly restaurants with healthy purees and finger foods.
Pack non-perishable snacks like baby cereal puffs, teething crackers, and pouches.
For road trips, being a compact high chair, plates, and cutlery for meal stops.
If your hotel has free breakfast, call ahead to ask for fruit puree, baby cereals, and baby-safe foods to be available.
Smooth Air Travel with Baby
Navigating airports and flights with an infant deserves special strategy. Use these pro tips for low-stress air travel:
Request early boarding to get settled with your gear before the plane fills up.
Check your car seat and stroller at the gate – borrow airport strollers to reach the gate.
Wear your baby through security in a carrier to keep hands free.
Pack snacks, small toys, and books for distraction during delays and on the plane.
Have infant immunization records handy for any customs and immigration checks.
Bring a baby neck pillow for extra support or a car seat reproacher on the plane.
For take-off and landing, give your baby a pacifier or bottle to prevent ear discomfort.
Keep diaper bag essentials accessible like diapers, wipes, an extra shirt, and burp cloths.
Dress baby in easy-access layers in case the cabin gets too warm or cold.
The more organized and prepared you are, the better air travel with baby will go. Don't forget to smile and access help from airline attendants when needed.
Booking Baby-Friendly Accommodations
Finding the right accommodations makes all the difference when traveling with an infant. Look for lodgings that offer:
Adjoining rooms or suites for privacy plus proximity to baby.
Cribs, bassinets, or pack and plays available for infant sleep areas.
Kitchens or kitchenettes for preparing baby food and washing bottles.
Bathtub and baby-proofed features like secured electric outlets.
Laundry facilities to clean clothes, burp cloths, and extra baby items.
Family-friendly common rooms and play areas to take a break.
Nearby parks, trails, or open spaces for getting fresh air.
Family or babysitting services to enjoy couple time.
Soundproofing, for naps during the day and uninterrupted sleep.
You'll breathe easier knowing your baby has a safe, clean home base for healthy rest.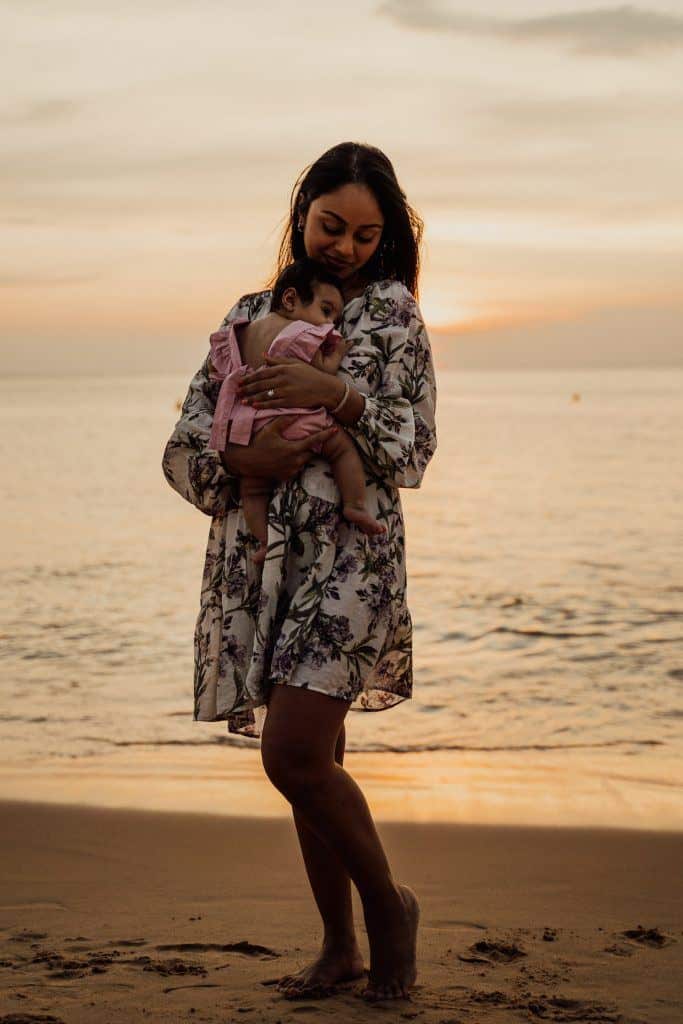 Keeping Baby Comfy in Transit
While you can't control all travel conditions, you can take steps to maximize your baby's comfort en route:
In flight
Dress in breathable fabrics to prevent overheating, and bring an extra layer for chills.
Offer sips of cool water, breast milk, or formula for hydration.
Provide pacifiers or soft toys for ear popping and fussiness.
Hold and comfort baby during any unsettled moments.
In cars
Never leave baby alone in the car. Make frequent stops for diaper changes, feedings, and stretching legs.
Use window shades to block sun and avoid overheating.
Time naps to coordinate with longer highway stretches.
Stop if baby cries inconsolably – hunger or discomfort could be the cause.
In hotels
Request the most quiet, peaceful hotel room away from noisy areas.
Follow bedtime routines like white noise, rocking, and swaddling for restful sleep in new settings.
Keep rooms cool but not cold for baby's comfort.
Use blackout curtains to dim rooms for daytime naps.
Traveling can disrupt normal sleep patterns but sticking to consistent nighttime rhythms and staycation rules helps minimize this. With attentive care, baby will take travel in stride.
Health and Safety Tips
Traveling safely with your precious cargo requires special precautions beyond your usual baby-proofing tactics at home.
Research vaccination requirements for your destination and make sure baby's shots are up-to-date.
Wash hands frequently and use sanitizing wipes on airplane/train tray tables, play areas, and hotel surfaces.
Keep a cabinet lock or latch on hand to secure unprotected cabinets and drawers in hotels.
Check for small parts, choking hazards, and unsecured furniture before letting baby crawl freely.
Bring and apply sunscreen, hats, and UV protective clothing in sunny climates.
Have baby drink purified water to prevent illness – avoid unclean tap water.
Administer fever-reducing medication promptly at the first sign of illness.
Locate the closest pediatrician's office or hospital in case of emergency.
If renting a car, properly install and check your car seat to avoid injuries.
Travel inevitability exposes babies to new germs and safety hazards, but preparation provides peace of mind.
Keeping Baby Entertained on the Go
While en route or waiting out a delay, babies and toddlers need positive distractions. Effective entertainment essentials include:
Travel toys with different textures, lights, and sounds
Mirrors, activity gyms, and soft blocks for floor play
Board books and picture books
Favorite stuffed animals, blankets or rattles
Snacks for nibbling like dry cereal or teething biscuits
A baby carrier lets you stay hands-free while keeping baby amused and occupied. It helps when you need to take care of logistics like luggage or tickets. For infants, motion usually soothes. Carriers, strollers, or babywearing allows responding to fussiness by walking and bouncing.
Having a trove of engaging toys, books, and distractions keeps boredom and tantrums at bay when ground-bound with your active explorer.
Tips for Stress-Free Travel
Despite best-laid plans, travel days may hit bumps. Here are a few reminders for keeping your cool:
Go into travel days with an open mindset – delays and unpredictable moments are inevitable.
Overpack changes of baby clothes and essentials. Accidents and spills happen.
Build in buffer time at connections and between activities or outings.
Let baby sleep in later and nap on the go to prevent overtired meltdowns.
Offer extra breastfeeding or cuddles for comfort during new experiences.
Take breaks alone to recharge – tag team parent self-care moments.
Trust your parenting intuition and don't stress if routines get disrupted temporarily.
Let non-essentials slide – a messy diaper bag or skipped bath time won't matter.
Smile through challenges and try to appreciate the precious memories you're making.
Raising children is an adventure. Embracing travel's surprises through the eyes of your child reminds us why these family trips are so rewarding.
Real-Life Traveling Baby Success Stories
At the end of the day, attitudes determine travel enjoyment as much as preparation. Hearing other parents' success stories helps maintain optimistic perspective. Here are some encouraging anecdotes:
Sarah braved a 10-hour overseas flight alone with her active 8-month old. Despite fussy moments, seeing baby's huge grin when meeting extended family made it all worthwhile.
Mark and Lily road-tripped cross-country with their infant. They took it slowly and built in lots of stops. Now their son lights up when they drive by spots he recognized from that special trip.
Posey flew internationally to introduce her newborn twins to her expatriate mom overseas. Though jet-lagged, the babies charmed everyone with their smiles and slept peacefully in their familiar portable cribs.
Anna and Noah brought their toddler camping for the first time. She was thrilled to "help" set up the tent and roast marshmallows by the fire before falling asleep content under the stars.
These stories remind us that the simplest, most mundane moments of travel become treasured memories years later when raising a child. There's no "perfect" time to travel with babies – you just have to begin.
Final Thoughts
Traveling with an infant requires adjusting priorities and expectations temporarily. But with the right gear, supplies, and positive attitude, you can create priceless experiences together. Don't put off travel plans indefinitely – your baby will surprise and delight you when you incorporate them in new adventures.
Get ready to capture those fleeting miracles of your baby's first reactions to new sights, sounds, and places. And remember to appreciate one another and the simple joy of creating memories amid the exhausted days and endless diapers! This special phase passes quickly, so embrace the opportunity to bond through life's little detours and travels.