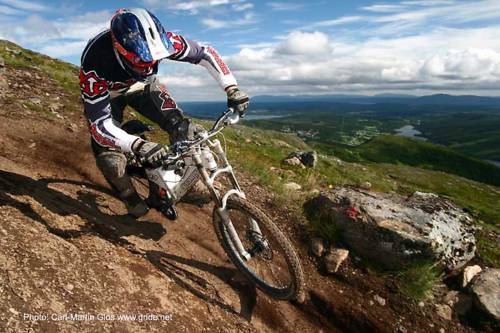 Image (c) Carl-Martin Glos
Downhill biking, according to Wikipedia, is "a time trial mountain biking event held on a course with a net decrease in elevation".
Downhill biking, according to me, is the insanely fun pastime of essentially throwing yourself off ski slopes after the snow has gone on a specially-adapted bike while trying to (a) stay on it and (b) wipe the smile off your face or risk aching cheek muscles.
Whether this sport was started by the owners of a ski resort having a 'eureka!' moment and suddenly realising that they could make money from those expensive ski lifts during the summer too, or (more likely, I'll agree) by bikers looking for an extra adrenaline rush, it's here to stay. With more and more resorts seeing the opportunity and adapting for downhill biking there is now a big choice of potential venues where you can give it a go.
I first tried downhill biking in 2009 in the Swedish resort of Åre, which is about a two hour drive east of Trondheim, where I live. The town was quiet (it is heaving during the winter) but there were quite a few bikers making use of the handful of chairlifts that were running. The first thing I noticed was the full body armour they were wearing, but I figured these were the kind of riders who would be spending as much time in the air as on the ground so I assumed my (road) helmet would suffice in my case. Actually the first thing I notices was that I was at least twice the age of everyone else, but this was soon rectified by the arrival of a father/daughter combo on road bikes which put me at ease. Oh and that was the next thing I noticed – we were the only ones with 'regular' bikes (I had a hybrid at this time). Everyone else had either rented a proper heavy-duty downhill bike or brought their own. Again, I assumed that if I took it easy I'd be fine.
Image (c) xctravels.com
Having bought my lift pass for the day and checking out the trail map, I decided to take the cable car up to the top of the mountain and try the blue run down (blue being 'easy'). There were perhaps five bikers and ten walkers in the cable car, and one of the latter soon struck up a conversation with me. The fact that she laughed in astonishment when I told her I was planning to ride down the mountain was a little unsettling as was the sight of a biker being stretchered into another car for the trip back down, but I was determined not to give up. Reaching the summit, which was enveloped in fog, I had yet another surprise. There was still quite a lot of snow up there. Well, I would get off and walk when necessary. Sadly this was sooner than expected – the blue run was closed and my only way down (hey, I wasn't about to get in the cable car again) was via a red run- i.e. 'intermediate'.
So that's how I came to be hauling my bike in the air while trudging through shin-deep snow in the freezing fog of a July afternoon in the Swedish mountains.
Image (c) Mattias Fredriksson via dirt.mpora.com
Fortunately the fog dispersed after I'd got past the snow line to reveal the stunning view. The track became easier to ride too, although my brake blocks were wearing thin at an alarming rate. The trails are man-made and don't actually follow the pistes of the winter; they are crafted to give a superb biking experience and contain plenty of jumps and S-bends, but all of these can be tackled if you take it easy. By the time I reached the bottom of the mountain I was hooked, but also determined that next time I'd ride on a proper bike. Without full suspension and disc brakes you're missing half the fun and risking an accident too. I did fall off a couple of times – which could have been avoided if I could have stopped properly – so a decent helmet and body armour is a good idea (and is included when you hire a package).
Image (c) Carl-Martin Glos
For my next ride I took the chairlift up to a different peak. The chairs are cleverly adapted by the addition of a semi-circular frame into which you roll your front tyre and a channel for the rear wheel. This secures your bike at your side while you are transported up the mountain. This time several blue runs were available and I spent the rest of the day zooming down these.
Our next article will cover the full Åre experience in detail as I returned and hired a bike and all the protective equipment for the day a few weeks later. But if you have a downhill centre near don't wait – get over there and experience the thrill of downhill biking!
Have you tried downhill biking? What did you think of the experience? Can you recommend a great place to give it a go? Let us have any feedback you may have in the comments box below!