This is a guest post by Christina Spruce
Although Wisconsin Dells, in south-central Wisconsin, is home to just a few thousand people, millions more travel to this idyllic area each year. While the stunning scenery, including a sandstone cliff lined gorge along the Wisconsin River, is a major draw, many visitors come for more than the views. Wisconsin Dells is known as the "Water Park Capital of America" and for good reason. With more than a dozen indoor and outdoor water and amusement parks in the area, families flock there for a wet and wild time.
Image obtained from Flickr.com under Creative Commons (c) Nils.Dougan
That's not to say, though, that Wisconsin Dells doesn't have anything to offer those who aren't interested in careening down a waterslide at highway speeds. In fact, while the waterparks attract families and the adventurous, there are plenty of attractions and things to do with a distinctly adult focus. From wine tastings to shopping to scenic tours, it's possible to have an amazing trip to The Dells without setting foot in a single water park.
Where to Stay
While the kids might argue that the best Wisconsin Dells resorts are those that offer dozens of slides and the chance to swim and play all day and night, those looking for relaxation might want to look beyond the waterpark-focused resorts. Instead, spend the night at one of the charming bed and breakfast inns in the area, such as the Scandinavian-themed Thunder Valley Bed and Breakfast, which includes a folk music show with dinner, or the adults-only Inn at Wawanissee Point, which allows easy access to outdoor activities combined with luxurious rooms.
Of course, the larger waterpark resorts also have packages and rooms that appeal to adults who might not plan to hit the pools. Several resorts are located along rivers or lakes, and offer more spacious accommodations including private condos or villas. Some of the resorts, like the Great Wolf Lodge or the Delton Grand Resort and Spa, offer adult-friendly packages that include spa treatments, meals or other features, in addition to accommodations.
What to Do
The waterslides get a lot of attention, but there is so much more to the Dells than chlorinated chaos. In fact, thanks to its location along the Wisconsin River, you can enjoy the water without donning a swimsuit.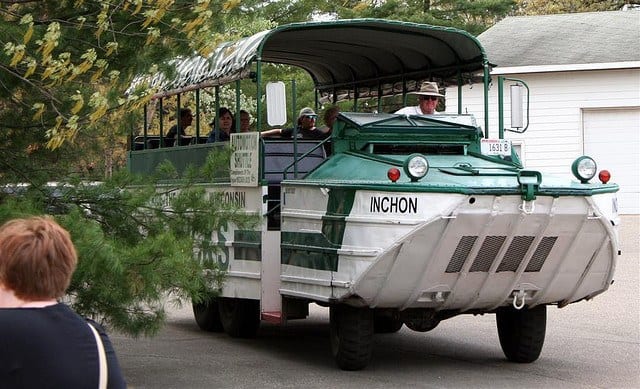 Image obtained from Flickr.com under Creative Commons (c) Bill & Vicki Tracey
Take a scenic cruise along the river and the sandstone gorge, either on one of the local DUCK tours –which uses WWII-era amphibious vehicles to tour on land and water—or on a traditional double-decker tour boat. You might also combine a gourmet meal with a cruise on the river; several operators offer sunset cruises that include dinner with a scenic tour or a torch-lit hike along scenic trails.
Shopping is another popular pastime among visitors to the Dells, and whether you're looking for a bargain or a one-of-kind souvenir, you're bound to find it. The area is home to several outlet malls, meaning that you can often score designer goods at a fraction of the price. Follow up your shopping spree with a visit to one of the many spas in the area. Most of the waterpark resorts have onsite spas or you could book a visit at one of the many independent spas in the area.
For more active pursuits, book a tee time at one of the world-class golf courses in the area. Wild Rock Golf Club is highly rated among golf enthusiasts; for those who want a shorter game, play the nine-hole course at Spring Brook Golf Course. Horseback riding is another popular activity. Head to Canyon Creek Stables for a guided scenic ride, or take a horse-drawn carriage ride at Lost Canyon, a decidedly romantic option.
Image obtained from Flickr.com under Creative Commons (c) John Kroll
And while the kids might find some of the museums in the Dells interesting (especially Circus World and Ripley's Believe it Or Not), adults are more likely to appreciate a tour of 19th-century photographer H.H. Bennett's studio or the House on the Rock, a former private residence that now houses a unique collection of artifacts from all over the world, including items from the wreckage of the Titanic.
So while Wisconsin Dells is an ideal family vacation destination, it's also perfect for couples who want to spend a few days away. Try visiting during the fall, when the kids are in school, the foliage is spectacular and the prices lower, and gain a whole new appreciation for this exciting destination.
About our guest author: 
A native of Madison, Wisconsin, Christina Spruce visited Wisconsin Dells every summer as a child. As an adult, she writes about family-friendly travel for several magazines and blogs.