The Danish capital has something for everyone – especially the smaller ones. Starting with the obvious, there's Tivoli Gardens, a delightful mix of old-fashioned fairground and modern high-adrenaline rides located slap bang over the road from the main train station in the middle of town. However it doesn't stop there – from museums with special exhibitions for children and restaurants catering (sorry) to all ages through guided kayak tours for those over 10 to open air swimming in the harbour, Copenhagen is a great choice for a family trip. So read on for six good reasons to head to Denmark next time you hanker for a city break…
When you want to thrill them – Tivoli
Image obtained from Flickr.com under Creative Commons (c) Anna Spysz
No list would be complete without mentioning Tivoli, and you can't miss it either. It's the first thing you see when you emerge from the main train station and the terrifying Vertigo tower looms over the city centre. Yes, it's expensive (you pay both for entry and the rides, but get an Open Copenhagen card to avoid the former). Yes, it's popular (come in the evenings or better – on a rainy evening to avoid the worst of the crowds). But it's also fun and a whole different vibe from most theme parks. When the lights come on at night you'll be swept up in the romance of the place whether you like it or not. The gardens also host a number of excellent restaurants and a micro brewery, so you can easily spend the day (and evening) here.
Vesterbrogade 3, 1630 Copenhagen V. Train to København H
Opening hours vary: Tivoli is open 12 April to 23 September in 2012, high season is 29 June to 12 August with the following hours – Sunday to Thursday 1100-2300, Friday 1100.0030 and Saturday 1100-2400. Outside of this high season period the hours are the same apart from Sunday to Thursday 1100-2200. Extended hours on special occasions such as public holidays. Make sure you check the website for specific details. Tivoli also opens for Halloween and Christmas.
http://www.tivoli.dk/composite-3351.htm
When you want to cool them down – Havnebadet Islands Brygge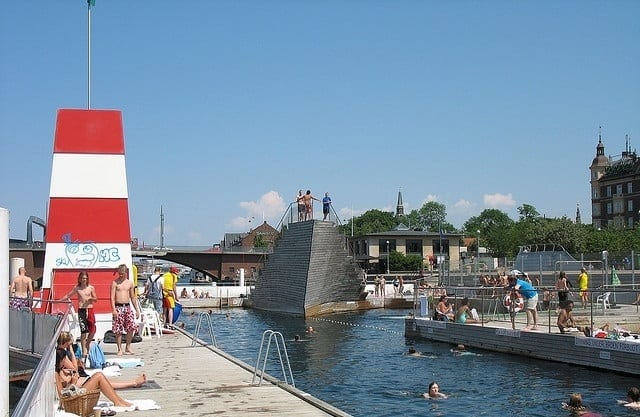 Image obtained from Flickr.com under Creative Commons (c) Lucy Reynell
In the height of summer when the sun is shining, you'll be glad that the City council had the foresight to develop open-air swimming at the Harbour Baths. Who needs a beach when you have facilities like these? The water is clean and constantly monitored and there are five different pools, two of which are for children. For locals the opening of the Harbour Baths signals the start of the summer – just as their closing marks its end. If the weather isn't so hot (again, sorry) there are indoor alternatives, the most child-friendly being Vandkulturhuset within the DGI-Byen complex.
Islands Brygge 35, 2300 Copenhagen V. Train to København H
Opening 1 June to 31 August Opening hours Monday to Friday 07-19. Saturday and Sunday 11-19
http://www.visitcopenhagen.com/transport/harbour-bath-islands-brygge/382
When you want to educate them – Nationalmuseet
Image (c) Nationalmuseet
Educate in a fun way I mean. Let's face it, everyone loves the Vikings, and there's plenty to ogle here. Whenever a new exhibition opens a children's section is added (now that's smart) and the museum also has a toy museum at the top and an interactive children's museum at the bottom. The latter makes an effort to compress the entire content of the Nationalmuseet into a single concise exhibition for those between 4 and 12.
Frederiksholms Kanal 12, 1220 Copenhagen K. Bus 1, 2, 8, 10, 11A
Opening hours Tuesday to Sunday 10-17. Free on Wednesday
http://natmus.dk/en/?cHash=813aa549da4173f208a1dc3c9efd457e
When you want to surprise them – Kajak Ole
Image (c) KajakOle
They'll have to be 11 or older to take part (sitting in a double kayak) but even the most jaded teen will be won over by a kayak tour of the canals. You can choose between several different trips including one incorporating a cafe break which is included in the charge. On the way you'll be regaled with information and anecdotes about the places you glide past. The kayaks are easy to steer and lack that unnerving wobbly sensation that can put some people off trying. Those who are 15 or over get to navigate their own single-person kayak too. Highly recommended.
Strandgade 50, 1401 Copenhagen K, near Færgecaféen. 
Open 1 May to 1 October (but see website/call for details). 
When you want to amaze them – Ny Carlsberg Glyptotek
Image (c) Kim Nilsson Ny Carlsberg Glyptotek
Carrying on in a similar vein to the Nationalmuseet you can combine the fun and the educational with the added wow factor of the indoor garden here. Probably best suited to the older members of your flock, there are thousands of pieces on display here from the ancient -check out the Egyptian hippo – to the more recent – 19th century art from France and Denmark. There is an extensive collection of Paul Gaugin's work and one of just three full sets of Degas bronzes. The Winter Garden is breathtaking – full of sub-tropical plants under a glass dome, with a fountain at its centre. The cafe here is a great place for a break.
Dantes Plads 7, 1556 Copenhagen V. Train to København H
Opening hours Opening hours Tuesday to Sunday 11-17. Free on Sunday
When you want to feed them – Café Hovedtelegrafen
Image (c) Cafe Hovedtelegrafen
All of the restaurants and cafes we visited welcome children with open arms (as well as high chairs and often play areas) but for something a little more special the rooftop restaurant Café Hovedtelegrafen in the Post and Tele Museum takes some beating. You can sit outside if the weather permits or inside if not; either way you'll enjoy the views of Copenhagen from five floors up (which is high for the city).  Take in the nearby Rundetaarn and a good view over Christiansborg while enjoying a varied menu and good food. The children's tapas makes a nice change from the usual kids' fare and you can take a late lunch or brunch here too (they also do a children's brunch).
Købmagergade 37, 1150 København K. Metro to Noerreport or Kongens Nytorv Bus to Hoejbro Plads, Christiansborg Slotplads, Kongens Nytorv, or Noerreport. 
Opening hours Monday to Sunday 10-16
http://www.cafehovedtelegrafen.dk/en/
We hope you enjoyed these tips – if you think we've missed anything out or you have questions or comments please do let us know in the box below – and make sure you sign up for email updates or subscribe to the RSS feed by using the links on the right so you don't miss a thing from Grown-up Travel Guide!