Travelling light is essential for the post-backpacking generation, and a compact camera can make all the difference. In this guide, we'll explore the best compact travel cameras available, their benefits, pros and cons, and help you find the perfect fit for your next adventure. So, let's dive right in and discover the top compact cameras for travel.
Why Choose a Compact Travel Camera
Before we delve into the specific models, let's discuss the benefits of choosing a compact camera for your travel photography needs:
Portability: Compact cameras are lightweight and easy to carry, allowing you to travel light and focus on your experiences.

Ease of use: With user-friendly interfaces and intuitive controls, compact cameras are perfect for travellers who want to capture high-quality images without the complexity of a DSLR.

Discreet: Smaller cameras are less conspicuous, making them ideal for capturing candid moments or shooting in crowded locations where a bulky DSLR might attract unwanted attention.

Versatility: Many compact cameras offer a range of features and shooting modes, allowing you to capture a variety of subjects and scenes without the need for multiple lenses.

Quality: Despite their size, compact cameras can produce stunning images and even rival some DSLR models in terms of image quality.
Our Top Picks for the Best Compact Travel Cameras
Now that we've covered the benefits of compact cameras let's take a look at our top picks in this category.
1. Sony RX100 VII: The Pocket-Sized Powerhouse
The Sony RX100 VII is a top contender in the compact travel camera market. With a 20.1 MP 1-inch sensor, it offers stunning image quality for such a small device. The camera also features a 24-200mm equivalent zoom lens, giving you the flexibility to capture a range of subjects.
Pros:
High image quality

Fast autofocus system

4K video recording capabilities

Compact and lightweight design
Cons:
Expensive compared to some other compact cameras

Limited touchscreen functionality
2. Canon PowerShot G7 X Mark III: Vlogging and Beyond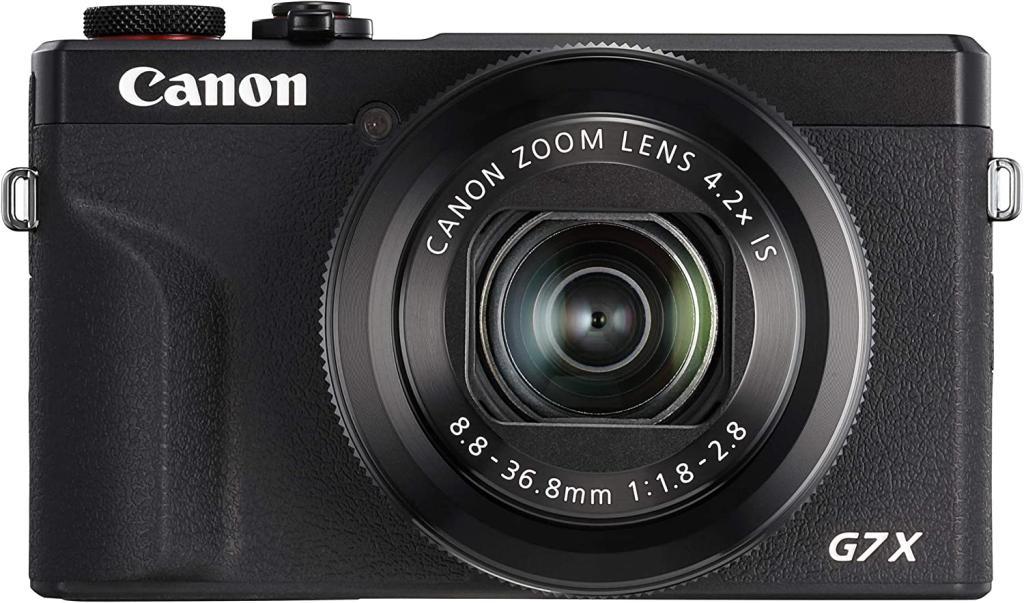 The Canon PowerShot G7 X Mark III is a fantastic option for travellers who enjoy vlogging or capturing high-quality videos. With a 20.1 MP 1-inch sensor and a 24-100mm equivalent zoom lens, it offers impressive image quality and versatility. The camera also features a 180-degree tilting touchscreen, making it easy to frame selfies and vlogs.
Pros:
Excellent image and video quality

Built-in microphone input for improved audio

Compact and stylish design
Cons:
No viewfinder

Limited battery life
3. Panasonic Lumix LX100 II: The Creative Choice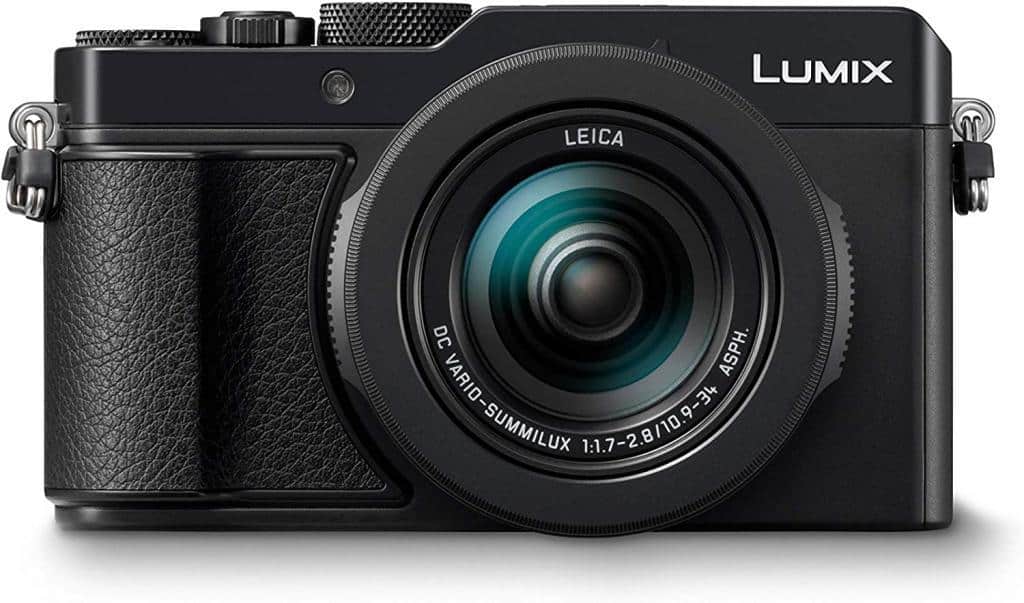 The Panasonic Lumix LX100 II is a great choice for those who want more manual control over their photography. This compact camera features a 17 MP Micro Four Thirds sensor and a fast 24-75mm equivalent Leica lens, making it a powerful tool for capturing stunning images. With its manual controls and dials, the LX100 II allows for a more hands-on approach to photography.
Pros:
Large sensor for a compact camera

Manual controls and customisable dials

Built-in electronic viewfinder
Cons:
Not as pocketable as other compact cameras

No tilt screen or touchscreen functionality
4. Fujifilm X100V: The Retro-Styled Street Shooter
The Fujifilm X100V is a stylish compact camera with a 26.1 MP APS-C sensor and a fixed 35mm equivalent lens. Its retro design and intuitive controls make it an appealing choice for street photography enthusiasts. With a hybrid viewfinder and a tilting touchscreen, the X100V offers a unique shooting experience that sets it apart from other compact cameras.
Pros:
Excellent image quality

Stylish design and solid build

Hybrid viewfinder
Cons:
Fixed lens may limit some users

Expensive compared to other compact cameras
5. Olympus Tough TG-6: The Rugged Adventure Companion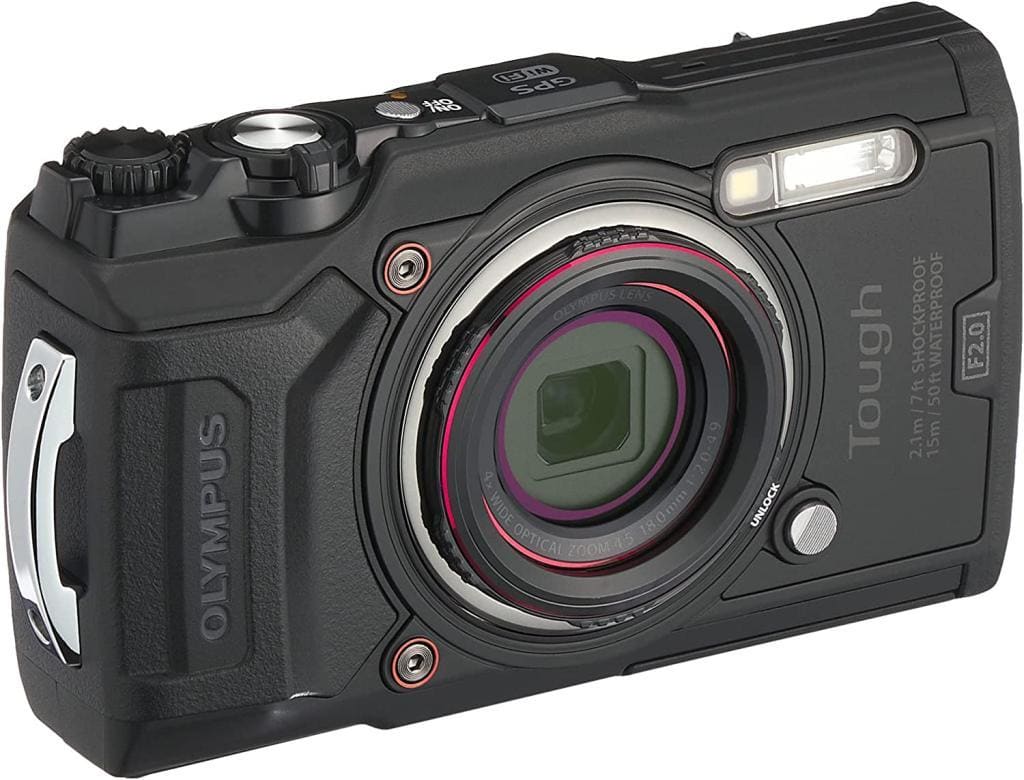 The Olympus Tough TG-6 is the perfect compact camera for the adventurous traveller. With its 12 MP 1/2.3-inch sensor and 25-100mm equivalent zoom lens, it offers decent image quality in a rugged, waterproof, shockproof, and freezeproof body. The TG-6 is built to withstand harsh environments, making it an ideal choice for those who love outdoor activities and extreme sports.
Pros:
Rugged and durable design

Waterproof, shockproof, and freezeproof

Good macro capabilities
Cons:
Smaller sensor compared to other compact cameras

Limited low-light performance
Final Thoughts on Choosing the Best Compact Travel Camera
Selecting the perfect compact travel camera ultimately depends on your personal preferences and the type of photography you enjoy. If you value high image quality and fast autofocus, the Sony RX100 VII might be the best choice for you. For those who love vlogging and video recording, the Canon PowerShot G7 X Mark III is an excellent option. If you prefer manual controls and a creative approach to photography, the Panasonic Lumix LX100 II or Fujifilm X100V could be your ideal companion.
No matter which compact camera you choose, always consider factors such as image quality, versatility, and ease of use to ensure you get the most out of your investment. Remember that the best compact travel camera is the one that meets your needs, fits your budget, and enhances your travel experiences.
By exploring the various options available and weighing their pros and cons, you can make an informed decision and find the perfect compact camera for your travels. Happy shooting, and here's to capturing memories that will last a lifetime with the help of the perfect travel camera!