This article is part three of the series "A Danish Road Trip"
A Danish Road Trip: Part 1 – Introduction and Itinerary
A Danish Road Trip: Part 2 – Skagen
A Danish Road Trip: Part 3 – Aalborg
A Danish Road Trip: Part 4 – Aarhus
A Danish Road Trip: Part 5 – Silkeborg
I was a guest of Visit Denmark for this trip but all opinions are my own, as well you know…
Unlike Skagen, where I had spent the previous night and much of the morning, I essentially knew nothing about Aalborg before driving into town late on that Tuesday afternoon.
There were a few nuggets of information in the appropriate section of the itinerary for my trip but the capital of North Jutland was basically a blank canvas to me when I arrived – all the more reason why I left feeling that I had really made quite a discovery. It turned out that Aalborg is hugely popular with Norwegians – at least those living within easy reach of the regular ferries that run to the Jutland peninsula.
But with my adopted home town of Trondheim falling far beyond this catchment area I had neither heard of the city nor did I know anyone who had visited. What I can vouch for is that it deserves its popularity – Aalborg has become a surprise new entry to the Grown-up Travel Guide list of top city break destinations. Piqued your interest? Good. Now read on to find out why…
Aalborg is Denmark's 4th largest city and home to around 200,000 people – although many live some distance from the centre as the municipal boundaries were expanded to take in some new 'burbs.
This makes it a similar size to my current home, Trondheim (Norway's 3rd largest, about 160,000 people) and there are many other ways in which the two resemble one another. Both are university towns located on the river and were first settled in the Middle Ages, and both are trying to compete with larger cities to attract tourists with culture, nature and the good life.
In my opinion, Trondheim could learn a lot from Aalborg – but we'll come back to that later…
There is an interesting blend of ancient and ultra-modern in Aalborg; you'll pass buildings like the one above and minutes later come face-to-face with a classic example of Danish modernism; all steel and glass and clean lines. But I'm getting a little ahead of myself here – first let me tell you where I stayed.
Accommodation – Hotel Chagall, Vesterbro 36-38, 9000 Aalborg, Tel (+45) 98 12 69 33
Image (c) Small Danish Hotels.dk
The Hotel Chagall is a relatively small establishment with 78 rooms over 5 floors. It's a mid-range hotel and is very centrally located, being just a short walk to both the main shopping area and the conference centre. The latter means that it is popular with business travellers looking for a good deal as well as city breakers in town for the weekend.
As the clip shows the room was a good size but the bathroom was very small; the shower was good though. I noticed
The double bed was comfortable, WiFi was free, fast and worked all over the building without issues. The hotel has 17 parking spaces available in a garage at the rear for DKK 85,- per night which is a real benefit for those driving. Other amenities include a flat-screen TV, work desk and telephone.
The biggest problem was the lack of air conditioning or ceiling fan – it was extremely warm in Aalborg when I visited and opening the windows didn't help as there wasn't much of a breeze. It's definitely preferable to have a room at the back of the building in the summer; those at the front look over a busy road and noise is likely to be an issue with the windows ajar. A fridge or minibar would have been a bonus too.
Having said that, the Hotel Chagall is good value for money and definitely worth considering when visiting Aalborg. The staff are very friendly and helpful and breakfast was tasty – and included in the rate.
The Aalborg Beer Walk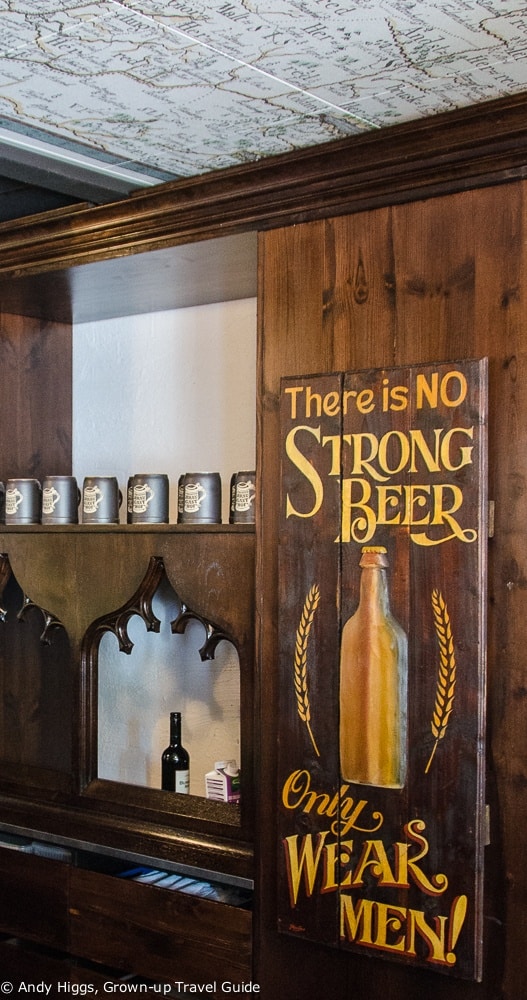 After checking in and unpacking it was time to meet Lars from the local tourist office who would be showing me round. It didn't take long for us to reach agreement that a cold beer would be the best way to kick things off – and in Aalborg they have a very neat way of encouraging thirsty visitors to sample different bars.
It works like this: for DKK 100 you buy an Aalborg Beerwalk kit which consists of a souvenir 15cl tasting glass, 6 vouchers to exchange for samples of beer and a guide with a map showing the 6 pubs participating in the scheme. The kits can be bought from any of those 6 pubs and at selected hotels, stores and the tourist office.
It's genius, right?
The full tour will have to wait as time was not on my side – but we did cash in one voucher in return for a refreshing microbrew from Søgaards Bryghus…
The Missing Bell Brewpub/Søgaards brewery
Locals are rightly proud of Søgaards microbrewery which has been a Aalborg institution for many years. With a wide range of beer and good food, it's no wonder the outdoor seating was packed on the gloriously sunny evening of my visit. Situated on C. W. Obelsplads, a pleasant square in the pedestrianised city centre, it's ideal for people-watching and as good a place as any to relax with a cold one.
But that's not all – owner Claus has been working on another project these last few months – a brewpub next door. But just as Søgaards is a far cry from an industrial brewery, this is not your regular bar. Claus has namely been in England where he bought up the contents of a disused church – pews, chairs, stained-glass windows and all.
And yes, this is what he's using to decorate the interior of the Missing Bell.
The only thing he didn't get his hands on was the church bell – hence the name.
This is a bit of a Grown-up Travel Guide exclusive – we were one of the first guests at the new brewpub which was still under construction but the taps were connected, which was the main thing.
It's certainly a unique place and I can't wait to return and check it out when it's completed. I always feel that there is something divine about high quality beer…
The waterfront
Image (c) Visit Aalborg
Next on the agenda was the rejuvenated riverside area. Like many harbour cities in Europe (including Trondheim), for many years Aalborg's waterfront was home to nothing more than disused wharves and empty warehouses after the decline of its shipyards and heavy industry.
When the first plans for an enormous renovation project were mooted one of the main concerns was to reconnect the town with the water – visitors to Aalborg could easily miss the river completely while strolling in the city centre which is actually right across the road.
Instead of selling out to property developers who just love to build extortionately-priced apartments with river views (we're looking at you, Trondheim) the focus was on culture and creating an area for everyone to enjoy.
It certainly seems like the city planners succeeded, too – the waterfront is buzzing these days.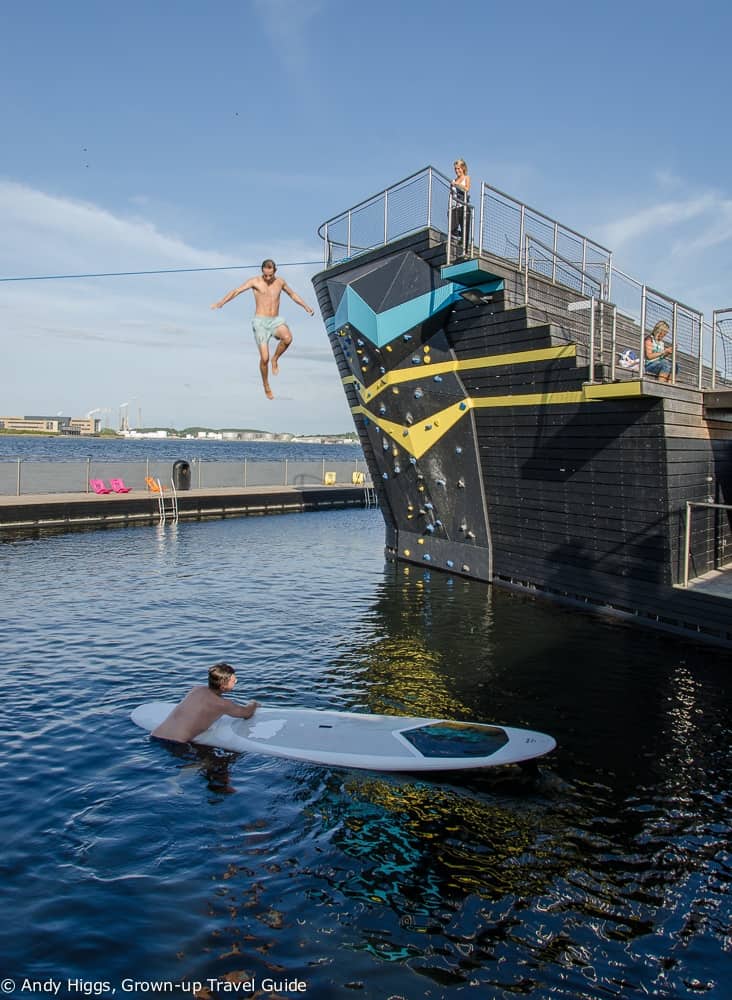 Havnebad (harbour baths) is a free swimming pool with diving tower, sauna and sundeck in a section of the river – the same concept as used so well in Copenhagen. Chairs and parasols are provided and SUP boards can be hired at no charge.
In the summer season – around mid-June to the end of August – life guards keep an eye on things to make sure everyone is safe in both the main basin and the smaller children's pools.
Image (c) Visit Aalborg
On the other side of the waterfront path from the baths is Jomfru Ane Park. This is split into two areas; one of which is paved and intended for football and other games while the other is landscaped and perfect for picnics and sunbathing.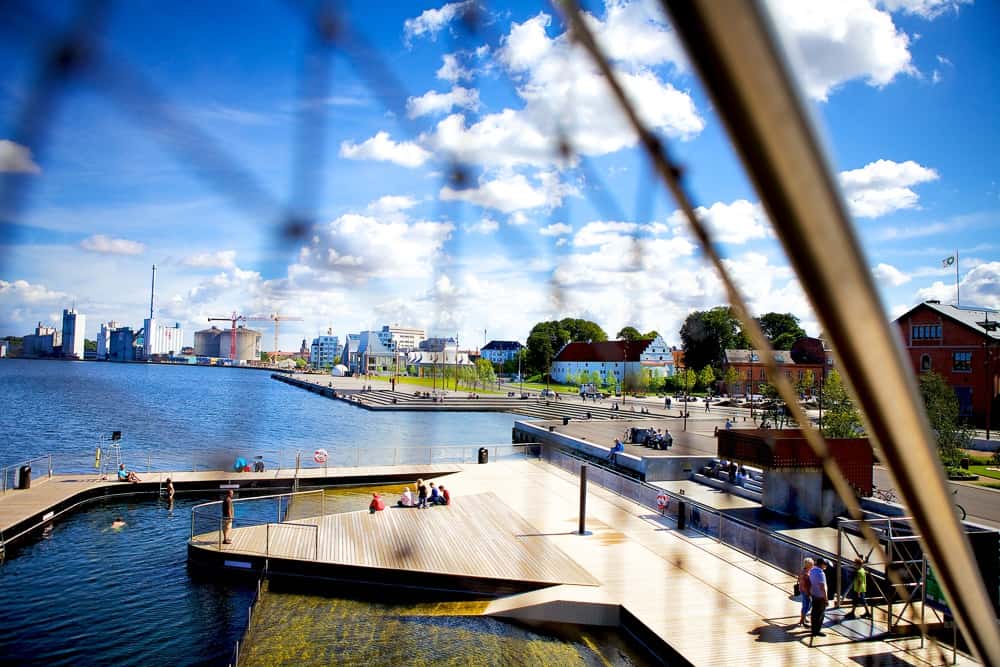 Image (c) Visit Aalborg
When cruise ships visit Aalborg they now dock right in the centre of town. Passengers can walk right off the boat into the town centre and for those on land it's harder to forget how close you are to the water when you can see these giant vessels looming over the high street.
Utzon Center
Next up along the waterfront is the striking Utzon Center. If you think there's something familiar about the multiple 'sails' making up the roof then you're right – Danish architect Jørn Utzon's most famous design is the Sydney Opera House.
The building contains two large museum halls showcasing art, design and architecture and at the front of the building a yacht designed by Utzon's father has been given pride of place under an extra-high ceiling.
The late Utzon Junior's legacy continues in the park outside where he planted his favourite trees and the Center also houses a very good cafe and restaurant with superb views of the water.
Continuing along the dockside you'll pass a several apartment buildings which are in fact student accommodation – in another generous move the town planners insisted on low-cost housing right in the middle of town rather than out in the sticks. It's hard not to envy these guys their fabulous location as you approach the latest addition to the Aalborg cultural scene – Musikkens Hus.
House of Music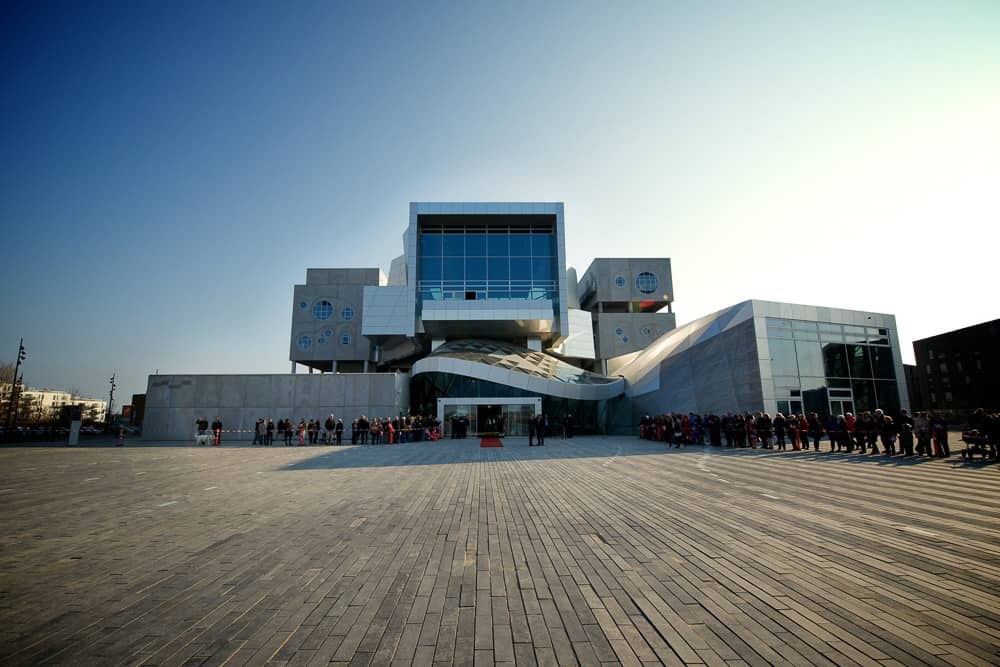 Image (c) Visit Aalborg
In fact it may be the 'latest' in more than one sense – it took 28 years for this stunning construction to reach completion.
Home to Aalborg Symphony Orchestra, this eight storey, 20,000m2 colossus contains several concert halls, a restaurant and auditoriums for administration and teaching facilities.
Image (c) Visit Aalborg
The acoustics are as good as the modernist design and photos hardly do the place justice.
Image (c) Visit Aalborg
Even if you are not fortunate enough to secure tickets to a performance, make sure you have a look round inside as well as out; if only to wonder at what must be the most solid stairs you'll ever see…
Nordkraft
Behind Musikkens House sits Nordkraft – a former coal-fired power station that has been converted to run on cleaner cultural power…
No longer supplying the city with electricity or polluting it with fumes, these days Nordkraft is one of the biggest cultural centres in Europe and yet another superb example of urban renewal in Aalborg.
Many of the original features from the power station remain so the link with the past is intact – and the amount of activities available here is amazing.
You can watch cult films in the cinema, a play at the theatre, enjoy a concert at one of the two arenas or experience art at one of the exhibition spaces.
Want something a little more physical? How about tackling one of the largest climbing walls on the continent – modelled on Prekestolen/Pulpit Rock in Norway?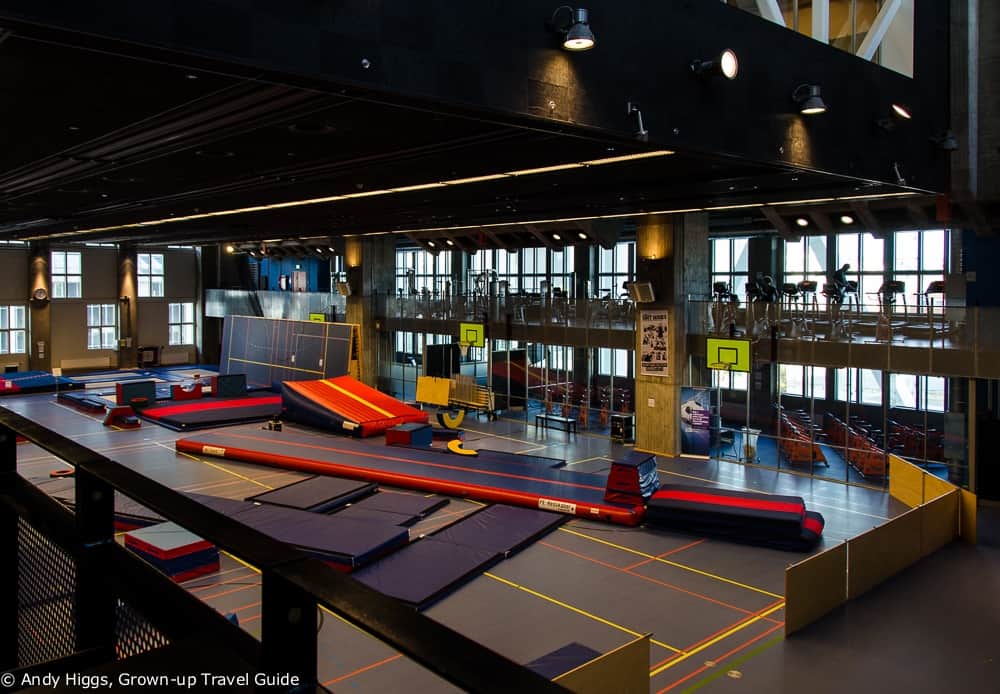 Work out at the gym or on the trampolines and recover with a meal at the 100% ecological cafe or one of several restaurants.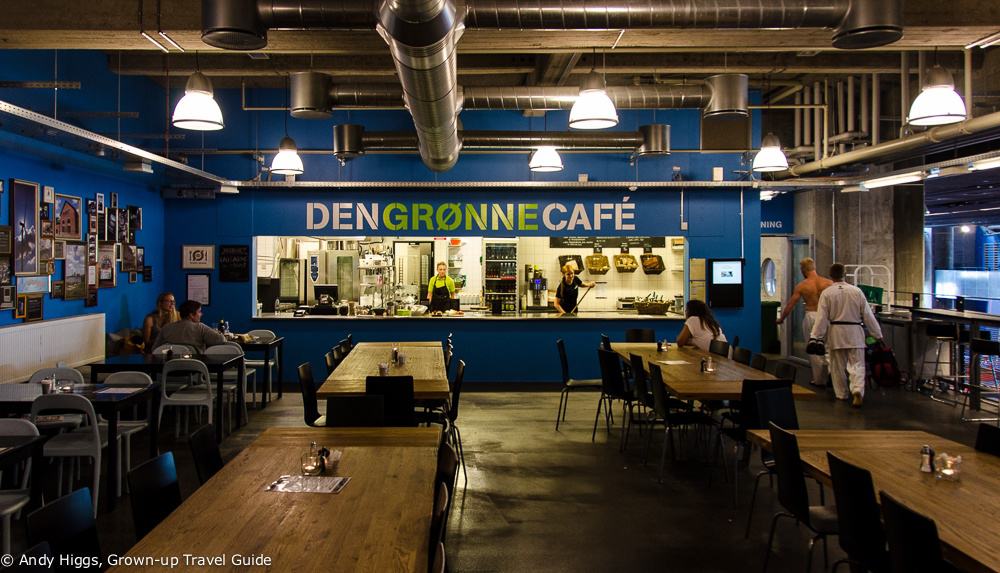 You can buy produce at the market which sets up on a regular basis and there is an indoor sand beach beneath the former coal funnels in the main entrance hall.
Nordkraft is constantly growing so there's probably something new there already – it is also home to Visit Aalborg's offices and information centre.
The Park of Music
An even more unique attraction can be found in the city park, Kildeparken.
The enterprising boss of the Congress & Culture Centre had the idea of asking visiting international artists to plant a tree when performing in the city. Cliff Richard was the first to oblige in 1987 and since then the list – and area of trees – has grown rapidly.
But it doesn't end there – some of the 80 trees actually sing. Well, there's a loudspeaker by the trees which can be activated by visitors who are rewarded with a selection of their donors' music. Just watch and listen…
It's a neat idea that works well and you'll likely find someone to your taste from the wide range of performers in the park from Kenny Rogers to ZZ Top via Victor Borge and Elton John. The tone-deaf will be pleased that Take That have a tree too.
At Christmas the music changes to the artists' Yuletide songs – so you may want to avoid the park at this time 🙂
Dinner – Mortens Kro, Mølleå 2-6, Mølleå Arkaden, 9000 Aalborg, Denmark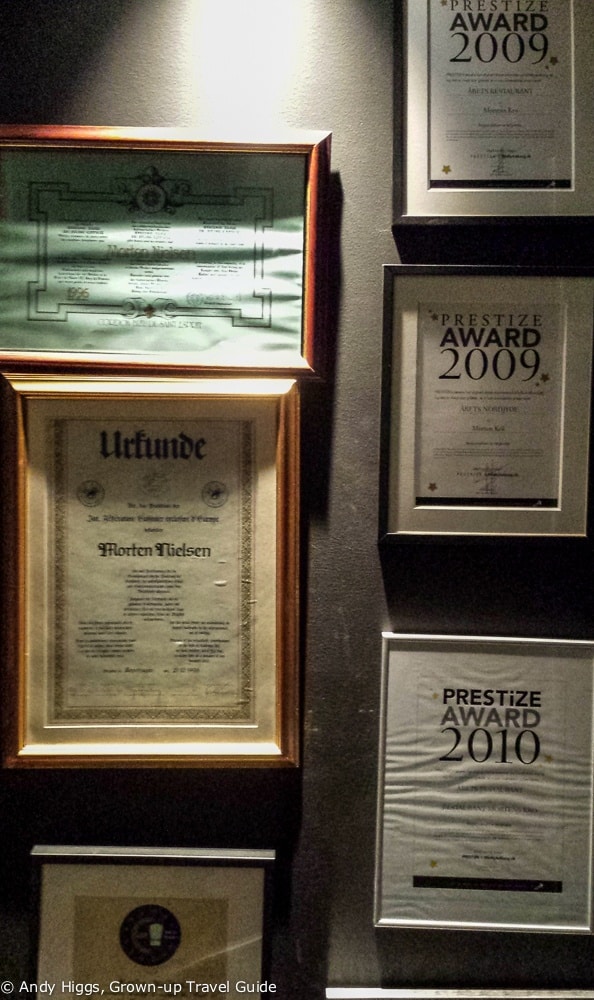 For dinner, Lars from Visit Aalborg had a real treat in store for your correspondent. A table awaited at Mortens Kro; one of the best restaurants in Aalborg and possibly the country.
One of Denmark's best known TV chefs, Morten Nielsen, offers a true gourmet experience in a laid-back atmosphere at this extrmeley popular establishment in the city centre.
I don't want to spoil the surprise for you by going into too much detail as by his own admission, surprise is a key ingredient in Nielsen's cooking. He wants his guests to remember the experience, and I can vouch for the fact that they will.
We worked our way through what I think was seven courses (I lost count) with wine pairings that perfectly matched the varied dishes. Just take my word for it – or read all the other reviews to support mine – and make a reservation when you are in Aalborg.
To continue into the night – Jomfru Ane Gade
Now first of all let me make it clear that I didn't get a chance to try this 'party street' for myself but its reputation is legendary. Jomfru Ane Gade consists almost exzclusively of bars and restaurants and indeed has more than any other single street in the Nordic Region.
By all accounts it can get pretty wild down here and most places stay open as long as guests stay standing – especially in the height of summer. But it is also one of the only streets that is under continuous closed circuit TV surveillance and this, along with excellent cooperation between owners and the police, means that trouble is extremely rare.
Once again, Aalborg leads the way in rethinking the provision of entertainment to satisfy as many groups as possible rather than clamping down on all forms of fun as is too often the case in Scandinavia.
Image (c) Visit Aalborg
I could go on – by talking about the cafes, bars, shops and other facilities in Aalborg but why not find out for yourself? The city is perfect for a short break and offers more than many larger and better-known destinations.
It's a small place that is not afraid to think big – and thus provides a shining example for other cities in the region and elsewhere. I was not surprised to learn that Aalborg receives delegations from all over the world looking to learn from its experiences – hopefully these will include one from Trondheim in the not too distant future…
Have you visited Aalborg? In fact, have you even heard of the place before? Let us know in the comments below 🙂