This article is part five of the series "Trip diary: Three weeks on the road in Florida"
Teaser: New series starts this week
Introduction: A three week road trip around Florida
Hotel review: Park Inn Oslo Airport
Flight report: Lufthansa New Business Class Frankfurt to Miami
First impressions – a Limey driving in the USA
Hotel review: Hilton Miami Downtown
First impressions – an Anglo-Nordic family in Miami
Hotel review: Sheraton Vistana Resort Villas, Orlando
Three theme parks in three days – Day 1: Walt Disney World
Three theme parks in three days – Day 2: Wet 'n Wild
Three theme parks in three days – Day 3: Universal Orlando Resort
Hotel review: St. George Inn, St Augustine
Historical Florida – St Augustine
Hotel review: Hampton Inn & Suites Amelia Island
Amelia Island – the destination for relaxation in northeast Florida
Hotel review: Cedar Key Bed & Breakfast
Old Florida – Cedar Key
Hotel review: The Birchwood, St. Petersburg
Our favourite city in Florida – St. Petersburg
Hotel review: Island Inn, Sanibel
Cruising to Cabbage Key
Great road trips of the world – Highway 1 Hotel review: Orchid Key Inn, Key West The other Florida – Key West Hotel review: South Beach Z Ocean Hotel, Miami Beach  
Hitting the road, Jack
After a thoroughly enjoyable flight from Frankfurt with Lufthansa we arrived in Miami at 2pm local time to face the slightly less enjoyable wait in the immigration queue on arrival. For a country as service-minded as the USA it has always baffled me why the first thing most travellers experience is an achingly long wait to get their passport stamped, fingerprints taken and a mugshot produced.
The staff have always been polite and friendly but it's hard not to feel a little 'guilty until proven innocent'. With patience frayed from standing in line for over an hour examining the back of the head of the unfortunate in front of you while trying to block out the sounds of the screaming child inevitably close behind, it's frankly a minor miracle that us foreigners are able to keep it together enough not to be taken to one side for questioning.
Employing a few hundred extra staff would surely reduce local unemployment numbers but I do understand that sitting in a glass box checking travel documents for 8 hours a day may be less appealing than a lot of other jobs. So I guess as long as so many people continue to want to visit the States and no faster security clearance process is introduced we're stuck with the situation. It's not much better for Americans visiting Europe either so just factor the hassle into your itinerary, take some headphones and music to pass the time or bring a book to read. Or you could try striking up a conversation with that person in front or playing with the kid behind…
Right, back to the story. Having cleared immigration and collected our excessive baggage (for which we of course needed two trolleys) it was time to pick up our rental car. A road trip would have been a tad difficult without one, after all.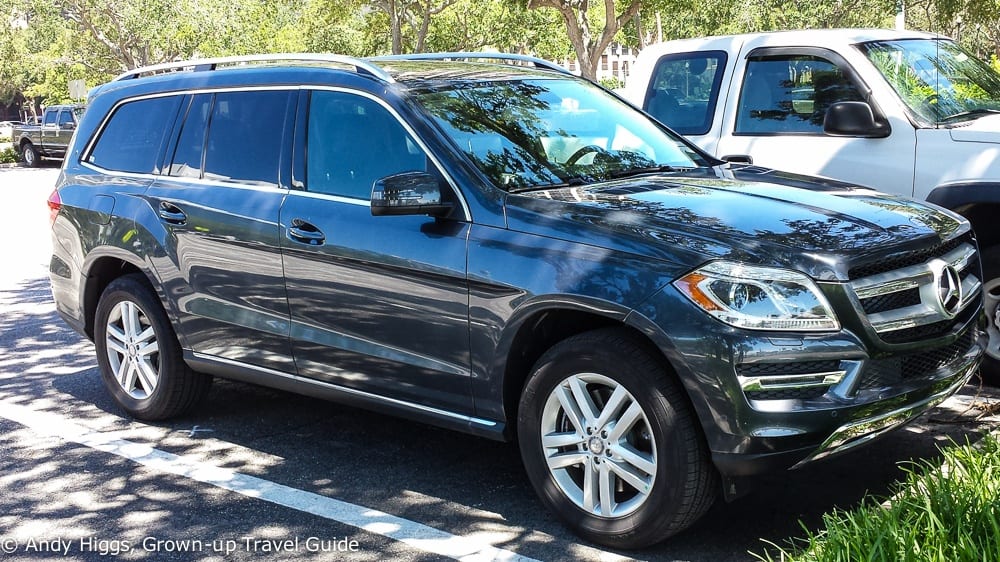 Given that we would be spending a lot of hours in the car over a three week period it was only sensible to go for comfort and space – even if the cost would be higher. One excellent way to keep costs down is to use PayLess Rental Car Coupons.
It also helped to remember that the total was for the four of us (Mari Anne's mum was contributing a proportion of the expense too) and over 21 days. It helped even more not to think about it until we got home, which was my plan.
With that all sorted, we loaded our bags and it was time for my first taste of driving in the USA. What follows is a bunch of observations about the experience over the entire road trip but it's mostly 'spoiler-free' with regards to later articles in this series. Where appropriate I'll be covering the places and routes featured in more detail in due course.
You will need a car if you want to leave the city. Or even explore it
Despite many reports to the contrary, public transport does exist in America and is often very good in towns and cities, but if you want to see more you'll have to do what seemingly everyone else does – drive. Having your own car means you have the freedom to go where you want – believe me, just about every possible attraction has a parking space – and also that you can enjoy some spectacular journeys if you stray from the anonymous highways too. It also prevents that blank look from locals when you explain that you don't have a vehicle.
Yes, it's an automatic
In America, only weird Europeans drive manual (or 'stick') cars ('automobiles'). Your rental car will almost certainly be automatic unless you specifically request a manual and they take that request seriously. Personally the fewer things I have to worry about the better and I love automatics. Bung in a decent navigation system, cruise control and a serious sound system and the thing practically drives itself.
Just leaving the rental car location can be a little nerve-wracking
Driving a different car is always a bit weird at the beginning. Driving a huge tank of a car out of one of the busiest airports in the USA somewhat ups the stakes. Thankfully our Merc had a frankly rather incredible online SatNav built in. After making a few adjustments (turning off the voice navigation for one) it was time to trundle slowly out onto the open road, and once on the motorway (freeway) I made my next observation almost immediately
Lane discipline is a foreign concept
Seriously. As far as I'm aware I don't suffer from an obssessive-compulsive Highway Code-related disorder but in all my years of driving in all different countries the basic concept has remained the same – cars overtake on one side. Oh and indicate what they are going to do, too. Not in the USA. If you are in the middle lane on the motorway you'll have cars gliding past you on both sides. They'll come swinging in from either side to pass you and you'll need to polish up on your psychic abilities to predict their next move.
It quickly became clear that there are several reasons this place is called the 'land of the free' but you soon get used to it – and it won't be long before you're performing the same moves yourself. When in Rome, and all that.
Self-service petrol ('gas') stations? Er, almost
I still remember seeing my first ever unmanned petrol station. It was in Switzerland in the late 1980s, and you got your fuel by using your credit card, and the whole place was under video surveillance. We take these for granted now and perhaps enjoy the fact that we can fill our cars without human contact. I tried this in Florida, and it's not quite as easy as I thought. First of all, you need to authorize your card first which means taking it to the counter and getting the guy to swipe it behind his bullet-proof glass screen.
Security is clearly a major issue and even if you have cash you have to pay in advance. This was tricky as I had no idea how much it would cost to fill the tank. Luckily the staff are good at this – so the clerk told me what he thought I would have to pay and he was spot on.
They also sell beer at gas stations.
No matter what they may claim over there, petrol is absurdly cheap
Going some way to explaining the point above, petrol and diesel are so cheap that you don't really have to stretch your budget to fill the tank like you do in Europe. Of course the Americans think it's getting too expensive, but this particular issue is perhaps the best example of 'all things are relative' that you'll find.
It may be cheap, but fuel economy is absurdly bad
I can only speak from my experience which was clearly a bad example given the ridiculously large and overburdened vehicle   I was driving, but the statistics speak for themselves:
As you can see, we covered some serious distance in three weeks, as will become clear as you read on through this series.
Roundabouts have yet to make much headway
The humble roundabout (a British invention, as it happens) has saved many lives by creating an orderly system whereby drivers know they have to give way ('yield') to traffic. Driving in the USA and coming to an intersection marked with a 'Stop' sign will make you appreciate the genius behind the roundabout. As far as I was able to tell in 3 weeks, in America it's every man for himself. Some times drivers stopped for me, other times they roared straight through. My guide book said the first to arrive was the first to cross, but I saw this ignored more times than I could count. You have been warned…
Freeway service stations are slap-bang in the middle of the road
This is not quite as crazy as it sounds. It basically means that you can access one service station from both directions as they build them between the lanes rather than one in each direction which you have to swing off the road to reach. It just felt odd to drive on the right side of the road but turn off to the left to exit, even for a Brit like myself. Given the evident lack of interest in assigning some kind of system to the lanes on the freeway, this in fact seems quite logical.
What you heard about the size of the cars is still often true
I grew up with American 1970s cop shows and movies, where everyone appeared to drive huge muscle cars and 'station wagons' (how exotic they sounded) with wooden finishes. Failing that, they'd be zooming around in a pick-up so large that the fact that they referred to it as a 'truck' seemed entirely justified. I recall my parents showing me their photos after visiting the US in the 1980s and it still looked like that – but now things are changing. European and Japanese cars are everywhere, and tougher economic times and higher gas prices have caused many Americans to buy smaller cars to save money. But don't worry – there are still far more huge pick-ups, vans and station wagons on the roads of Florida, at least.
What you heard about the size of the people is still often true
Yes, you will see body shapes unlike any you have seen before. It's just a fact, and a slightly sad one too. Until people understand that sensible food portions are not a restriction on the concept of freedom and exercise is frowned upon except for athletes, it is going to remain an issue. I'm no nutritionist and there are a lot of other causes of obesity. But I feel safe enough saying that the next items on this list don't help..

Hungry on the highway? Good luck finding something that isn't fried
When the time comes to stop for a bite to eat, it's hard to avoid feeling that you are being funnelled towards junk food. The usual suspects are given an edge of legitimacy by their inclusion on road signs telling you how log you will have to suffer before dunkin' your next donut. Not billboards, you understand, but signs on the highway which seem to exclusively feature the same old fast food companies. When you arrive at the service station you'll find what is essentially a food court and an invitation to early-onset diabetes.
If you look hard enough you might find a sandwich that hasn't been deep-fried but nobody seems to have made the connection between sitting still for hours on end in a car and then eating what is often a just plain nasty meal and the fact that regular clothes stores in the USA have to stock sizes that would be sold in specialist shops in most other countries. I'm no health freak, and indeed I loved trying all the junk I'd seen on TV and in movies but never tried – but you can't live like that every day. We'll inevitably come back to this later in the series but suffice to say you might want to take a longer diversion from the highway when the hunger pangs hit.
Remain seated – you can drive-thru everything
Need some cash? There's a drive-thru bank. Coffee? Starbucks drive-thru has you covered. Donuts, burger, hot dog? No need to leave your car. I'm pretty sure there is some kind of connection with the next few items on this list
Forget social media – Americans like to communicate via bumper stickers
Over the course of three weeks I'm fairly sure we saw just about every conceivable political, moral and religious belief announced on the back of somebody's car. I guess it doesn't hurt to make a first impression, although perhaps it could stop there. Many car owners clearly want to save the first ten minutes of conversation with a stranger by exploiting the combination of bumper stickers, personalised license plates and window transfers.
The weather in Florida is somewhat changeable, to say the least
You may have heard about the frequent summer storms in Florida due to the tropical climate, but nothing can prepare you for the real thing. This short video clip will give you an idea – although it was edited afterwards this entire sequence lasted no more than 20 minutes…
Driving in the USA is an amazing experience
So much about the place is familiar from movies, TV and books that you feel strangely at home, and yet there's always a surprise or two waiting round the next corner. Whether it's cruising around Miami on a muggy night, zooming through the Everglades hoping to glimpse an alligator or driving the legendary Overseas Highway to Key West a road trip to Florida should be high on your travel to-do list.
Keep following this series to learn more about what we got up to 'over there'…