Holiday season is upon us, and as if that's not enough other work duties are taking all of my time so to make sure you have something to read on a regular basis for the next month or so we will be republishing some forgotten gems from the past. And adding new content when we can, of course.
First up is a short series on Nordic crime locations…
Scandinavian crime fiction has taken the world by storm – with Norwegian author Jo Nesbø (that's his real name, I notice they drop the funky 'ø' in English though) tipped to be the next big thing.
You mean "the next Stieg Larsson"?
Yes, that indeed seems to be the slightly tired label tagged to anyone coming from the Nordic countries and making an international impact. Still I guess it's a flattering comparison.
Anyway if you're into Scandinavian crime books and films why not combine a trip to this wonderful part of the world with a tour around some of the locations used? The tourist offices of the respective towns and cities have not been slow to realize the potential here and offer everything from information and maps to full guided tours in some cases.
Interestingly it is the small town of Ystad on the south coast of Sweden (which is closer to Copenhagen than Stockholm) which arguably leads the way with its Wallander-based tourism.
Which is where you were a few years back, if I remember rightly? I seem to recall a Grown-up Travel Daily Photo of Wallander´s favourite cafe…
Correct. So the first in this series of articles is all about Kurt Wallander, star of Henning Mankell's novels. Or more accurately about the Wallander-based sights and tours offered by the rather lovely town of Ystad.
First up some background information about the town. Ystad has produced a seductive video to sell the town, primarily to attract new residents but it does a good job for us tourists too:
(c) PixelTouch Media for Ystads kommun/Municipality of Ystad.
Nice, huh? It is also worth pointing out that the Ystad crime rate featured in the Wallander books is truly a work of fiction…
How do I get there?
Ystad is only an hour by train, bus or car from Copenhagen. Although there is an airport at Malmo, the Danish capital is a better option.
You can also arrive by boat if coming from Poland or the Danish island of Bornholm. In addition ferries ply two routes from Germany to Trelleborg – you can cruise from Rostock in under six hours or as we did, from Sassnitz in less than four. Sassnitz is close to the former KdF Holiday Camp at Prora and the beaches of Binz, both of which we will be covering in separate articles.
Where can I stay?
Ystad has a decent range of accommodation options but can fill up quickly in the high season.
Wallander fans should consider the Wallander packages which include staying at a hotel featured in the books, meals taken at Mr W's favorite restaurants and in the summer a tour of the film interactive film museum. For all such practical information see the tourist office website.
Okay, what about the Wallander stuff?
Now here is where Ystad Tourist Office has really set an example to others. They have evidently ploughed some serious resources into promoting the town and have a variety of options.
Your first step should be to check out the comprehensive website In the footsteps of Wallander which has map functionality. Then grab the booklet you can pick up at the tourist office (which also features in the films and is opposite the aforementioned cafe.
Rather brilliantly they also have a Wallander app for both Android and iPhone which you can use when you get there. It's then easy to wander at will between locations and also enjoy the town on its own merits – should you require more in-depth information about your hero then you can join a tour.
Basically if you're a fan of the books or films you'll really enjoy this. Personally we love the Swedish films with Krister Henriksson and have avoided the English remakes, but did you know that 5 different actors have played Kurt Wallander?
And did you know that the exterior of the police station used in the Henriksson films is, in fact, the railway station?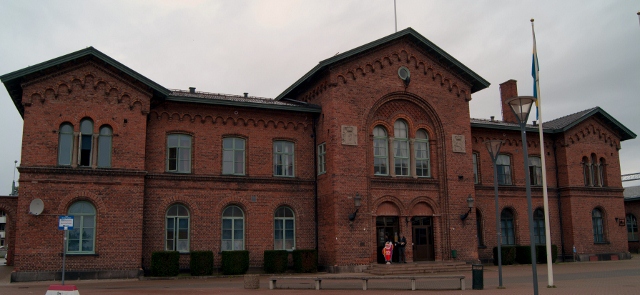 Recognize this?
Amazon have all the books and box sets of the Henriksson films and Kenneth Branagh versions, so take your pick:
Coming next: Following the trail of Sarah Lund ("The Killing/Forbrydelesen") in Copenhagen