Image (c) 25hours Hotel Bikini Berlin
To kick off this review we better start with the name thing. Of course I can't possibly know what images pop into your head when you read 'Hotel Bikini' but it's probably not the renovated office block you see here.
Berliners seem to love giving buildings nicknames – read any guidebook to the city and you'll hear of the "Hollow Tooth" and the "Pregnant Oyster" (the Kaiser Wilhelm Memorial Church and Haus der Kulturen der Welt respectively). While it's debatable whether some of the more obscure ones are actually in common use, one that stuck was "Bikinihaus" which locals took to calling this place when it opened in the 1950s.
The building was split into two parts, upper and lower with a gap in the middle, which reminded Berliners of the racy new bathing suits that had appeared. It's a bit of a stretch, but those were different times back then. Bikinihaus it was.
Bikinihaus and the surrounding area has undergone an extensive refurbishment from the rather shabby state it was in when I lived in the city in the early 1990s. The final phase was the opening of the new Bikini Berlin 'concept mall' and a hotel run by the ubercool 25hours group. The Hotel Bikini is included in the prestigious Design Hotels collection which is a sign that you can expect something out of the ordinary – and that's what you get.
While many establishments claim to offer 'boutique' or 'designer' experiences, Design Hotels actually deliver. I've had the pleasure of staying in a few places on their list and all have been memorable, luxurious and far removed from the 'cookie-cutter' accommodation of the big chains.
But I still prefer function over form – I'm not going to pay to sleep in an uncomfortable bed or have my room flooded from the shower just because the futon was exclusively produced for the establishment by Japanese monks or the bathroom plumbing is a work of contemporary art.
What I like especially with 25hours hotels in particular is that their properties reflect the local area – so if you stay in Hamburg you get the Hamburg vibe – and this is definitely the case in their first hotel in Berlin.
Even better, the Hotel Bikini is located in City West. You were probably expecting Mitte or Prenzlauer Berg, right?
A proper discussion of the changing fortunes of the main areas of Berlin would take an entire article – and one is planned. But suffice to say that it seems as if City West is on the rebound; it used to be the area everyone dreamed of living and the heart of the action.
The fact that the Kudamm was pulsing with life at 3 am on a Tuesday when I hitch-hiked to Berlin in 1990 was the reason I wanted to live here – and ended up doing so a few months later. Your attitude to this area depends largely on when you first visited Berlin – if your first time was after about 2008 you'll probably have not spent much time on this side of the former wall.
That's understandable – as every resource told you to go east – but you missed a lot, even in the lean years at the end of the last decade.
Some of the best bars, cafes, restaurants and shops remain within walking distance of Zoo station. They've always been there, and now new openings like the Hotel Bikini and the Waldorf Astoria just up the road are bringing attention back to the west.
In town for the 25th anniversary of the fall of the wall and having spent my first two nights on the other side of the former internal border, what could be more apt than spending my last two here. 24 years after my own Berlin story began, staying here was a neat way of closing the circle.
The Hotel Bikini has a split personality that reflects its location between the lively Breitscheidplatz with the Kaiser Wilhelm Memorial Church on one side and Berlin Zoo and Tiergarten park on the other. The concept here is based on the 'urban jungle' – lots of plants and greenery but also modern design elements and exposed concrete.
Half the rooms look out over the city and half over the zoo – and in the summer you can enjoy both from the rooftop bar and restaurant which offer a 360 degree panorama of the capital.
Being an outspoken opponent of all things hipster, you would be forgiven for expecting me to dislike this place with a vengeance. All the more reason to read on and find out what I thought, then…
25hours Hotel Bikini Berlin, Budapester Strasse 40, 10787 Berlin (49) 30 2027 0
When?
Early November 2014.
Vital stats:
Three stars. Opened April 2014. 149 rooms over 10 floors.
Location, location, location?
As mentioned in the introduction the Hotel Bikini is part of the Bikini Berlin complex in City West, a few minutes' walk from Zoologischer Garten station. It's an easy taxi or bus journey from good old Tegel airport and not much more of a slog to reach from nasty old Schonelfeld Airport than anywhere else.
Zoo station has U-and S-Bahn as well as regular train services and there are plenty of bus stops within walking distance. Indeed there is a LOT within walking distance – enough to fill an entire weekend. If weather permits there is a City Bike stand right round the corner by the zoo entrance. The actual zoo, not the station.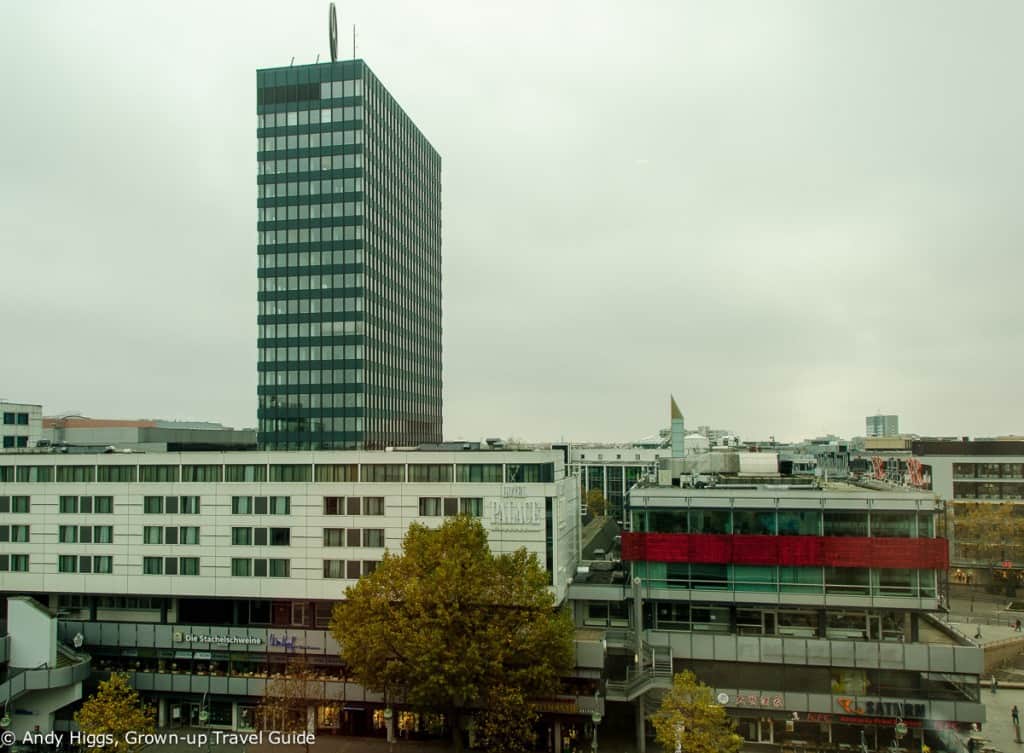 Bikini Berlin is on the other side of the road from the aforementioned "Hollow Tooth" and the Europa Center. You know, that once-proud but now-dated shopping mall with the still rather iconic rotating Mercedes logo on the roof.
What about parking?
If you insist on – or cannot avoid – driving then you can take advantage of discounted rates at the Bikini Berlin car park. This costs EUR 16 per day.
Why choose this place?
It's a perfect base to (re)discover this area and has a lot more going for it too. I was invited to stay after being shown round while I was in Berlin for ITB earlier in the year. The hotel had just opened and I thought it looked great – but didn't have the chance to return until November.
The rooftop bar is a major draw for guests and non-visitors alike; the restaurant has already built an excellent reputation and the funky sauna is just another reason why you can happily stay here and not leave the building…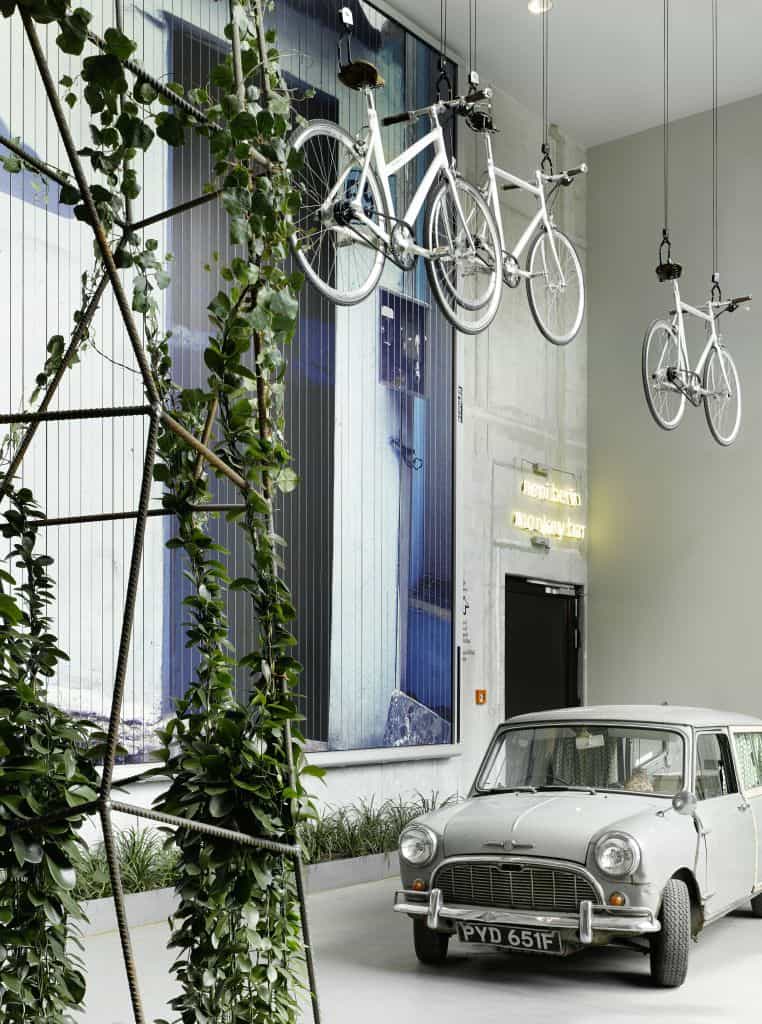 Image (c) 25hours Hotel Bikini Berlin
Arriving at the ground floor entrance area you'll need to take the lift to reception. Another lift is for non-residents and goes directly to the bar and restaurant on the 10th floor. The entrance hall underlines the quirky/cool urban jungle vibe with its industrial bare concrete surfaces, lush plants and climbing vines. And a classic MINI.
The choice of car is no concidence; 25hours Hotels are MINI partners so you amazingly enough you can rent one of their vehicles (of a slightly more recent vintage) for free while staying here, provided they have a car available. That sure beats an ice machine in the hotel perk stakes…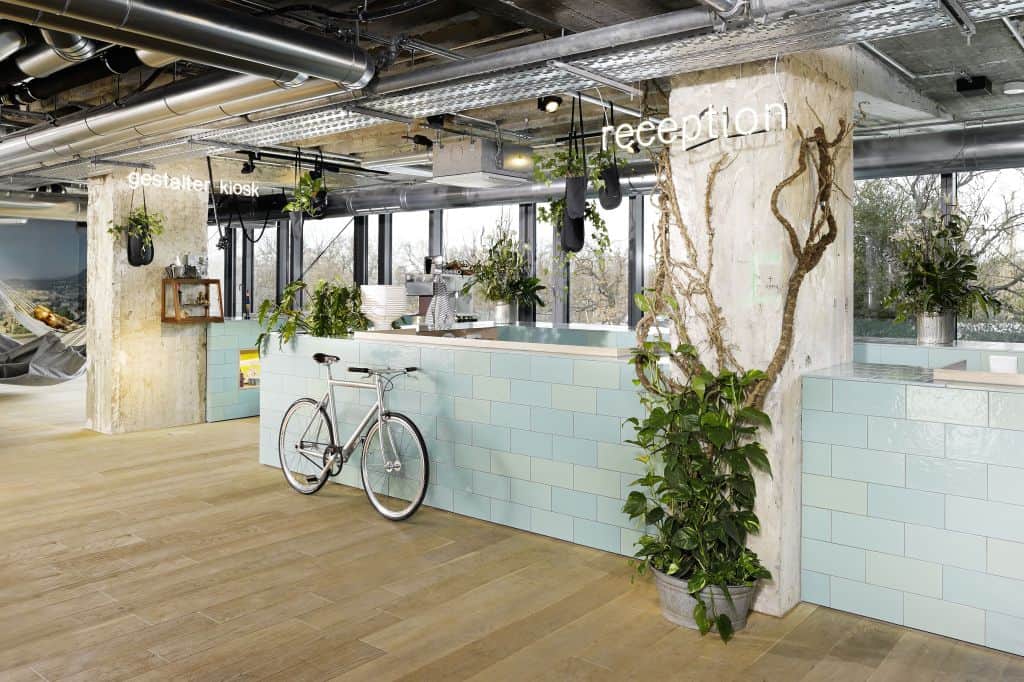 Image (c) 25hours Hotel Bikini Berlin
Exit the lift at the reception level and the stylishness continues – but it's all very laid back and friendly. Don't expect to get a weird look if you're not wearing the right shoes or sporting a hipster goatee. As well as the huge reception desk itself the lobby has hammocks slung from the ceiling to relax in, a work area as well as a bakery and convenience store. Like I said, you won't have to leave unless you actually want to 🙂
Room
There are six categories of room in two styles – Urban and Jungle – depending on whether they have a view over the city or over the zoo. Urban rooms come in M, M Twin, L and XL and Jungle in M and L.
I stayed in room 702 which was an Urban L – and L definitely means Large in this case.
Here's a video walkthrough so you get the full picture:

The first things I saw on opening the door was a bicycle hanging on the wall – these are also available for rent. Some rooms have them inside, otherwise ask at reception. This is a more practical perk than the MINI for Berlin if perhaps not quite as much of a statement.
The room was quite dark, which is certainly intentional and was easily remedied by pulling the curtains from the huge window overlooking Breitscheidplatz. It's all part of the 'take it easy and be good to yourself' atmosphere that permeates the property.
There are more design elements than you can shake a stick at – or point a camera at – but you'll see more in the video walkthrough as well as the pictures here.
The sleeping area and bathroom are all part of the open-plan area but curtains can be used to provide more privacy by blocking off sections of the room. The toilet is separate though, sensibly enough.
A large flat-screen TV was positioned in front of the bed but could also be turned to watch from the sofa.
The bed was extremely comfortable but I guess the low placement might be an issue for those with even dodgier backs and knees than mine.
Storage space was cunningly included on both sides of the desk and shelf unit, which also housed a laptop sized safe and mini-bar.
Even the contents of the mini-bar were classy…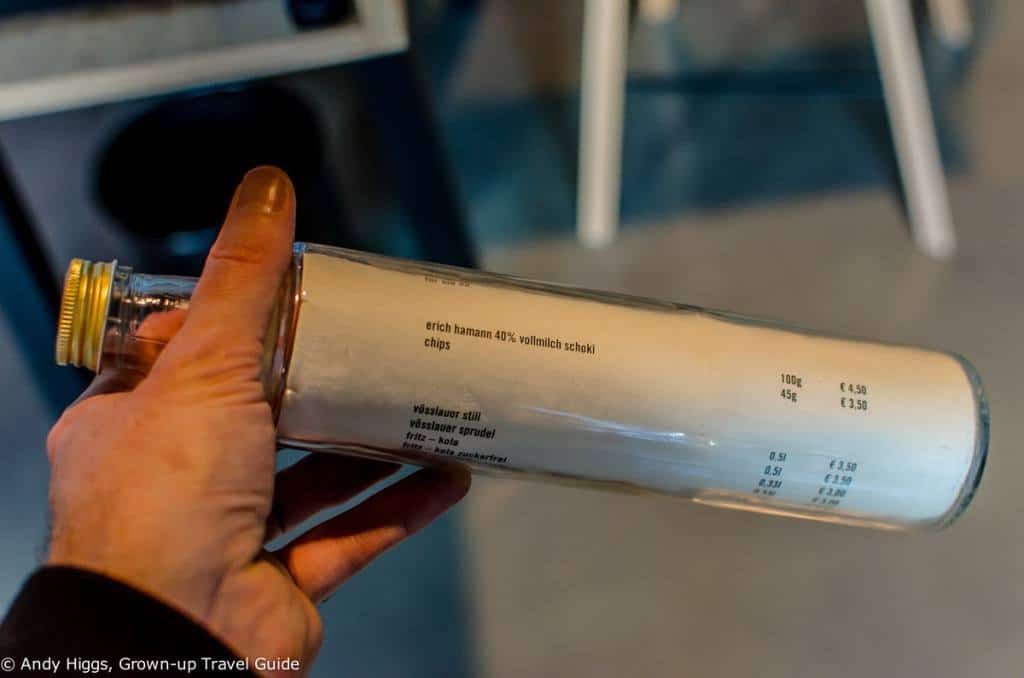 …as was the price list.
Room 702 even came with its own jewellery – not really my style but a neat idea. It was free to borrow and could be purchased on departure if you found it hard to part with.
Carpets?
No – here it was mostly concrete and wood floors. Good for those who are allergic or just dislike carpets. The floors were a little cold (it was very chilly outside when I stayed) but not enough to be a problem.
Bathroom
The room contained both a free-standing bath and a shower cubicle as well as a washbasin on the wall. The bathtub was luxuriously deep, properly long and a feature that was a first for me – music.
To be more exact there was a Bluetooth system and a speaker in the ceiling – so all you needed was a phone to connect and you could listen to your own playlists while wallowing in the water. Yes, it's a gimmick, but it worked. Expect to see something similar coming to other hip hotels soon…
The shower had excellent water pressure and just about coped with the amount produced – there was standing water left when I finished but it drained away shortly after and more importantly did not spill out onto the floor.
Toiletries, bathrobe, slippers and hair dryer are all provided.
Free internet I hope?
Yes, and excellent quality all over the hotel, with the exception of parts of the breakfast room/restaurant where the signal was weak.
Bar and restaurant?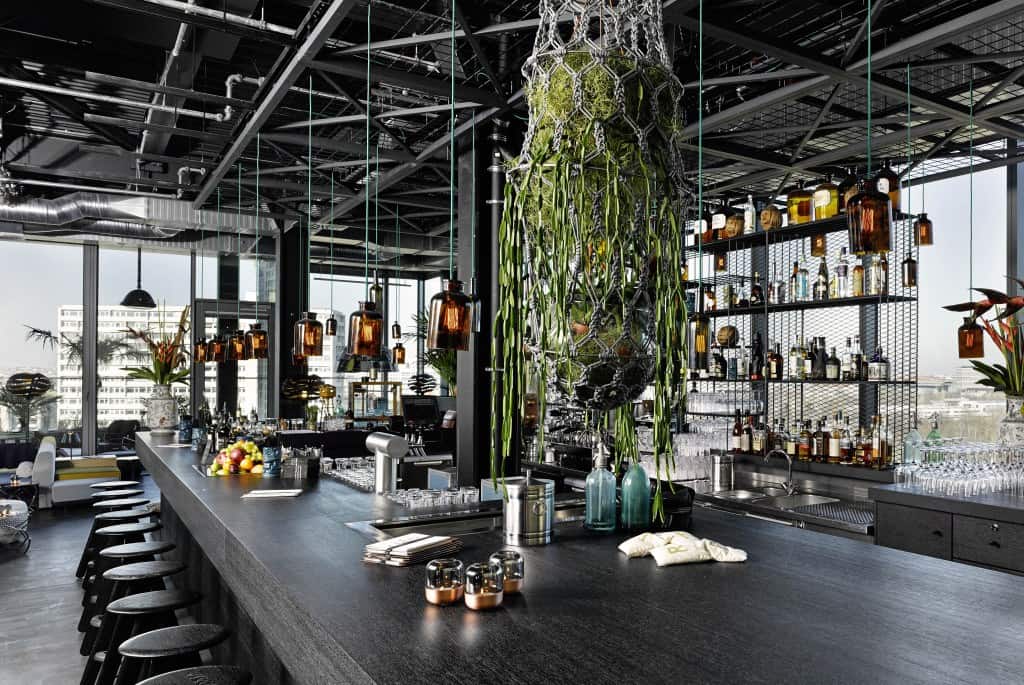 Image (c) 25hours Hotel Bikini Berlin
I only ate breakfast at the hotel but having had a tour of the Neni restaurant I would be keen to try it next time. I did order a snack to go with a couple of Weissbiers in the Monkey Bar which was excellent and good value too.
The Monkey Bar was absolutely heaving in the evening and I was lucky to get a bar stool. It's currently THE place to see and be seen and I'm expecting this to last a while – so get there early if you need to sit.
Pool, sauna?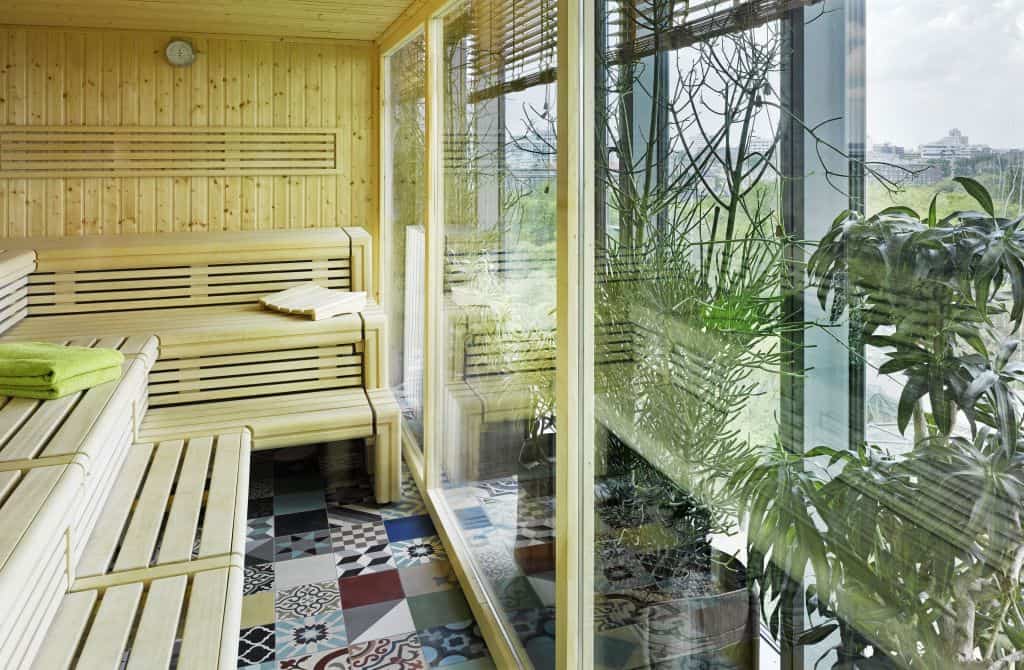 Image (c) 25hours Hotel Bikini Berlin
There is no pool but there is a fab "Jungle Sauna" with views over the zoo as well as a rest area with refreshments.
As you'll know by now, German saunas are not for the self-conscious. They are mixed, naked and you'll be faced with a bit more flesh than you perhaps would have chosen to be faced with. But there's no need to feel uncomfortable as they've also seen it all before and a sauna is a perfect way to relax after a day's sightseeing.
The breakfast was included, right?
Breakfast is not included in the cheapest rates. I think they know what they're doing here as a lot of guests are not going to be up in time to eat anyway. However it's well worth experiencing – this is not your average hotel buffet. It's self-service, but that's essentially where the similarities end.
This was one of the most sumptuous spreads I've been treated to and a feast for both the eyes and the stomach – the presentation is fantastic. Packed with local produce and organic fare, it'll set you up for the rest of the day.
Service
Service was extremely friendly and efficient from check-in to check-out. Staff in the bar and at breakfast were equally so.
Any points/miles to earn?
Not as far as I know – I don't believe 25hours has a loyalty programme at present.
Can they look after your bags after you check out?
Yes, they are happy to do so.
Green or mean?
Since the building itself is quite old and subject to a preservation order, during renovation it was not possible to make it as sustainable as a new construction. However, the 25hours Hotel Company attaches importance to social and environmental sustainability and is a member of FINDING Infinity ( http://www.findinginfinity.com/ ) The hotel is currently in the process of certification for EARTHCHECK ( http://www.earthcheck.org/ ) with results expected in early 2015 .

Notable projects

– The Microfarm Neni Berlin, where salad and sprouts are grown highly efficient for the on-site restaurant. ( www.infarm.de )
– "Stop the water while using me"- the cosmetic line was developed with and for 25hours ( http://stop-the-water-while-using-me.com/de/fuer-hotels )
–  Proceeds from the sale of products at the hotel shop benefit conservation projects in the Berlin Zoo and "Save the Rhino " ( http://www.savetherhino.org/ )
The Damage
Rates start at around EUR 120 per night. Shop around for advance deals – as usual if you are happy to pay fully in advance you will always save more and rooms run cheaper at the weekend.
The verdict please your honour...
The Good
The 'L' room was amazing but having seen all types of accommodation I can say that you get good value at all price points. If travelling alone you'll probably be happy to save some money by booking a less extravagant room. The entire hotel is stylish, fun by crucially well-designed. It all works. Superb bed. Loved the bathtub and shower. The sauna is great too. Excellent location. Plenty of power sockets. Superb service. Loved the rooftop bar and breakfast.
The Bad
Nothing, really.
The Ugly
Nowt.
Closing comments:
So there you go – even an anti-hipster, occasionally grumpy old guy like me felt right at home at Berlin's coolest hotel. I would call it hip but not hipster; practical but also fun and a worthwhile change from the anonymous chain hotels. Well done 25hours, I can't wait to see more of your properties now.
And trust me, we are witnessing the long overdue resurgence of 'West' Berlin and the Hotel Bikini is at the vanguard of this movement. Prenzlauer Berg and Mitte can carry on absorbing the tourists and new Berliners – the rest of us can continue enjoying the delights of this part of town as we have done for the last couple of decades. Just don't tell everyone…
Travelling to Berlin? Check out these strange observations before you go…