This article is part sixteen of the series "Trip diary: Three weeks on the road in Florida"
Teaser: New series starts this week
Introduction: A three week road trip around Florida
Hotel review: Park Inn Oslo Airport
Flight report: Lufthansa New Business Class Frankfurt to Miami
First impressions – a Limey driving in the USA
Hotel review: Hilton Miami Downtown
First impressions – an Anglo-Nordic family in Miami
Hotel review: Sheraton Vistana Resort Villas, Orlando
Three theme parks in three days – Day 1: Walt Disney World
Three theme parks in three days – Day 2: Wet 'n Wild
Three theme parks in three days – Day 3: Universal Orlando Resort
Hotel review: St. George Inn, St Augustine
Historical Florida – St Augustine
Hotel review: Hampton Inn & Suites Amelia Island
Amelia Island – the destination for relaxation in northeast Florida
Hotel review: Cedar Key Bed & Breakfast
Old Florida – Cedar Key
Hotel review: The Birchwood, St. Petersburg
Our favourite city in Florida – St. Petersburg
Hotel review: Island Inn, Sanibel
Cruising to Cabbage Key
Great road trips of the world – Highway 1 Hotel review: Orchid Key Inn, Key West The other Florida – Key West Hotel review: South Beach Z Ocean Hotel, Miami Beach  
We were really getting into this relaxed side of Florida at this point. St. Augustine and Amelia Island certainly delivered on their promises to show us a different side of the Sunshine State, and I for one was really excited by the prospect of going even more 'native' on the west coast. Cedar Key is touted as being one of a few places where visitors can experience 'Old Florida'. One of the reasons may well be its splendid isolation – more on this is our next article on the town itself.
Travelling from Amelia Island to Cedar Key involved one of the longest stretches of driving on our trip, but it was a scenic journey. Arriving at our accommodation for the next two nights in the late afternoon, we found a wonderful contrast to the chain hotel we had stayed in the previous nights – although we loved both.
But this is after all a guesthouse, or an inn, or a bed and breakfast – however you define it you are getting a unique property with bucketfulls of character…
Image (c) Cedar Key Bed & Breakfast
Cedar Key Bed & Breakfast, 810 Third St., Cedar Key, Florida 32625. Tel: (352) 543 9000
Email: info@cedarkeybandb.com
When?
Early July 2013.
Vital stats:
Building dates from 1880(!) Opened as a B&B 1990. 8 rooms over 2 floors.
Location, location, location?
Image (c) Cedar Key Bed & Breakfast
The property is located a few blocks west of the harbour area – Cedar Key is a tiny place so it's easy to reach.
Image (c) Cedar Key Bed & Breakfast
The B&B is also a block away from the waterfront – it's an easy and pleasant walk into town. If you time it right you're likely to witness an amazing sunset from the end of the street, too.
What about parking?
There is free parking on the street outside for guests. If the spots are full just drive round the corner and you'll find somewhere easily enough.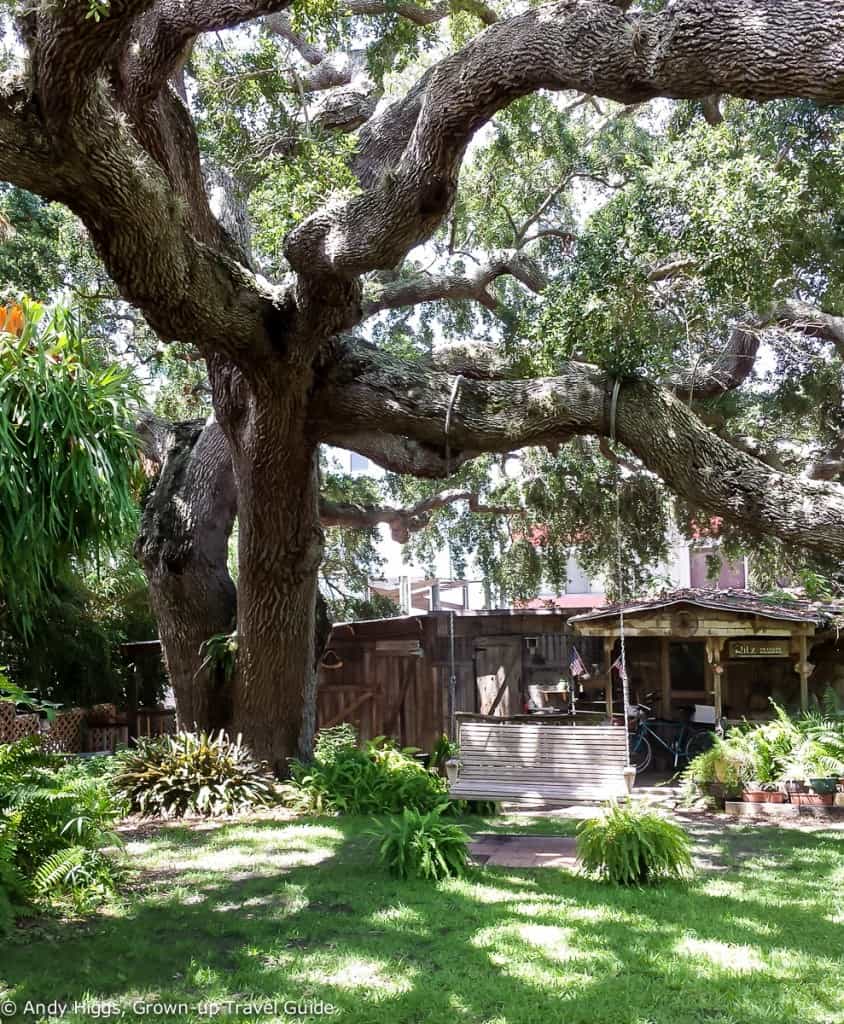 Why choose this place?
This is a unique property with a fabulous garden – and a living 400 year-old oak tree. Each room is different and it feels like you're both travelling back in time and staying in a private home. The location is perfect as a base to explore Cedar Key and the surrounding area and the owner, Alice, has a legendary – and well-deserved – reputation for treating guests like old friends.
Room
Image (c) Cedar Key Bed & Breakfast
We booked two rooms, Mari Anne and I opted for "Jacks's Room" which is the largest of the eight available and reached by a spiral staircase from the patio downstairs. It features a king size bed, widescreen TV, DVD player and a very large bathroom.
The latter includes both a free-standing and very stylish old-school bathtub as well as a huge shower room.
Image (c) Cedar Key Bed & Breakfast
This includes a massage shower and a bench where you can sit and enjoy the feeling of having your very own spa.
Image (c) Cedar Key Bed & Breakfast
Anne and Rebecca got the beautiful "Tree House Suite". This is accessed by an outside staircase and has views over the lovely gardens and the ancient oak.
Image (c) Cedar Key Bed & Breakfast
There's a Queen size bed in here as well as plenty of space to sit and relax.
Or edit photos, as a certain person is doing in the picture above.
Image (c) Cedar Key Bed & Breakfast
The Tree House Suite also offers an ensuite bathroom with shower cubicle and a full kitchen.
Image (c) Cedar Key Bed & Breakfast
There's a TV and DVD player but with we preferred the view from the balcony…
Carpets?
Yes – both rooms had carpeting in the sleeping areas. The carpet in Jack's Room does fit the homely and traditional style but I think it could be time for an update – the room in general was a little dark and hardwood flooring would make a big difference. The carpet in the Tree House Suite was clean and less imposing.
Bathroom
The bathrooms were excellent – we had a few problems with working out the shower controls in Jack's Room but once we figured it out it was lovely. No complaints from the girls in the Tree House Suite either. The amenities provided were of high qualiaty
Free internet I hope?
Yes, the Cedar Key Bed & Breakfast has free and fast Wi-Fi throughout the property.
Bar and restaurant?
The hotel does not have a bar or restaurant, but there are plenty within walking distance and some that can deliver. If you want to cook your own dinner, the Tree House Suite has a kitchen for you.
Pool, sauna?
No pool but the beach is just a walk away.
The breakfast was included, right?
Yes, an excellent hot breakfast is served in the kitchen and you can then take it to your room, balcony or eat on the porch.
Service
Service is wonderful – right from initial email correspondence to check-in, breakfast, advice on what to do and check-out. Alice is very accommodating and will make arrangements if you are unable to arrive during the check-in window.
And then there is the famous 'bottomless cookie jar' – which is exactly as awesome as it sounds 🙂
It's also worth noting that the B&B provides free bicycle rental which is a superb way to get around Cedar Key. If you need marginally more speed then golf carts can be rented – this appears to be the transport mode of choice in this town…
Any points/miles to earn?
No, of course not.
Can they look after your bags after you check out?
Probably not, as the owner is not always on site. But I'm sure she'll work something out for you. Most people staying here are probably driving so do like we did and load the car up then leave it parked until you are ready to go – it's a safe place.
The Damage
The 2015 rate for Jack's Room is USD 155 per night of weekdays and USD 170 per night at the weekends. The Tree House Suite costs USD 185 on weekdays, USD 200 on the weekend. As all over Florida, this is subject to additional state and county taxes – adding 9% to your bill in this case.
The verdict please your honour...
The Good
Beautiful old building and fantastic gardens. Alice the innkeeper goes out of her way to please and clearly loves having guests. Big rooms, comfortable beds. Great bathrooms. Free parking and bicycle rental. Unlimited cookies!
The Bad
The Tree House Suite was perfect, but we found Jack's Room a little dark and not as inviting. Don't forget there are six more rooms to choose from too though. Jack's Rooms is also a bit of a struggle with heavy luggage as the spiral staircase is steep and very narrow.
The Ugly
Nothing at all.
Closing comments:
I can think of no better place to stay in Cedar Key; for the old-fashioned feel and relaxed atmosphere, the Cedar Key Bed & Breakfast is superb. We will return-  of that there is no doubt and I would strongly recommend you to book a room here when planning your visit.
Please note: The author travelled as a regular tourist – no mention was made of the fact that a review would be written, the establishment was not informed of the author's intentions and no special discounts were enjoyed.