Amsterdam is truly one of the great European cities to visit, and over the years I've been there seven times – running the gamut from broke inter-railer and hitch-hiker through weekend tourist from Berlin to a short break with the family.
I imagine your choices of accommodation have been similarly varied?
You could say that. I don't think I'll be returning to the Sleep-in hostel any time soon, though it served its purpose at the time. On this particular occasion we had a few days in Amsterdam book-ending a Muse concert in Nijmegen (more of which here) and were after a room with space for two adults and a child.
Any other criteria?
After having stayed in more central hotels before and being a bit put off by the noise we wanted somewhere in a quieter area, but of course not too far from the centre. Hotels in Amsterdam are surprisingly expensive and do not always offer great value for money, so we wanted to avoid paying for more than we got too. Even with our swimming-crazy daughter we decided against the extra expense of a hotel pool and after some research online found that this place near the National Museum seemed a good choice.
Conscious Hotel Museum Square, Amsterdam

Image (c) Andy Higgs, Grown-up Travel Guide
Conscious Hotel Museum Square, De Lairessestraat 7 , 1071 NR Amsterdam +31 (0) 20 671 95 96
When?
Mid-June 2010.
Vital stats:
Three stars. Opened summer 2009. 36 rooms over 5 floors.
Location, location, location?
As the name suggests the hotel is located close to Museum Square (Museumplein) and bus 197 passes the building. The nearest tram stop is at Concertgebouw. The hotel is located in a very pleasant residential area within walking distance of the Van Gogh museum and Rijksmuseum. It's an appealing area for wandering and seeing how the other half of Amsterdam lives – a very different atmosphere from the city centre.
What about parking?
It's not a good idea to drive in Amsterdam but if you arrive in a  car public car parking spaces are available for a fee but cannot be reserved of course.
Why choose this place?
It's that classic combination of being quiet and accessible once again. If you're going to the Van Gogh museum it's also very handy as you can get there early to avoid the queues. Rates are good (especially through third-party sites and in advance) and the rooms are a good size if you need to have an extra bed.
Also, if you like to go green this is a perfect choice – the hotel is run according to environmentally-sound principles and has been Green Key Gold Certified. All the wood in the furniture comes from sustainable forest sources and hotel cleaning is carried out using an 'Ionator' which doesn't use any chemicals. Breakfast is of course organic.
Room
Three different types of room – Standard, Premium and Family. We booked a Family room with a large and very comfortable double bed and an extra full-size single. The room was large, light and airy with a modern feel.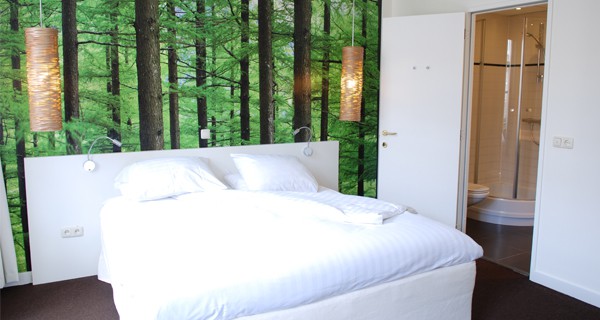 The room had the following features: flat screen LED television with cable channels, writing desk with designer (but comfortable!) chair, private safe, telephone, iron & ironing board on request, blackout curtains, opening windows.
Carpets?
Yes, but they are kept scrupulously clean so we'll let that go.
Bathroom
The bathroom was modern and practical with a shower and washbasin. In keeping with the hotel's green image soap and shampoo are in dispensers instead of small bottles. Hair dryer provided.
Free internet I hope?
Yes, free and fast. No complaints here.
Bar and restaurant?
No – there's not really space for them. A small range of snacks and drinks is available from the front desk (which is manned 24/7) and breakfast is available – which is fully organic and totally delicious.
Pool, sauna?
No, again the property isn't really big enough. There is a small hotel garden though which is a nice (and very unusual) touch.
The breakfast was included, right?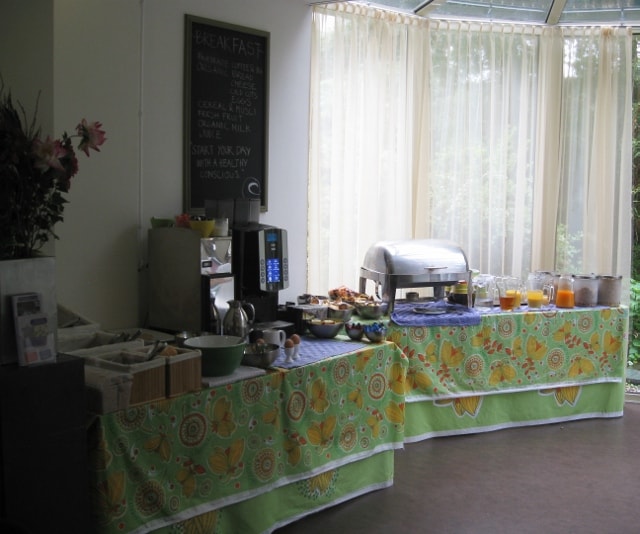 Image (c) Andy Higgs, Grown-up Travel Guide
No, but it costs EUR 13.50 and was good value for a 100% organic feast. There are plenty of cafes around Museum Square if you wanted to eat elsewhere.
Service
This was the real bonus – possibly the friendliest and most knowledgeable hotel staff I've met; they went out of their way to help us with tips and maps and also had time just to chat about life in Amsterdam in general. Never let it be said that the internet makes concierge services redundant…you can also hire bikes here if you so desire (a great way to see Amsterdam).
Any points/miles to earn?
No, it's not part of any chain so no loyalty schemes are in place.
Can they look after your bags after you check out?
Yes, they are happy to do so.
Green or mean?
Very green – see above.
The Damage
Rates for a Family room start at around EUR 145, with Standard rooms from approximately EUR 110. As usual, shop around for advance deals – if you are happy to pay fully in advance you will save more too.
The verdict please your honour...
The Good
Big rooms, great bed, all facilities we wanted. Quiet yet accessible location. Plenty of power sockets. No smoking. Super-friendly service.
The Bad
A bar would have been nice.
The Ugly
Nothing really – I guess it would be better if the breakfast was included in the rate but alternatives are easy to find.
Closing comments:
We loved our time here and will definitely go back next time we visit Amsterdam. Very good for a 3-star property and highly recommended. The family room is a good deal for three guests and hard to beat.
Final score: 5/6
Images (c) Conscious Hotels except where stated otherwise
Please note: The author travelled as a regular tourist – no mention was made of the fact that a review would be written, the establishment was not informed of the author's intentions and no special discounts were enjoyed. This is a vital part of our aim to provide impartial and comprehensive advice.