As you'll recall I was head-over-heels with excitement when I got the chance to visit Cape Town a few weeks ago. As you may also remember, I had contacted a few hotels there (slightly) in advance in order to review accommodation options. I ended up with three places to stay in the city, all of which offered very different experiences in different locations.
After having spent the first two nights right in the heart of the city at the Grand Daddy Hotel on Long Street, I picked up my rental car and made my way closer to Table Mountain and the lovely suburb of Tamboerskloof.
Derwent House is an altogether more intimate place to stay – rather than a large hotel this feels more like being in someone's home. That's not really surprising as the building is indeed a former residential home converted into a boutique hotel with just ten rooms and a self-catering apartment in a separate building.
With buzzing Kloof Street around the corner and views of Table Mountain as soon as you go out the door the location is excellent, too.
Read on for my impressions…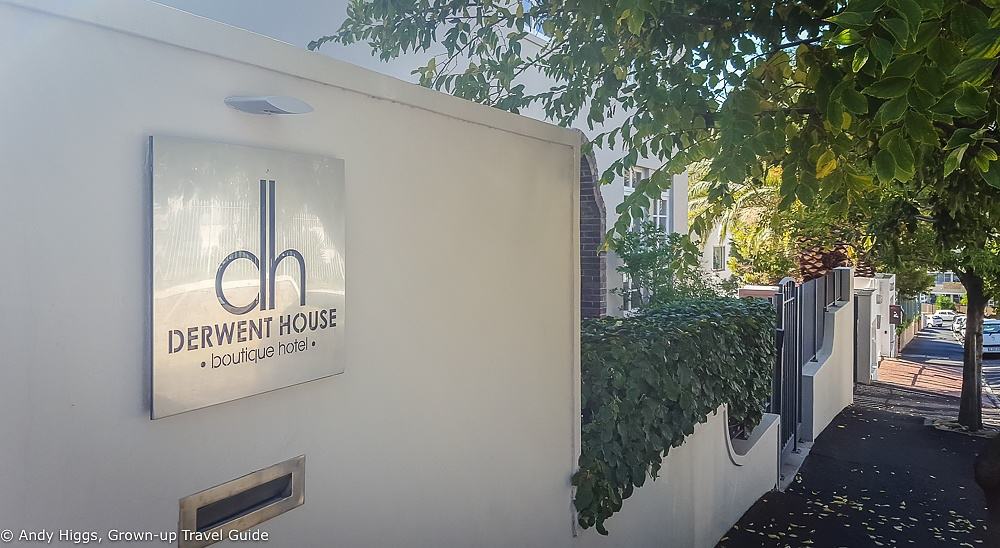 Derwent House, 14 Derwent Rd, Gardens, Cape Town, 8001, South Africa +27 21 422 2763
When?
Early April 2016.
Vital stats:
Four stars. Opened 2006, 10 rooms over 2 floors. A self-catering apartment is also available in a separate building.
Location, location, location?
Located on the edge of Tamboerskloof where the area blends into Gardens, Derwent House is beautifully situated. Derwent Road is a quiet street not far from the foot of Table Mountain and about 2 km from the V&A Waterfront.
It's a very quick drive by car from downtown but for those without their own transport the excellent MyCiti buses stop just round the corner. The hotel provides MyCiti bus cards at reception for guests, charges ZAR 20.00/day/card and you can use them as much as you like.
The Hop-On, Hop-Off tourist buses also pass close by and are highly recommended for getting your bearings in the Mother City.
Failing that, or if you have a lot of baggage, Uber and regular taxis are also good value. If you are coming from the airport the hotel can arrange a transfer for ZAR 330.
The area is wonderful for strolling and exploring, and Kloof Street (five minutes down the road) has become very popular in recent years. There are enough bars, cafes, restaurants and shops here to keep you busy for your entire stay – I'll be writing about a couple of these in a future post.
You can see Table Mountain from the pool and a few of the rooms, but it's when you go out the front gate that you lose any doubts about which city you are staying in.
See what I mean?
What about parking?
A couple of off-street car parking spaces are available on a first-come, first-served basis but you should have few problems finding a space outside. I certainly didn't – it's free and I had no qualms about leaving the car down the road.
Why choose this place?
First of all, I'd have to say the personal service and homely feel. The owners have got the balance just right – all the staff were friendly, efficient and always greeted me by my name. Yet it doesn't feel intrusive and if it's privacy you seek you have also come to the right place.
Derwent House is laid-back luxury at its finest – and despite its small size most guests are out during the day so if you want to chill out by the pool you'll probably find yourself with the pick of the sunloungers.
Then there's the location – I loved the area and cannot wait to return to spend more time exploring. Away from the bustle of downtown you can soak up a whole different Cape Town vibe. At the same time, nothing is far away (nothing really is, in Cape Town)
The room rates are extremely attractive, too. So there's that, on top of everything else…
Room
There are three main types of room: fabulous, beautiful and a family suite, as well as a self-catering apartment in a separate building.
The interior and equipment are the same in the fabulous and beautiful rooms, but the latter are larger and have better views. The four beautiful rooms are located on the second floor of the main house and are some have a private terrace. Two of the beautiful rooms can be converted to twin rooms.
The five fabulous type rooms are found the middle and rear wings – four of these overlook or open onto the pool area while the fifth offers more privacy with its own private deck area in the rear wing.
The family suite includes a separate bedroom, bathroom with shower over bath and open plan kitchen/dining/living area with a double sofa bed as well as a private terrace with great views.
I stayed in a fabulous room opening onto the pool deck, which definitely lived up to its name.
I loved the light colours and natural light, as well as the well-chosen and stylish decor.
All rooms have flatscreen TVs, DVD players, air conditioning, an iPod docking station as well as tea and coffee making facilities. The hotel has a large DVD library, too.
The large double bed was a joy to sleep in – I spent two of my most relaxing nights in South Africa here in fact.
Comfortable cotton robes and slippers are found in the wardrobe, as is a safe.
As you can see the room was compact but well-designed, but have a look at this video for a better overview:
With such a peaceful location it was very quiet at night and the curtains blocked out the light, so I wasn't woken early by the sun in my eyes.
Turndown service is included in the early evening, at which point a cute elephant appeared on my bed along with an update of events in the city.
Carpets?
No carpets, just lovely cool tiles. Very nice too.
Bathroom
The bathroom was small but perfectly formed.
The pressure in the shower was excellent the oversized shower head delivered a wonderful gush of water.
I loved the little touches like the rubber duck…
There was enough storage space for a reasonable amount of bathroom essentials beside the basin.
In all the bathroom is good example of making the most of available space.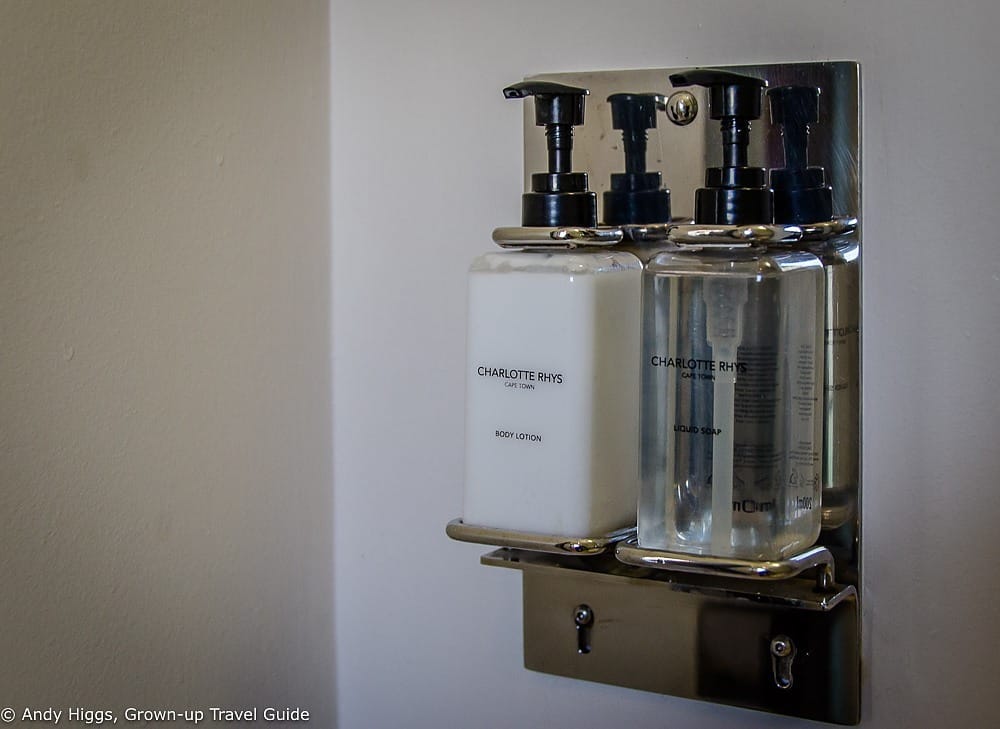 Full marks for the top quality toiletries provided – I was actually tasked with finding this exact brand by my wife who had been introduced to it in Norway…
It's always a plus to be able to open the window in hotel bathrooms to let the steam out.
I loved my fabulous room, and will be back!
Free internet I hope?
Yes – the wifi signal was very strong throughout the property and was able to run multiple devices without any problems.
Bar and restaurant?
There is no restaurant for lunch or dinner, but an honesty bar operates in the main building where breakfast is served each day.
This is a lovely idea and the inclusion of free port and sherry is a great bonus. The selection of wines on offer is quite extensive, too.
Complimentary tea, coffee and cakes can never be a bad thing, can it?
The lounge area is inviting and beautifully decorated.
The perfect place to relax before or after a hard day's sightseeing.
In fact, you need to watch out or you may end up staying here longer than planned. I can imagine how inviting it must be when that big fire is roaring in the depths of winter. That's Cape Town winter, which is somewhat different from Norwegian winter, but can still get chilly in the evenings.
Pool, sauna?
Derwent House has a small but extremely inviting outdoor pool which is ideal for cooling off. It is heated by solar energy for the "cold" winter months (yeah, right!)
There is also an outdoor jacuzzi here which ups the indulgence factor by a few notches. The sunloungers are comfortable and great for topping up that tan.
Incidentally if you feel the urge to work out, the hotel provides a free gym pass for your first visit to a nearby fitness centre.
The breakfast was included, right?
Full, fabulous breakfast is included. As well as a full continental buffet, there are a range of hot breakfast options and a daily special.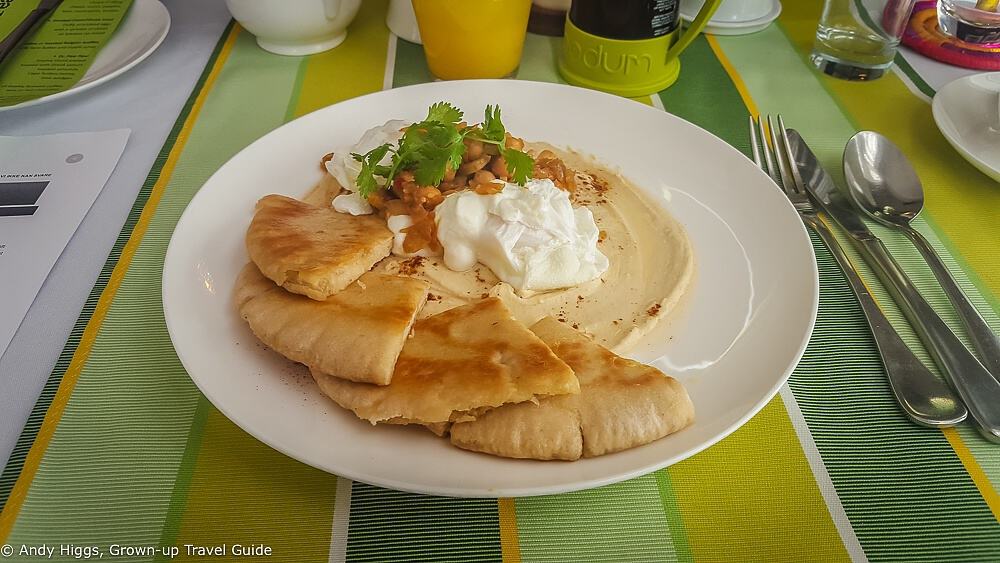 Try the specials, you won't regret it.
Having said that, the regular English was pretty unbeatable, too.
Service
Arguably Derwent House's strongest point – although it has many – is the service. Staff have clearly been trained to really care about their guests and everyone seemed to be enjoying their jobs. As mentioned before, they get the balance between privacy and attentiveness just right.
Any points/miles to earn?
No – this is an independent hotel.
Can they look after your bags after you check out?
Yes, they are happy to do so.
The Damage
Fabulous rooms start at an equally fabulous ZAR 1700 per night during the low season, rising to a still very reasonable ZAR 2350 in high season. Beautiful rooms range from ZAR 2000 to ZAR 2750 and the family suite from ZAR 2300 to ZAR 2800. The apartment (which I did not visit) costs between ZAR 1700 and ZAR 2350 and does not include breakfast as it is rented on a self-catering basis, but guests can use the hotel's facilities.
The verdict please your honour...
The Good
Well, all of it. Wonderful location, beautiful rooms, great pool, impeccable service, amazing breakfasts…
The Bad
Nothing I could think of.
The Ugly
Well, hardly.
Closing comments:
Derwent House is a fantastic place to stay in Cape Town. I highly recommend doing as I did – staying a few nights in the centre of town first then moving here for another side of city life. But you could just as easily use the hotel as your sole base in Cape Town – especially if you have your own transport.
I cannot wait to bring the family here and stay longer; two nights was just not enough. Not only is Derwent House a superb option for Cape Town, it's one of the best hotels I've yet experienced.