This article is part fourteen of the series "Trip diary: Three weeks on the road in Florida"
Teaser: New series starts this week
Introduction: A three week road trip around Florida
Hotel review: Park Inn Oslo Airport
Flight report: Lufthansa New Business Class Frankfurt to Miami
First impressions – a Limey driving in the USA
Hotel review: Hilton Miami Downtown
First impressions – an Anglo-Nordic family in Miami
Hotel review: Sheraton Vistana Resort Villas, Orlando
Three theme parks in three days – Day 1: Walt Disney World
Three theme parks in three days – Day 2: Wet 'n Wild
Three theme parks in three days – Day 3: Universal Orlando Resort
Hotel review: St. George Inn, St Augustine
Historical Florida – St Augustine
Hotel review: Hampton Inn & Suites Amelia Island
Amelia Island – the destination for relaxation in northeast Florida
Hotel review: Cedar Key Bed & Breakfast
Old Florida – Cedar Key
Hotel review: The Birchwood, St. Petersburg
Our favourite city in Florida – St. Petersburg
Hotel review: Island Inn, Sanibel
Cruising to Cabbage Key
Great road trips of the world – Highway 1 Hotel review: Orchid Key Inn, Key West The other Florida – Key West Hotel review: South Beach Z Ocean Hotel, Miami Beach  
Moving on from St Augustine wasn't easy – we really enjoyed both the town and our stay at the St. George Inn. But having discovered a side of Florida that was so different from Miami and Orlando, we were excited to see what our next destination offered.
Just over 100 km further north up the coast, Amelia Island is close to the border with Georgia and despite superb beaches and an historic old town remains off most visitors' radar. But not ours…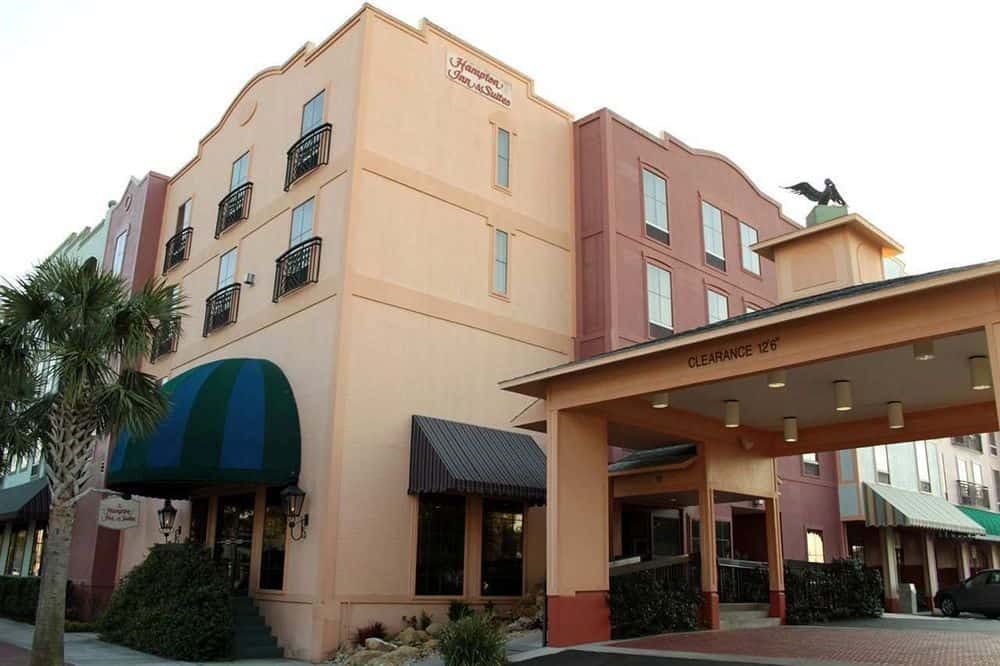 Image (c) Hampton Inn & Suites
Hampton Inn & Suites Amelia Island, 19 S. Second St., Fernandina Beach, Florida 32034. Tel: (904) 491 4911
When?
Early July 2013.
Vital stats:
Opened 2000, renovated 2009. 122 rooms over 4 floors.
Location, location, location?
Image (c) Hampton Inn & Suites
The Hampton Inn & Suites is located on the harbour front and in the centre of Fernandina Beach, the only town on Amelia Island. With a wide variety of restaurants and shops within walking distance and the Atlantic beaches just a few minutes drive away, the hotel is ideal for first-time visitors to the island.
One thing to note is that the train runs behind the hotel (between the building and the water) and does come through at night now and again. Ask for a room at the front if you think this might be a problem.
What about parking?
There is free onsite parking for hotel guests – if you can get a spot. The car park is fairly small given the number of rooms and the fact that just about every one of their occupants will be driving. But fear not – you can leave your car on the street for free a few blocks away out of the centre of town.
Why choose this place?
As was the case with all of our hotel bookings on this trip, the priorities were: location, pool, value. The Hampton Inn & Suites has a superb location, a swimming pool and is also very good value – especially for families. In other words, it was an easy choice. Given that we were arriving on the Fourth of July, we wanted to be close to town to see how the Americans celebrate Independence Day – a new experience for all of us.
Room
Image (c) Hampton Inn & Suites
The Hampton Inn & Suites has a number of different rooms – and suites. There are standard doubles with king-sized beds, twin rooms with two queen-sized beds and deluxe rooms with whirlpool baths.
If you need more space there are suites with separate living rooms and kitchens available in various configurations with or without whirlpool baths or you can go the whole hog and book the presidential suite.
For our stay we booked two King Deluxes with in-room whirlpool baths.
Image (c) Hampton Inn & Suites
I particularly liked the design of the rooms here. As an early riser – I love to get out and take photos before breakfast – I appreciate the ability to do so without waking up my wife. With the bathroom right by the entrance door and the in-room bath creating even more distance to the bed, our room was perfect in this regard.
By leaving my clothes ready and my camera bag packed I was able to slip out and enjoy the town as the sun came up.
Other room amenities: 25″ television, refrigerator, microwave oven, coffee-maker, iron and ironing board, free newspaper, telephone with voicemail, free Wi-Fi
Carpets?
Yup. But clean and in good condition, so no complaints there.
Bathroom
The bathrooms were compact but well-designed, contained a large shower unit with excellent water pressure and all the usual amenities.
Free internet I hope?
Yes, the hotel has free and fast Wi-Fi throughout the property.
Bar and restaurant?
The hotel does not have a bar or restaurant, but there are dozens within walking distance. The old town has a number of well-regarded places to eat – including our favourite, Joe's 2nd Street Bistro which is across the street.
Pool, sauna?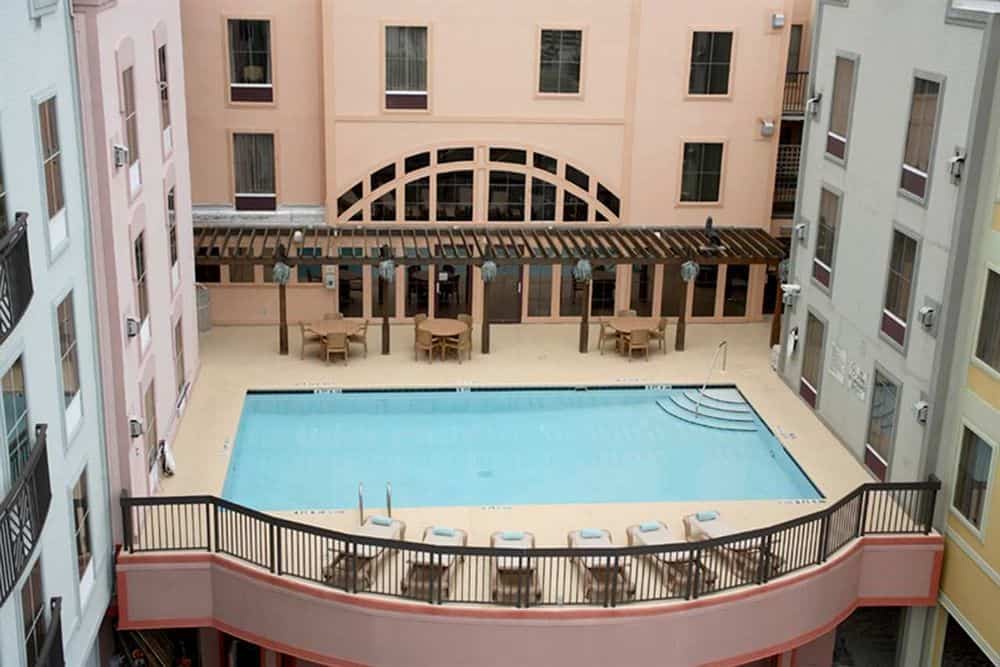 Image (c) Hampton Inn & Suites
Yes and no. There is an outdoor pool, which is a great way to cool down.
It's not huge, but it was highly rated by the expert in our group (Rebecca). No sauna, but there is a fitness room – which we actually used for once. It was highly rated by the expert in our group (Mari Anne). Extra points for having plenty of towels available at both facilities as well as water dispensers. A pool bar would have been good, but you can bring your own refreshments.
The breakfast was included, right?
Yes, brekkie was part of the deal. A buffet service consisting of a limited but adequate range of hot and cold food and great coffee. Rather limited seating which resulted in some guests taking their breakfast to the pool or back to their rooms.
Image (c) Hampton Inn & Suites
Service
Excellent service from arrival to departure. Staff were cheerful and friendly at all times, whether at reception or passing by in the corridors.
Any points/miles to earn?
Yes, Hampton Inn & Suites is part of the Hilton chain so you earn HHonors (sic) points for your stay. Naturally you can join here at reception or online and naturally you should.
Can they look after your bags after you check out?
Yes, they can take care of your luggage if necessary.
The Damage
We paid USD 169 for each room but since we stayed over the 4th of July holiday weekend this was a little higher than usual. The 2014 rates for advance purchase start at under USD 150 – an excellent deal. This being Florida, you'll be charged an additional 10% in state and county taxes.
The verdict please your honour...
The Good
Big, well-designed rooms. Very comfortable beds. In-room whirlpool bath. Great pool, excellent service, unbeatable location for the old town. Free parking. Free WiFi.
The Bad
The only thing I missed was a pool bar.
The Ugly
Nothing at all.
Closing comments:
For Amelia Island – and more specifically for the lovely town of Fernandina Beach – look no further. This was our first stay at a Hampton Inn & Suites and we were thoroughly impressed – this hotel is highly recommended and one of the best on our Florida road trip. We will be back!
Please note: The author travelled as a regular tourist – no mention was made of the fact that a review would be written, the establishment was not informed of the author's intentions and no special discounts were enjoyed.