Image (c) Hilton Miami Downtown
This article is part six of the series "Trip diary: Three weeks on the road in Florida"
Teaser: New series starts this week
Introduction: A three week road trip around Florida
Hotel review: Park Inn Oslo Airport
Flight report: Lufthansa New Business Class Frankfurt to Miami
First impressions – a Limey driving in the USA
Hotel review: Hilton Miami Downtown
First impressions – an Anglo-Nordic family in Miami
Hotel review: Sheraton Vistana Resort Villas, Orlando
Three theme parks in three days – Day 1: Walt Disney World
Three theme parks in three days – Day 2: Wet 'n Wild
Three theme parks in three days – Day 3: Universal Orlando Resort
Hotel review: St. George Inn, St Augustine
Historical Florida – St Augustine
Hotel review: Hampton Inn & Suites Amelia Island
Amelia Island – the destination for relaxation in northeast Florida
Hotel review: Cedar Key Bed & Breakfast
Old Florida – Cedar Key
Hotel review: The Birchwood, St. Petersburg
Our favourite city in Florida – St. Petersburg
Hotel review: Island Inn, Sanibel
Cruising to Cabbage Key
Great road trips of the world – Highway 1 Hotel review: Orchid Key Inn, Key West The other Florida – Key West Hotel review: South Beach Z Ocean Hotel, Miami Beach  
If you've been keeping up with the story so far you'll know that we picked up a beast of a hire car upon arrival at Miami airport. After loading up the Benz with our luggage it was time to negotiate our way out of the Rental Car Center and head for the city itself. With the hotel details programmed into the SatNav we were soon on the freeway and headed the Hilton Miami Downtown where we would spend the first night of our trip.
There are a lot of hotels to choose from in Miami; most people choose to stay in the South Beach area where prices are high but the sand and the strip (Ocean Drive) are closer. Downtown Miami is in a state of transition and after years of neglect and a reputation for crime is now slowly becoming an attractive – and safe – neighbourhood. The number of people moving into the area is rising – in fact it's the fastest growing part of Miami at present. Instead of being desolate in the evenings after the office workers leave Downtown is beginning to buzz once more.
We decided to get the best of both worlds on this trip; we would stay in South Beach on our return to Miami before we flew back to Europe and have a couple of nights in Downtown to kick off our Florida experience.
The Hilton seemed good value for money for the two rooms we would need and was an easy drive from the airport (5 miles or about 15 minutes away in normal traffic.)
Hilton Miami Downtown, 1601 Biscayne Blvd,
Miami, Florida 33132. Tel: (305) 374 0000
When?
Late June 2013.
Vital stats:
Four stars. Opened 1977, last complete renovation 2008. 527 rooms over 21 floors.
Location, location, location?
The Hilton Miami Downtown is located in, well, downtown Miami. As mentioned in the introduction this is a different part of the city to South Beach although you can reach the latter in about 15 minutes by taxi.
What about parking?
This being the USA, you'll probably reach the place by car so parking is a necessity rather than an expensive luxury as in Europe. Having said that, it's not particularly cheap here either. You can either park yourself for $25 a day or choose the valet option for a few bucks extra.
There is a huge multi-storey car park right next door and the Hilton has its own section which makes for a secure, covered place to leave your vehicle. If you choose this option you'll use a different entrance but it's easy enough to find your way to the hotel and take the lift to reception.
Why choose this place?
We needed to book two rooms so cost was a big consideration; I wanted to see what the downtown area had to offer and we 'needed' a swimming pool too (our 11-year old daughter has her minimum standards you see).
From the website the upper floors seemed to have great views of the Miami skyline too and with the location and parking on top the Hilton represented a good deal. It's easy to see that this is first and foremost a business/conference hotel but that's true of most Hiltons in city locations.
Room
Image (c) Hilton Miami Downtown
We had two double rooms on the same floor but some distance apart. Both were very similar although one had better views and larger windows. Another aspect in which they were near identical was the general condition – somewhat tired and in need of a refurbishment.
I think the fact that I am so used to Scandinavian hotels made the flaws in American properties even more apparent – or if I'm being generous I could say 'differences'. Whereas the average Nordic hotel room is usually light, modern and minimalist I have since found their counterparts in the States to be far more like those in the UK. Dark woods, carpets and heavy furniture seem to be the norm. I'm not saying one is necessarily better than the other, but for my taste the rooms were a little drab.
The somewhat worn state of the hotel in general was not an aesthetic issue either – there is a renovation programme underway and it is worth trying to get one of the newer rooms.
Rooms feature LCD flat-screen TVs, kettle, desk, iron, telephone, wireless internet (at a high extra cost). No mini-bar or fridge. Laptop-sized safe.
Image (c) Hilton Miami Downtown
I'm not going to fault the beds – they were extremely comfortable.
Carpets?
Yes. I soon discovered that here too America and Britain share a love of carpets. They were showing their age in both rooms and I didn't want to think too hard about what exactly they had absorbed over their lifetimes. If you absolutely cannot bear to go parquet, Hilton, at least replace those carpets. It's time.
Bathroom
The bathrooms are a decent size with a bathtub/shower combination and all the usual amenities. Hilton's toiletries were fine but nothing fancy.
Free internet I hope?
No, and this is a real negative. It's just not acceptable to be charged $9.95 a day for poor quality internet. No excuses, not in this day and age. If you have Gold status or higher with Hilton it's free, but that's way too much to ask…
They do at least have free WiFi in the public areas.
Bar and restaurant?
We ate in the bar the first evening and the food was good value and in typically American style the portions were large. It was certainly a world away from the prices we paid the night before at Oslo Airport.
As for restaurants, we didn't get a chance the Brisa Bistro so I can't comment on its standard of catering.
Pool, sauna?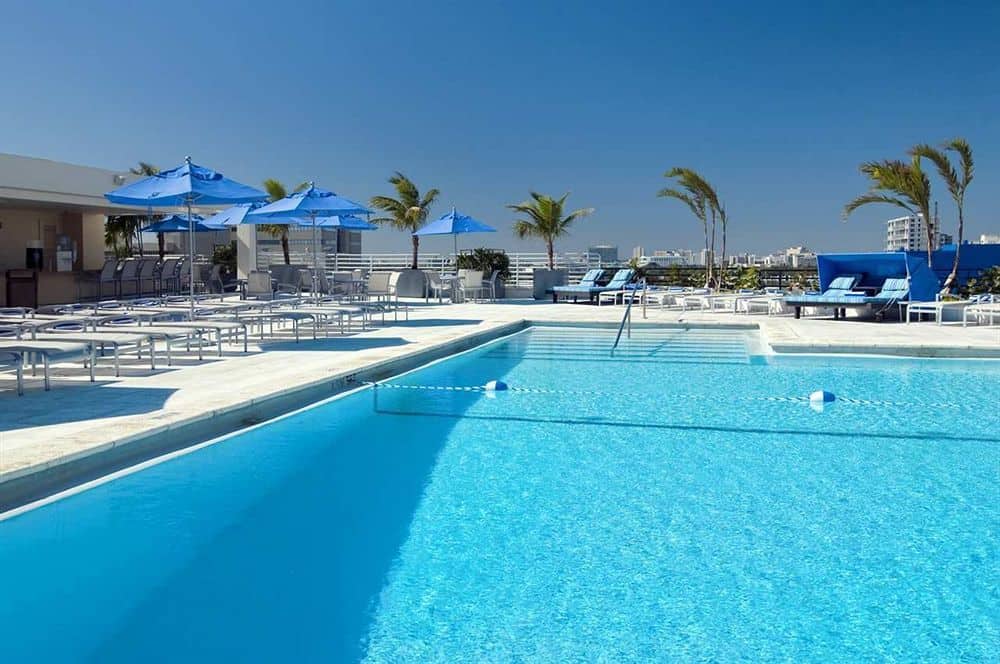 Image (c) Hilton Miami Downtown
Yes, there is a smallish outdoor pool and sun terrace on the 7th floor (which is also where the lobby, bar and restaurant/breakfast room are located). I know that sounds weird but just run with it – it all makes sense when you are there.
The pool was a nice feature; like everything else here it was showing its age but perfect to escape the Miami heat and Florida humidity for a while.
The breakfast was included, right?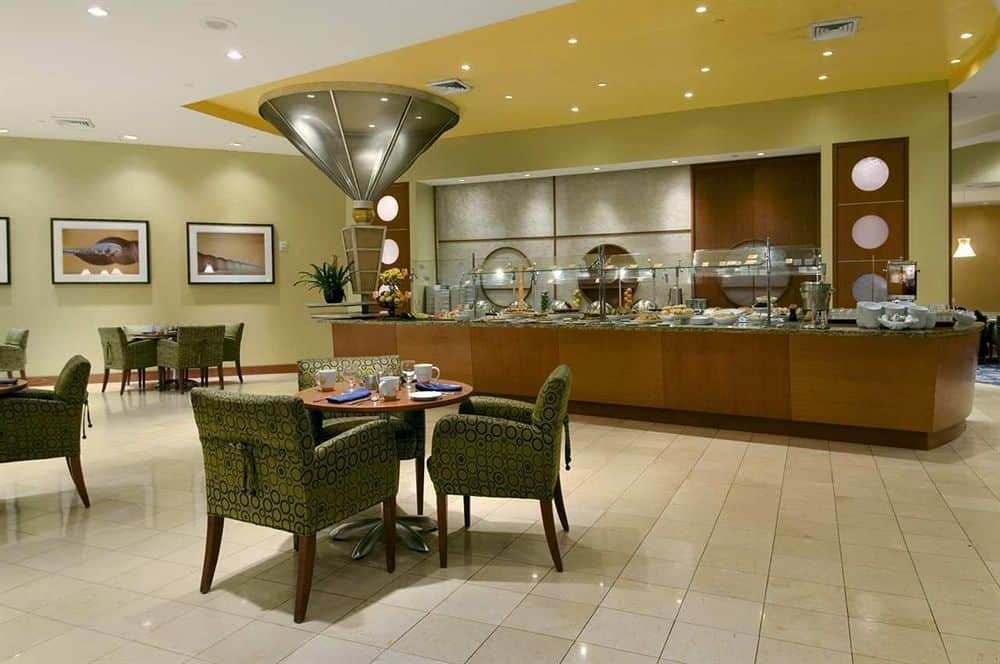 Image (c) Hilton Miami Downtown
Not in our rate, so we paid extra for it. I believe it was around USD 15 per person for the usual buffet type but with American twists – pancakes and syrup, bagels, you name it. I will confirm the rates and update if necessary.
Service
Service was very good both while checking in and out smooth as well as in the bar and at breakfast. The staff were friendly and helpful.
Any points/miles to earn?
Yes, this was one of the first times I'd made use of my Hilton card and because I booked both rooms in my name – and there was a promotion running – I earned a good number of points from this stay.
The Hilton programme is decent, especially if you travel a lot in America but they don't have so many properties in Europe. But – as always – make sure you join it anyway.
Can they look after your bags after you check out?
Yes, they can take care of your luggage if necessary.
Green or mean?
The Hilton Downtown Miami is committed to Florida's Green Lodging initiative and complies with its standards. It's an old building but they are doing a good job in environmental terms.
The Damage
We paid around USD 155 per room per night excluding breakfast and the rather hefty Florida taxes of around 13% on hotel rooms which bumped it up to a little over USD 171. There are cheaper rooms than the ones we had though, and packages with breakfast are also available.
The verdict please your honour...
The Good
The location. Comfortable beds and friendly service. Great views from upper floors, nice pool, good value food and drink in bar.
The Bad
The place needs some loving care and modernization.
The Ugly
Charging for internet access.
Closing comments:
To see a different side of Miami and yet be close enough to South Beach when the mood takes you, the Hilton Miami Downtown is a good choice. It remains a fairly quiet area but there are some good dining options nearby and things are starting to happen in what was formerly the business only district of the city. It's an easy drive from the airport with plenty of safe parking, too. All in all a good value hotel in an expensive city.
Please note: The author travelled as a regular tourist – no mention was made of the fact that a review would be written, the establishment was not informed of the author's intentions and no special discounts were enjoyed.