In November I was back in London for the annual WTM travel trade shindig which I have been attending longer than I can remember. Okay, my memory is not that great but it's been quite a few years, anyway.
I always try to book a hotel as close to the venue as possible – which means out of the city centre as it takes place at the ExCel close to London City Airport. The advantages of staying out there are that I don't have to struggle with rush-hour traffic or full tube trains to get to the show and that I end up having early nights as there is next to nothing to do in the area.
But I always stay in London for the weekend after WTM and then of course I like to be as central as possible.
On this occasion I was invited to try out a virtually brand new hotel in Westminster. The timing meant that I would actually be there on the evening of my birthday, too, and since I had plans to catch up with friends in the evening the central location also meant that it would be quick and easy to meet them.
hub is a new brand within the Premier Inn chain, and the concept is compact, high-tech hotels in central locations with everything you need at a low price. Ideally suited for solo travellers and businesspeople, the larger rooms can accommodate couples too but 'large' in this sense may still be smaller than you may be used to.
It is an intriguing concept and one that I was keen to test for myself. For the record, hub hosted my stay for the night in return for my honest opinion, which is what you are going to get right now.
hub by Premier Inn Westminster, 15 Dacre Street, Westminster, London, SW1H 0DJ
When?
Mid-November 2016.
Vital stats:
Opened 2016, 137 rooms over 8 floors.
Location, location, location?
As you will see later in the video, the hub Westminster is about three minutes walk from St James's Park tube station in Dacre Street, across the road from New Scotland Yard. Westminster Abbey, the Houses of Parliament, Buckingham Palace and Trafalgar Square are all within walking distance, too.
Victoria station is also not far and buses pass close by the hotel. All in all, the location is fantastic. It is also quiet after the offices empty for the day and there are some great pubs nearby, which is always a bonus.
What about parking?
I've said it before but I'll say it again – you do not want to be driving in London. With the congestion charge, the near impossibility of finding a parking space and the general stress of driving in a city built for horse and carts will drive you nuts and bring nothing to your trip.
But if you cannot avoid it, you will just have to bite the bullet and I can only hope that you can claim the costs back on expenses. There are a few underground facilities nearby but I would advise contacting the hotel to see if they have any tips.
But just don't drive, please.
Why choose this place?
The hotel lives up to its promise and delivers both a superb location and a low room rate. In London, that is an extremely rare combination and will be the reason most people book here.
I will certainly be back if travelling on my own, and at a pinch would also stay if my better half was accompanying me.
Room
I was very impressed by the design of the room I was allocated. There are two types of room at the hotel, Standard and Bigger. I had a Bigger room, which as you can see is still extremely compact.
Yet the rooms make the most out of every square centimetre and a lot of thought has clearly gone into the design process.
I was happy to find that one area they have not scrimped on was the bed – with the same fabulous models as used at regular Premier Inns, you are assured of a great night's sleep. They are big, too and I would always rather have a bigger bed at the expense of some floor space.
The headboard contains a bunch of touch-sensitive controls on each side to allow adjustment of lightning, the temperature in the room etc.
The use of technology does not stop there, either. Guests can use an app on Android, iPhone or Apple Watch to book, check-in, control lighting and room temperature or even control the room's Smart TV.
The television was a generous size (40 inches) and allowed connection to a media device via Bluetooth, so that guests can play their own content using the screen. This is a neat idea and something I expect to see much more often in the future.
Water is provided, as is the all-important bottle opener.
The range of sockets was extensive too – if you prefer cables to wireless (or have a device that doesn't support the latter) you can play video using a USB or HDMI cable too, or even films you have on a USB stick.
Again, all good options to have and when you consider that the hotel also offers a selection of decent movies for free as well as an extensive choice of cable TV and radio channels, you understand that you aren't going to be bored if you stay in your room.
Providing both UK and European power sockets is yet another thoughtful extra – meaning that you can get by without a travel adaptor if you forget yours.
There were a good number of power sockets in the room, but I still always recommend packing a plug board with 4 outlets in one so that you don't have to have devices charging in all four corners of the room as well as the bathroom.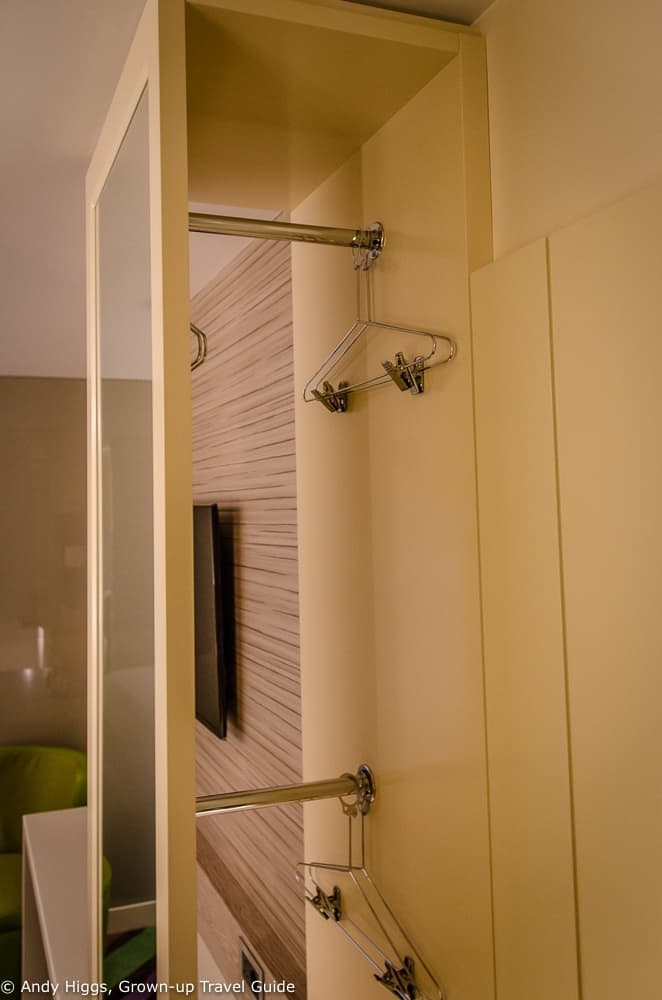 Storage space is minimal, which is why I think couples might find it a little cramped. But for solo travellers or those who pack light, the architects have made use of some clever solutions to allow you to unpack you case.
There is space to hang shirts and jackets behind the mirror and further capacity under the bed
A hairdryer is also provided for those of you who need such equipment.
Carpets?
Yes, in the words of the Clash, "This is England" so you are 99% guaranteed to get carpets in your hotel. Since the place had only been open a month or so, the carpets were spotless and soft, so no problems there.
Bathroom
The bathroom was small but again, well-designed. It was also bright and modern with a striking colour scheme.
The shower cubicle was a good size and didn't leak water onto the floor when in use.
Yay!
Water pressure in the shower was very good and toiletries were provided.
Free internet I hope?
Yes – wifi internet access is free, fast and the signal was very strong throughout the property. I also had no problem connecting multiple devices at the same time.
Bar and restaurant?
There is no restaurant as such but the hub Westminster does boast a lounge next to the lobby.
This is a great idea – with free coffee, tea and pastries all day and complimentary "light bites" after 5 p.m., as well as other drinks available for purchase, it's a fine place to meet before hitting the town.
In keeping with the high-tech styling there are tablets providing internet access and local information for guests.
That is basically the minimalist front desk right there, but the staff are highly knowledgable about local attractions so a separate concierge counter is unnecessary.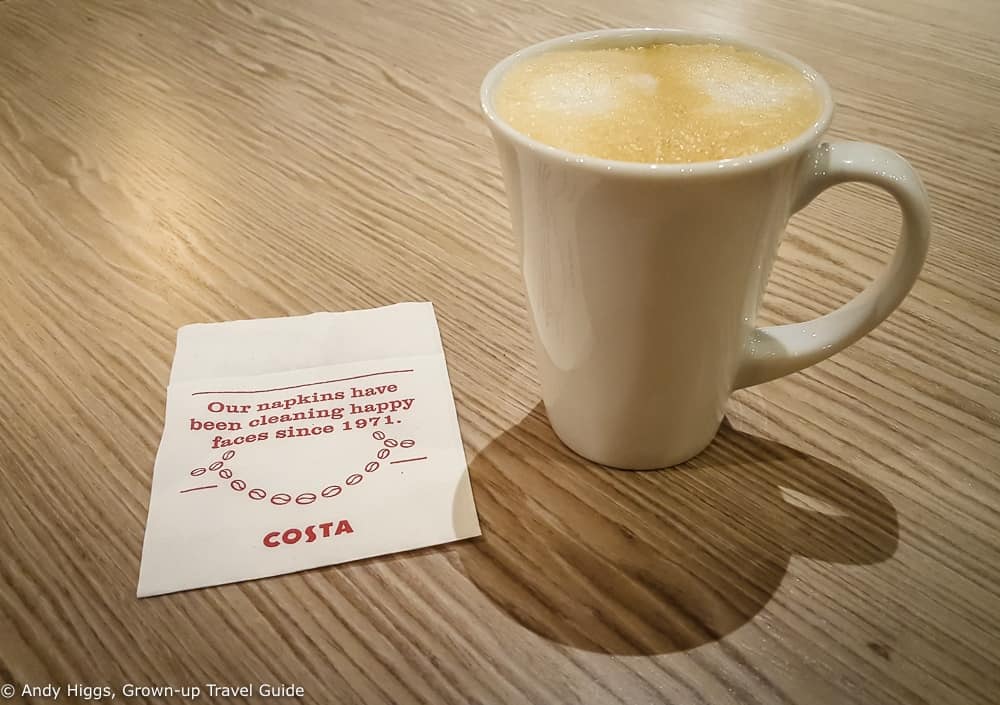 The Costa coffee machine ensures that you get a proper pick-me-up.
There's plenty of space to relax and meet friends.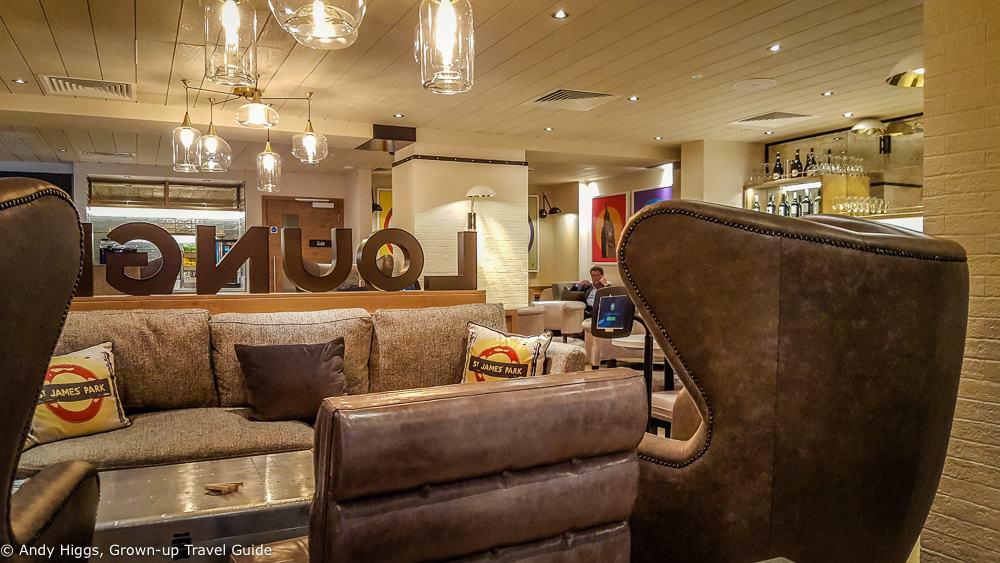 I liked the "local" design elements too.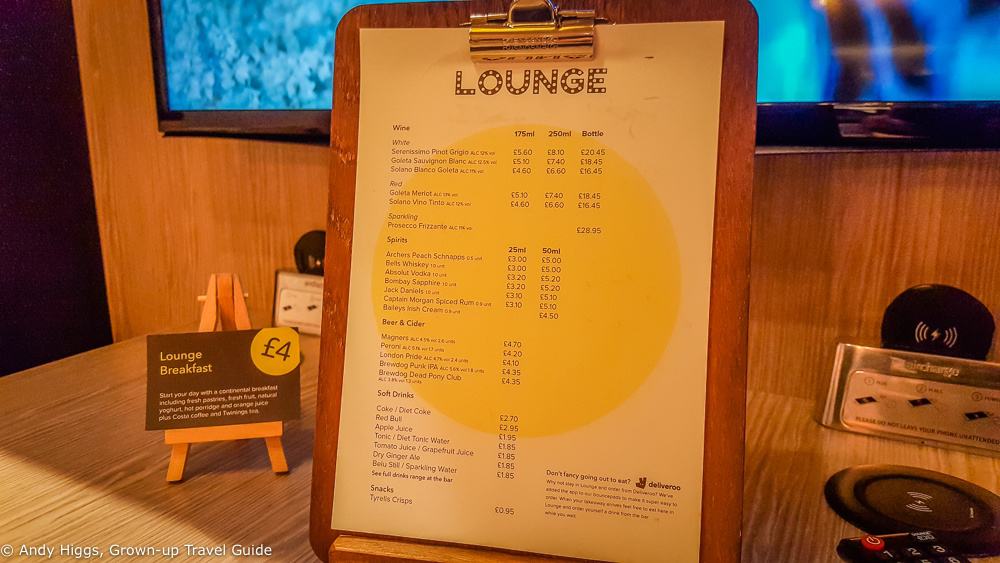 Prices were not unreasonable either.
No hotel bar in London is complete without a few quotes, now is it?
Pool, sauna?
No, you will have to venture out for a swim.
The breakfast was included, right?
Breakfast is not included in the rate, but can be purchased for a very reasonable GBP 4.
There was a good range of bread, cheeses, cold cuts, jam, cereals and porridge as well as juice, coffee and tea.
Service
Service was efficient and friendly at all times, so nothing but a positive experience.
Any points/miles to earn?
No – neither Premier Inn or hub have a loyalty scheme.
Can they look after your bags after you check out?
Yes, they are happy to do so.
The Damage
You will be pleasantly surprised to learn that rooms cost as little as GBP 52 a night here. Note that these rates are for the smallest rooms, some of which do not have windows. If you want a little more space and comfort, I would suggest that a Bigger room is worth the extra.
The verdict please your honour...
The Good
The location, for this price, is quite amazing. The bed was fantastic and the room had all the facilities I needed. I enjoyed the lounge and the breakfast was good value.
The Bad
The rooms are small, even the Bigger ones, so may not suit everyone. But hotel rooms in London always are, and at least here you get modern amenities and a hyper-central location as well.
The Ugly
Nothing here.
Closing comments:
The hub by Premier Inn Westminster is my new first choice for a central London hotel when travelling alone. It is incredible value and offers everything a guest needs for a remarkably low price.