This article is part twenty of the series "Trip diary: Three weeks on the road in Florida"
Teaser: New series starts this week
Introduction: A three week road trip around Florida
Hotel review: Park Inn Oslo Airport
Flight report: Lufthansa New Business Class Frankfurt to Miami
First impressions – a Limey driving in the USA
Hotel review: Hilton Miami Downtown
First impressions – an Anglo-Nordic family in Miami
Hotel review: Sheraton Vistana Resort Villas, Orlando
Three theme parks in three days – Day 1: Walt Disney World
Three theme parks in three days – Day 2: Wet 'n Wild
Three theme parks in three days – Day 3: Universal Orlando Resort
Hotel review: St. George Inn, St Augustine
Historical Florida – St Augustine
Hotel review: Hampton Inn & Suites Amelia Island
Amelia Island – the destination for relaxation in northeast Florida
Hotel review: Cedar Key Bed & Breakfast
Old Florida – Cedar Key
Hotel review: The Birchwood, St. Petersburg
Our favourite city in Florida – St. Petersburg
Hotel review: Island Inn, Sanibel
Cruising to Cabbage Key
Great road trips of the world – Highway 1 Hotel review: Orchid Key Inn, Key West The other Florida – Key West Hotel review: South Beach Z Ocean Hotel, Miami Beach  
We weren't really ready to leave St. Petersburg after having been bowled over by the city, but we made plans to return and knew we still had plenty to look forward to on this trip.
And with that we packed up the Merc and headed out onto the highway for Sanibel Island.
It's an easy and very scenic drive; the I-275 follows a narrow causeway known as the Sunshine Skyway Bridge for several miles after leaving the St. Petersburg peninsula, affording great views on both sides.
We bypassed Sarasota, skirted Fort Myers and within three hours or so of leaving The Birchwood were crossing the water again over to Sanibel Island.
Now we had found St. Petersburg to be laid-back, but Sanibel is something else entirely. This is definitely prime vacation territory – and vacation home territory. Sanibel and nearby Captiva attract a lot of affluent, older tourists but there's something for everyone and it's an excellent destination for families looking for a relaxing beach holiday.
Our home for the next two nights was the historic Island Inn, ideally located on a long private beach…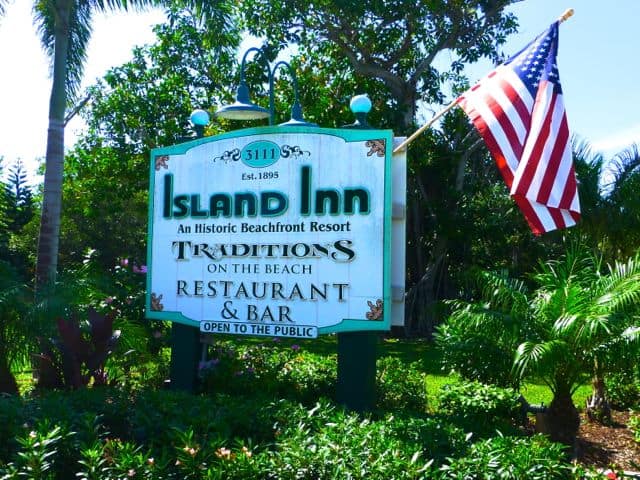 Island Inn, 3111 W. Gulf Drive, Sanibel Island, FL 33957. Tel: (239) 472-1561/1-800-851-5088
When?
Mid-July 2013.
Vital stats:
I said it was historic – the Island Inn is the oldest of its kind on Sanibel and dates back to 1895. The property has been modernized and renovated many times since then, and these days offers old-fashioned style and charm with all the amenities you would expect from a new hotel.
The Inn has 49 rooms and cottages on a 10 acre plot.
Location, location, location?
Located right on its own beach, the Island Inn is situated on the south coast of Sanibel on West Gulf Drive, one of the main roads containing a number of hotels and apartment complexes.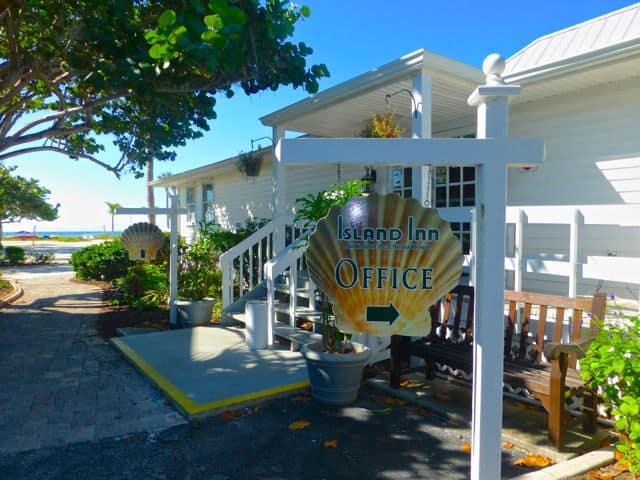 What about parking?
There's plenty of free parking on the property – our rooms were in a block a few minutes walk from reception and we could park right by our building.
Why choose this place?
The Island Inn has a fantastic location with a lovely beach covered in shells – for which Sanibel Island is famous.
World-class shelling is actually the number one reason shellers visit the historic Island Inn. Each shell is different and the most prized are the Junonia, Alphabet Cone and Lion's Paw.
This has given rise to a condition described by the locals as the "Sanibel Stoop" – from all that bending to pick up treasure.
Perhaps most of all, though, it's a perfect place to relax, surrounded by unspoiled natural beauty. The Island Inn has old-school appeal with modern facilities and excellent, friendly service.
Room
We had two similar rooms – each of which was a Kimball Lodge Gulfview Deluxe with two large double beds and plenty of space. Both also had a large and very appealing screened balcony overlooking the beach.
As well as being spacious and attractively decorated, the rooms are well equipped. Ours had a refrigerator, microwave and coffee making facilities and some have full kitchens. In addition we had a flat screen TV, DVD/CD player and iPhone/iPod docking station.
There was a good deal of storage space and an electronic safe in the wardrobe.
Carpets?
No – nice cool tiled floor, which was a bonus.
Bathroom
The bathrooms were also a good size and featured full bathtubs with showers too.
Water pressure in the shower was very good, too.
Free internet I hope?
Yes, there is free and fast wireless internet access on the property and it worked very well.
Bar and restaurant?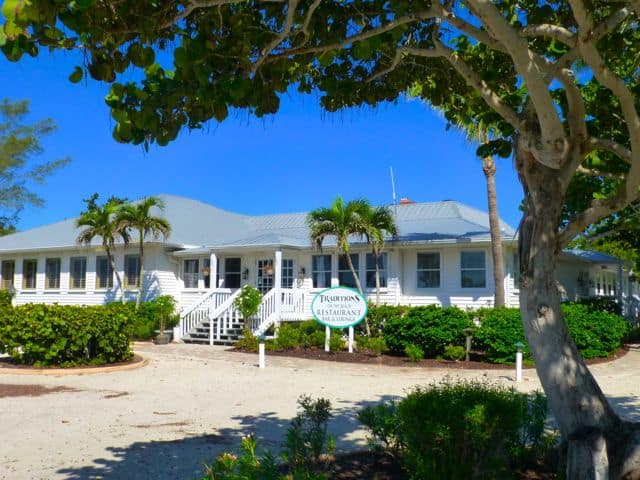 Traditions on the Beach is the Island Inn restaurant, bar and lounge which overlooks the Gulf of Mexico. We ate dinner here twice and both times found the food to be excellent.
The style is casual fine dining and many non-residents popped in for the evening. One night also featured a band with dancing which even I lightly participated in, much to everyone else's surprise.
Pool, sauna?
The Island Inn has a heated fresh-water swimming pool with a lovely beach view. The pool is open from dawn to dusk, weather permitting.
The breakfast was included, right?
Yes, a basic continental breakfast is served in the restaurant for guests.
Service
Service was excellent – all staff were friendly and helpful.
Any points/miles to earn?
No, it's an independent hotel.
Can they look after your bags after you check out?
They can indeed.
The Damage
Rates for the rooms we had start at USD 199 during the summer.
The verdict please your honour...
The Good
We really enjoyed the old-fashioned, old Florida Inn style. The location is fabulous, as is the beach, restaurant and room.
The Bad
The only slight downside is that without a car or at least a bicycle you are a little cut off as there is nothing to buy or eat at lunchtime; so buy some supplies if you plan to stay here during the day.
The Ugly
Nothing to mention here.
Closing comments:
The Island Inn is an excellent choice on Sanibel Island and we loved it – and I definitely recommend you stay here when you visit..
Please note: The author travelled as a regular tourist – no mention was made of the fact that a review would be written, the establishment was not informed of the author's intentions and no special discounts were enjoyed.