Image (c) JA Oasis Beach Tower
You might remember my post about preparing to go from one extreme to the other after my Finland trip.
You probably wondered if this was seriously the biggest issue in my life back then, and perhaps urged me to stop whining about first world problems. In any case you'll be pleased to know I survived the transition 🙂
As you may also recall this trip to Dubai was sponsored by Emirates who invited a small group of Norwegian-based travel bloggers to experience the Emirati city. They worked together with Dubai Tourism to find a place for us to stay and chose the JA Oasis Beach Tower – an apartment hotel in the Dubai Marina area.
It was a good choice, too – and despite the fact that I was a non-paying guest nobody is telling me what to write. Happily the JA Oasis Beach Tower is exactly the sort of place I will be recommending to friends and readers alike – so let me tell you why…
To say that the company behind this apartment hotel has pedigree in Dubai is something of an understatement. Dutco, the parent company of JA Resorts & Hotels, was one of the pioneers in bringing tourism to the emirate.
The landmark Jebel Ali Hotel opened in 1981, long before Dubai looked anything like it does now – or is as well known. Today the Jebel Ali and another JA property, the Hatta Fort Hotel, are still going strong and have somewhat of a legendary reputation in the hospitality industry in Dubai
A more recent addition to the company portfolio, the JA Oasis Beach Tower aims to provide the space, facilities and convenience of an apartment with the luxurious amenities and service level of a top hotel.
JA Oasis Beach Tower,
Al Sofouh Road, 

Dubai Marina

, 

Dubai 26500

, 

United Arab Emirates

 (+971) 4 315 4601
Email: reservations@jaresorts.com
Image (c) JA Oasis Beach Tower
When?
Early February 2015
Vital stats:
Four stars. Opened 2006. 180 apartments rooms over 45 floors.
Location, location, location?
Located on the JBR Walk in Dubai Marina, the hotel is in a perfect and lively location. Although it could be said that 'Oasis Beach View Tower' would be more precise, the beach isn't more than 50 metres away across the road so that would be nitpicking.
There are two metro stations within walking distance and given the amount of traffic along the 'strip' here – especially in the evenings when everyone is here to see and be seen – public transport might be your best bet to get somewhere else fast.
As in most places in Dubai there is a lot of construction work going on here, and when we visited a couple of towers were going up – rapidly – over the road. Since construction seems to take place 24/7 this means that (a) you will hear it from your balcony but also (b) that it will be finished fast.
I think it may take another few years before your view anywhere in Dubai Marina is not punctuated by a crane or five – that's just par for the course right now.
What about parking?
If you are driving in Dubai you can park your car here and take advantage of the hotel's valet service for an additional charge.
Why choose this place?
First of all this is an ideal choice for large families or friends travelling together – you get a huge amount of space for your money if you split the cost of an apartment. With the best soundproofing I've ever experienced and each room having its own ensuite bathroom you can live separately while staying together.
Dubai Marina is also a perfect place to stay if you want to enjoy both the beach and city life. JBR Walk is filled with hotels, restaurants, cafes and shops all within a stone's throw of the property.
The public beach is just across the road and the you can also take advantage of a free shuttle bus to the company's sister property, Jebel Ali which has its own 800m private stretch of sand.
With easy access to other parts of town via the superb metro system nothing is too far away. But given how disproportionately cheap taxis are in Dubai you'll probably use these. As mentioned before, just allow enough time as traffic can be fierce.
The apartment
The JA Oasis Beach Tower offers 2, 3 and 4 bedroom apartments in three styles: Deluxe, Superior and Premium.
In addition to the bedrooms, all the apartments boast a living area with dining table, sofas, TV and DVD player, music system and balcony.
Image (c) JA Oasis Beach Tower
Then there's a fully-equipped kitchen if you feel like making your own dinner (or perhaps hiring in a chef to do so…)
Here you'll find an oven, fridge/freezer, microwave, toaster, kettle and a full set of cookware, crockery, glassware and cutlery. There's also a washing machine and dryer, an iron and ironing board.
On top of that is a 'maid's quarters or storage space' with its own bathroom but no window. And another storage room for all that shopping you're going to do.
You get the picture – there's a lot of space.
2-bedroom apartments are 190m2, 3-bedroom 240m2 and 4-bedroom a whacking great 340m2.
Deluxe apartments are located on floors 4-14, Superior on 15-32 and Premium are at the top, from floors 33-41.
As well as the difference in height above sea level, the quality of the furnishings increases the higher the lift has to ride to take you to your abode.
If you stay in a Premium apartment you also gain access to the 33rd floor lounge with complimentary afternoon canapés and non-alcoholic beverages and your own check-in area.
Other bonuses include complimentary buffet breakfast, fresh flowers and fruits in the apartment on arrival, a Bose Lifestyle Home Entertainment System, Lavazza Espresso machine, a daily supply of mineral water, Lavazza espresso, coffee and tea infusions and a food and beverage welcome hamper on arrival.
Not to be sniffed at.
All apartments – and balconies – are non-smoking.
For our four nights in Dubai we were allocated a Superior 3-bedroom apartment, number 1803.
Here's a video walkthrough for you:
See what I mean about the size?
Each of the three bedrooms has an ensuite bathroom and is like a huge, self-contained hotel room.
Let's look at my room first:
You can choose twin or double beds with a choice of pillows.
This was one of the best beds I've slept in and as I briefly touched upon in the introduction, either the soundproofing is incredible, the walls are seriously thick – or possibly both.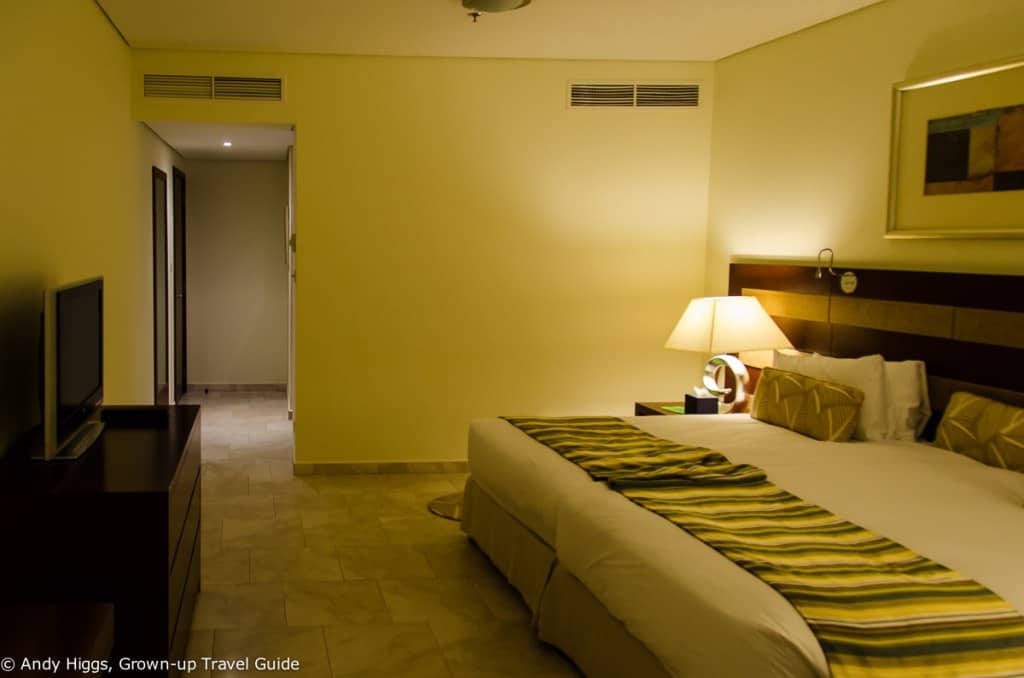 Suffice it to say you won't be disturbed by noise outside your room. Other features are a desk and chair, chaise longue, LCD TV, telephone and wired internet outlet.
Just a few very minor niggles here: the desk was a little too narrow for working and the power points and internet outlet on the wall were a touch far away if you sat in the middle.
Since the WiFi signal was non-existent in the room despite each apartment having a router in the living room (due to those thick walls? 🙂 ) wired internet access was the only option and it thus involved stretching cables to their limit.
As well as a large bedroom and a vast bed, I had a walk-in wardrobe the size of a squash court and a bathroom big enough to swing a whole bunch of cats. Alright I'm exaggerating about the wardrobe and am not about to test the cat thing, so it's probably better you watch the video clip.
It would take serious effort to fill the wardrobe space but people probably do.
Carpets?
No – lovely cool tiling throughout, with a couple of rugs in the main room. Perfect for a warm climate.
Bathroom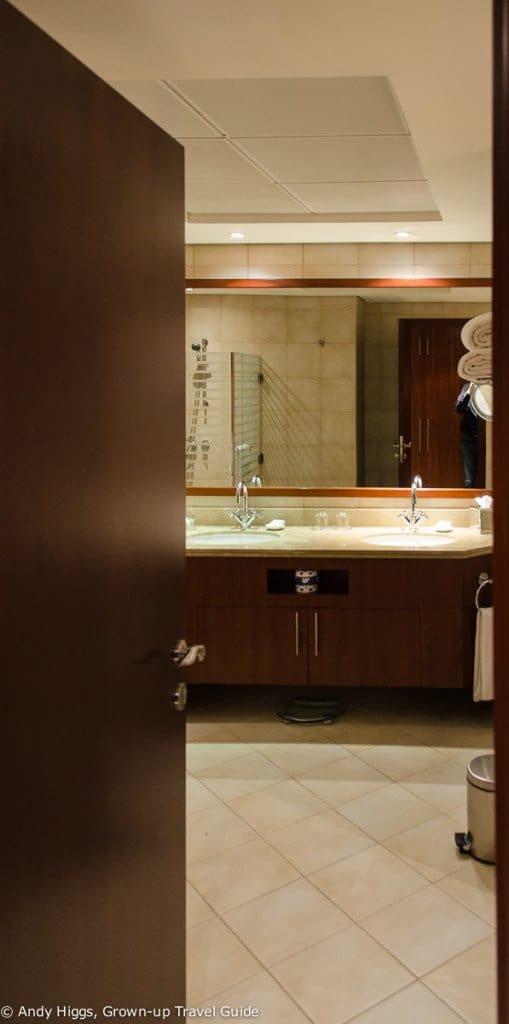 The bathroom was – wait for it – enormous, with both a walk-in shower that did't leak (yay!) and a bathtub as well as two washbasins, a toilet and bidet.
The toiletries provided were high quality and there were plenty of lovely fluffy towels.
And a rubber duck for the bath. Sometimes, it's the little things…
Water pressure in the shower was strong and there was plenty of hot water.
Bathrobes, slippers and a hair dryer are all provided.
Free internet I hope?
Yes – each apartment has a router in the living area but reception does not extend far beyond there – yet the wired internet in each bedroom was reasonably fast and code-free to use.
I've learned to carry an Ethernet cable just in case and it's come in handy a few times around the world – I recommend packing one as it takes up no space and can often be the only way to get online from a hotel room. Obviously this only helps if you have a laptop or device with an Ethernet socket, so smartphone users will be frustrated.
Elsewhere in the building the signal ranged from good (in reception, lift areas etc) to poor (in the restaurant).
Access is free, which is a good move.
Bar and restaurant?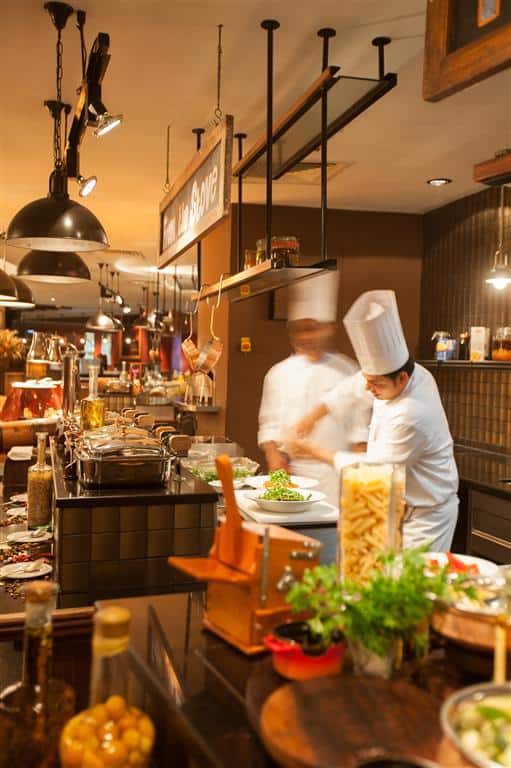 Image (c) JA Oasis Beach Tower
The only restaurant I tried was Thyme and that was only for the buffet breakfast. This was very good with a wide range of options and omelettes cooked on the spot, to name one highlight.
Thyme is a Mediterranean-themed restaurant which also serves lunch and dinner. There are also four other eateries at the Ocean Beach Tower: Frankie's is an Italian bar and grill owned by the renowned chef Marco Pierre White; Wagamama is a noodle bar that most will have heard of; Mai Tai is a Polynesian cocktail bar with live entertainment and Citrus Express is a snack bar.
Pool, sauna?
Image (c) JA Oasis Beach Tower
I didn't get a chance to swim in the pool but did gaze longingly through the glass-walled lift each time I was rushing to my next appointment.
There are two pools, a jacuzzi and children's water-slide. Professional lifeguards keep watch and sun loungers and towels are provided.
The only downside is that the pool deck is in shade most of the day. You can hardly blame the hotel for that, since it is encircled by skyscrapers. And this is less likely to be a problem in the height of summer when temperatures often exceed 40 degrees Celsius.
If you just can't travel without a work-out you'll be pleased to hear that the property has a fully-equipped cardio gym with treadmills, cross trainers, and all manner of exercise bikes.
It won't surprise you to learn that I didn't try these out but they looked very shiny. There is also a separate weights room.
Other facilities include a sauna and steam room. A spa on the first floor provides Thai massage and a range of different treatments for those in need of pampering.
The breakfast was included, right?
Breakfast is not included in the cheapest rates. Unless you plan to make your own or go out to eat, it makes sense to go for a bed and breakfast rate as this will be a little cheaper than paying each time.
Service
Excellent and friendly service. They even handled my stupidity with grace and patience. I misplaced my passport after our very late arrival and called reception at 4am to see if I had left it there. And then found it on my night table. And then called them again to tell them.
Any points/miles to earn?
Yes, JA Resorts & Hotels operates its own Club Al Safir loyalty programme which is worth joining.
Can they look after your bags after you check out?
Yes, they are happy to do so.
The Damage
Rates start at around AED 1700/EUR 410/NOK 3500 per night for a 2-bedroom apartment, AED 2340/EUR 560/NOK 4800 and AED 3000/EUR 720/NOK 6150.
The verdict please your honour...
The Good
Almost ridiculously spacious, comfortable apartments with all you need and probably more than you will use. Great bed. Very good location. Masses of storage space. Excellent service and superb breakfast. The pool and range of restaurants are impressive features.
The Bad
A few more power points in the bedroom would be good, as would a better WiFi signal so that you are not forced to sit at the desk with a cable in the wall to get online. Plus that won't work for a smartphone or tablet, either…
The Ugly
Nothing to report.
Closing comments:
An excellent apartment hotel perfect for friends travelling together, large families or those wanting most of the facilities of home but with all the services of a luxury hotel. I've already begun recommending friends to check this place out when travelling to Dubai – if you split the cost of a large apartment it's superb value.
With 600 or so hotels to choose from, a solid tip is always handy… 🙂