Image (c) Starwood Hotels & Resorts Worldwide, Inc.
This article is part eight of the series "Trip diary: Three weeks on the road in Florida"
Teaser: New series starts this week
Introduction: A three week road trip around Florida
Hotel review: Park Inn Oslo Airport
Flight report: Lufthansa New Business Class Frankfurt to Miami
First impressions – a Limey driving in the USA
Hotel review: Hilton Miami Downtown
First impressions – an Anglo-Nordic family in Miami
Hotel review: Sheraton Vistana Resort Villas, Orlando
Three theme parks in three days – Day 1: Walt Disney World
Three theme parks in three days – Day 2: Wet 'n Wild
Three theme parks in three days – Day 3: Universal Orlando Resort
Hotel review: St. George Inn, St Augustine
Historical Florida – St Augustine
Hotel review: Hampton Inn & Suites Amelia Island
Amelia Island – the destination for relaxation in northeast Florida
Hotel review: Cedar Key Bed & Breakfast
Old Florida – Cedar Key
Hotel review: The Birchwood, St. Petersburg
Our favourite city in Florida – St. Petersburg
Hotel review: Island Inn, Sanibel
Cruising to Cabbage Key
Great road trips of the world – Highway 1 Hotel review: Orchid Key Inn, Key West The other Florida – Key West Hotel review: South Beach Z Ocean Hotel, Miami Beach  
We left Miami after having enjoying our first time in the city and departed on the first real drive of our road trip, the 225 mile stretch north to Orlando. We chose the scenic route, following the coastal road for a couple of hours at a leisurely pace before heading back to the highway for the final section.
A routine was soon established – programme the GPS, connect a phone using Bluetooth so we could choose the soundtrack to our journey on Spotify and take advantage of the automatic gearbox/cruise control combo which enabled the driver (me) to relax and let Mr Benz do most of the work.
This particular half day on the road gave us our first impressions of driving in the USA as we headed for what we expected to be a rather surreal four days in Orlando…
Sheraton Vistana Resort Villas, 8800 Vistana Centre Drive, Orlando, Florida 32821. Tel: (407) 239 3100
Email: 00SVO-SVRConcierge@starwoodvo.com
When?
Late June 2013.
Vital stats:
Opened 1980, last complete renovation 2011. 1682 rooms over 5 floors.
Location, location, location?
The Sheraton Vistana Resort is located on International Drive in Orlando, just a mile or so from Walt Disney World. The airport is 17 miles away and downtown Orlando is approximately the same distance from the resort.
What about parking?
Chances are you'll be driving here so it's good to know that there are plenty of free parking spaces on site. We stayed during a busy period but were still able to find a slot outside or near our villa every day. You'll get a pass to show the security guards at the gate to drive in and out.
Why choose this place?
For our time in Orlando the first consideration was location. Our plan was to spend as much time as possible at the theme parks and given that we only had three nights we didn't want to be stuck in traffic way over the other side of town. Next on the checklist was value for money – Orlando in peak season is a notoriously expensive destination and requiring two separate rooms pushes prices up further.
A 'villa' seemed the perfect solution – basically an apartment with two bedrooms, one en suite and a separate bathroom as well as a proper kitchen and living room.
To see what we got for our money, here's a video walkthrough of the villa unit we stayed in. As you can see it's a lot more than just a room for the night:
The fact that the resort has 7 swimming pools and a bunch of places to eat, drink and be merry didn't hurt either.
We needed a Plan B in case Anne (our most senior group member) didn't want to join us every day on the roller coasters and the Vistana Resort had enough to keep her occupied if she stayed behind.
Like most major hotels in Orlando the Sheraton offers discounts on tickets to the parks and runs a shuttle bus if you don't want to take your car. Neither of these were hugely important to us but I have also had good experiences with Sheraton in the past so that sealed the deal.
Villa features
Image (c) Starwood Hotels & Resorts Worldwide, Inc.
There are two types of villa available; one-bedroom and two-bedroom units. We chose the latter for our stay and had plenty of space. With one large master bedroom (similar to the one shown above) with en suite bathroom including a whirlpool tub, the second bedroom with twin beds, a separate bathroom, kitchen, living room and large screened porch we didn't have to worry about getting in each others' way.
The Sheraton "Sweet Sleeper" is without a doubt one of the most comfortable hotel beds I've slept in and the quality is consistent no matter where in the world you lay your head (we've since tried them in both Bangkok and Krabi too.)
Image (c) Starwood Hotels & Resorts Worldwide, Inc.
Other features are as follows: LCD flat-screen TVs (three in total – one in the living room and in each of the bedrooms), screened patio/balcony with ceiling fan, three telephones, dining area for six, breakfast bar for two, self-cleaning oven, full set of kitchen utensils and dining service for eight.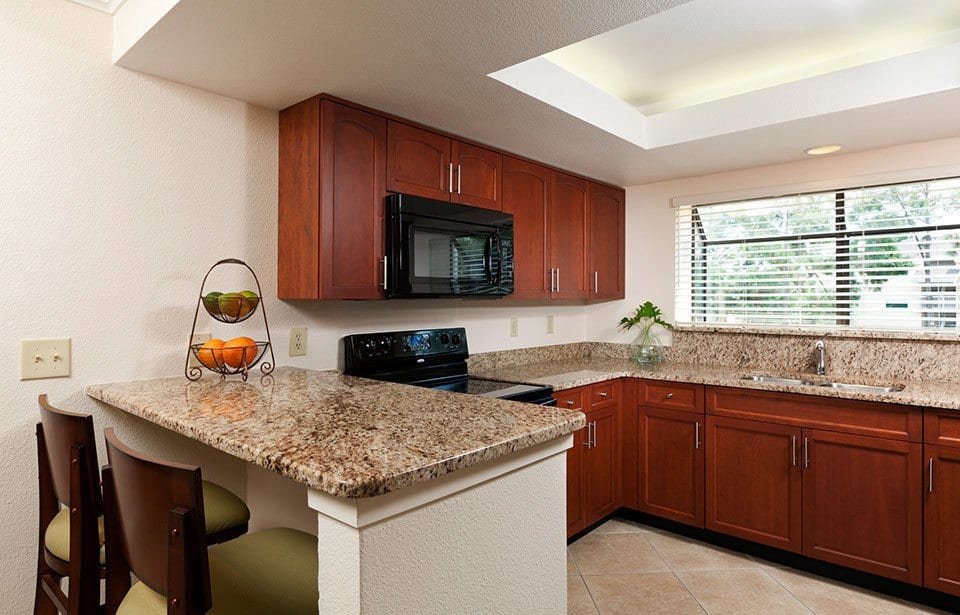 Image (c) Starwood Hotels & Resorts Worldwide, Inc.
Carpets?
Yes. America loves carpets so anything else on the floor is going to be an exceptional case. So rather than bang on about how I prefer wooden floors I'll concern myself with the cleanliness – happily at the Vistana all the carpets were in perfect condition and stain-free.
Since you'll likely be living with the air conditioner or ceiling fan permanently switched on to combat the Florida humidity it's actually good to have carpets under your bare feet rather than cold parquet, too. There, I said it.
Bathrooms
The unit contained two modern and well-appointed bathrooms – the master bathroom featured a walk-in shower and whirlpool bathtub while the other contained a shower only. Both had hairdryers, towels, toiletries and so on.
Free internet I hope?
Yes, there is free and fast Wi-Fi throughout the resort and we had no issues with connectivity. Good call, Sheraton.
Bar and restaurant?
With a resort this big there are of course plenty of places to eat, from poolside bars to full restaurants. We only tried the sports bar and pool cafe, where food was good value but fairly basic. Having a full kitchen means that you can also prepare meals in your villa, and as well as breakfast we also cooked dinner 'at home' one evening.
Image (c) Starwood Hotels & Resorts Worldwide, Inc.
Image (c) Starwood Hotels & Resorts Worldwide, Inc.
There is an excellent general store on site and while prices may be a little higher than the supermarkets outside the complex they are still low by European standards. It's worth noting that you can put everything on your bill and settle at the end of your stay which is convenient.
Pool, sauna?
Image (c) Starwood Hotels & Resorts Worldwide, Inc.
The Vistana excels in its range of leisure facilities and this is where you appreciate the difference between a hotel and a resort. Seven outdoor pools are dotted around the grounds, and you can make use of the sauna, fitness centre and no less than 13 tennis courts.
Image (c) Starwood Hotels & Resorts Worldwide, Inc.
There are daily activities for the whole family and basically enough options to make staying within the resort for the day a viable option, to which my mother-in-law can attest.
The breakfast was included, right?
We didn't have breakfast included in our rate and put it together ourselves with groceries from The Market Place. Breakfast is served in Zimmie's restaurant for those who either have it included or wish to pay for the service.
Service
Service was excellent – check-in and check-out was fast, friendly and efficient and our experience at all of the resort facilities was very positive. We were given the option to forego housekeeping in return for loyalty points – for short stays such as ours we saw no reason to have the villa cleaned each day and this helps the environment too.
One thing to be aware of is that you will be asked if you want to take part in a presentation of the Starwood Vacation Network in return for USD 100 in cash, extra discounts on theme park tickets and a few other bonuses. This is completely optional and it's easy to say no; if you do agree you will be booked for a sales pitch appointment during your stay. The presentation is not a hard sell and you may well be interested in joining the programme, but this I leave to you to decide.
Any points/miles to earn?
Yes. The Starwood Preferred Guest loyalty scheme is one of the best in the industry and you will earn Starpoints on your stay here. You can join during your stay and of course you should if you are not already a member. Not only can you earn points across nine hotel brands including Sheraton, W Hotels and Westin but you can also transfer points from SPG to other schemes.
Can they look after your bags after you check out?
Yes, they can take care of your luggage if necessary.
Green or mean?
The Sheraton Vistana Resort has performed a self-assessment, also known as First Party certification, of its sustainable tourism practices through the Florida Green Lodging Program thus taking steps to understand its impact on one or more of the following: environment, community, cultural-heritage, the local economy. The property's claims have not been independently verified by a second or third party certification program.

The Damage
We paid USD 269 for the villa per night excluding breakfast. State tax and county taxes are added when checking out so the total nightly rate was a little over USD 300. A quick check for 2014 showed substantially cheaper rates available for advance booking for the same type of villa, so it is definitely worth getting in early…
The verdict please your honour...
The Good
Huge villas. Superb beds. All those pools and activities to choose from. The location. Wonderful grounds and friendly service. Heck, you read the review, right? It's all good 🙂
The Bad
I'm struggling here. No, can't think of anything really although perhaps some guests might find the attempt to sell extras and essentially bribe you with cash to attend a sales meeting a little irritating. But just say no, they won't mind…
The Ugly
Nothing at all.
Closing comments:
We loved this place and have been recommending it to anyone travelling to Orlando ever since. For families or groups, this is the perfect resort to kick back and relax between all those high-adrenaline theme park visits. Indeed we enjoyed our stay so much that we bought into the Starwood Vacation Network and will be returning for a 12 day stay this summer.
Please note: The author travelled as a regular tourist – no mention was made of the fact that a review would be written, the establishment was not informed of the author's intentions and no special discounts were enjoyed.