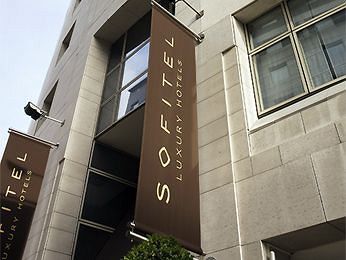 Image (c) Sofitel Paris La Défense Hotel
So you need  hotel in Paris. Okay, they don't come cheap, assuming you are after a decent standard and the closer you are to the centre the more you are going to have to pay. A good compromise is to find a place offering the service and facilities you require in one of the suburbs of the French capital, provided that there is good access to the sights. An often overlooked area is La Défense, a business district to the west of the Arc de Triomphe featuring very un-Paris modern skyscrapers and stunning architecture. The area itself boasts the amazing spectacle of La Grande Arche with excellent views across the city, and is also home to a number of large hotels. Sofitel, a brand normally out of our reach (except on expenses, perhaps…) has a superb property here with good rates when booking two weeks or more in advance through the hotel's own website.
It looks a long way out of town though?
It does, but with a Metro stop right round the corner you can be on the Champs Elysées in ten to fifteen minutes.
Image (c) Andy Higgs, Grown-up Travel Guide
There is also an RER stop about ten minutes walk from the hotel which can be a fast way to reach other parts of the city as it doesn't stop so often. It's certainly worth it if you can secure a good rate, as we did. Rather like the Kempinski in Frankfurt, this is an opportunity to experience five-star service and facilities for the cost of a lesser hotel – but unlike the Kempinski this feels like five star in every way.
Yes, I suppose you're getting used to what to expect at this kind of establishment now?
Well, I guess it has been a while since I slept at a hotel with a concrete floor, bars on the windows and no electricity. I'm hoping that those days are long gone, too…
Sofitel Paris La Défense, 33 Voie des Sculpteurs, 92800 Puteaux +33 1 47764443
When?
Early May 2012.
Vital stats:
Five stars. Opened 1987, complete renovation 2006. 135 rooms and 16 suites over 8 floors.
Location, location, location?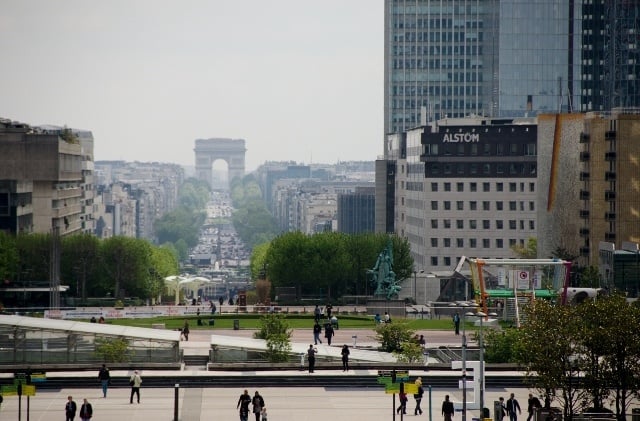 Image (c) Andy Higgs, Grown-up Travel Guide
You can just about make out the vertical Sofitel sign directly above the statue just right of centre in this photo. The hotel is located in the business district of La Défense, which resembles no less than a Parisian take on Manhattan. The nearest Metro station is less than five minutes from the front door at Esplanade de la Défense and the RER stop is a little further at La Défense – Grande Arche, as the name implies right next to La Grande Arche (below). It's about 40 minutes by car/taxi from Charles de Gaulle airport, depending on the traffic – a taxi will cost you around EUR 60.
Image (c) Andy Higgs, Grown-up Travel Guide
While some may find the location a little far out and it is certainly quiet in the evenings and at the weekends (rather like the City of London) we found it to be a good excuse to explore the surroundings which we otherwise would have missed. With the fast and frequent Metro service you really won't notice the fact that you're actually staying outside of Paris proper.
What about parking?
Note that it can be difficult to find the hotel; call if necessary. The website provides GPS coordinates. There is valet parking under the hotel for EUR 25 per day.
Why choose this place?
It falls into that five star property for a three to four-star price category, provided you get a good deal. It's in an interesting and peaceful location, the service is excellent and it has most of the facilities you could need.
Room
Image (c) Sofitel Paris La Défense Hotel
There are three different types of room – Classic, Superior and Luxury, as well as two types of suite. As I have Platinum status with Accor, which is the loyalty scheme for the chain which owns Sofitel, we received a free upgrade to a luxury room. We will be covering hotel loyalty programmes in a future series – I achieved Platinum status simply by applying during a special promotion so this was a nice benefit.
The room was modern and well-equipped. It was smaller than I'd expected but still fine for a couple, and had the following features: LCD (LED?) flat-screen TV, BOSE audio system with iPod dock, Nespresso coffee machine, writing desk with chair, private safe big enough for a laptop, telephone, wired and wireless internet. The bed was big and very comfortable.
Carpets?
Yes, but immaculately clean so they get a pass there.
Bathroom
Image (c) Sofitel Paris La Défense Hotel
The bathroom was small but had both a shower and a bathtub. As you can see from the picture of the room the bathroom and bedroom were separated by a clear glass window, but this frosted at the press of a switch if you wanted some privacy – a nice touch which was missing at the Andaz Wall Street, for example. High quality Hermes-brand toiletries. Hair dryer, robes and slippers provided.
Free internet I hope?
Yes and no. There is free access to a wireless service with a limit on downloading speed; it was also supposed to last up to three hours after which a charge would be made. But whether I failed to reach this limit or it reset each time I logged on I was not charged. Note that this may be a feature of the luxury rooms – this would seem to be the case from the website. If you are planning to download the Lord of the Rings trilogy in HD you will have to pay or risk having to leave your laptop in Paris for a month while it finishes the process. For regular surfing and email the free service was fine. You can use the same code to surf on a mobile phone and laptop simultaneously.
Bar and restaurant?
Yes both – the bar was quite popular though prices were a little steep. The Italian restaurant has a good reputation but we had other dinner plans so did not sample the menu.
Pool, sauna?
No, there's no pool which would really have sealed the deal; but I have decided that this can't really be a negative factor when rating a hotel – a pool that was closed would be a different matter. There are fitness facilities and massage is available, and staff will provide information on jogging tracks in the area.
The breakfast was included, right?
No, the charge varies (it's cheaper at the weekend) and we paid only EUR 19 each on the Saturday we were there. I think it costs EUR 29 per person on weekdays. Breakfast was very good with an excellent selection – definitely worth the lower rate and I'll leave you to decide about the weekday one. It's certainly not a problem to eat breakfast elsewhere in Paris.
Service
Excellent service from check-in to check-out; the concierge was extremely friendly and helpful. Our taxi to the airport was arranged without hassle and we got a lot of good ideas from the desk staff.
Any points/miles to earn?
As mentioned Sofitel hotels are part of the Accor loyalty scheme which awards points based on monetary spend. You'll not be surprised to read that I recommend joining at the hotel if you are not already a member, and do look out for special promotions for free status upgrades.
Can they look after your bags after you check out?
Yes, they certainly can.
Green or mean?
Again, not a lot of information provided. Many hotels seem to be missing this opportunity to score brownie points with their guests – it wouldn't be difficult to include some details of environmental policies both online and in the hotel directory in the room. I'll update this section if and when I hear back from the property.
The Damage
We used the hotel website and took advantage of the lower rates for advance reservations (i.e. more than 2 weeks) that must be paid in full at the time of booking. This gave us a superior double room for EUR 153, upgraded to a luxury room on arrival (see above)
The verdict please your honour...
The Good
Superb service and excellent facilities. Good breakfast (additional charge). No smoking. Well-stocked mini bar.
The Bad
Not a lot here; could have thrown in full speed/capacity internet access and breakfast though.
The Ugly
For once I've nothing to put here…
Closing comments:
We thoroughly enjoyed our stay at the Sofitel, don't worry about the location as it has its own attractions. For the money we paid we were treated extremely well and will definitely return (and look forward to trying out the restaurant too). If you want to be pampered in Paris, this is a great place to stay.
Final score: 6/6
Please note: The author travelled as a regular tourist – no mention was made of the fact that a review would be written, the establishment was not informed of the author's intentions and no special discounts were enjoyed. This is a vital part of our aim to provide impartial and comprehensive advice.