This article is part twelve of the series "Trip diary: Three weeks on the road in Florida"
Teaser: New series starts this week
Introduction: A three week road trip around Florida
Hotel review: Park Inn Oslo Airport
Flight report: Lufthansa New Business Class Frankfurt to Miami
First impressions – a Limey driving in the USA
Hotel review: Hilton Miami Downtown
First impressions – an Anglo-Nordic family in Miami
Hotel review: Sheraton Vistana Resort Villas, Orlando
Three theme parks in three days – Day 1: Walt Disney World
Three theme parks in three days – Day 2: Wet 'n Wild
Three theme parks in three days – Day 3: Universal Orlando Resort
Hotel review: St. George Inn, St Augustine
Historical Florida – St Augustine
Hotel review: Hampton Inn & Suites Amelia Island
Amelia Island – the destination for relaxation in northeast Florida
Hotel review: Cedar Key Bed & Breakfast
Old Florida – Cedar Key
Hotel review: The Birchwood, St. Petersburg
Our favourite city in Florida – St. Petersburg
Hotel review: Island Inn, Sanibel
Cruising to Cabbage Key
Great road trips of the world – Highway 1 Hotel review: Orchid Key Inn, Key West The other Florida – Key West Hotel review: South Beach Z Ocean Hotel, Miami Beach  
Following up the slight craziness of Orlando with the laid-back historical city of St. Augustine was a good move.
The hotel we chose was somewhat more intimate of an experience that the Sheraton, too…
Image (c) St. George Inn
St. George Inn, 4 St. George Street #101, St. Augustine, Florida 32084. Tel: (904) 827 5740
Email: stay@stgeorge-inn.com
When?
Early July 2013.
Vital stats:
Opened 2004, renovated 2014. 25 rooms over 3 floors.
Location, location, location?
Image (c) St. George Inn
Perfect for exploring the city due to its located slap bang in the middle of the Old Town, the St. George Inn is located on a pedestrian street with views over the fortress from several of its rooms.
What about parking?
If you are arriving by car you can leave your vehicle at the Municipal City Garage, a multi-storey facility about five minutes walk from reception.
You'll need to stop off at the hotel first to leave your luggage and collect the parking permit which you then display in the car. The cost of parking is a reasonable USD 5 per day and you can drive in and out as often as you wish.
Why choose this place?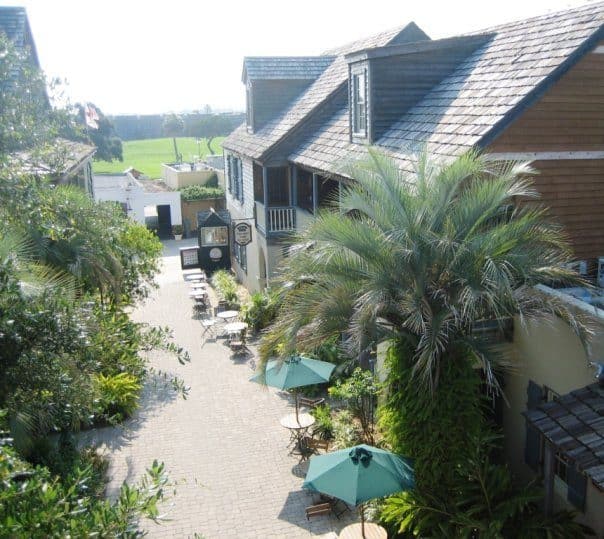 Image (c) St. George Inn
St. Augustine is famous for its traditional bed and breakfast properties and small guesthouses. The former are extremely popular and can be fully-booked months in advance and the more exclusive B&Bs are generally very expensive too.
There are of course the usual chain hotels here too but it just seems wrong to stay in an anonymous building in such an historic destination. Occupying the middle ground between the chic B&Bs and the large hotels, the St. George offers guests a personal experience yet has most of the modern amenities you may require too.
Image (c) St. George Inn
Room
Image (c) St. George Inn
The St. George Inn comprises three different buildings, one of which has a lift. There are six different types of room surrounding an attractive courtyard.
The Santa Maria, Santiago and Pinta rooms have a double bed and are for up to two guests; the St. George rooms are larger, found on the top floor and have better views, the Nina rooms have two beds and sleep up to four and the two-floor Castillo Suites have a separate bedroom and living room.
For our stay we had two St. George rooms which were very cozy and slightly old-fashioned – all accommodations have since been refurbished and the photo above is representative of the new, more modern style.
Image (c) St. George Inn
Our rooms had no balcony but did enjoy excellent views of Castillo de San Marcos from the windows.
Other room amenities were as follows: 32″ television, refrigerator, ceiling fan, complimentary WiFi, complimentary local calls, alarm clock radio, seating area, Starbucks in-room coffee
Image (c) St. George Inn
Carpets?
No! We were very pleased to find that the St. George had opted for lovely tiled floors instead. Definitely better than carpets, so well done for that.
Bathroom
Image (c) St. George Inn
The bathrooms were a little small but did contain a bath with shower unit as well as hairdryers, towels, toiletries etc.
Free internet I hope?
Yes, there is free and fast Wi-Fi throughout the hotel – another plus point.
Bar and restaurant?
No, the hotel is perhaps too small to justify a restaurant but the staff are very knowledgable about St. Augustine and can point you in the direction of good places to eat – of which there are many here.
Image (c) St. George Inn
Pool, sauna?
Not really big enough for these, either – but the beaches are not that far away by car/taxi.
Image (c) St. George Inn
The breakfast was included, right?
It was indeed – billed as a 'continental breakfast' it was very basic but a good enough start to the day. I get the impression that 'continental breakfast' has a slightly negative connotation in America, meaning cereal and cold meat and cheese rather than anything fancy but that may just be speculation on my part. All in all I think they do a good job in very limited space and eating at one of the tables out in the courtyard is pleasant enough – even off paper plates…
Service
Service was another highlight – as we had hoped, staying at the St. George felt like staying with friends and we were very well looked after despite our later-than-expecetd arrival. Note that you need to let them know if you are arriving after 8pm.
Any points/miles to earn?
No, this is an independent hotel and has no loyalty scheme as such.
Can they look after your bags after you check out?
Yes, they can take care of your luggage if necessary.
The Damage
The current weekday rate for the rooms we had is USD 179 each including breakfast. State tax and county taxes add 10% to this. Weekend and holiday rates are USD 229. The Santiago room has the lowest rates, at USD 159/209.
The verdict please your honour...
The Good
Big bedrooms with very comfortable beds. Personal service, 'guest-house'- feel. Friendly staff. Unbeatable location. Shady courtyard. Cheap and convenient parking. Free WiFi.
The Bad
The bathrooms are a little cramped.
The Ugly
Nothing at all.
Closing comments:
An excellent place to stay in a lovely city, the St. George Inn is our choice in historical St. Augustine.
Please note: The author travelled as a regular tourist – no mention was made of the fact that a review would be written, the establishment was not informed of the author's intentions and no special discounts were enjoyed.