Image (c) Westin Grand, Berlin
As a former resident of and frequent traveller to Berlin I have visited and stayed in a number of hotels in the German capital over the years. Regular readers will be aware of my interest in the Cold War era and feelings about 'Østalgie' – and will probably not be surprised to hear that I made the trip to Berlin for the 25th anniversary of the fall of the wall.
On this occasion I had four nights in the city and decided it would be appropriate to split these evenly between the former East and West – and my first choice for the former was the Westin Grand. Formerly encumbered with the clumsy title of the Interhotel Grand Hotel Berlin, this property has an amazing history which in itself is enough to warrant a stay here. But there's a whole list of other reasons you should head for Friedrichstrasse too, of which more later.
Back in 1987, the DDR government pulled out all the stops to celebrate the East German capital's 750th birthday. One of the most high-profile projects was the construction of the Interhotel Grand whose sole purpose was to prove that the DDR could offer luxury on a grander scale than its western neighbour.
No expense was spared in this enterprise – the construction costs alone were said to have been in the region of USD 110 million – far more in today's money. Local citizens were not the target market – this was a hard currency only establishment for rich tourists and visiting dignitaries. When it opened, the Grand was more expensive than the best which West Berlin could offer but staying in this palace of distinctly non-socialist decadence often came at a higher cost than just financial.
The East German secret police, the Stasi, made the most of the opportunity. How could they resist spying on a hotel full of enemies of the state? The Stasi were involved in the building process, installing surveillance equipment which led to the downfall of countless unsuspecting targets lured into the trap. The agency also vetted all employees to ensure their loyalty – to the Stasi, not the hotel.
When Erich Honecker personally opened the Grand in 1987 I think it's safe to say that he would have choked on his champagne and canapes if anyone had suggested that just two years later the very country he ruled over would cease to exist. After the fall of the wall in 1989 the Grand stood idle for some time before the American Starwood corporation bought the property.
Following a multi-million dollar refurbishment and remodelling – including the removal of the aforementioned spying apparatus – the hotel reopened at the Westin Grand. Fortunately most of the original design elements have been retained and add to the appeal of staying at the property.
Westin Grand Hotel Berlin, Friedrichstrasse 158-164,  10117 Berlin, Germany (49) 30 2027 0
Image (c) Westin Grand, Berlin
When?
Early November 2014.
Vital stats:
Five stars. Originally opened September 1987. Fully renovated 2008. 400 rooms over 7 floors.
Location, location, location?
The Westin Grand is superbly located on the corner of Unter den Linden and Friedrichstrasse in the centre of former East Berlin and what is once again the centre of the united city. Many of the most popular sights in Berlin are within walking distance (the Brandenburg Gate, Museum Island, Potsdamer Platz etc.) and the nearest U-bahn station is five minutes away on foot. Friedrichstrasse S-bahn station is perhaps 10 minutes away.
If you plan to use the DB Call-a-bike service – which is the absolute best way to get around if the weather is fine – there is a stand a few blocks south of the hotel where I always managed to find bikes and spaces to return them. I will be publishing a video guide on how to use the system and accompanying app at a later date – note that the bicycles are removed during the depths of winter.
What about parking?
If you are driving to the hotel the Westin offers valet parking for EUR 28 a day.
Berlin has one of the best public transport networks of any large city I've been to and is one of the toughest cities to drive and park in. Just saying…
Why choose this place?
I've wanted to stay here ever since watching a TV programme with Richard E Grant that explained the building's amazing past. Since my trip to Berlin took place over the anniversary weekend the city was bursting with visitors, and hotels were filling up.
Prices were quite high across the board, so I decided to redeem loyalty points to makes sure I got a room here. The Westin Grand is a Starwood SPG category 4, meaning that you need to redeem 10,000 Starpoints per night; I think this is a reasonable deal.
As well as the historical angle, the Westin is a luxurious hotel in a fantastic location – more good reasons to book.
Image (c) Westin Grand, Berlin
On entering the hotel the first port of call is the enormous check-in area. After completing the check-in process I just had to have a look at that staircase.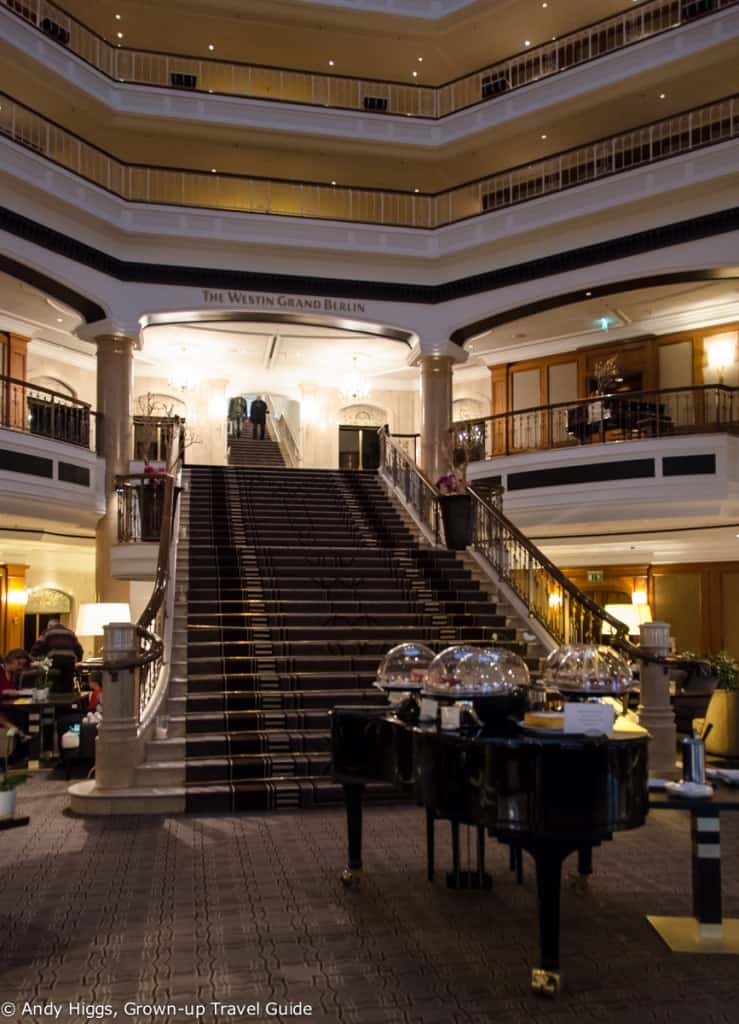 Both mind-blowing and completely impractical, the marble stairs certainly catch your attention – which was after all the idea. In its DDR heyday the hotel had no less than 14 restaurants, but these days things are a little more sensible.
The lobby bar and restaurant at the foot of the staircase is a great place to relax and imagine how things were back in the last days of East Berlin.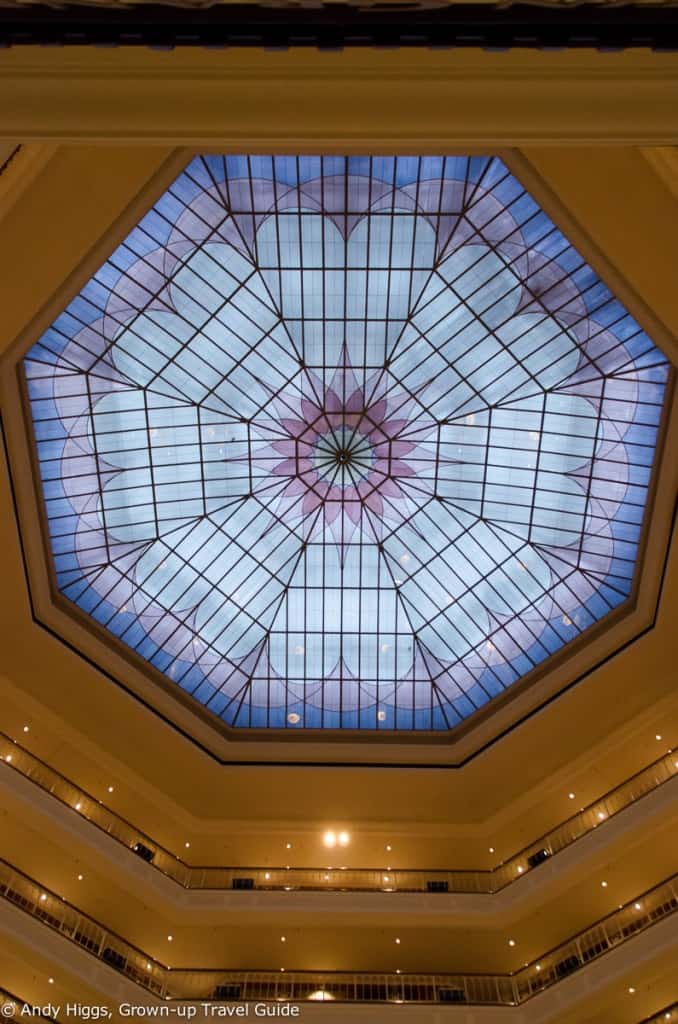 The 30-metre high atrium remains the largest in Berlin – most hotel owners would not waste that expensive space that could be used for rooms these days.
But in 1987 money was no object and practicalities were not high on the list either. Look right up and you'll see the huge glass roof decorated with a colourful orchid – Erich Honecker's favourite flower and a motif that can be seen in a number of places throughout the building.
Room
There are four types of room – Deluxe, Garden Deluxe, Linden Superior and Garden Superior – and some five different suites – Junior, Spa, Themed, Grand Spa and Presidential.
I stayed in room 702 in the newer part of the hotel – this extension was added during the last major renovation. On the seventh floor, this was a Deluxe room and very comfortable it was too.
Here's a video walkthrough for you:
You'll see that the room was spacious – for a Berlin hotel I would go as far as to say these rooms are large – and very well equipped.
Image (c) Westin Grand, Berlin
I liked the style and colour scheme as well as the modern feel. As far as facilities go, room 702 came with the following: flat screen LED television with a wide choice of cable channels, writing desk with chair, private safe big enough for a laptop with plug socket, telephone, iron & ironing board, blackout curtains, Nespresso coffee machine, fully-stocked mini bar, radio.
As a huge fan of Westin's 'Heavenly Bed' I wasn't disappointed – these are the most comfortable hotel beds I have experienced. You can actually buy these but I haven't gone that far myself. Yet.
Carpets?
Yes. I like my hardwood floors, but I don't complain when the carpets are immaculately clean as they were here.
Bathroom
The bathroom was a good size with a proper sized bath tub. You know, that you can actually lie in and be covered by water. It might not seem much to ask, but a surprising number of hotels seem to neglect this basic requirement, so well done here Westin.
The shower had excellent water pressure and there was plenty of storage space. Toiletries, bathrobe, slippers and hair dryer provided.
Free internet I hope?
No – because I have SPG Gold status I was able to choose free internet as my 'perk' for my stay, but ordinarily this is a paid service and is the one and only complaint I have about the Westin Grand.
Having to pay at all for internet access is no longer acceptable; having to pay EUR 15 per day is tantamount to daylight robbery – get on the case, Westin!
Bar and restaurant?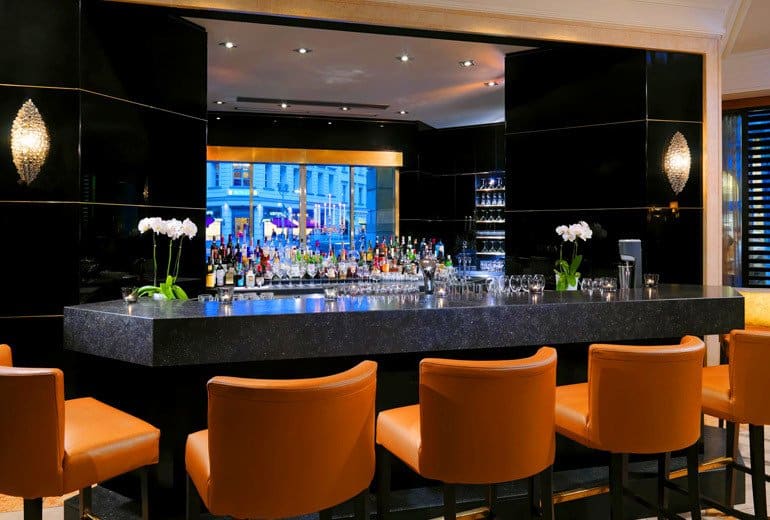 Image (c) Westin Grand, Berlin
The aforementioned bar in the lobby is a pleasant place to enjoy a beer or a cocktail and watch the world go by outside the large windows.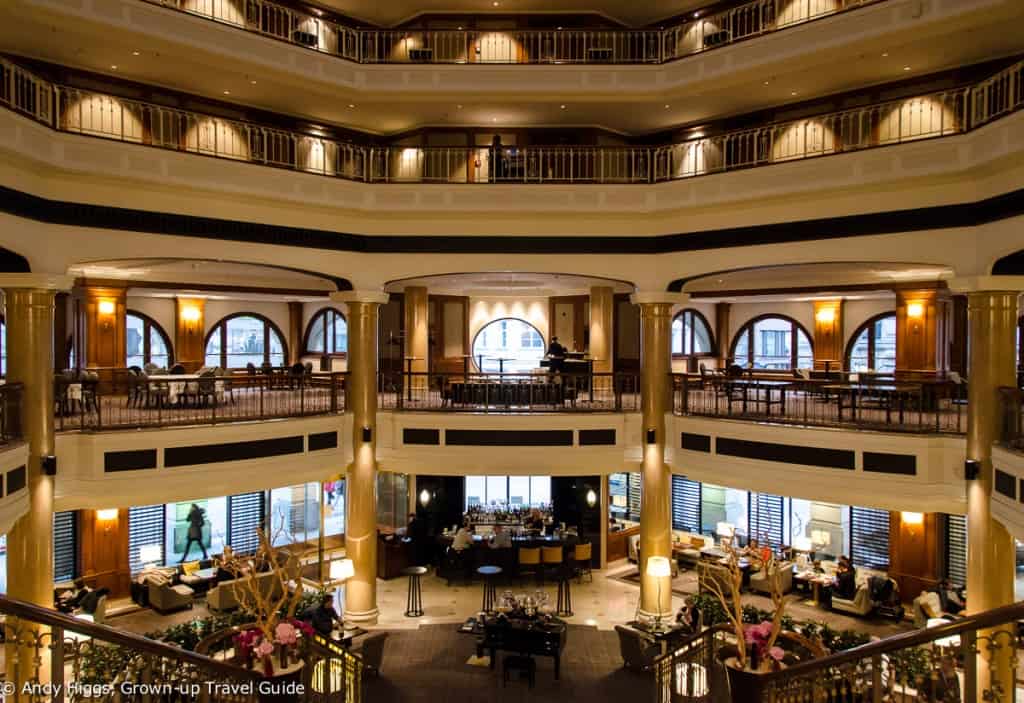 Prices were reasonable for a hotel bar, too and snacks can be ordered.
I did not have the chance to try the Relish restaurant but it has received good reviews recently – this is now the flagship eatery in the hotel.
Image (c) Westin Grand, Berlin
During the warmer months guests can eat in the garden, which looks wonderful but was obviously less inviting in November. The Westin grows many of its own vegetables and herbs here, too.
Pool, sauna?
Image (c) Westin Grand, Berlin
The Westin has a great pool area – although it needs extra loungers and chairs. I enjoyed a dip here after a hard day seeing the sights; there is also an excellent sauna room too, with several different ways to sweat it out.
This is Germany, so don't expect single-sex saunas or being able to get away with wearing your trunks – there is actually a warning sign to inform guests that nudity is compulsory. You can always hide behind a towel but this is no place to be a prude – when in Rome and all that.
Image (c) Westin Grand, Berlin
The fitness room has a reasonable range of equipment if you feel the need to work out during your stay.
The breakfast was included, right?
Image (c) Westin Grand, Berlin
Not for an award redemption and breakfast is extra – generally the premium is EUR 20 per night on top of the room rate if booked in advance, a little more if you have it added to the bill while staying.
Berlin has so many options for breakfast at all times of the day that you won't be stuck for options, but if you do want to take the easy route the breakfast in the hotel was very good.
Service
Service was friendly and efficient from check-in to check-out; the concierge had excellent local knowledge and staff were helpful in obtaining taxis etc.
Any points/miles to earn?
Yes, you can earn Starwood SPG points for your stay. You can also do as I did and redeem points for a free night or combine points and cash. The SPG loyalty scheme is one of the best in the business so if you are not already a member, join up.
Can they look after your bags after you check out?
Yes, they are happy to do so.
Green or mean?
The Westin Grand has a number of green initiatives including a resident colony of bees which make the honey used in the hotel and sold at reception. Energy-saving measures (including reduced night-time illumination, energy-saving lamps and the avoidance of stand-by consumption) are employed, and other policies include digital archiving, a recycling program and the use of regional products in the restaurants.
The Damage
Rates start at EUR 129 per night. Shop around for advance deals – as usual if you are happy to pay fully in advance you will always save more and rooms run cheaper at the weekend.
The verdict please your honour...
The Good
Large, modern and comfortable rooms. Superb bed. Good-sized bathroom with everything you need. Great pool and sauna area, good fitness facilities. Excellent location. Plenty of power sockets. No smoking. Superb service. Well-stocked mini bar. History adds to the appeal.
The Bad
Nothing to report here, the only complaint I have unfortunately warrants inclusion in the 'ugly' category.
The Ugly
Charging for internet access – just don't. That is all.
Closing comments:
I loved this hotel; the combination of historical interest and modern luxury is a winner – it's an excellent place to treat yourself and is my favourite property in this part of town.
Travelling to Berlin? Check out these strange observations before you go…