Use this handy guide to plan your trip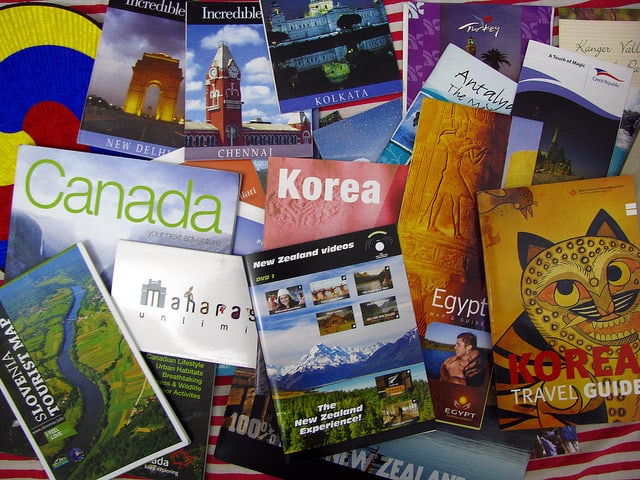 Image obtained from Flickr.com under Creative Commons (c) Kaushal Karkhanis
This is the list we at Grown-up Travel Guide use to plan our travel and we're sharing it here to help readers in their preparations. There are many high-tech methods to automate some of the processes listed below and a wealth of apps to 'help' you when you get to your destination – we've already covered some of the pros and cons of these in a case study of a short break in London, so here we've reverted to the methods that work for us and don't relay too heavily on continuous and expensive mobile internet access or a topped-up cellphone battery.
We´re assuming that you have decided where you want to go having found inspiration on this site or elsewhere. If you're still undecided why not look through our destinations category?
Step 1: Preparation
Read up about your destination – the more information the better. I still recommend a good guidebook – provided it's not more than a few years old. You'll get all the basic details and the background to where you're going, as well as the boring stuff like getting from the airport that we generally leave out. Personally I recommend Time Out city guides, Rough Guides, Footprint Guides, Eyewitness Travel and Lonely Planet roughly in that order, but it does depend on where you're off to. After you've done some offline research it's time to fire up the computer and get online. In these internet days you will most likely be receiving booking confirmations and tickets via email. It´s a good idea to create a folder for your travel documents on your computer to keep everything in one place. You can then print out what you need in one go and put all paper documents in a plastic folder or envelope to take with you. Smart, huh? A smartphone app like TripIt is another alternative but I like to have things in writing just in case my phone dies on me (or gets lost).
Step 2: Getting there
Right. Time to book those trains, planes or automobiles. Read our booking tips section and use the appropriate service to nail the tickets you need. Study the small print! Make note of the details on a summary page/sheet or calendar so that you have quick access to dates and times when you need to plan onward travel or accommodation. Save the confirmation email(s) in your travel folder on your computer.
Step 3: Accommodation
When you know where and when you'll be travelling you'll need somewhere to stay. Check our hotel reviews section for ideas and for advice on the booking process look no further than here. With your trip summary in front of you there should be no risk of reserving a room on the wrong date; an expensive mistake if you have to pay upfront at a non-refundable rate…put the confirmation email in your computer's travel folder.
Step 4: Getting to the hotel
So you've scored a roof over your head – now it's time to join the dots and arrange transport from the airport/station/port to your hotel. In most cases you can pre-book transfers and often save money in the process. Note that in some cases the journey to the airport may be included in a city transport card (see step 5). Add the confirmation email to your travel folder on your computer. Some services offer an app in which you can receive a scannable image to show the guard – check the website for details.
Step 5: Getting around
If you are planning to use a city transport cards, bike hire schemes or similar, again it can be a good idea to sort this in advance. In some cases they will send the card to you (often for an extra fee) but otherwise you can collect it on arrival. Check if any transport scheme includes the airport transfer and again, add the confirmation details to your travel folder.
Step 6: What to see and do
By now you should be getting excited about your upcoming journey and it's time to work out what you absolutely don't want to miss. A good plan is to get the main sights from the guidebook and spice up your itinerary with more unusual, 'insider' information such as that published here. Decide what you will be able to see in your available time and make a note of these in order of importance. Check on the map to work out a logical route between the sights using transport or on foot, and make an itinerary that you can enter on your summary sheet. What I tend to do is use the small notepaper you tend to find in hotel rooms to jot down the itinerary for the day along with transport details, which I then refer to en route.
Step 7: Where to eat
You'll need to eat, so why not eat somewhere special? You'll find recommendation on this site and elsewhere on the web – contact the restaurant and make a reservation if necessary. This will help provide a framework for your itinerary as you know you have to be in a certain location at a certain time. Copy the confirmation details to your travel folder.
Step 8: Special events while you're there
Do check our news section in case there are any special events taking place during your visit; if you happen to be in London and fancy some zombie-bashing for example you'd be glad you saw this article. It is also a good idea to check the official tourism websites, Facebook page and entertainment listing site for your destination (e.g. Time Out for London and several other cities) for the latest information.
Step 9: Things to buy
Perhaps the place you're going is renowned for certain products, souvenirs or particular bargains? Maybe there's a store that is famous for offering astounding service and value? In my case I knew I had to visit B&H in New York and despite spending hundreds of dollars saved almost as much by so doing. Clothes, electronics, toys and games are all examples of goods that can be sourced cheaply abroad. Indeed the main attraction may simply be a greater choice and the ability to buy something a little 'exclusive' – but in any case find out where you need to go and add this to your itinerary. Don't forget to check opening hours and whether there are any special restriction or charges that apply when bringing your goodies back.
Step 10: Sort your transportation from home
If possible, book a taxi or other transportation in advance so that you know hen you have to be out the front door. Sometimes it's also cheaper to arrange the return journey at the same time. Don't forget to take the telephone number of the taxi company if they are going to pick you up so you can call if there are delays; although most will check your flight number for the latest ETA.
Step 11: Packing tips
This is going to be covered in separate section as it's an art in itself. For now just use this relatively foolproof system: think through your day from the moment you wake up until you hit the hay and write down what you need at each stage from your toothbrush to your jim-jams. Print out all your documentation and make sure you have the essentials like your passport, tickets, cash and credit cards.
Step 12: Contact hotels afterwards if satisfied
After you get back, and assuming you've had a great stay, drop the hotel a line to tell them how much you enjoyed it. This is a good tip as they will remember you next time and you may get some special treatment if you go back. Most large hotels send a survey email automatically but you should also send a personal email to the actual hotel itself as this is far more likely to be printed out and hung up somewhere.
Image obtained from Flickr.com under Creative Commons (c) vistamommy
So that's it – your 12-step path to a successful holiday mapped out for you. What do you think of this approach – what did we miss out? Do let us have your comments below, we'd love to hear your opinion!