Things to Do in Cologne, Germany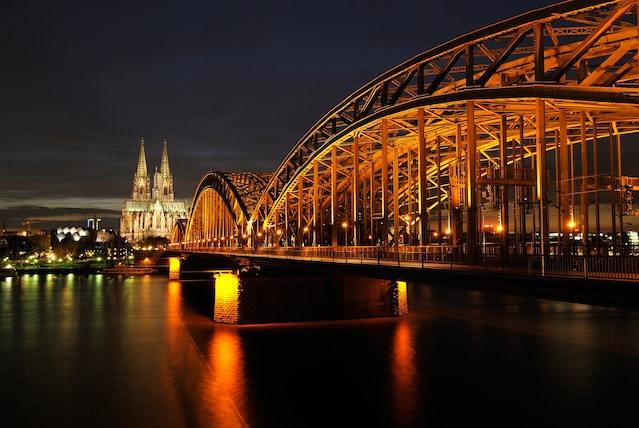 With its iconic cathedral, lively beer culture, and joyous carnival celebrations, Cologne is one of Germany's most charismatic and welcoming cities. Situated on the banks of the Rhine river, Cologne has been an important hub for culture, trade and history since ancient Roman times.
This complete travel guide provides everything you need to know to plan your perfect Cologne itinerary, from must-see attractions to where to eat, drink, shop, and stay.
Introduction
Cologne, or Köln in German, is the fourth largest city in Germany and the largest city in the German state of North Rhine-Westphalia. It traces its origins back to 38 BC when it was founded by the Romans. Due to its prime location on the Rhine river, Cologne quickly became a major commerce and trade center in medieval times. It was one of the most prosperous cities in Europe by the 10th century.
While much of Cologne's medieval architecture was lost during World War II bombings, the city still retains its distinct charm and character. So what is Cologne famous for? Here's a few key things:
The magnificent Cologne Cathedral – An awe-inspiring UNESCO-listed Gothic cathedral and the city's most iconic landmark
Kölsch beer – Cologne's unique local brew with its own brewing traditions
Cologne Carnival – One of Germany's biggest and most celebrated carnival festivals
4711 Eau de Cologne – The famous perfume invented here by Italian Giovanni Paolo Feminis in 1709
Kölsch cuisine – Hearty dishes like Halve Hahn sandwiches washed down with Kölsch beer
In addition to historical sites and celebrations, Cologne offers trendy neighborhoods, world-class museums, expansive parks, and vibrant shopping districts. Its welcoming, open spirit makes Cologne a joy to visit. This travel guide outlines the top things to see, do, eat, and enjoy in this wonderful city.
Cologne's Joyous Attitude and Party Spirit
Cologne is known throughout Germany for its friendly, upbeat atmosphere and party spirit. The open, tolerant attitude of locals shapes the character of the city. This joyous, celebratory vibe peaks during the annual Cologne Carnival.
Cologne Carnival
Cologne's Carnival season stretches from November 11th at 11:11am until Ash Wednesday. The streets explode with jubilant parades, rowdy parties, and boisterous costumed revelry. It's Germany's biggest carnival celebration, drawing over a million visitors. Visitors can join in the raucous street parties and celebrations leading up to Rose Monday, the climax of merriment.
Kölsch Beer Culture
Kölsch is Cologne's beloved local beer, fermented with a unique technique and served in slim, cylindrical glasses. In rustic beer halls called Brauhäuser, Köbes (waiters) continuously circle with trays of fresh Kölsch until drinkers lay their coasters down to signal they've had their fill. Knocking back crisp, light Kölsch beers in a beer hall or sidewalk café is an essential Cologne experience.
Cologne Cathedral
Cologne's magnificent Gothic cathedral is not only an architectural wonder, but also embodies the city's open, welcoming spirit. Construction on the stunning cathedral began in 1248 and wasn't completed until 1880 – a testament to the perseverance of the people of Cologne. The Cathedral survived WWII bombing raids as residents rushed to protect it. This resilience and unity of citizens around their iconic Dom symbolizes the authentic heart of Cologne.
Cologne's Historical and Cultural Significance
With over 2,000 years of history since its founding by the Romans, Cologne has long served as a center of culture, art, politics, and religion. Several examples highlight its great historical significance.
Center for Medieval Pilgrimage
During the Middle Ages, the relics of the Three Magi were transported from Milan to Cologne and housed in the newly built cathedral. This helped establish Cologne as the preeminent destination for pilgrimage in northern Europe during the 12th-17th centuries. The shrine to the Three Magi can still be seen inside the breathtaking cathedral.
Birthplace of Eau de Cologne
In 1709, Italian perfumer Giovanni Paolo Feminis created a refreshing scented water made with lemon, orange, rosemary, neroli, and other oils – and named it Eau de Cologne in honor of his new hometown. This light, citrusy perfume was the world's first mass-marketed scent and an international success. To this day, 4711 Kölnisch Wasser, created in 1792 using Feminis' original formula, is still produced and celebrated as a symbol of Cologne.
Brewing Innovations
Starting in the 1300s, Cologne brewers perfected a new fermenting technique that allowed them to brew their beers year-round. This advance spread to other brewing cities, helping make beer a staple drink across Europe. Later, when refrigeration was developed, Cologne brewers pioneered cool fermentation methods that shaped modern lager brewing.
Architectural Heritage
While World War II bombing campaigns devastated much of Cologne, key architectural survivors include twelve Romanesque churches built between 1000-1200 AD with distinctive rounded arches. The Overstolzenhaus on Rheinauhafen is the oldest patrician building in Cologne, constructed in 1225. Sections of medieval city walls and gates also remain. These sites offer glimpses into Cologne's past splendor.
Cologne's Unique Attractions
Beyond its landmark cathedral and beer halls, Cologne provides plenty of unique and interesting attractions and landmarks to explore. Here are the top sights and activities for visitors to check out in Cologne.
Cologne Cathedral (Kölner Dom)
This magnificent UNESCO-listed Gothic cathedral, dating back to 1248, is Cologne's most iconic landmark. Marvel at its immense twin spires, elaborate stone carvings, dazzling stained glass windows, and glittering church treasure. Be sure to climb the 509 steps up the Dom's south tower for sweeping city views. Insider tip: Follow the locals' lead and grab a bratwurst from the stand outside the cathedral entrance for a quick, cheap lunch.
Hohenzollern Bridge (Hohenzollernbrücke)
Walk along this historic railway bridge spanning the Rhine for sweeping river panoramas. Check out the thousands of love locks couples have affixed to the bridge railings. Pro tip: Pass by in the evening when the bridge sparkles with twinkling lights. Combine with a riverside stroll along the Rhine promenade.
Belgian Quarter (Belgisches Viertel)
With vibrant pubs, breweries, shops, art galleries, and LGBTQ+ nightlife, the trendy Belgian Quarter south of the cathedral makes for lively exploring. Don't miss its charming restaurants specializing in moules-frites. Insider recommendation: Catch a concert at the World Music Forum Venue.
Imhoff-Schokoladenmuseum (Chocolate Museum)
This immersive chocolate museum traces cocoa's history from bean to bar through fascinating exhibits and workshops. At the in-house chocolate factory, visitors can watch sweets being handmade before sampling them liberally in the café. A perfect stop for chocoholics, families, and foodies.
4711 House of Fragrances
At this hands-on perfume museum, visitors can explore Cologne's 300-year history as a fragrance hub and mix custom scents in the laboratory. An olfactory immersion for scent connoisseurs and fans of the iconic 4711 perfume.
Markt Platz (Market Square)
The bustling central square is ringed with restaurants and shops and hosts a lively farmers market daily except Sunday. Come for lunch or coffee on an outdoor patio and to soak up Cologne's vibrant energy. Don't leave without checking out the quirky Früh am Dom bazaar hall next door.
Rhine River Walk & Cable Car
Stroll along the walking paths and riverfront promenade flanking the Rhine's shores. Cross between the right and left banks via the Rhine cable car suspended high above the river. The sweeping views of Cologne's skyline are especially breathtaking at dusk.
Cologne Carnival Museums
Can't make it for Carnival? At the Cologne Carnival Museum or Carneval Museum im Kleinen Tanzboden, view artifacts like historical costumes and floats and learn about the backgrounds of beloved Cologne Carnival traditions all year round.
Cologne's People and Lifestyle
Beyond its churches and ruins, Cologne's welcoming, open-minded people are the heart and soul of the city. Cologne combines an appreciation for tradition with an excitement for progress and change.
Liberal Spirit
Though one of Germany's oldest cities, Cologne residents embody open-mindedness, inclusiveness, and individualism. Their appreciation and appetite for the new gave rise to Cologne's vibrant art scene. This liberal spirit also made Cologne one of Germany's gay capitals. The Christopher Street Day pride parade fills the streets each summer.
Geography and Resilience
Located on the Rhine where Germany's northwestern plains meet the Central Uplands, Cologne has long been influenced by a conflux of cultures. Despite destruction by Allied bombings during WWII, Cologne residents were determined to rebuild and restore their hometown. This resilience and solidarity defines the people of Cologne.
Belgium Meets Prussia
Having toggled between control by Belgium and Prussia over its history, Cologne evolved into the best of both influences – disciplined and orderly like the Prussians yet easygoing like the Belgians. This blend manifests in the city's laidback yet reliable character.
A Taste for Tolerance
During Cologne's medieval period as a prosperous mercantile city, it attracted immigrants from across Europe eager to benefit from its success. This instilled an appreciation for the contributions of diverse groups that persists in multicultural Cologne today.
Cologne's Unique Food and Drink
Cologne has cultivated its own flavorful food and drink traditions that visitors can savor during their stay. Satisfying local specialties are best washed down with a crisp glass of characteristic Kölsch beer.
Kölsch Beer Culture
The light, subtly hoppy Kölsch is a Cologne specialty made with a hybrid brewing process exclusive to Cologne. It's served in narrow 20cl glasses called Stangen that allow it to stay cool and carbonated. Waiters in Brauhäuser will continue circular service of fresh Kölsch until drinkers indicate they are ready for the check.
Kölsch Dishes
Halve Hahn – a crunchy rye roll served with gouda cheese and mustard. Originally a quick miners' snack, it's now a Cologne staple.
Himmel un Ääd – mashed potatoes and stewed apples, sometimes with regional blood sausage added. A hearty winter dish.
Rheinischer Sauerbraten – pot roast marinated in vinegar, spices, and raisins for a sweet-sour flavor. Usually served with potato dumplings.
Kölsch Kaviar – a spread made of salted and pickled onions, gherkins, and beets eaten on bread or with meat and cheese. Provides a salty, tangy kick.
Brauhaus Culture
No visit is complete without visiting a Brauhaus beer hall to experience Cologne's convivial drinking and eating traditions. Look for brick-lined halls filled with sturdy wooden tables and the light clanking sound of Stange glasses.
Cologne's Role in World Heritage
The historic and artistic treasures found in Cologne have garnered prestigious international recognition affirming the city's cultural importance.
Cologne Cathedral – UNESCO World Heritage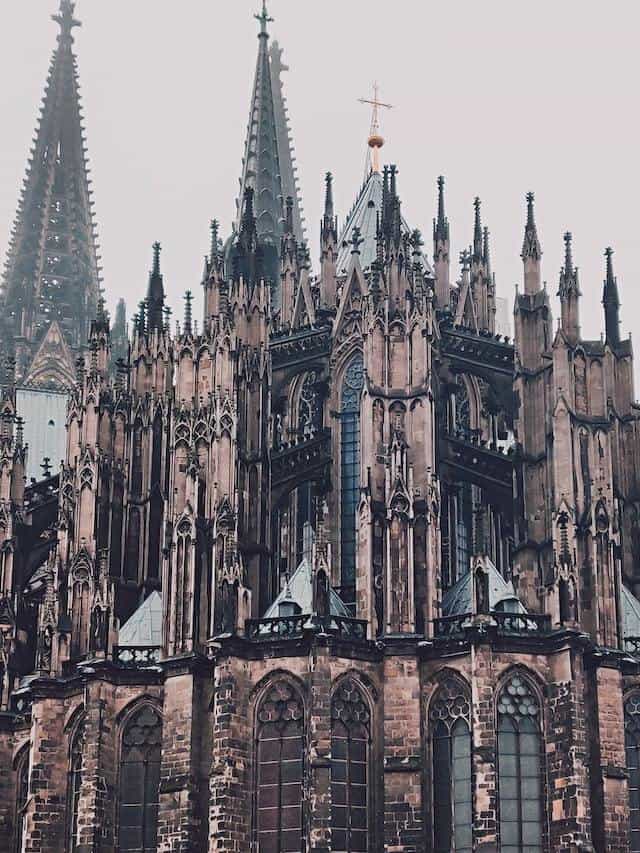 The awe-inspiring Cologne Cathedral was designated a protected UNESCO World Heritage Site in 1996, joining the ranks of other iconic locations like the Pyramids of Giza and the Taj Mahal. This honor celebrates the cathedral's outstanding universal value as a pinnacle of Gothic architecture.
Cologne and the Carolingian Empire – UNESCO Memory of the World
Cologne's central role as the site of Carolingian power struggles in the early Middle Ages earned it a spot on the UNESCO Memory of the World register in 2017. This program highlights important archival collections worldwide. Historical artifacts in Cologne such as Charlemagne's death mask were noted.
Intangible Heritage – Cologne Carnival
In 2014, Cologne's raucous, colorful carnival celebrations joined UNESCO's Representative List of the Intangible Cultural Heritage of Humanity. This recognizes the Carnival customs, passed down for generations, as part of the world's living cultural traditions. From elaborate costumes to irreverent satire, Cologne Carnival embodies a vibrant local spirit.
Cologne's Festivals and Celebrations
Year-round, Cologne provides plenty of chances to celebrate, whether during rollicking outdoor festivals or lively carnival days.
Carnival Season
Cologne's Carnival traditions extend far beyond the climactic days leading up to Lent. Carnival club events kick off on November 11th at 11 minutes past 11. By January, over 100 Carnival balls are held across the city for costume-clad revelers. The parade season begins, immortalizing Cologne's unique brand of humor and chaos.
Cologne Pride
Each summer, Cologne hosts one of Europe's largest LGBTQ Pride festivals, complete with a jubilant parade winding through the city center. Upwards of a million attend, celebrating equality while defying stereotypes with outrageous costumes and displays. Live music and parties last all week.
Summer Music Festivals
As the weather warms, Cologne provides a lineup of outdoor music festivals, many staged right along the Rhine shores. Summer Jam, Cologne on the Rhine, and Rhine in Flames festivals draw crowds with performances by the likes of the Red Hot Chili Peppers and Rammstein.
Christmas Markets
From late November through December, Cologne transforms into a magical holiday city as quaint wooden Christmas markets pop up in neighborhood squares. Vendors sell handmade ornaments and decorations, local treats like gingerbread hearts, and hot mulled wine. It's the perfect time to sightsee and get into the festive spirit.
Getting Around Cologne
Cologne offers efficient public transportation that makes getting around a breeze.
The KVB network of trams, buses, and commuter trains blanket the city. Purchase tickets at vending machines or on the KVB app.
The U-Bahn provides speedy subway connections. Lines U1, U11. U15, and U16 service key tourist sights.
Sightseeing River Boats provide hop-on, hop-off service between landmarks like the Cathedral, Altstadt, and Zoo.
The Cologne Card gives unlimited use of trains, buses, and trams plus discounts on sights and restaurants. Available for 24, 48, or 72 hours.
Centrally located bike rental stands allow visitors to see the city by bicycle along scenic bike paths.
Where to Stay in Cologne
With convenient locations across Cologne, these hotels make perfect home bases:
Budget: Station Hostel – Well-run hostel next to the train station and Cologne Cathedral
Mid-range: Arthea Hotel – Bright, modern rooms a 5-minute walk from the Dom
Luxury: Excelsior Hotel Ernst Köln – Stunning 5-star hotel across from the Cologne Cathedral
Apartment: Old Town Apartments – Spacious, stylish apartments in the Altstadt (Old Town)
View hotels and guesthouses in all neighborhoods and price ranges on Booking.com.
Day Trips from Cologne
Cologne is centrally located for exploring the surrounding region. Here are some recommended easy day trips:
Bonn – Beethoven's birthplace featuring museums and concert halls
Aachen – Historic imperial city near the Netherlands and Belgium borders
Düsseldorf – Chic city known for fashion, art, and riverside promenades
Brühl – Tour 18th century Augustusburg and Falkenlust palaces
Monschau – Quaint half-timbered medieval town nestled in the Eifel hills
Conclusion
With its beautiful cathedral, energetic festivals, laidback beer halls, inclusive spirit, and wealth of attractions, Cologne offers an outstanding city break. Follow this guide to experience the best of Cologne's food, culture, history, nightlife, and everything in between for an unforgettable visit. The inviting Cologne way of life is sure to captivate all who discover its treasures.
Summary of Key Information
| Category | Attractions/Information |
| --- | --- |
| Famous Cologne Landmarks | Cologne Cathedral, Hohenzollern Bridge, Market Square |
| Cologne Museums | Chocolate Museum, Fragrance Museum, Ludwig Museum |
| Cologne Experiences | Cologne Carnival, Beer Halls, River Boat Cruise |
| Cologne Culture | Lively, welcoming atmosphere, appreciation for tradition and diversity |
| Cologne Cuisine | Kölsch beer, Halve Hahn sandwich, Himmel un Ääd stew |
| UNESCO World Heritage Sites | Cologne Cathedral, Cologne Carnival |
| Getting Around | U-Bahn, trams, river boats, bicycle rental |
| Places to Stay | Budget hostels, mid-range hotels, luxury and apartments |
| Day Trips | Bonn, Aachen, Düsseldorf, Brühl, Monschau |