This article is part nine of the series "Trip diary: Three weeks on the road in Florida"
Teaser: New series starts this week
Introduction: A three week road trip around Florida
Hotel review: Park Inn Oslo Airport
Flight report: Lufthansa New Business Class Frankfurt to Miami
First impressions – a Limey driving in the USA
Hotel review: Hilton Miami Downtown
First impressions – an Anglo-Nordic family in Miami
Hotel review: Sheraton Vistana Resort Villas, Orlando
Three theme parks in three days – Day 1: Walt Disney World
Three theme parks in three days – Day 2: Wet 'n Wild
Three theme parks in three days – Day 3: Universal Orlando Resort
Hotel review: St. George Inn, St Augustine
Historical Florida – St Augustine
Hotel review: Hampton Inn & Suites Amelia Island
Amelia Island – the destination for relaxation in northeast Florida
Hotel review: Cedar Key Bed & Breakfast
Old Florida – Cedar Key
Hotel review: The Birchwood, St. Petersburg
Our favourite city in Florida – St. Petersburg
Hotel review: Island Inn, Sanibel
Cruising to Cabbage Key
Great road trips of the world – Highway 1 Hotel review: Orchid Key Inn, Key West The other Florida – Key West Hotel review: South Beach Z Ocean Hotel, Miami Beach  
Image (c) Universal Studios
Read that title again. Sounds nuts, right? Yes, visiting three of Orlando's theme parks in three days is ambitious. And expensive. But I'm happy to be able to report that it actually worked out well for us – we'd never been a 'roller-coaster family' and the plan was to see what it was all about. We'd been to a few smaller places in Europe but knew that this would be a completely different ballgame, which indeed it was.
I was hugely cynical about Walt Disney World – as a Brit I think it's hard not to be – and with the exception of a few good rides I was not won over by the experience but it was certainly fun, more for the people-watching and industrial level consumerism than for the chance to meet Mickey Mouse or Pluto. Having said that, it was in Disney World's Magic Kingdom that three of us became hooked on high-speed rides – Space Mountain catapulted Mari Anne into a roller-coaster addiction that has affected much of our holiday planning ever since. She took a little convincing, but experienced some sort of epiphany in the darkness there and suddenly became the most eager thrill-seeker in the family.
There are entire websites devoted to individual theme parks in Orlando and pages of information about how to get the best value for money when buying tickets. Instead of repeating much of this and risking a "War and Peace" length article I'll provide a brief list of general points to consider for all the three parks we visited with additional tips specific to each park in the relevant section.
It's easy to get overwhelmed with the sheer number of different options available and disheartened by all the advice telling you that unless you plan your visit down to each minute you won't be able to enjoy it. Look, it's a holiday, it's a theme park, it's about fun.
The best tip I can give you? Don't go at all if you can't afford it. This may sound obvious, but I mean it. You will spend a lot of money, so get used to it. If you are thinking about taking a packed lunch, planning to eat sweaty sandwiches from a plastic container in the Florida heat and going to have a coronary at the price of a cold drink, you ain't gonna enjoy yourself. Build up your holiday fund and go next year.
It may sound harsh but you'll thank me for it. Orlando's theme parks are not budget destinations and this is not a budget blog. Rant over, on we go…
General advice regarding Walt Disney World, Wet n Wild and Universal Studios:
Buy tickets in advance – they are often cheaper and of course you don't waste time at the front gate. Some of the best deals on Florida park tickets for families are actually offered by agents outside the USA so check these first
If you are staying at a hotel in Orlando, ask if they offer discounted tickets – email them in advance of your arrival and ask for the full details so you can compare the rates
Single-day tickets are the most expensive, so if that's all the time you have, you will pay way more per day than with a longer term pass
Get there early if possible or start at lunchtime when a lot of families take a break
Buy an express pass – these are of course expensive but if you only have a limited time, why waste it in a queue?
Rain does stop play – if there is a thunderstorm, (and chances are there will be) then rides will close until it passes. You can't get a refund but storms don't last long so it's unlikely you'll need one. It's just part of life in Florida.
Day One: Walt Disney World – Magic Kingdom Park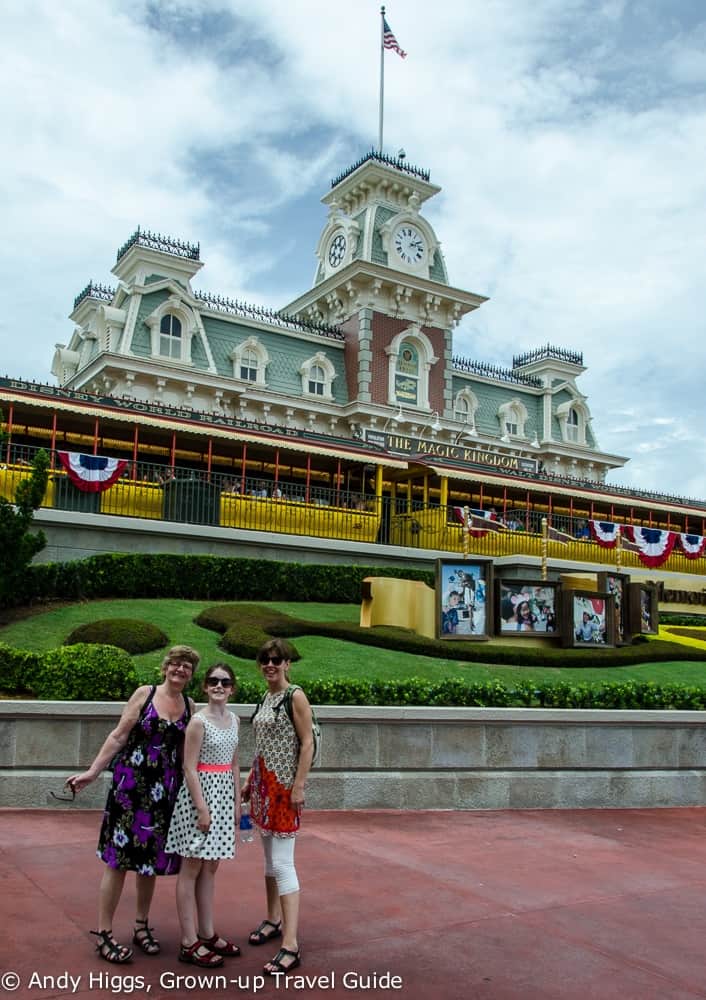 Note that we only visited Magic Kingdom but there are three other theme parks within Walt Disney World as well as two water parks. If you only have time to see one, make for Magic Kingdom for the true Disney experience.
Ticket information
"Magic Your Way" tickets for one-day, one-park Disney World entry cost USD 94, but the Magic Kingdom costs USD 99.

Briefly, muti-day passes are best value, especially for 4 to 10 days.
Multi-day tickets get you access to all the parks for the same price
If you max out the pass (i.e. do everything that's included) your per day cost can fall to about USD 45 for 10 days in all 4 theme parks, the 2 water parks and other activities. 10 days in Walt Disney World? Hmm…

Prices are no cheaper online but you will save a lot of time by arranging to collect them at the park. You can't print tickets at home.

Base ticket rates are for one day at one park. For USD 274 you get a 3 day base ticket which means you get access to one park each day for three days
The Park Hopper option allows you to visit multiple parks each day. This bumps up the price for one day to USD 134; again multi-day passes are better value
The Water Park Fun & More option allows you to go to Blizzard Beach and Typhoon Lagoon as well as 

DisneyQuest and Disney's Wide World of Sports and a round of mini-golf

One trick might be useful if you are planning to return a – there is a No Expiration option which costs between USD 40 (for 2 days) and USD 340 (for the 10 day version) and makes your tickets valid indefinitely. If you buy the 10 day pass with all the extras listed in this and the last two points in this list you'll be up for USD 780 and have 20 tickets (10 for theme parks with the Park Hopper option and 10 for water parks) thus costing USD39 each. You could use half the tickets now and half on a later holiday and unlike the annual pass they don't expire

Parking costs USD 17 per day
All rates are exclusive of Florida's 6% sales tax. 
Phew. With that out of the way, let's continue…
The experience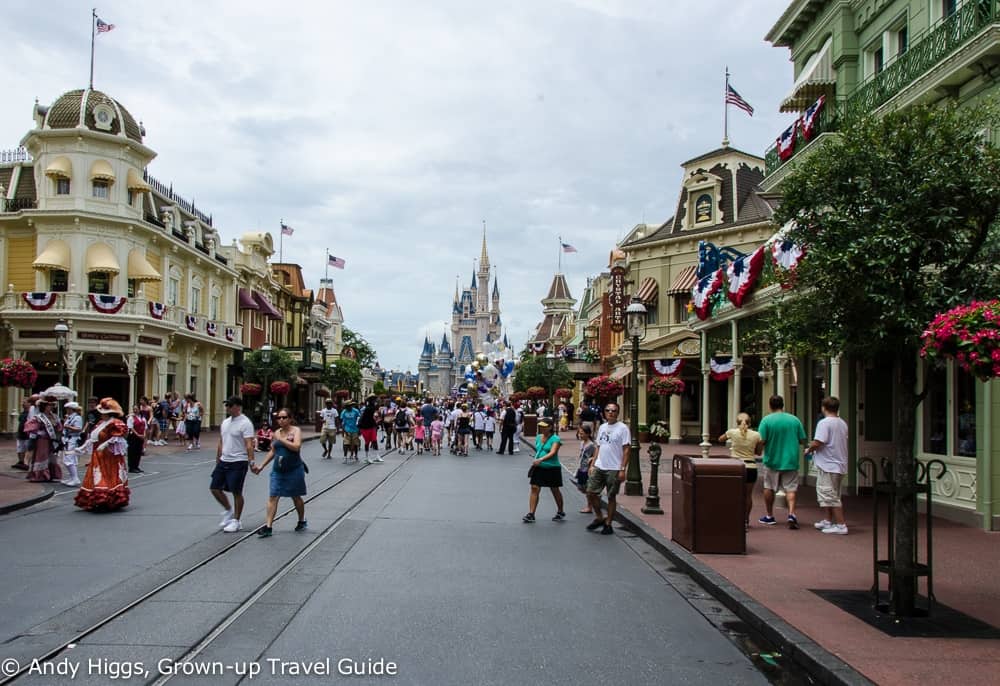 My theory is that the Magic Kingdom is probably what you expect it to be. If you are a Disney-loving 6-year old it's going to be a dream come true, if you are a sceptical 43-year old it may be hell on earth. Actually the latter is unlikely, because the damn park will manage to win you over, at least a little and at least temporarily.
The place is for children, so I am assuming you'll be visiting with kids in tow. If they are of the right age and disposition they'll love it and you'll be happy for them. If they are old enough to see through the sugary gloss (and believe me, it is sickly at times) then at least they will enjoy the rides. I think it also depends on the culture you are used to – the American customers seem to take it all in their stride whereas Europeans appear to find it all a bit much at times. But after a little acclimatisation everyone plays along – and that's exactly what you need to do.
Forget military planning, queue strategies and souvenir shop avoidance – the key to enjoying the Magic Kingdom rather than just surviving it is to go with the flow and get into the spirit of the place. You don't need to dance with Donald Duck, but don't scoff at those who do. What happens in Disney World should probably stay in Disney World…
So how did we do? Rebecca wasn't completely sold on the parades and shows but then she'd never really been into princesses and oversized mice. The real fun came from the rides, especially Space Mountain which is well worth the wait and a good introduction to thrill rides – it may not be that fast but it twists and turns through the darkness so quickly that if feels pleasantly out of control.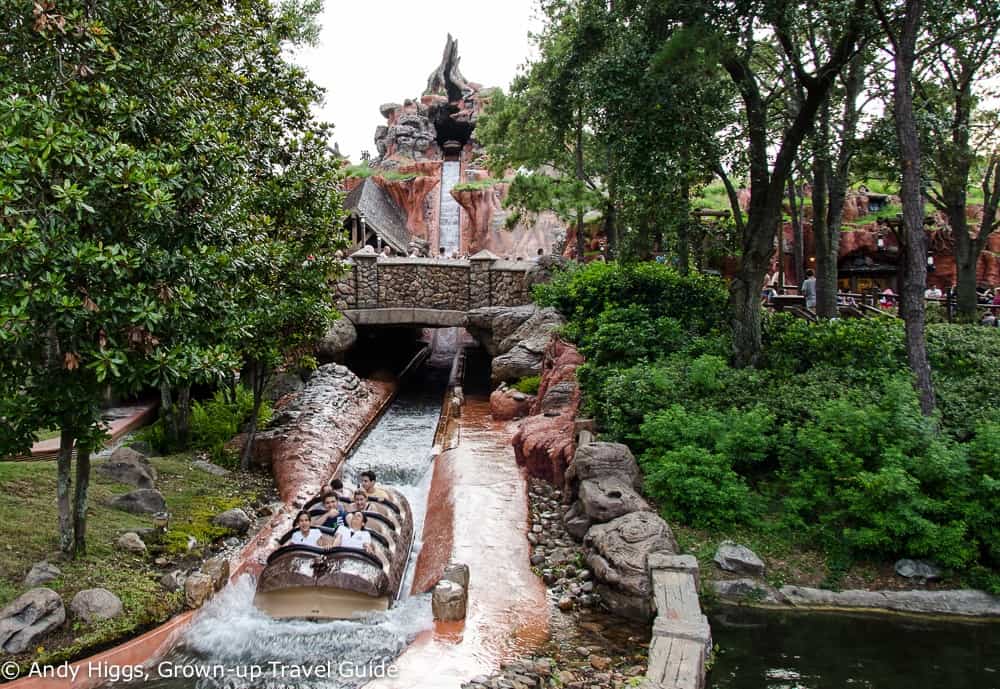 The Splash Mountain water ride was fun too – we even convinced Anne to join us for that one and we all got a soaking. Mari Anne and I both discovered the appeal of roller coasters, albeit starting small with the ones in Magic Kingdom.
Yes, the whole "follow your dreams" message that seems to permeate everything got very old very fast, some of the actors were so heavily made up that they appeared more wooden than Pinocchio under the blazing sun and the food was pretty awful wherever we ate. It is also as commercial as it gets – you do feel like part of a huge sales funnel.
But there were far more positives: the park is clean, run with almost unfathomable efficiency and the staff are friendly, helpful and seemingly immune to stress no matter what they have to deal with.
I didn't film that much while we were there but I put together a three and a half minute clip which kind of sums up the experience when taken together with the photos and words here. Kind of. See for yourself:

If anything it becomes more magical after dark.
The electrical parade was really impressive in the evening – check the website for the schedule as this does not take place every day.
The whole thing ended with an amazing audiovisual show with projections onto Cinderella's Castle in the centre of the park and of course fireworks to close. Transportation back to the car park was as easy as on the way in and queues moved quickly.
Conclusion
If you are visiting Orlando, of course you have to visit the Magic Kingdom. You may be surprised how you and your children react but even in the worst case scenario you'll have fun for half a day or so. We'll be staying longer in Orlando this summer but will probably not return to the Magic Kingdom as we feel like we've "been there, done that". But Epcot could be interesting and the Disney water parks are meant to be fantastic – and if we get a multi-day pass we might just pop back in for another go on Space Mountain…