This article is part ten of the series "Trip diary: Three weeks on the road in Florida"
Teaser: New series starts this week
Introduction: A three week road trip around Florida
Hotel review: Park Inn Oslo Airport
Flight report: Lufthansa New Business Class Frankfurt to Miami
First impressions – a Limey driving in the USA
Hotel review: Hilton Miami Downtown
First impressions – an Anglo-Nordic family in Miami
Hotel review: Sheraton Vistana Resort Villas, Orlando
Three theme parks in three days – Day 1: Walt Disney World
Three theme parks in three days – Day 2: Wet 'n Wild
Three theme parks in three days – Day 3: Universal Orlando Resort
Hotel review: St. George Inn, St Augustine
Historical Florida – St Augustine
Hotel review: Hampton Inn & Suites Amelia Island
Amelia Island – the destination for relaxation in northeast Florida
Hotel review: Cedar Key Bed & Breakfast
Old Florida – Cedar Key
Hotel review: The Birchwood, St. Petersburg
Our favourite city in Florida – St. Petersburg
Hotel review: Island Inn, Sanibel
Cruising to Cabbage Key
Great road trips of the world – Highway 1 Hotel review: Orchid Key Inn, Key West The other Florida – Key West Hotel review: South Beach Z Ocean Hotel, Miami Beach  
Photo credit: tps58 via photopin cc
Slightly drained after the surrealism of the Magic Kingdom at Walt Disney World, we were in no rush to get going the next day. Indeed a lazy breakfast turned into brunch and vague plans to get to the next park on our list late in the morning turned into more specific plans to wait until the afternoon.
Finally managing to drag ourselves away from one of the poolsides at the Sheraton Vistana Resort – or more importantly managing to convince our daughter to leave the water by dangling the carrot of an entire water park up the road, we piled into the car and made for Wet 'n Wild.
Day Two: Wet 'n Wild
Ticket information
Thankfully things are a tad less complicated at Wet 'n Wild that at Walt Disney World…
Admission for a single day costs USD 56 for adults, USD 51 for children
Here too there are good deals for those staying in town a while – for the same price as the single day ticket you can buy a Length of Stay Pass giving you unlimited visits for 14 consecutive days starting from your first entry to the park
If you book online you get USD 10 off all these tickets
Afternoon-only tickets cost half the non-discounted rates above (no internet discount) but in high season the 'afternoon' begins at 1700 (with the park closing at 2100) – afternoon tickets will give you four hours but the start times and park closing times vary – check online
Express passes are available for several rides on a seasonal basis and come in two flavours – one-time use per ride or unlimited. Prices vary so check online for the specific date you are visiting.
Another option is to buy a multi-park ticket which includes Wet 'n Wild as well as one or more of the major non-Disney parks – Universal Studios, Islands of Adventure, SeaWorld etc. for between 2 and 14 days. I'll cover these tickets in the next article on Universal Orlando as their parks are included
Parking costs USD 13 per day
All rates are exclusive of Florida's 6% sales tax. 
The experience
Where the Magic Kingdom makes you feel like a tiny part of a well-oiled machine and – for me at least – is a little too polished and perfect, Wet 'n Wild is more down-to-earth. When we entered the water park on an afternoon ticket my overwhelming first impression was that this was where the real people were having fun. That sounds weird coming from a tourist I know, especially one who took part in the whole Disney experience (and enjoyed it) the day before – but the fun being had by everyone just seemed more genuine. Of course a water park is a different proposition to a theme park and attracts a slightly different crowd.
There's something here for everyone and everyone is well represented. Much has and can still be said about the American love of food and general dislike of worrying about the effects of eating huge amounts of it. But a positive aspect is the acceptance of all shapes and sizes – which is welcome if like me you're not naturally comfortable wearing very little in a crowd. After ditching the majority of our clothes in a couple of lockers I didn't think twice about the fact that I was wandering around in just a pair of shorts for the rest of the day.
Hopefully you have managed to get that unsettling image out of your head so that we can move on.
As we only had four hours at our disposal we ponied up for the unlimited express pass too; this cost us around USD 25 on top but was worth it to skip the queues and thus save more time.
Wet 'n Wild was the original Orlando water park but definitely holds its own against its newer rivals run by Disney and SeaWorld. It's all about the rides – and the speed. You won't find fairytale themes or staff in character; you can brave some of the scariest water slides on earth like Der Stuka where you drop almost vertically for six storeys. Really.
Photo credit: Roller Coaster Philosophy via photopin cc
Or try Bomb Bay (gettit?), where the attendants visibly enjoy torturing their guests by counting down and opening the trap door in the floor to have them plunge 250 feet down before reaching zero. It's all good fun, though, and seems safe enough although we avoided these two experiences, preferring to spectate.
There are several group rides where up to four people can share the fear/excitement/fun together on inflatable rings or rafts, we particularly enjoyed Disco H2O with its 1970s music and glitter balls.
Photo credit: luiscam via photopin cc
If/when it all gets a bit too much you can get your breath back on the Lazy River or the Surf Lagoon. The latter is an enormous pool which is very relaxing – until the waves start 🙂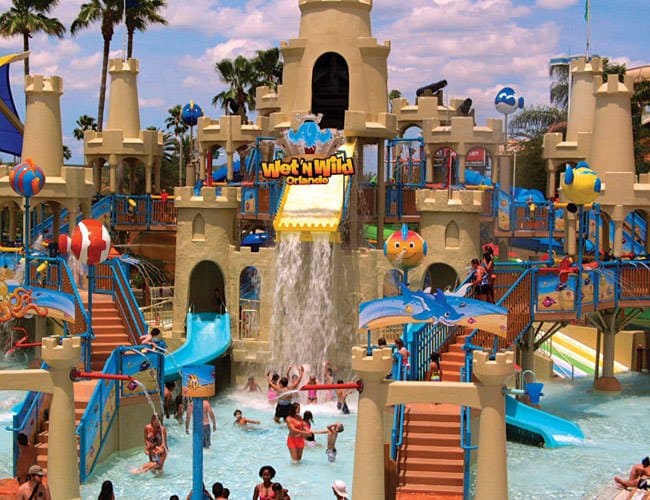 Image (c) Wet 'n Wild
Children will also enjoy Blastaway Beach, a huge play area with a castle full of slides and a ton of water-based activities.
Wakeboarding is also available at an extra charge but was not operating on our visit.
Facilities are good at Wet 'n Wild; there are enough lockers for rental and the changing areas are a good size. Like most theme parks the food inside the grounds is not great; it's mostly fast food but it will fill a hole, as they say.
The car park is located just over the road; you can rent towels and buy sunscreen, swimsuits etc. if necessary. There's a Wahlgreen's right across the street if you want to stock up before entry and save a little cash. Food and drink can be brought in but no alcohol or glass bottles. You can buy beer inside, don't worry – they just don't want you bringing your own.
Conclusion
Wet 'n Wild is an excellent water park and comes highly recommended. It provides a welcome break from the Florida heat and a change of pace from  We loved the rides and facilities but also the friendly, genuine service from the staff. It's a laid-back place and far more 'real' than the other Orlando theme parks, but then it doesn't need or have a 'theme' to play up to. We'll be back – and with an unlimited 14 day pass for the same price as a single day, we'll have plenty of time to check out what's new in 2014.