This article is part two of the series "Exploring Poland's Tricity Area"
Exploring Poland's Tricity Area – Sopot
Exploring Poland's Tricity Area – Gdynia
Exploring Poland's Tricity Area – Gdansk
This #PomorskieAdventures and #LifestylePolen campaign was masterminded by the Nordic Travel Bloggers collective working together with the Pomorskie (aka Pomerania) Regional Tourist Organisation.
Full disclosure: my trip was sponsored by the Pomorskie Regional Tourist Organisation s well as its service providers – but as I never tire of telling you, all opinions are always my own.
After sleeping like a baby at the Sopot Marriott Resort & Spa, and enjoying a wonderful breakfast, we were picked up by our guide and headed to Gdynia, the youngest of the three cities in the Tricity area.
Gdynia
Most people who visit Gdansk for more than a day or two make the trip to Sopot, but few venture to Gdynia. Hopefully this article will change that – the city is a very interesting mix of the old and new and a dynamic place to spend some time.
Although Gdynia as first mentioned in the 13th century, it only really came into its own after Poland regained its independence and it was granted city status in 1926. By 1934 Gdynia had been developed into a modern metropolis and was recognised as the most modern seaport in Europe by 1934 and home to an impressive sea fleet.
Known as the "city built of sea and dreams", it blends modernist architecture from the inter-war period, maritime history, shiny new skyscrapers and shopping centres with a friendly and open people to create a unique atmosphere in the region.
Our first port of call was, er, the port.
ORP Blyskawica Ship Museum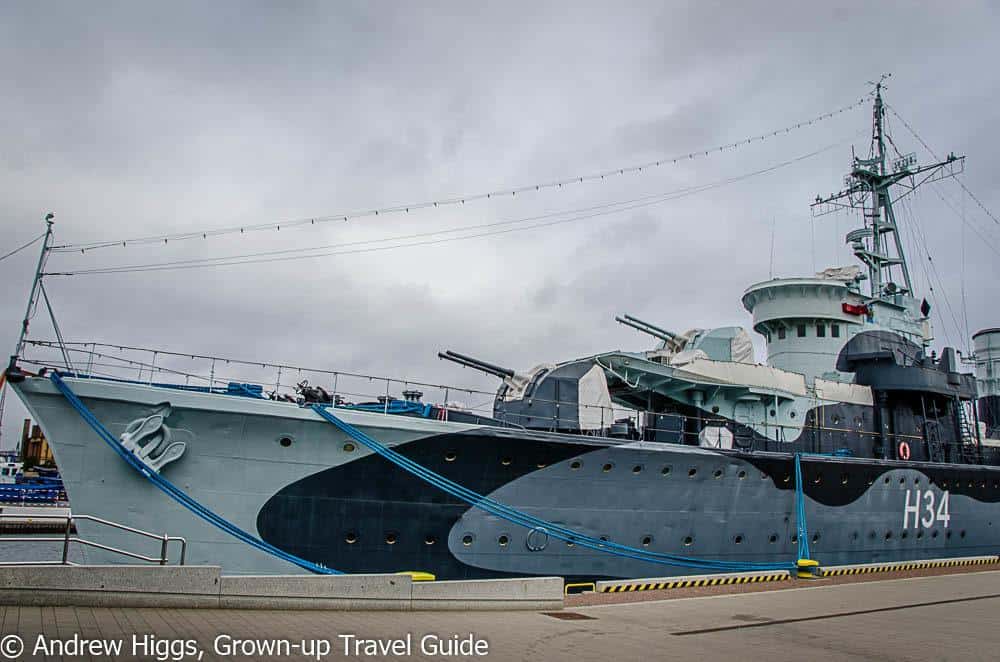 The southern pier of Gdynia Harbour has a number of interesting attractions. One of the first that greets you is the massive destroyer-class ship ORP Blyskawica. She was built in England and completed in 1937, and fought in World War II.
Now part of the Polish Navy Museum, she is open to visitors and a major attraction. The main draw is the Golden Cross of Virtuti Militari that can be viewed in the main exhibition below decks. This was presented to the unit on the 50th anniversary of sailing under the Polish flag on 28 June 1987.
You can also learn about underwater weapons and history as well as visit the engine rooms and inspect the artillery on board.
ORP Blyskawica, al. Jana Pawła II, 81-345 Gdynia, Poland
Dar Pomorza Maritime Museum Ship
Walk a little further and you reach Dar Pomorza (the White Frigate), also a floating museum. The ship was used in teaching students of the Gdynia Maritime School and sailed over half a million nautical miles in its 50 years of operation.
In 1982 Dar Pomorza was given to the National Maritime Museum and visitors can now board this 72.6 metre long vessel and gaze at its 41.4 metre tall masts. The ship is largely unchanged since it was in active use and the exhibitions provide a fascinating insight into this legendary Polish vessel.
Dar Pomorza, al. Jana Pawła II, 81-345 Gdynia, Poland
After taking in such history, take a look behind you and notice the new Gdynia in the background. Quite the contrast, indeed.
Dragon Pirate Ship
Near the end of the pier is a slightly less authentic piece of maritime lore – the Dragon Pirate Ship. Offering cruises in the bay, she is certainly an interesting addition to the fleet.
…and that's why she's called Dragon. If you feel like exercising your inner pirate, you'll enjoy yourself here.
Dragon Pirate Ship, al. Jana Pawła II 2, 81-001 Gdynia
The harbour also contains several interesting monuments, and the view back towards the city from the end of the pier is quite something.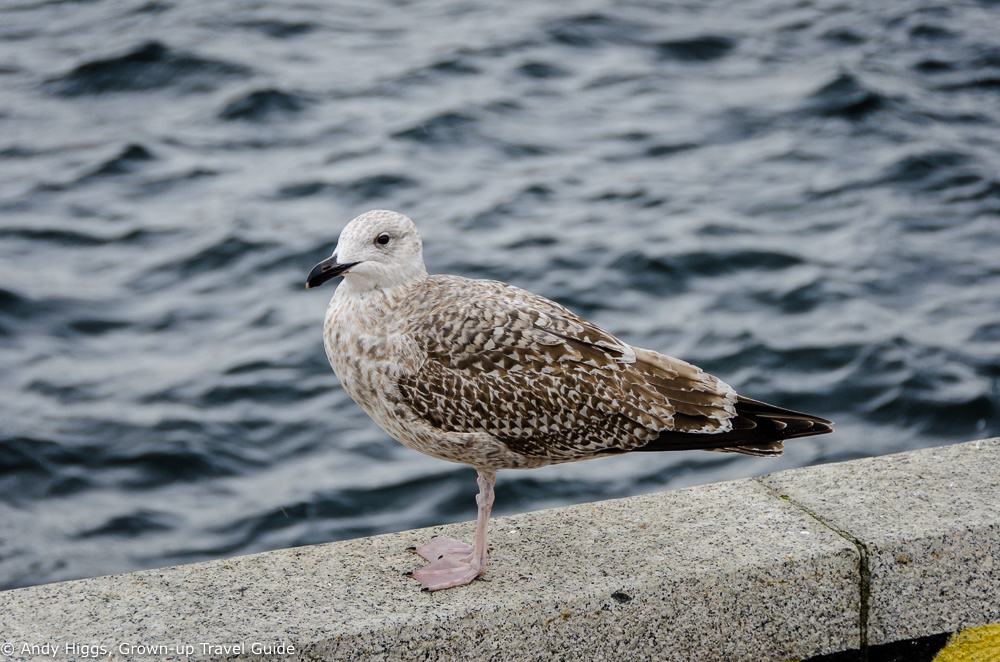 You won't feel alone here with all the gulls for company.
This statue is devoted to Joseph Conrad, who not everyone realises was in fact Polish.
Agnieszka shares her local expertise.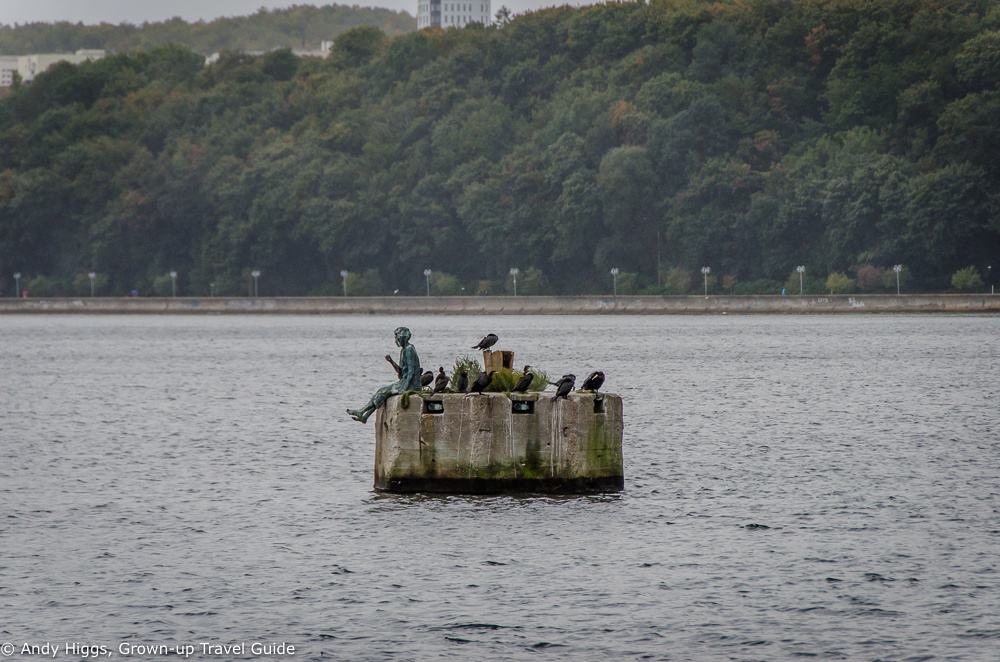 Even in the middle of the water there are interesting things to see, such as this rather sweet statue – clearly popular with the birds.
Gdynia also boats several beaches, including this one just five minutes from the centre. It is 200 metres long and lifeguards keep you safe in the summer time, when one can only assume it is slightly more crowded than it was when we crossed it.
Stone Mountain
An urban conservation area. Stone Mountain juts out of the ground just past the pier on the way back into the centre of the city. Known as Steinberg by German settlers who leased it from the Prussians, it was later given to the First Polish Sea Bathing Company to establish a sea resort.
These days it is notable for the villas that survived the war and two monuments – the imposing 25 metre tall cross added in the 1990s and the Memorial to the Defenders of Gdynia.
Lunch: Chwila Moment
We stopped for lunch at a very pleasant cafe right next to the Infobox Tourist Information centre. With an onsite bakery and superb pastries, as well as excellent coffee and local craft beer, this is certainly a good place to take a break.
Chwila Moment, Świętojańska 30, 81-372 Gdynia
Mana Mana Bags
Suitably refreshed, it was time to visit a local designer who is bringing Gdynia to the world, one bag at a time.
Mana Mana bags take pride in using the best quality materials and spurn anything made in China or Bangladesh – indeed their aim is to promote the revival of hand-made quality with modern, fun designs.
Originally started in this apartment in Gdynia, Mana Mana grew through word of mouth and social media and expanded so rapidly that a new premises had to be found and extra staff employed.
Nearby is the current workshop, which operates as an overflow to the original site. Yet they are outgrowing this place too and will soon be opening a larger site.
It was very inspiring to learn the history of this booming small business, and to see the artisans at work. Everyone was cheerful and the atmosphere was exciting, and about as far from a sweatshop as you can get.
Finally we visited the store out the front to see the huge range of bags that are made to order from a large catalogue – you can even ask for a custom design of your own for a small supplement.
Mana Mana sells a lot of bags to export markets via its website and has clearly got a grip on modern marketing methods.
Something for almost everyone here – well, those into something unique and cool, at least.
Mana Mana Bags, 3 Maja 20, 81-363 Gdynia
Shopping centres
Gdynia boasts some of the best and most modern shopping centres in the Tricity area, all of which pull in visitors from around the world with their designer names at low prices. Not really my thing, but if shopping is yours then a visit to Gdynia should be high on your list.
Gdynia is a city in which an aimless wander pays huge dividends – I particularly enjoyed the modernist architecture contrasting with the new skyscrapers. Many storefronts have kept their old signage from the interwar years, too. Unfortunately the rain when we were visiting made it difficult to take photos but why not just go and see for yourself?
Dinner – Restauracja Pieterwas Krew I Woda
This evening we ate in Gdynia at the very stylish – but again, casual and relaxed – Pieterwas restaurant in the centre of the city.
Modern, bright and with an open kitchen, Pieterwas serves award-winning dishes with a focus on top-quality seafood and is excellent value too – needless to say we left happy and will be back.
No photos from me this time, but click the link for plenty on the website.
Restauracja Pieterwas Krew I Woda, ul. A.Abrahama 41, Gdynia
Two down, one to go – now go read the final part of this series where we spend not one but two days in Gdansk!