Photo credit: Aero Icarus via photopin cc
Introduction
I figured it's been way too long since I last regaled (or quite likely irritated) you all with a flight report from one of my frequent flyer splurges. So to rectify this sorry state of affairs I was planning to share with you the fun I had in Thai Airways shiny new A380 First Class cabin earlier this year when travelling to – only just – post-coup Bangkok.
Then I realised that I hadn't even reported on my first experience travelling Thai Airways for last year's trip to the Thai capital. What can I say, it's been a crazy year; next week I will take my 61st and 62nd flights for 2014, at which point I will probably call it a day for this year.
I've created a far larger carbon footprint than usual but I can at least compensate for this with the fact that my morning commute to work for the last ten years has consisted of going upstairs to my office rather than driving a car. But the fact is that a slightly insane amount of travelling this year has resulted in a backlog of articles to write that may well remain after the polar ice caps have disappeared…
So it is that we turn the clock back to early 2013, when I was invited to attend a travel conference in Bangkok. Having never been to Asia – let alone Thailand – at the time and keen to attend the conference I set about looking for flights.
As detailed in this post I had seen the potential in buying and redeeming frequent flyer points and saw the opportunity to travel such a long distance in comfort. The considerable time difference between home and Thailand was another reason to try to find a way to get there and catch some sleep en route.
I had previously flown First Class with United to Chicago – that was my first taste of the premium cabin (indeed anything other than Economy) but I had needed help to make the reservation. This time I would try it on my own. After a few hours of reading up on the process on Ben's superb blog (he taught me everything I know about the frequent flyer game) I began my search online.
In 2013 US Airways was still in Star Alliance (this year they fully merged with American and joined One World) of which Thai Airways is a member. It took me a while to find a route with availability – some of the more 'obvious' routes for me such as Oslo – Bangkok do not feature First Class, and where's the fun in that? 🙂 I was prepared to have a longer overall journey with more connections to use my points for First rather than Business, especially as the premium for the top cabin is not much more than for Business.
In the end I found seats on Thai Airways A340 flight from Milan, Italy to Bangkok. It was easy enough to find connections down there too, so the full itinerary I planned to reserve was:
Trondheim-Copenhagen-Milan-Bangkok-Milan-Copenhagen-Trondheim
A slightly roundabout way to get to Thailand from Trondheim, but the upside was more time in the air in a fully-flat First Class sleeper seat…
When I called the US Airways reservation centre in the States and spoon-fed the lady my itinerary, she was a little thrown by the "Trondheim" part of the route. I explained it was in Norway but when it came to pricing the trip she must have either (a) thought I was flying from somewhere in Asia to Bangkok or (b) pressed the wrong button somewhere. She quoted me 45,000 miles and around USD 153 in fees. I gave my card details and we were done. The actual 'cost' should have been 90,000 miles and I expected this to be corrected when the confirmation came through, but it never was.
So, to make this even more irritating for you, dear reader, I essentially paid under USD 900 for this epic journey – including the cost of buying the miles needed. Yet even at the correct amount I would only have had to shell out around USD 1800 – and when I checked on United.com I was given the option of paying in cash instead of redeeming my miles. I wasn't tempted; I would have had to pay USD 9743!
The route
Thai Airways flies directly from Milan to Bangkok and now uses a Boeing 747 on this route instead of the A340 here. The First Class cabin on the 747 is very similar to the one I experienced, albeit with a slightly different configuration. The airline is somewhat notorious for changing the aircraft on a particular flight at the last moment but this hasn't happened to me.
The damage
As previously established, my seat was an amazing bargain for under USD 1000. It is unlikely I would ever choose to fly this particular route from Trondheim to Bangkok if I was paying cash as there are cheaper and more direct routes. Thai Airways flies from Oslo to Bangkok as does Norwegian, who offer a limited number of seats at extremely low prices if you are flexible and book ahead. But neither airline has First Class and Norwegian only has 'premium' which is not Business, either.
So for comparison purposes I searched for the cheapest Business Class seat from Trondheim to Bangkok at about the same time of year and it came out at around USD 2700. The long-haul section was with Air China – I have no idea how their Business Class service rates and even Norwegian wanted USD 2800 for their Premium ticket.
You get the point – First Class was cheaper.
So the bad news is that we can't do this anymore. US Airways still sells cheap miles – they have a half-price offer right now – but they can't be used on Thai Airways. But there are other Star Alliance partners of course; SAS being an example for many of us. They won't be as cheap, but if you can earn, buy or share miles in a Star Alliance programme you too can enjoy what I am about to describe…
On the ground – the lounge
One of the benefits of flying in First Class is lounge access at each airport on your route. There are a few caveats though – not all airports have a lounge (Trondheim certainly doesn't), those that do may not have a Star Alliance lounge and the ones that actually do exist and do let you in may be a bit rubbish. Hello Milan!
The Via Milano lounge in Terminal 1 is a bit of a disappointment – desperately in need of refurbishment the place is worn at the edges and not particularly inviting. The range of snacks was basic to say the least, but it has two benefits making it worth a visit: you can help yourself to decent beer and get away from the crowds while wait for your flight.
It also offers free internet which is good but kind of a given, really. I took advantage of access to take and upload a couple of 'braggies' as you can see here but was glad I didn't have to wait hours for the main event.
Boarding
Boarding was painless with a separate queue for Business and First Class passengers, meaning that it was also very quick.
The seat
I had picked seat 2A – at the window on the left side of the cabin, second row. With just 8 seats, the First Class cabin was spacious and I only shared it with three other passengers.
For an overview of the layout of the Thai Airways Airbus A340 see the seat map here at SeatGuru.com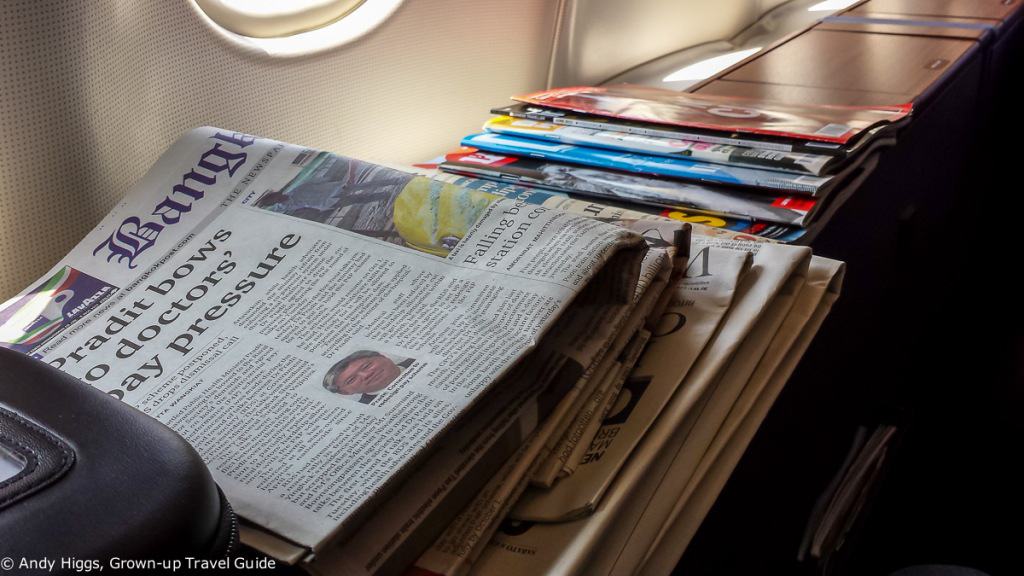 There is plenty of storage space above and beside the seat and after stowing my bag I got comfortable in the big sleeper seat. A wealth of reading matter was spread out on the window sill along with my headphones.
First impressions were good – the cabin was in good condition and the seat very comfortable. I played around with the controls – which were intuitive enough – and tested the massage function which was a nice touch.
The most important feature is that the seats recline to a fully flat position, with the Ottoman acting as an extended part of the bed. This gives you nearly 7 feet of space so I was able to stretch out fully here – perfect.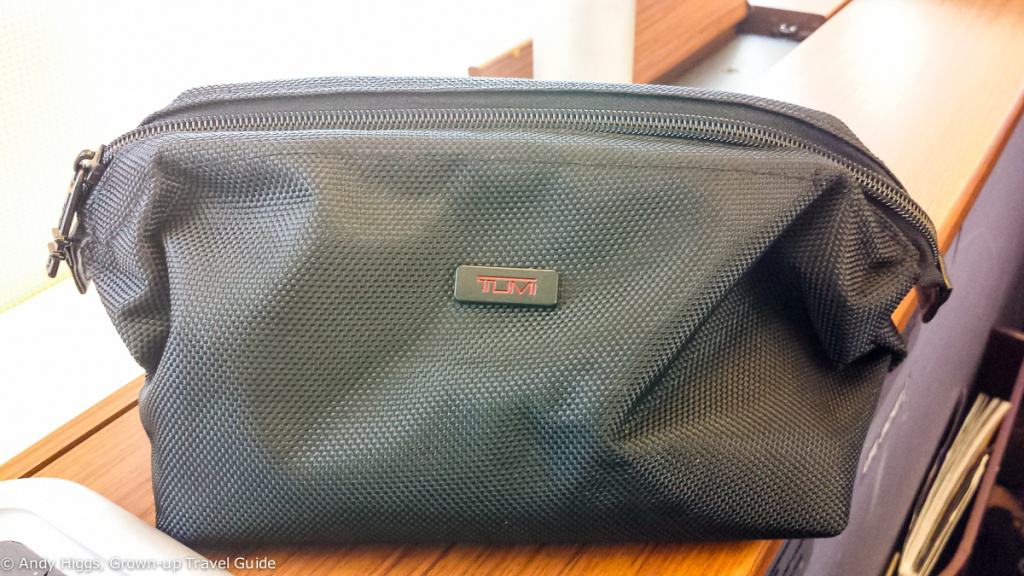 I soon found the amenity kit which was a rather stylish TUMI affair. The contents were fairly standard with eye shades, a toothbrush, toothpaste and mouthwash, socks, hand cream and headphone covers. A pillow and blanket were also provided. And pyjamas. More on this later…
Service was exemplary and starting with the extravagant and sincere Thai welcome that I would become used to and a cold drink while we waited for take-off. I of course went for champagne – no Prosecco here; that's probably what they were having back in Business Class :-). Yes, I did just say that out loud.
The entertainment
Each seat has its own small LCD screen operated with a wired handset. Thai Airways offers a reasonable number of films and TV shows and I had no trouble finding something to pass the time (Modern Family and Zero Dark Thirty).
One thing I noticed is that Thai censors its entertainment quite strictly – swearing, nudity and the like is either cut completely or sometimes hilariously modified. I've never heard "gosh darn" before but it was used several times when the lips were clearly saying "god damn". I found that rather sweet.
The seats have AC power outlets for powering up devices and of course a tray table in one of the armrests.
The food and drink
You know I don't take a lot of pictures of my food, but I did record the menus for posterity:
It was as good as it looks – I went for the Thai dishes where possible and enjoyed a great introduction to one of the best cuisines in the world.
Okay, I did take one foodie picture: it was hard to resist a caviar shot, after all…
Needless to say I made the most of the menu and accompanying wine – saying no to a top-up is something I struggle with. I also intended to cut down on coffee but that didn't work out either. I added a brandy to try to offset the caffeine effect from the espresso – the jury is still out on that one.
The flight
Flight 941 took off on time and there were no issues up in the air either; we landed a little ahead of schedule too.
The excellent service continued throughout the trip – attentive without being intrusive.
After finally getting through all courses and polishing off my coffee it was time to get ready for bed. Now there are many things that separate First Class from its more humble siblings, but no more than the pyjamas – or 'sleepwear' as it is generally called in cabinspeak.
The protocol appears to be that the hostess asks if you wish to get changed into your sleepwear before they dim the cabin lights. If so you take your PJs and go and change in the bathroom. If you are me, you then take a silly selfie to record the event:
Yes, they do look good, don't they – especially with the slippers. And yes, I kept them…
The bathrooms in First Class on the A340 are essentially the same as the regular ones in terms of size, but with a bunch of extra amenities for passengers to use. So they are a little cramped but it was possible to change without too much difficulty.
Looking swanky, I then returned to my seat (it's true, we do need a sarcasm font) to find that it had now been transformed into a fully-made bed. Had I been sensible now, I would have tucked myself in and slept the rest of the flight.
Not being sensible, I had to make the most of my time by checking out a few movies, some episodes of TV shows and even a relaxation music album. The latter actually worked – or it may have been the classic combination of alcohol and tiredness – because I eventually fell asleep for a few hours, waking just before dawn broke spectacularly just before breakfast.
Breakfast was great too although I wasn't particularly hungry; I was more excited about arriving in Thailand.
Arrival
After landing smoothly at the modern Suvarnabhumi airport I made my first mistake of the trip. I hadn't realised that an arrivals service was included, so I walked right past the waiting ground staff who were waiting to drive us First Class passengers through the terminal to baggage reclaim in a golf cart. In fact I only realised this mistake several months later, so at the time I was blissfully unaware and in any case enjoying my first impressions of the huge airport.
The next time I flew Thai First Class I didn't screw this up – more on this in the upcoming A380 flight report.
The return flight
On the way back to Europe I was suffering from a serious cold – I still had a fabulous time but was unable to enjoy it quite as much as on the outbound flight. But the service, catering, entertainment and cabin were just as good – and I appreciated the fantastic ground service in the Thai First Class lounge.
I'll leave that part until the next report too – in June I really made the most of my time at the airport before flying out and will fill you in on all the details, don't worry 🙂
The conclusion
Thai First Class is an incredible experience. You would have to be a touch jaded not to think so – I know that many 'experts' would argue that there are better airlines with more luxurious service, but don't be fooled. If you're like me and used to decades in Economy, your mind will be blown. I would not pay for it, but for less than the price of an Economy ticket, you'd have to be nuts not to take advantage of this opportunity.
And that's the problem – the opportunity no longer exists. Well, not this way.
But if you earn miles on Star Alliance because you fly a lot, this is how you should consider using those miles. If you have an airline branded credit card like the SAS American Express Card in Norway then you can earn miles quite quickly and this is how you should consider using those miles. If you are able to buy miles at a reasonable rate then do it – and this is how you should consider using those miles.
Yes, I loved it. It was a big step up from United, which in itself was fabulous. I feel like I have (unintentionally) experienced First Class in the right order – to date I have flown three times in First and each time has been better than the last.
So you don't need to be Sherlock Holmes to work out that my next flight report is going to be the most positive of all…
Flight report – vital statistics
Type of aircraft: Airbus A340-600
Outbound: Thai Airways Flight 941 Milan Malpensa (MXP) – Bangkok Suvarnabhumi (BKK) on Saturday June 8, 2013
Inbound: Thai Airways Flight 940 Bangkok Suvarnabhumi (BKK) – Milan Malpensa (MXP) on Monday June 17, 2013
Class flown: Thai Airway Royal First Class
Outbound – departure time: 14:05 
Arrival time: 05:55
Inbound – departure time: 00:40 
Arrival time: 07:35
Duration: 10 hours, 50 minutes (outbound) 11 hours, 55 minutes (inbound)
First Class configuration: 8 seats in 1-2-1 layout. 
On board-internet: No
Type of seat: 180 degree lie-flat bed
Seat width: 22″
Monitor size: 10.4″