As much as we love Copenhagen (and we love it a lot) we'd be the first to admit that one problem is the weather. Winter is just rotten without the real snow and opportunities to enjoy it and while the summer is wonderful it just doesn't last long enough – so make sure you enjoy every day of sunshine to the max.
'To the max'. Jeez, you're trying a bit hard there mate…
Sorry. Anyway, do as the locals do and squeeze as much value as possible out of those warm days. We covered a few outdoor attractions in other posts: you should definitely try swimming at Havnebadet Islands Brygge and Tivoli is a given (although it's cool in the rain too). Get a unique view of the city from a kayak tour, and take a break at the rooftop terrace of Café Hovedtelegrafen. It's also well worth making the trip out to have a look at the kitchy giant beer bottle and the modern architecture of 8-tallet. Sunny days are also ideal for a day trip, and we've provided 6 suggestions for trips out of Copenhagen here.
So what's left?
Oh there's plenty. Just have a look at these 5 ideas…
Red Square
Image (c) guerilla-innovation
Why should the kids have all the fun? Why are there no playgrounds for adults? We've all been there, wondered about that, right? Apart from that all-too-brief period when my children were too small and had to have a parent accompany them on the bouncy castle (yes!) us grown-ups are sadly excluded from such high-jinks. But not any more. I guess it had to be in Copenhagen too; it's hard to imagine something like this in Oslo…
Having indulged in all that lovely craft beer and great food while in the Danish capital it might be a good idea to burn a few calories. But instead of an expensive gym head to Red Square (yes, it's called that because it's red-very red) and whack a few sandbags for free. Try the swings, play ping-pong, test all the other outdoor equipment and basically go nuts for an hour or two. Neatly they have also provided a few things for the (real) children too so they can stay occupied while you're playing. And enjoying the role reversal…
Red Square is part of the urban park 'Superkilen' which also has green and black areas, but they're not as much fun.
The Red Square, Nørrebrogade 210, Nørrebro
Copenhagen Cablepark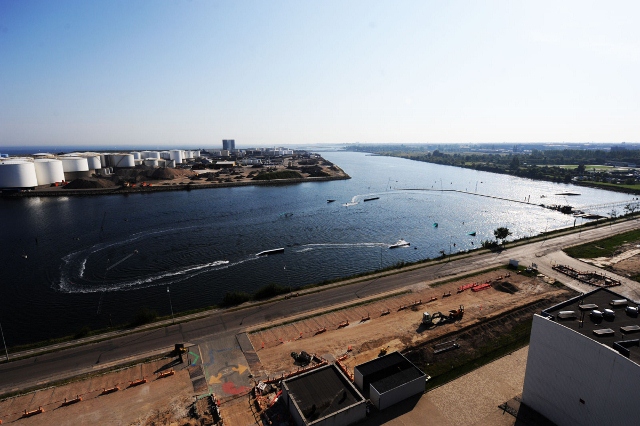 Image (c) K/S Copenhagen Cablepark
If Red Square doesn't involve enough adrenaline for you, maybe wakeboarding is the answer? Now normally this sport involves riding a wakeboard while being dragged by a speedboat à la water skiing; but in Copenhagen harbour you can try cable wakeboarding. This means that you are pulled by an overhead 'cableski' system. It sounds a little crazy and it is, but if you can master it you're in for some real thrills. The majority of people we saw didn't make it further than a few metres but every now and again an expert showed us how it was done. More passive visitors can watch the fun from the cafe with a beer (sounds better) and soak up the sun if you're lucky with the weather – they also arrange beach parties which are reason enough to come out here.
Copenhagen Cable Park, Kraftværksvej 20, 2300 Copenhagen  Open Monday-Friday 1200-2000, Saturday and Sunday 1000-1800
Flyvergrillen
Image obtained from Flickr.com under Creative Commons (c) Astridsd
For one of Copenhagen's oddest fast-food experiences, join the mixed crowd of anoraks, plane spotters and the relatively normal at the far end of Amagerbrogade. On fine days the place will be packed with people united by a fascination with all things plane-related.
The Airplane Grill's primary selling point is its location slap bang next to the main runways of  the very busy Copenhagen Airport. The first time you visit and a plane comes over you'll be surprised how close they feel. You can also observe real 'spotters' in their natural environment scribbling furiously in their notebooks. Yes, these people do exist.
Don't come here expecting a gourmet experience – it's basic burgers, hot dogs and ice cream but of course being Denmark you can get a beer too. There's only space inside for about 20 guests but the large outdoor area is the whole point anyway.
Flyvergrillen, Amager Landevej 290, Amager Open 10:30 – 21:30 daily
Koralbadet
Image (c) ibyen.dk
Copenhagen now has three harbor baths to choose from with the recent opening of Koralbadet joining the hugely popular Islands Brygge and Fisketorvet. The opportunity to swim in clean harbour water right in the centre of the city is the envy of most visitors; not many capitals around the world can compete in this regard.
The new Koralbadet (the Coral Bath) was designed by Danielsen Architecture and is found at Sluseholmen, right by the large residential complex Metropolis. The complex is built on pontoons and shaped like a lagoon, with three basins – one for small children, one for teens and adults and one for diving. Lifeguards keep an eye on things and there are toilets and storage rooms. If you're feeling brave (or have something to prove) you can swim in the winter if you join the swimming club. If you do, let us know how that goes…
Koralbadet, Teglholmshavnen, 2450 Copenhagen  Open 01 June – 31 August
Have you tried any of these suggestions? Do you have other ideas for outdoor activities in Copenhagen? Do let us know by adding a comment below and don't forget to sign up for email updates so that you never miss an article on Grown-up Travel Guide!