http://www.8tallet.dk/visit.html
Haché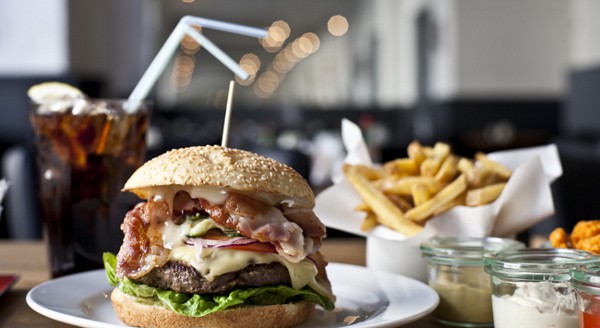 Image (c) Haché Gourmet Burgers
After the Danish microbrewery movement transformed beer almost beyond recognition, it appears that the humble burger is the latest target of a serious makeover in Copenhagen. During the last couple of years 'New Nordic' cuisine has been facing competition from the upgraded burger joint. In our opinion the best of these is Haché Gourmet Burgers. Now many of these new kids on the block claim to offer the best burgers in town but Haché delivers. I mean just look at that picture!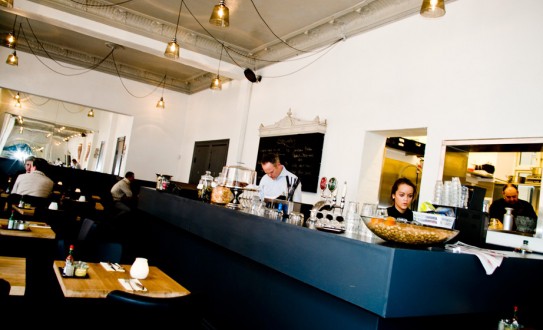 Image (c) Haché Gourmet Burgers
Since it opened its doors in November 2010, this relaxed restaurant has focused on using only the freshest ingredients and only on burgers – you won't find anything else on the regular menu. But these are not your regular meat patties in a sesame seed bun.There are 15 burgers to choose from and prices are reasonable at around DKK100; you can then add fries and don't forget the home-made chili mayonnaise – delectable. There are both vegetarian and vegan alternatives if you're weird like that. No reservations area taken so cross your fingers for a table – and prepare to have your concept of the burger changed forever.
Haché, Rømersgade 20, 1362 Copenhagen. Metro to Nørreport then bus. Open every day from 1200 to 2130  (2100 on Sunday)
http://hache.dk/index.php
Tuborg Beer Bottle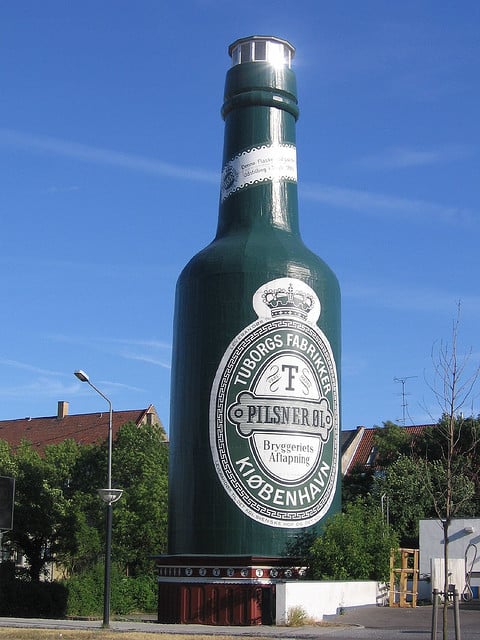 Image obtained from Flickr.com under Creative Commons (c) Michael Caroe Andersen
By now you'll probably have realized that beer dominates life in Denmark – and in Hellerup in Copenhagen it also dominates the skyline. Built for the Nordic Industry Exhibition in 1888 as a symbol of technological advancement, the Tuborg Bottle is an observation tower which originally also included Denmark's first elevator. Yes, it's in the shape of a beer bottle and stands some 26 meters tall – and must be one of the first examples of ad men going off the rails.
Built by, er, Tuborg Breweries, it was originally found near Rådhuset in the centre of town but after the exhibition it was (rather thankfully) moved to its present location in the northern suburb of Hellerup. Sadly you can no longer go inside but do venture our to Strandvejen and have a look. I mean it's not every day you can get your picture taken next to a giant beer bottle, is it? In case you were wondering (I know you were) you would need to empty 1.5 million standard beer bottles to fill it up. Cheers!
Tuborg Bottle, Strandvejen 40, 2900 Copenhagen. S-train to Hellerup
Do you have anything you'd like to add to this list – something out of the ordinary in Copenhagen? Please add your tips in the comments below, we'd love to hear from you!